Old, New, Copper, and Blue Fall Decorating Ideas
Mixing old and new, copper and blue for fall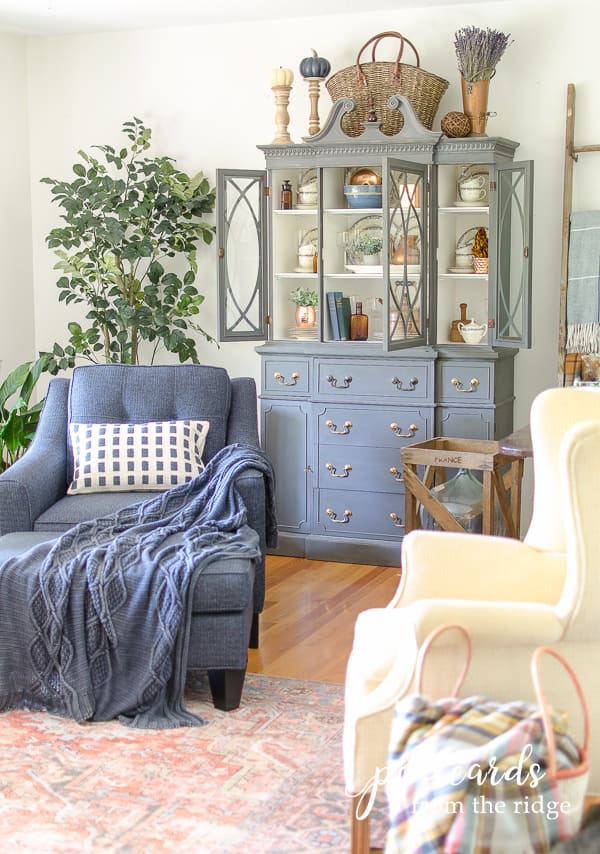 This post contains affiliate links for your convenience. For full disclosure go here.
Old, New, Copper, and Blue Fall Decorating Ideas
Our living room is looking like it's ready for fall. Never mind that it still
feels like summer outside. This room has been getting little updates all year
long and the most recent additions are perfect with fall colors.
Note: Shopping resources for this look are found at the bottom of the
post
I'm sharing it today as part of the Ready for Fall Home Tour, hosted by the
talented Vicki and Jen at
2 Bees in a Pod. If you're just coming over from there, welcome! I love their style and
especially all of the blue decor they use.
There are 11 home bloggers sharing areas of their home and they're all so
pretty. All of the posts are at the bottom of this page, so be sure to keep
scrolling and visit everyone. Here's a peek:
Fall Decor Ideas You Might Also Like:
What's up with the old, new, copper and blue theme, you ask? Well, a
couple of weeks ago my husband and I celebrated our 30th anniversary and I
guess our wedding was on my mind when I came up with the title of this post.
But it's also a pretty accurate description of our fall living room. It's a
true mix of old, new, copper, and blue items.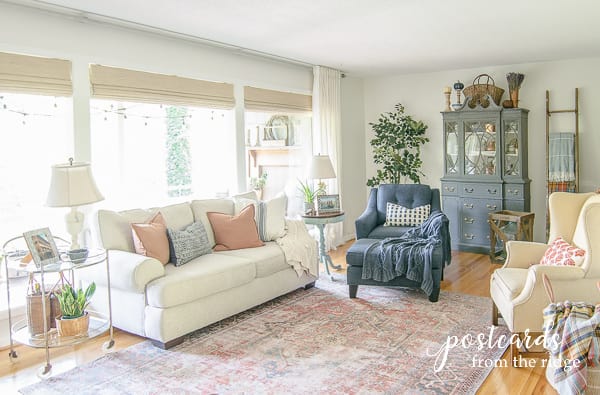 Do you have any rooms that are really challenging to arrange furniture in? This is definitely one of those rooms. Recently I got a new smaller sofa and chair and matching ottoman and so far they're working out great. These pieces, the bamboo shades, artificial tree, and the area rug are my "new" items in here.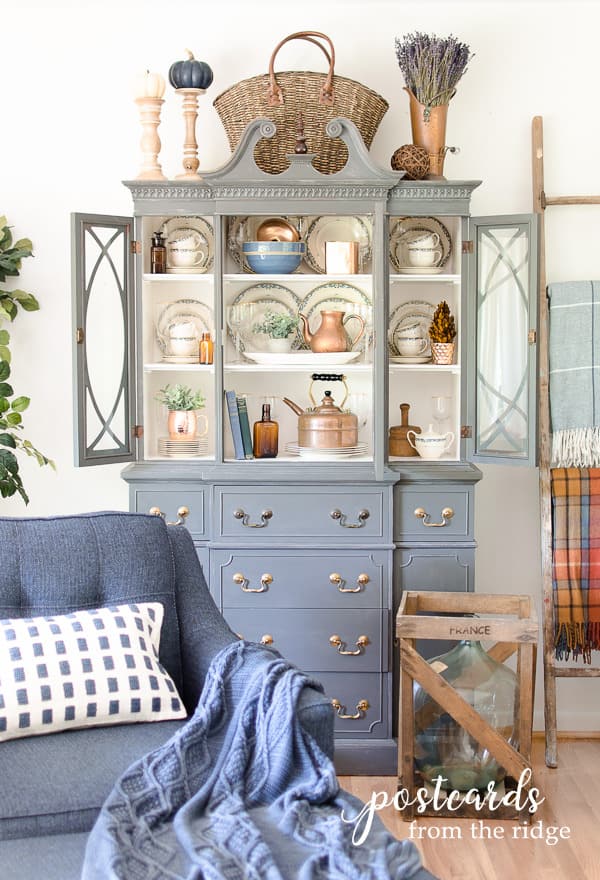 There are many old or vintage pieces in this room, as well as throughout our
house. For fall, I brought out some vintage copper pieces, amber bottles, and
wooden butter molds. See more ways I've decorated our two hutches here: Antique Hutch Decorating Ideas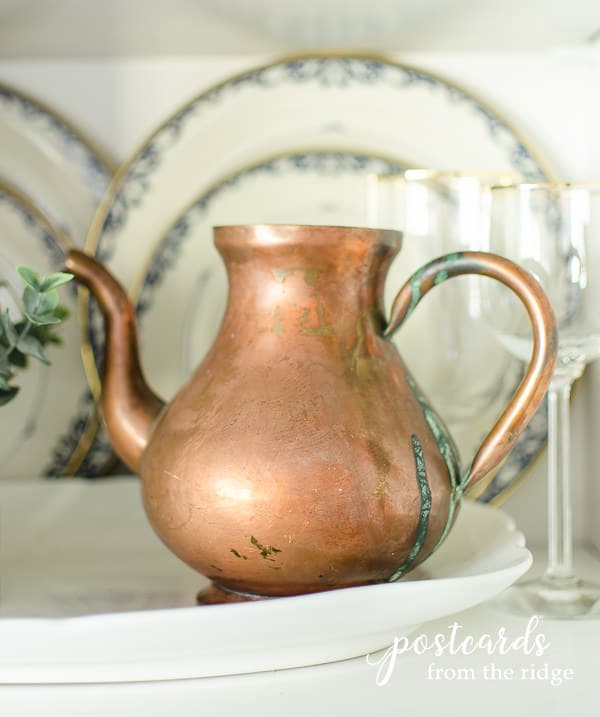 They say that formal China isn't in style these days. Who is "they", and why do
they care what type of dishes I use anyway? Our wedding china
from 30 years ago is making an appearance in our china hutch for the first
time in years. It actually goes great with my fall decor. 
>I must admit that when I saw this same pattern used during the reveal of a
recent episode of HGTV's Home Town, it made me smile. Everything old is new
eventually.
The vintage barrister bookcase and drop leaf table in the far right corner
are some that I've had for years and they don't really fit my current style,
but I'm making them work for the time being. I'm hoping to add a new piece
soon but haven't found exactly what I'm looking for yet. Stay tuned to see
what I come up with for this corner.
For now, I'm using our vintage drop leaf table as a little beverage area,
which is kind of ironic since I'm using a bar cart as an end table in here.
Why be normal and use things as they were meant to be used?
I put our liquor bottles in my old French picnic basket, and added some
vintage glasses. I'm using a
round wooden beaded edge tray
and some
orange plaid cloth napkins
from my shop as well.
The
copper Moscow mule mugs
are a nice addition for fall.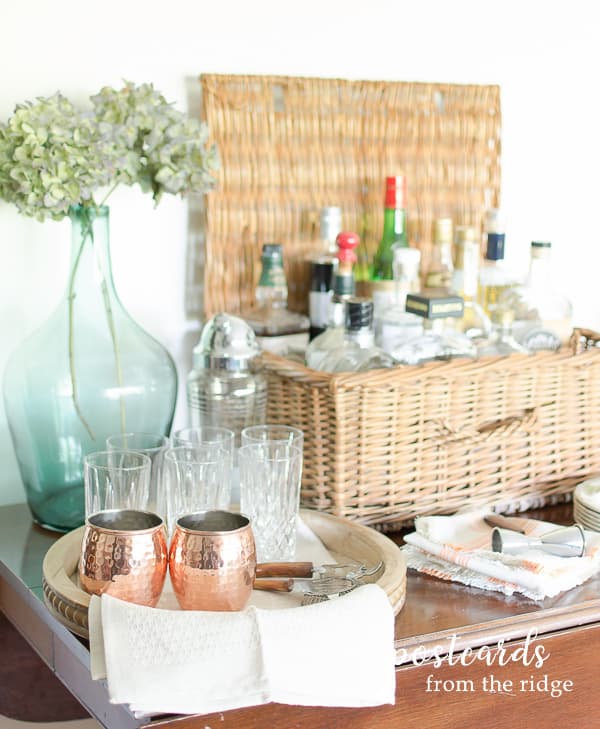 And did you notice my vintage bakelite bar tools? I found them not too long ago and love them. They look great with my
fall colors.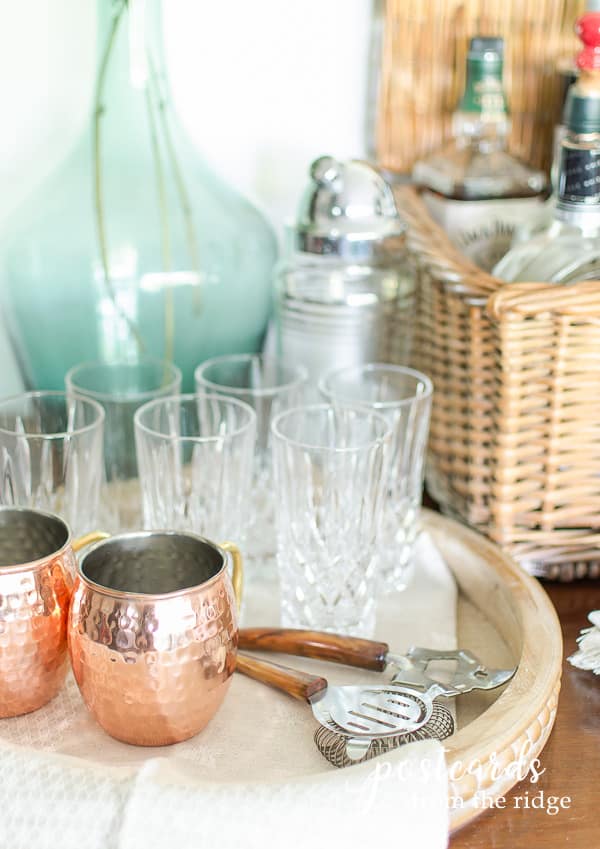 I added a couple of
clay colored linen pillows
for fall and am really liking this color right now. The kitties are loving
the refreshed space too.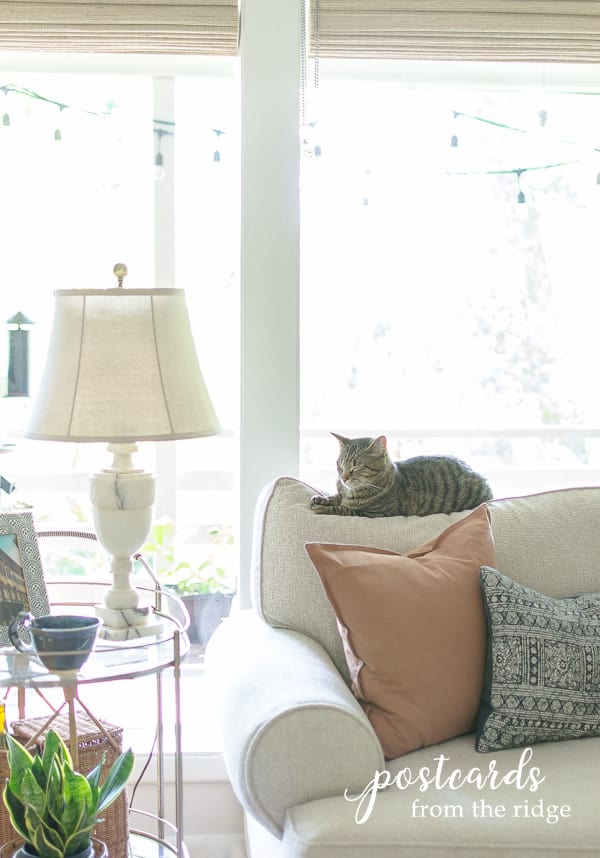 They also love hanging out on the deck and napping in our outdoor chairs.
Such a rough life they live, lol.
That pretty much does it for my living room with the old, new, copper, and
blue fall decor. If you love decorating with vintage items, you might also
like this post:
9 Creative Ways to Use Vintage Items in Your Fall Decor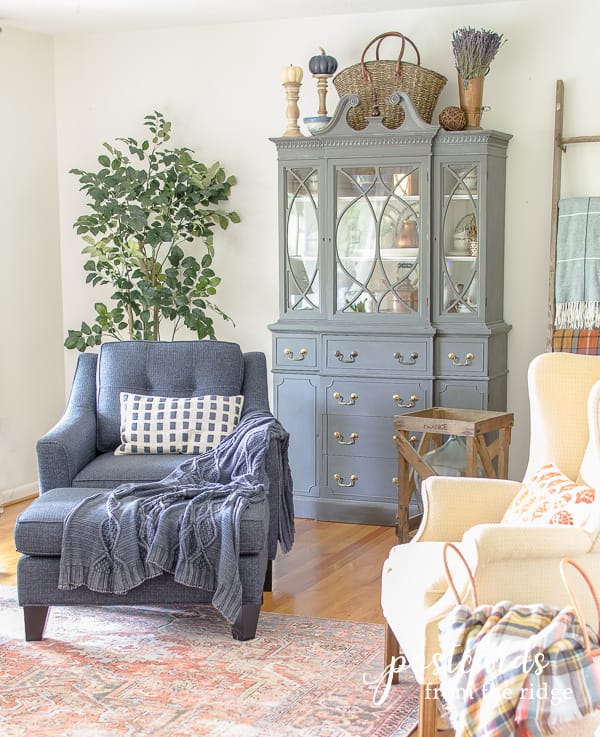 Next up on the tour is my friend Cindy at DIY Beautify. She loves many of the same things I do so I always like to see how she
decorates for each season.