Decorating with architectural salvage
Ideas for using architectural salvage as home decor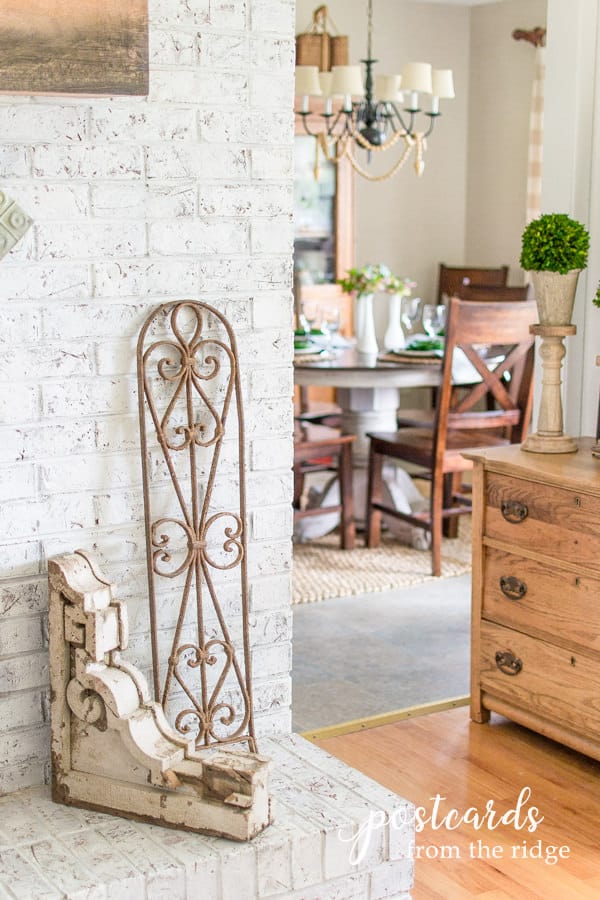 This post contains affiliate links for your convenience. I may make a small commission on products purchased with my link, but your price does not change. For full disclosure go here: Disclosure and Policies. Thank you for supporting my site.
Decorating with architectural salvage
Let's talk about architectural salvage and how I never met any that I didn't love. Well, there was that one time…. No really, it's one of my favorite things to use as decor and you'll see it sprinkled all throughout my house.
Apparently I'm not the only one who feels this way! My pal Cindy at County Road 407 also has a weakness for architectural salvage and has organized a group of bloggers to share some ways to use it in your home.
If you're coming over from Cindy's, welcome! She always has the best decorating ideas!
Where to find Architectural Salvage
Whenever we travel, I enjoy visiting antique shops. I also love our local shops, vintage markets, barn sales, estate sales, and the Nashville Flea Market. I think you get the idea. 😅 They're all great places to find interesting architectural salvage.
You can save gas and time and find all kinds of fun vintage pieces online at etsy. And you can always find great reproduction pieces here → Antique Farmhouse and here → Decor Steals.
There are so many types of interesting architectural salvage pieces to decorate with and I'm going to show you a few ways I've used them in our home, plus a few dreamy favorites that I've spied in shops.
Ideas for Decorating with Architectural Salvage
Saving these items from the landfill is just one of the perks of using them. They're always a conversation piece and give your home a unique personality.
1. Mantels
Do you ever find an item that you love but don't know exactly what you're going to do with it? It definitely happens to me and this old rustic mantel was one of those things.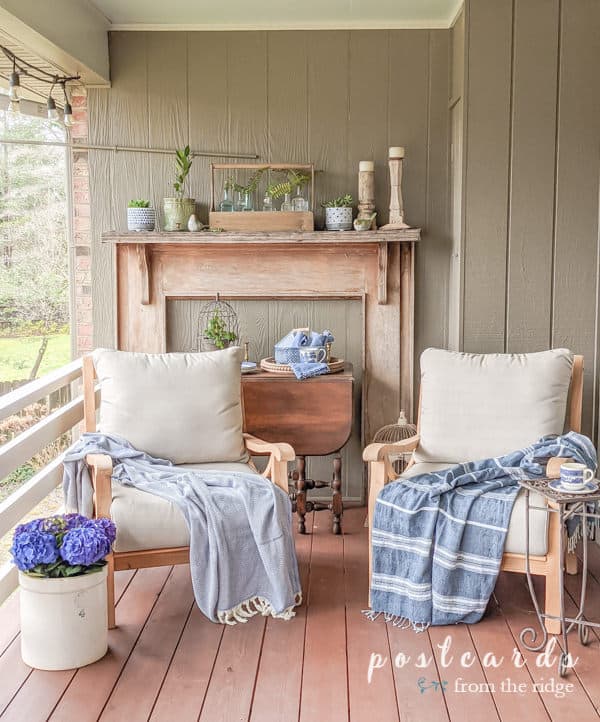 I found it for $40 at an estate sale and couldn't pass it up. Did I know where it was going? Nope. But I knew it was coming with me.
See the details of this spring deck decor here: Ideas for Blue and White Deck Decor
I had it attached to our shed, exposed to the weather for a couple of years. Then one day I had an "AHA!" moment and knew exactly where it belonged. It's been out on our deck for almost 2 years now and is one of my favorite spaces.
Get the details on the fall decor on the deck here: Cozy Rustic Mantel and Fall Decor
My advice: If you love a piece you'll find a place for it in your home. It may take a while, but if it speaks to you then bring it home.
2. Corbels and Brackets
Corbels
Large or small, corbels make interesting decor. I have some reproduction corbel bookends from my shop that I've used in various places around the house. They look pretty and are great at keeping my old books from falling over.
I snagged the old large wooden corbel shown on our hearth at a local Vintage Market Days show. I wasn't really looking for it but loved the shape and size and the price wasn't horrible. And now It's one of my favorite pieces.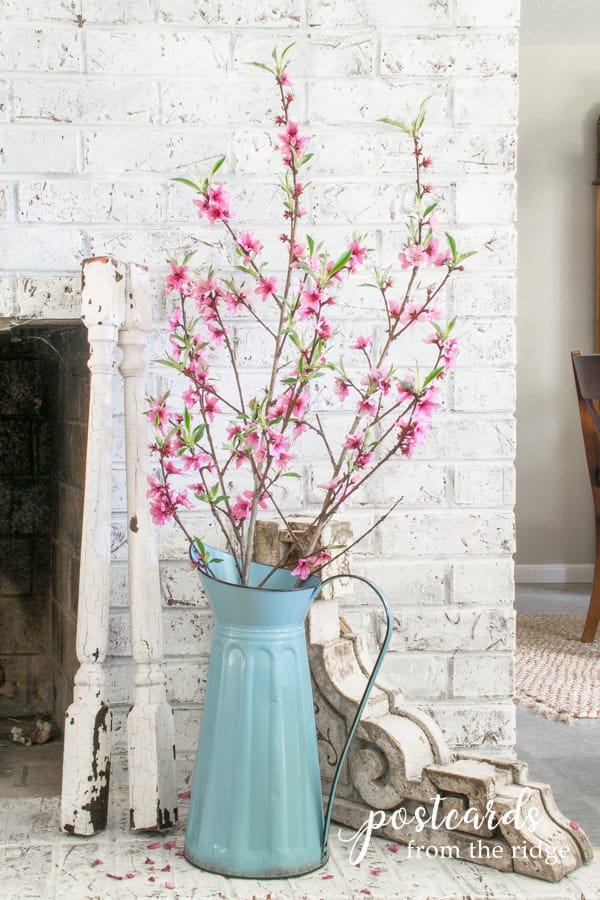 See more of this spring mantel and fireplace decor here: Spring Mantel with Flowers and Vintage Finds
I saw these huge red and white corbels or porch brackets at the "World's Longest Yard Sale" a few years ago. They're massive but would really make a statement in any home. And they would be a really cool base for a table.
3. Spindles
Spindles, anyone? This pile was in one of my favorite antique shops in Asheville that has tons of architectural salvage. I love the green and pink ones.
Look at all of those chunky spindles, corbels, and columns!! When we moved my oldest daughter to Austin a couple of years ago I got to visit the Olde World Antieks shop in nearby LaGrange.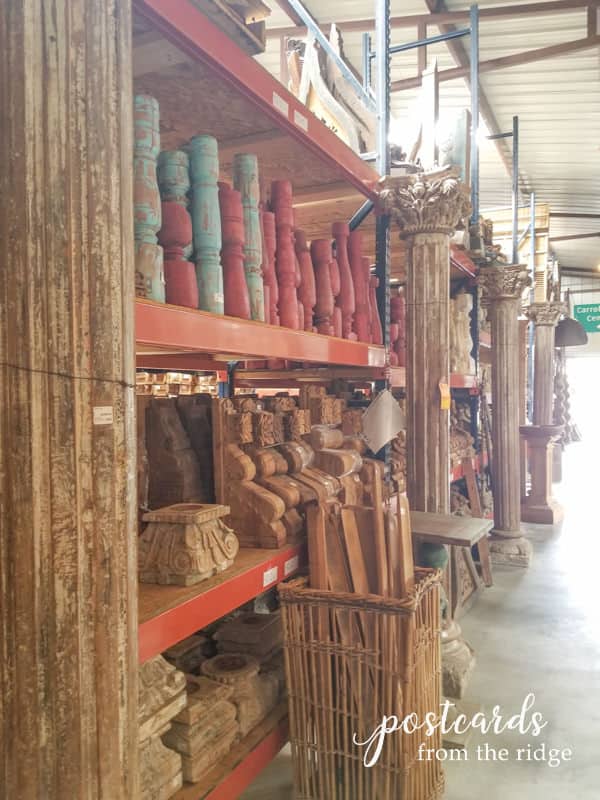 Oh my goodness. It was packed to the rafters with all kinds of architectural salvage. And my husband was lucky that I didn't get a moving van to bring stuff home with me.
These old chippy wooden rails would make an awesome console table base. Or you could just mount them to the wall and use them as art.
Spindles and bedposts are perfect for candleholders. I have some similar ones in my garage that I will make into pillar holders one of these days.
These rustic candle holders have been all over our house and have such character and patina.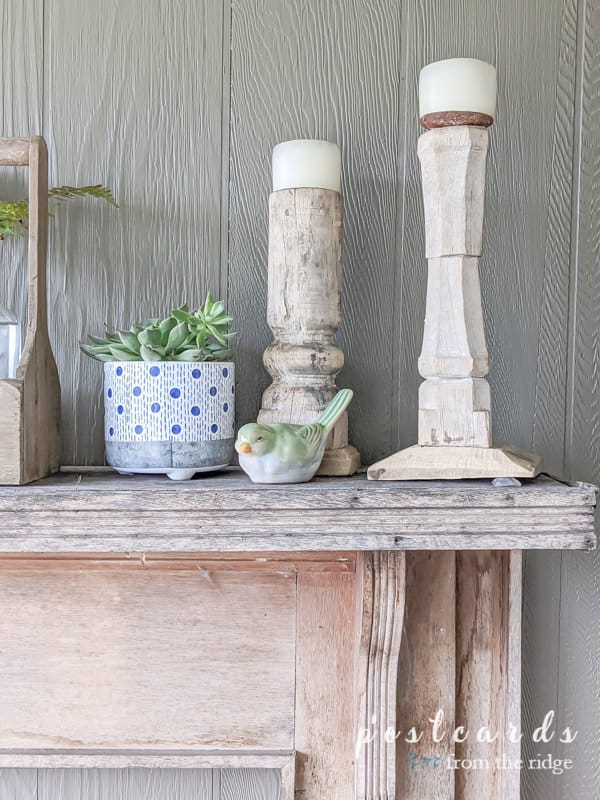 4. Tin Ceiling Tiles
There are lots of things you can do with reclaimed tin ceiling tiles. The two stacks above were at The Tobacco Barn antique shop in Asheville one time when I visited there. It has so many ideas for decorating with architectural salvage.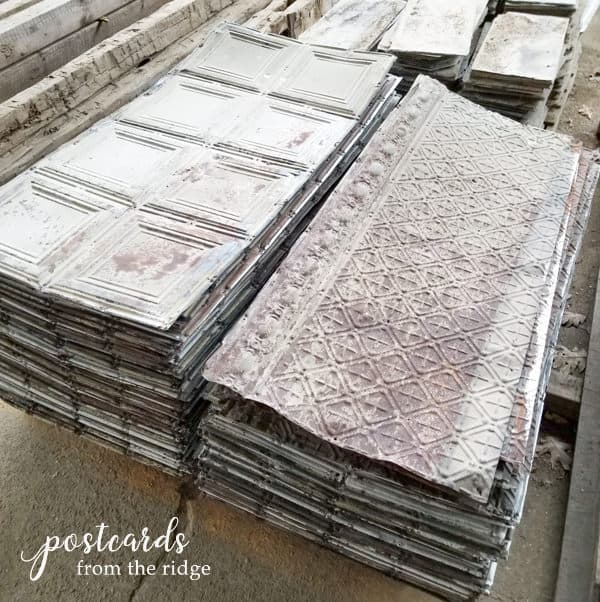 These old white ones were at the "World's Longest Yard Sale" a few years ago. You could hang antique tiles like these on the wall just as they are for some rustic, chippy wall art.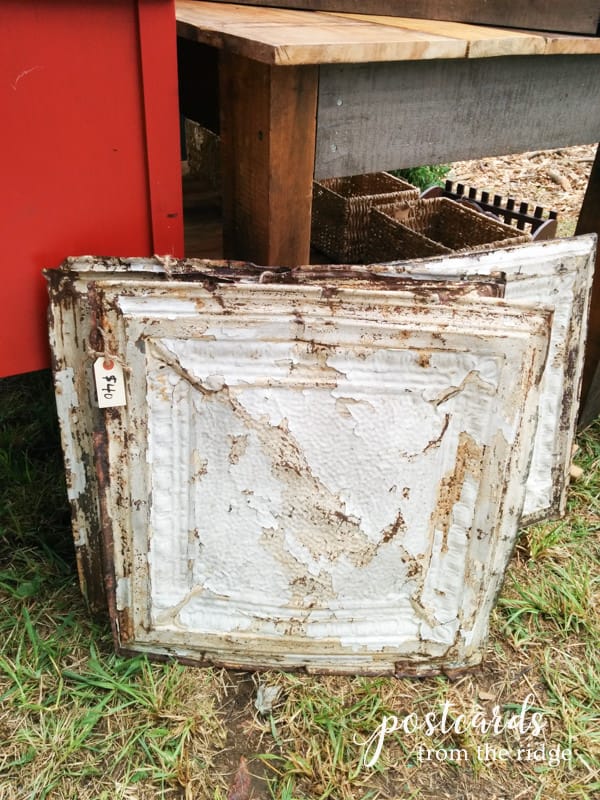 I have some reproduction tin ceiling tiles from my shop that I've used over our living room mantel. They add a nice texture to the space and are a fun backdrop for the little boxwood wreaths. See more of this spring mantel decor here: Spring Mantel Ideas
The small tin tile plaques were found at the Knoxville Vintage Market Days a few years ago. It's a great way to use scrap pieces. And I love the different colors on these. Also, more of this fall mantel decor and the free leaf printable art is found here: Rustic Green and Copper Fall Mantel
The green ones look great with my spring decor. You can get these free vintage botanical printables and see more of this spring mantel here: Spring Entry and Living Room Decor with Free Printable Botanical Art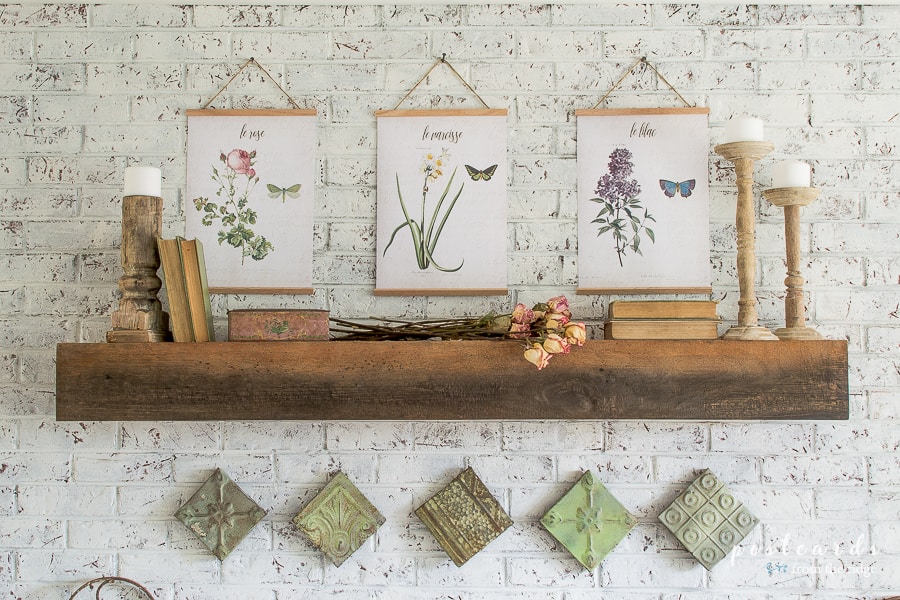 They can be hung straight or diagonally. More of this fall mantel decor is found here: Fall Fireplace with Warm Muted Colors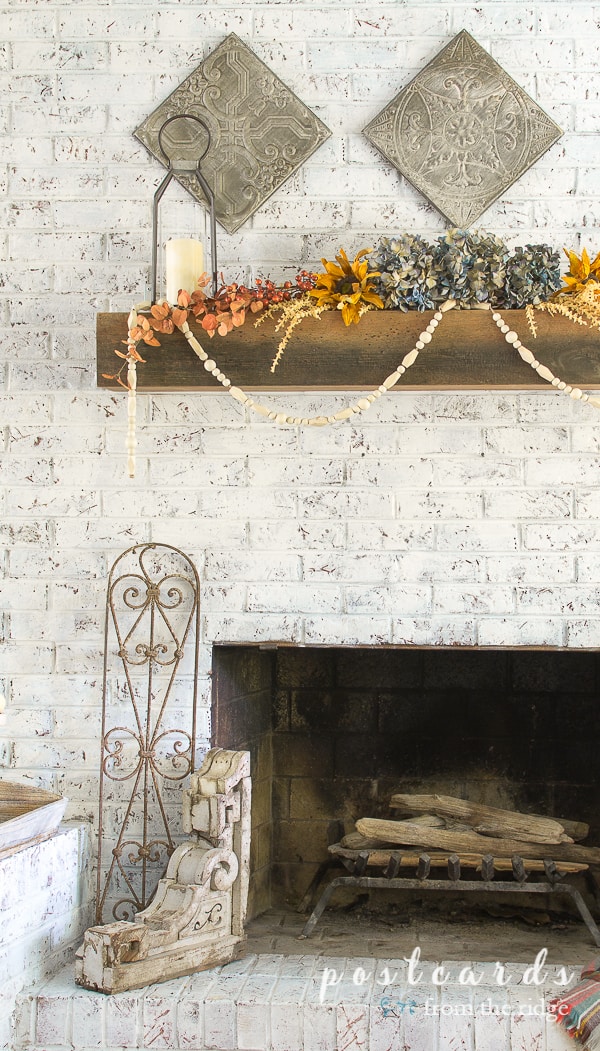 5. Wrought Iron Fence Sections
The chippy, rusty fence pieces were found at a local antique shop a few years ago. They're usually on the hearth in our living room or family room and add height and texture to the area.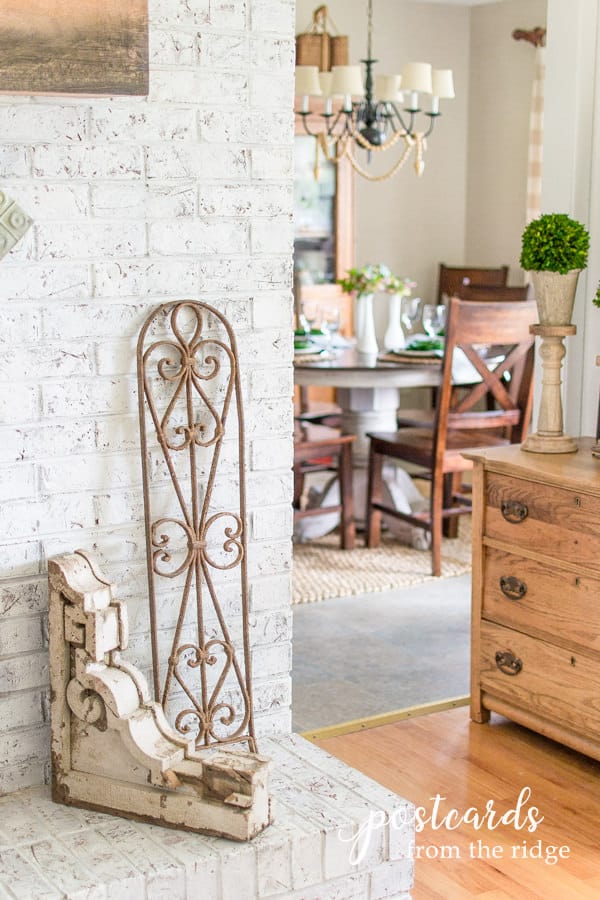 6. Salvaged Windows
Stained glass windows are a great way to add pattern and color as well as a little privacy to your windows. I've seen them installed over bathtubs to offer privacy while still allowing light to come into the room.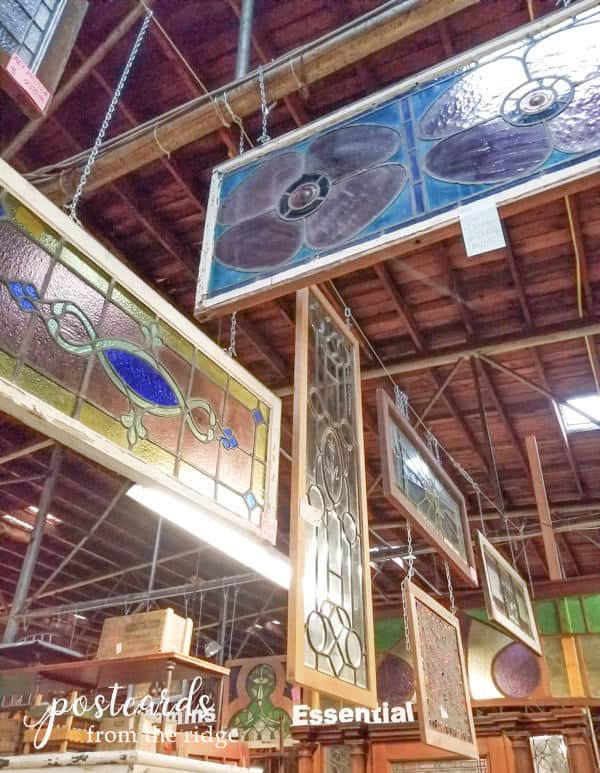 The old doctor's office window came from a building not too far from our home. It's over 100 years old and is a little fragile. I took it down from here earlier this year and haven't hung it back up yet. Stay tuned to see where it ends up.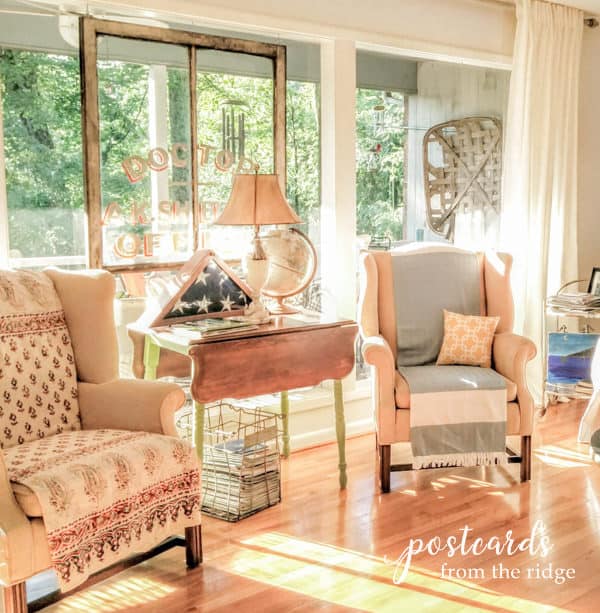 7. Wooden Shutters
Old shutters are fun to hang over a mantel or used as a room divider or privacy screen. See more of this cozy fall look here: 5 Ways to Create a Cozy and Inviting Room
When we bought our 1964 house, two of the bathrooms had these wooden shutters. I replaced them with blinds and hung them over the family room fireplace for a few years as a unique wall hanging.
8. Rosettes, Plinths, and Other Detailed Salvaged Architectural Pieces Used for Decor
Little items like vintage wood plinths and rosettes can be tucked into shelves or hung together on the wall in groups. I've seen hooks added to these and they look really cute. More of this fall mantel decor can be seen here: Vintage and Natural Fall Decor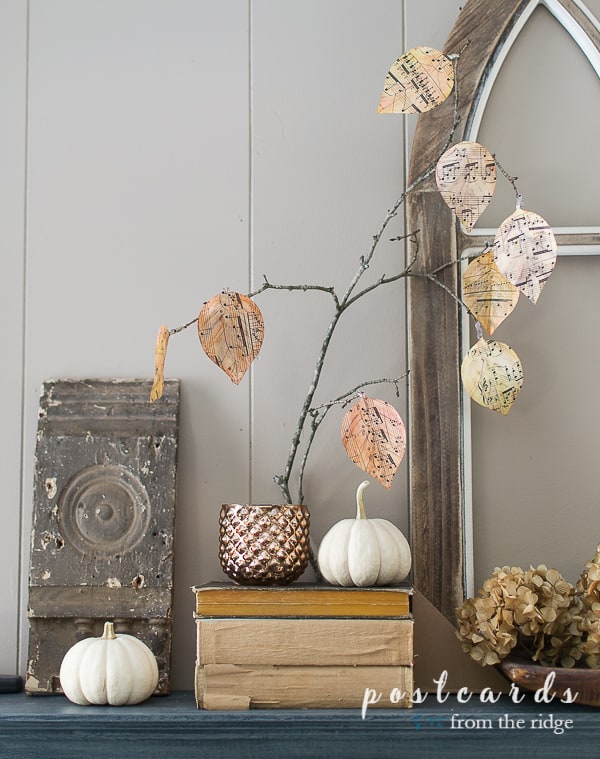 Who would have thought that wall grates could be used for decorative purposes? We visited a friends' house in Nashville when we lived there and they had a large collection of these that were painted white and hanging on a wall. And I thought it was one of the coolest, most clever things ever.
Look at these dreamy pieces!! I have no idea where they could go in our house but they're amazing. I saw them at an antique shop in Asheville. What would you do with these?
Ceiling medallions are another thing you can use in your decor. On the top right shelf of my craft room I have a new one that looks old.
Old interesting window frames can be turned into stunning mirrors. Don't you love the design of this one I saw in Texas?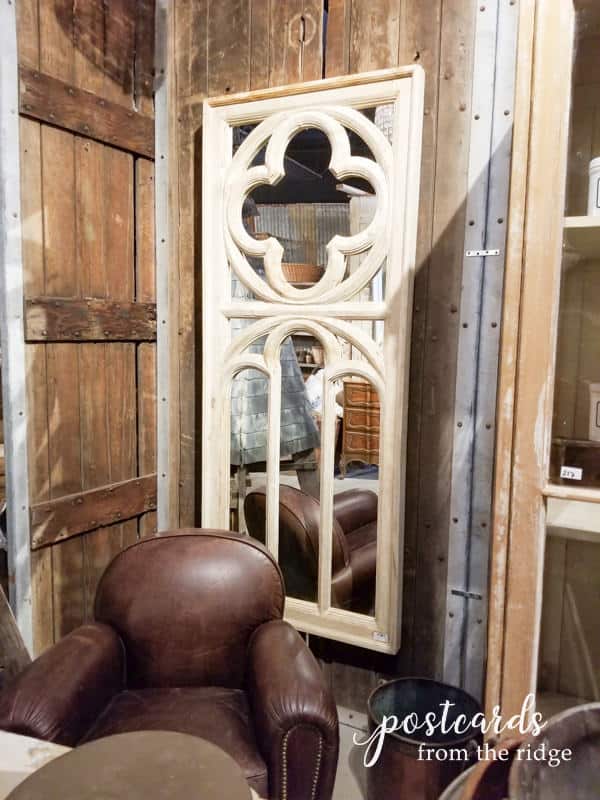 And here's another piece that's stunning. It would look amazing hanging on a wall above a fireplace in a large room. Or it would be an incredible headboard.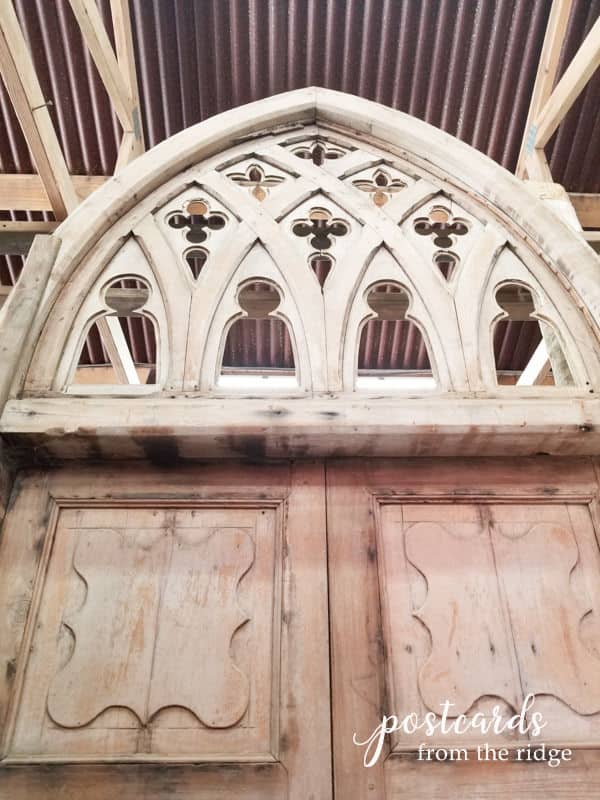 9. Reproduction Architectural Salvage Decor Pieces
Since you can't always find an original, old architectural piece that suits your needs, thankfully there are lots of good reproductions like the arched window frame over our family room fireplace. (Did you also notice the spindles and iron fence section?)
See more of this area here: Simple Spring Mantel with Milk Glass Vases and Flowers
In our guest bedroom, I had a mirror added to second-hand piece of wall decor. I took it to a local glass company and I think it cost about $30 to have the mirror cut and attached. I've seen new ones like it here: Petal Circle Mirror. See the details of this room here: Guest Bedroom Update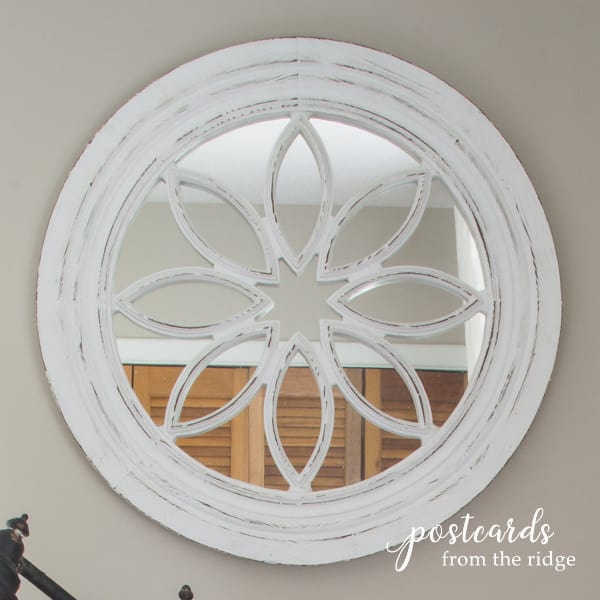 In our master bedroom I hung a couple of reproduction cathedral windows from my shop for interest. I like to hang wreaths on them during the holidays.
I don't actually have any old doors at our house besides the one that came with it, lol. But aren't these dreamy? And would it be wrong to build a house around one of these beauties?
More of our fall bedroom decor is in this post: A Touch of Fall in the Master Bedroom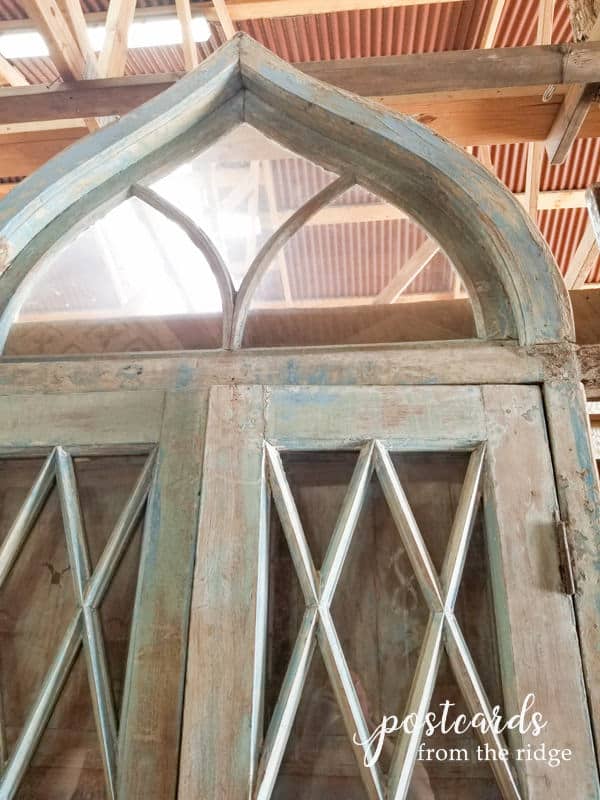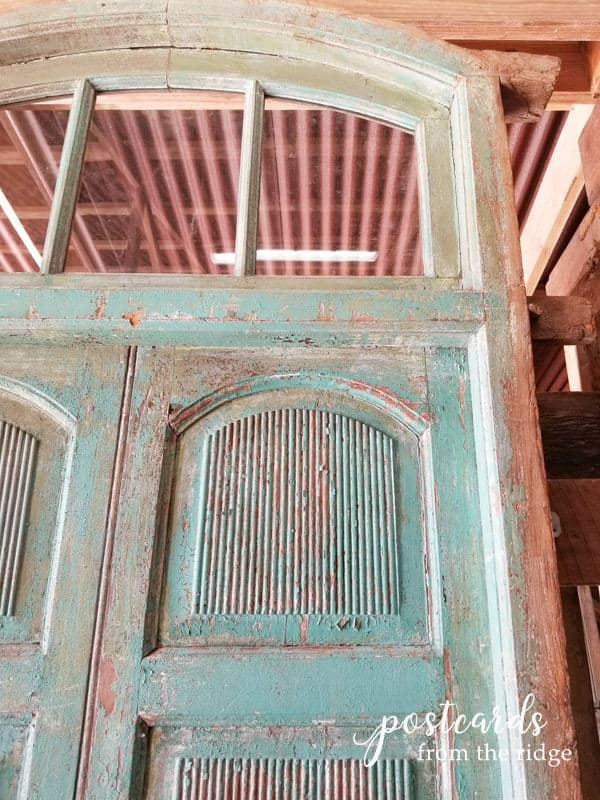 That does it for my favorite finds and ideas for architectural salvage.
What's your favorite architectural salvage find or something you're on the hunt for?
And who's ready to go junking with me after seeing all of these goodies?
Next up is one of my favorite vintage bloggers, Michelle at The Painted Hinge. You'll love her style!
And here are all of the bloggers who are sharing ideas for using architectural salvage in your home. Be sure to visit everyone for some amazing inspiration!
You are invited to the Inlinkz link party!