10 Reasons Why You Need Shelf Liner
If you've ever wondered whether you need to use shelf liner, the answer is yes. It's an important step in keeping your home neat and tidy and you really don't want to skip it.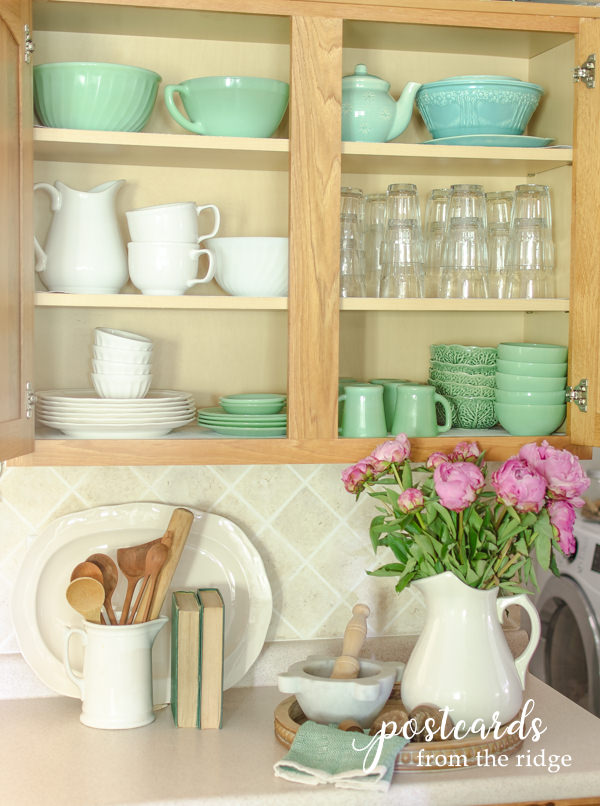 Why Shelf Liner is Always a Good Idea
Lately I've been working on cleaning and organizing our home, including all the cabinets and drawers, so I was happy when Duck Brand reached out to me about using some of their products.
Today I'll share why you need to use liners in your cabinets and drawers along with a few
tips for organizing them.
10 Reasons Why You Need Shelf Liner
1. Protects Your Cabinets, Drawers, and Shelves from Scratches
Your cabinets are a big investment and you want to take good care of them. Using a good liner in your drawers and cabinets will help keep them from getting scratched when things get moved around or shifted.
Duck Brand products will keep your cabinets and drawers scratch-free.
2. Protects Glassware from Chips
I don't know about you, but when one of my favorite glasses or bowls gets chipped it makes me sad. Especially if it's a vintage or meaningful piece.
Using a cushioned liner will help protect your breakable items. The Duck Brand Smooth Top Easy Liner has a soft bottom but allows you to move items easily without them sticking to the shelf.
3. Helps Prevent Moisture Damage to Cabinets & Drawers
Wood and water don't play well together. Raise your hand if you've ever put away a dish that's not completely dry. If you don't have a liner on your cabinet shelves, you can do some damage by putting away damp dishes.
The water will soak into the shelf and leave a small raised area. Don't ask me how I know this. Moral of the story: a liner will prevent water and moisture damage.
4. Catches Drips and Spills
Honey jars, bottles of olive oil, balsamic vinegar, and other liquids can damage your cabinet shelves. Another place that gets spills is the laundry room.
Bleach, detergent, and stain removers can get inside your washer and dryer if spilled and wreak havoc on them. A liner will catch leaks and drips and is very easy to wipe down when needed.
5. Prevents Stains
Food coloring, extracts, and other foods can stain your cabinets and drawers permanently. Using a liner will save them from this and help your cabinets stay clean and look new for a long time.
6. Softens Noises
Have you ever walked through the kitchen and heard your dishes or utensils rattle as you passed through?
Using a cushioned liner like the Duck Brand Smooth Top Easy Liner® will soften the noise so you don't wake up any sleeping babies or adults.
7. Covers germs and leftover residue from previous tenants
Unless you're the first person to live in your home then you have no idea what was in your cabinets and drawers before you moved in.
Cleaning them before putting your things in them is always a good idea, and a liner gives you a fresh, sterile start. You just never know…
8. Makes items easier to see
Our kitchen cabinets and drawers are wood so it can be difficult to see some items, especially since my eyesight seems to get worse every year. Using a light colored liner in the drawers makes everything so much easier to see.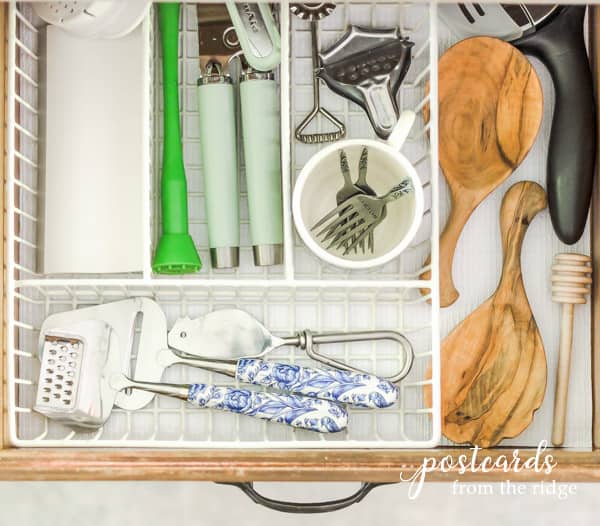 9. Easy to Clean
Cleaning a liner can be done with a damp cloth. Warm sudsy water will remove most sticky liquids and crumbs. And the Duck Brand Smooth Top Easy Liner can be tossed into the washing machine if needed!
10. Fun Patterns and Designs
It's amazing how many cute patterns of shelf liner are available. Although white is always a classic choice, using a fun print can add personality and pizazz to your drawers and cabinets.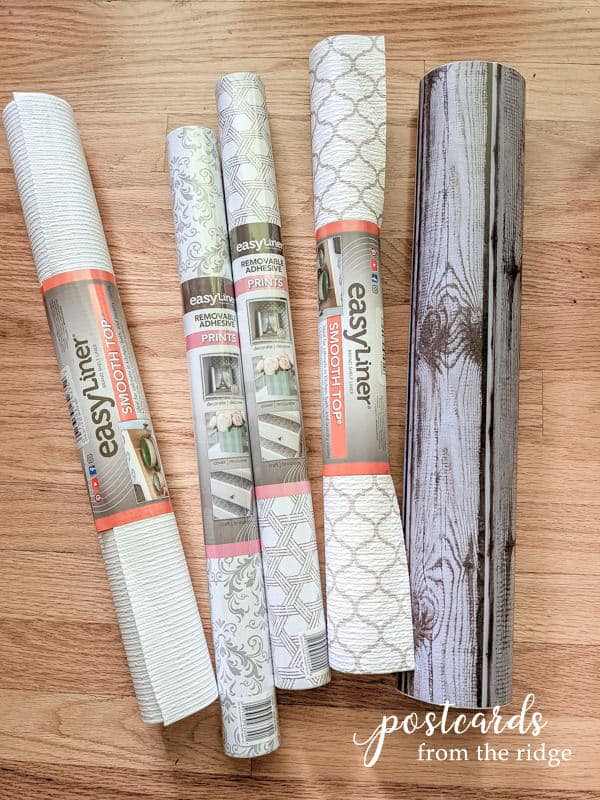 Shown: White Smooth Top Easy Liner // Gray Damask Removable Adhesive Liner // Lattice Print (discontinued) // Quatrefoil print easy liner // Woodgrain Removable Adhesive Liner
I used a classic quatrefoil print in the drawer of our hall bathroom. It's so pretty and looks like the inside of a gift box now.
Tips for organizing your drawers and cabinets
Now that you know all of the great reasons that you should be using liner in your cabinets and drawers, here are some tips for getting them all organized.
1. Remove everything
If you're in a new home then you can skip this step. Lining everything before you put any of your items in drawers and cabinets is the best method. Otherwise, empty all of the contents.
2. Wipe Clean
Clean the drawer or cabinet shelf with a damp sponge or cloth and wipe dry.
3. Measure and Cut Your Liner
Measure the drawer or shelf and cut your liner to fit as precisely as possible. Use scissors or a rotary cutter to trim the liner to fit your drawer or cabinet.
Tip: if your drawers/cabinet shelves are the same size, use your first cut as a template for the others to save time measuring.
4. Install the liner
Place the liner flat in your drawer or cabinet. If you don't have a piece that's large enough you can use two smaller pieces to cover the area.
5. Use trays or baskets
Now it's time to start putting your things away. Using baskets and trays keeps items from sliding around and getting all messy.
6. Group similar items together
If possible, group similar items or things used for the same task together. I have a baking drawer that my measuring cups, spoons, whisks, and other baking tools are stored in and others that have similar items grouped together.
7. Place small items together
A pretty bowl, mug, or basket is a nice way to store all of your small items together. I used a small green bowl for all of our corn cob holders, and a mug for some little cheese markers.
It also makes the drawer look pretty.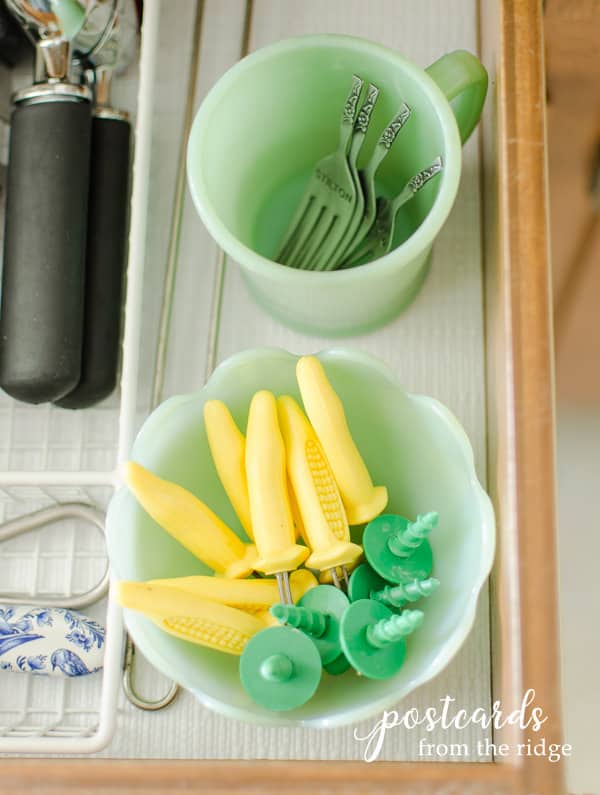 8. Declutter regularly
If you don't use it or love it, say goodbye to it. Get rid of dishes, glasses, utensils, and gadgets you don't use or have unnecessary multiples of.
Other uses for liner paper
Besides the obvious use in drawers and cabinets, here are a few other places that you can use liner paper:
Underneath the bathroom or kitchen sink
In the pantry
On the linen closet shelves
Desk drawers
Dresser drawers
Laundry shelves and cabinets
Butler's pantry
Adhesive liner papers can be used on a variety of different places as well. Here's a little project I recently did using the Duck Brand Removable Adhesive Easy Liner® basket weave print.
I found this old metal paper organizer at an estate sale for $3. It needed a good cleaning and facelift, for sure.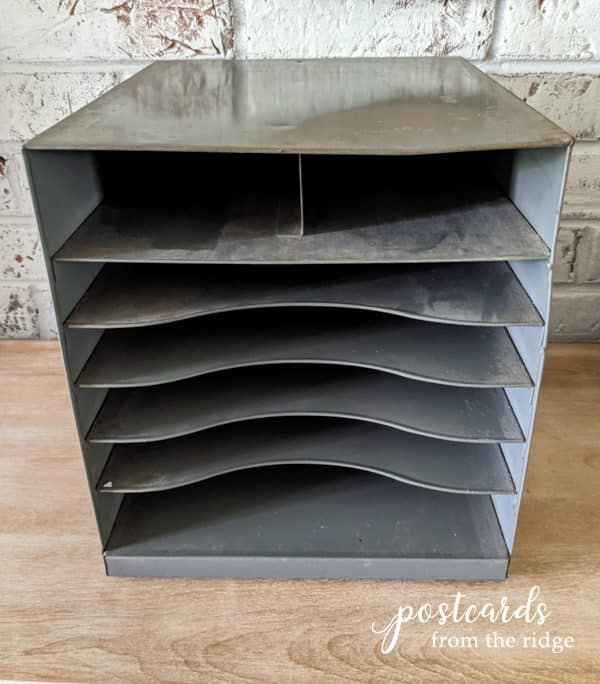 After I cleaned it, I cut a piece of the basket weave print to cover it with. I began peeling off the backing at a corner and carefully placed it on a corner of the paper organizer.
I slowly removed the backing as I placed the liner on the paper organizer and smoothed the air bubbles as I went.
TIP: if you can't get all of the air bubbles out, use a utility knife and cut a small slit in the liner on or next to the air bubble. Then push the air towards the slit and smooth the liner after the air escapes.
After it was covered, I carefully trimmed off the excess with a utility knife.
TIP: If you're covering a surface with a curved edge, cut the liner in strips around the curve, then tuck each piece underneath one at a time.
It looks so much better! And it only took about 30 minutes to complete this little project.
Here are a few ideas of other things you could cover with the adhesive liner:
Tray
Picture frame
Box
Cookie tin
Drawer fronts
Top of accent table
Back wall of bookcase or pantry
High chair tray
The possibilities are endless!
Where would you use the Smooth Top® or Adhesive EasyLiner®? Let me know in the comments. I'm always looking for new ways to use things.
Explore all of the EasyLiner options available here:
Duck Brand Easy Liner®
See how I used the Duck Brand® Clear Classic® EasyLiner® for my shop inventory shelves here:
The Best Liner For Wire Shelves and Racks