Antique Hutch Decorating Ideas
Ideas for decorating a hutch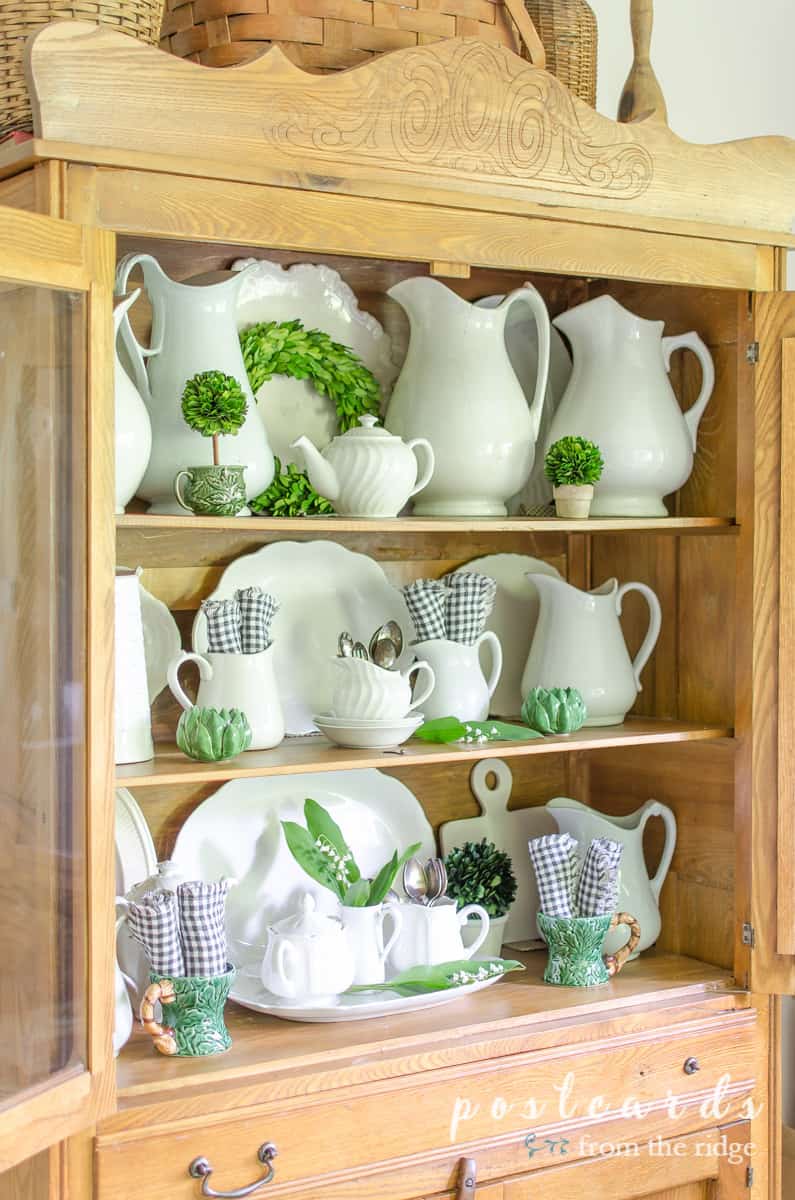 This post contains affiliate links for your convenience. For full
disclosure go here.
Decorating a hutch or cabinet is one of the easiest ways to celebrate the
current season, whatever it may be. I enjoy changing out the decor in our
hutches depending on my mood or whatever holiday is approaching. Stick around
and you'll find lots of ideas for decorating your hutch in today's post!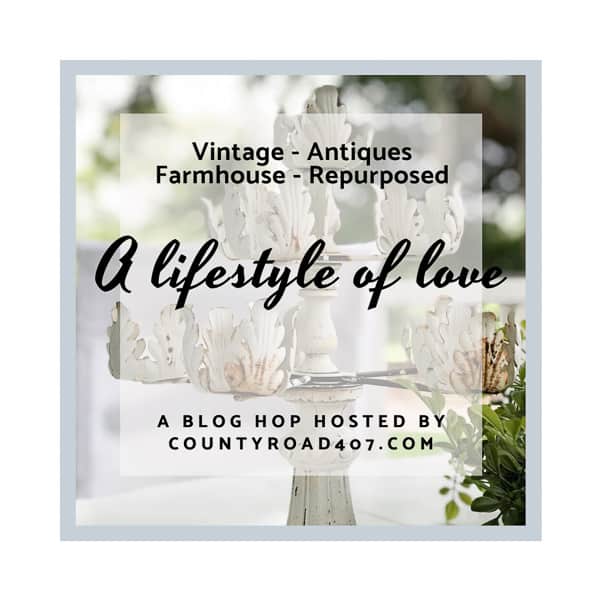 Today I'm joining a team of vintage-loving bloggers for a blog hop hosted by
Cindy at
County Road 407. We're all sharing ideas for decorating hutches and cabinets so I'm sure
you'll see something that works for you!
Links to everyone's posts are at the bottom of this post, so be sure to keep
scrolling when you finish here. If you're coming over from Cindy's post at
County Road 407, welcome! She always has the prettiest ideas for decorating your home! Be
sure to see her ideas if you haven't already done so.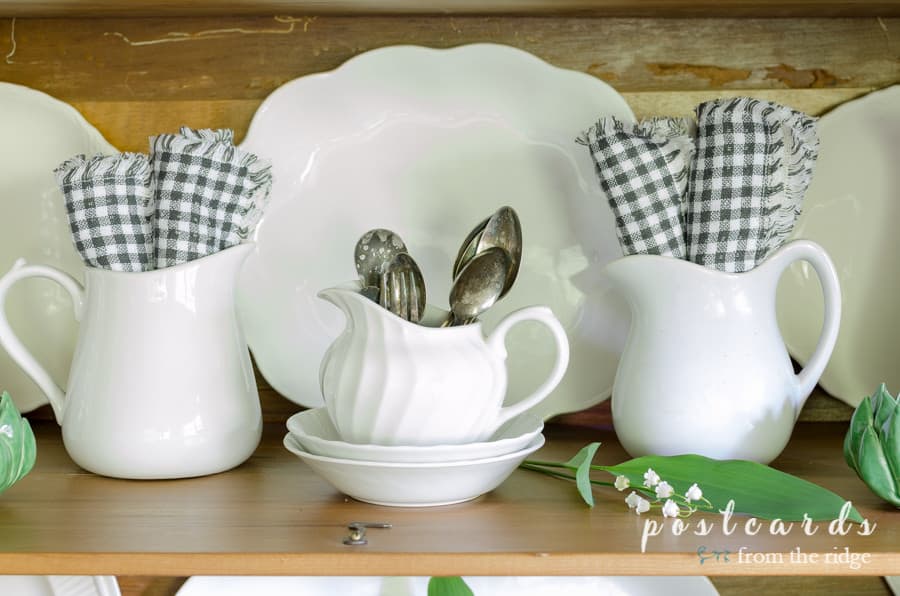 In our house, we have an antique oak hutch as well as a traditional China
cabinet. I enjoy styling both of them, but especially the antique oak hutch.
Maybe it's because it's wood and it's somewhat neutral, but it just seems to
go with whatever colors I put in here. I'm sharing both hutches today and
how I have them decorated for early summer, plus some ideas that I've done
in the past.
Items to decorate a hutch with
1. White Ironstone
My
vintage white ironstone
collection has been accumulating for 20+ years and has grown into something
I really love. It's always in the hutch in some form or another, and serves
as a base for the accent colors and decor that I add here. (Napkins found
here:
Black and White Gingham Cloth Napkins with Fringed Edges)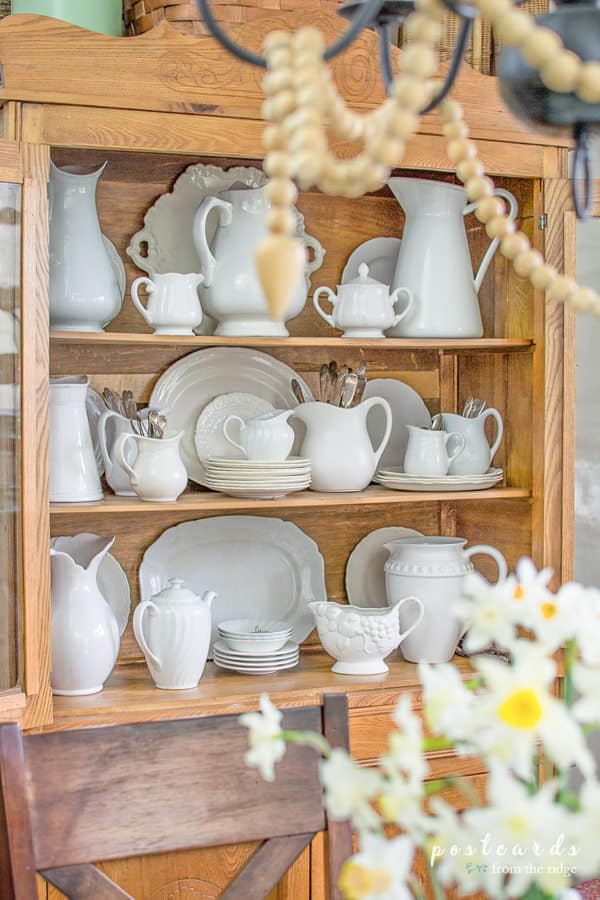 Most of my pieces have come from thrift stores, estate sales, yard sales, or
have been given to me. And there are a couple of reproduction pieces from my
online shop, Emory Valley Mercantile. (See the collection of vintage style
pitchers here:
Reproduction vintage pitchers)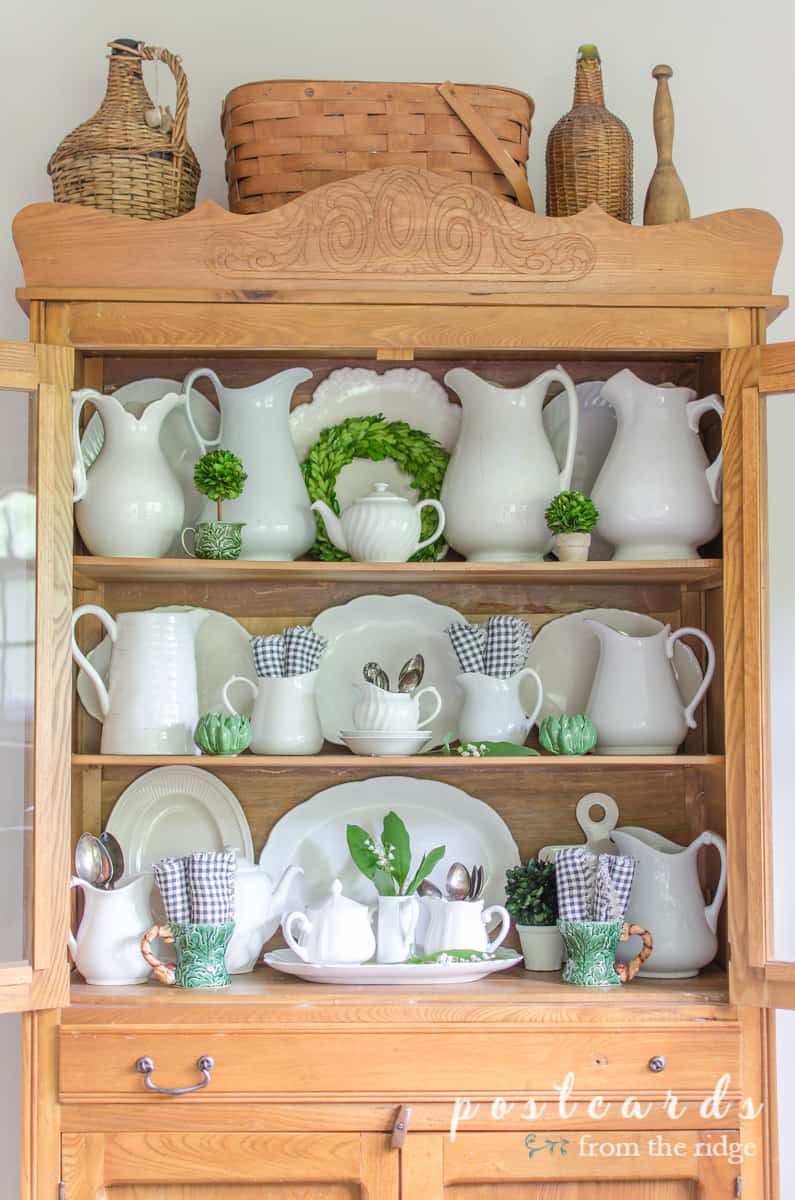 2. Blue and White dishes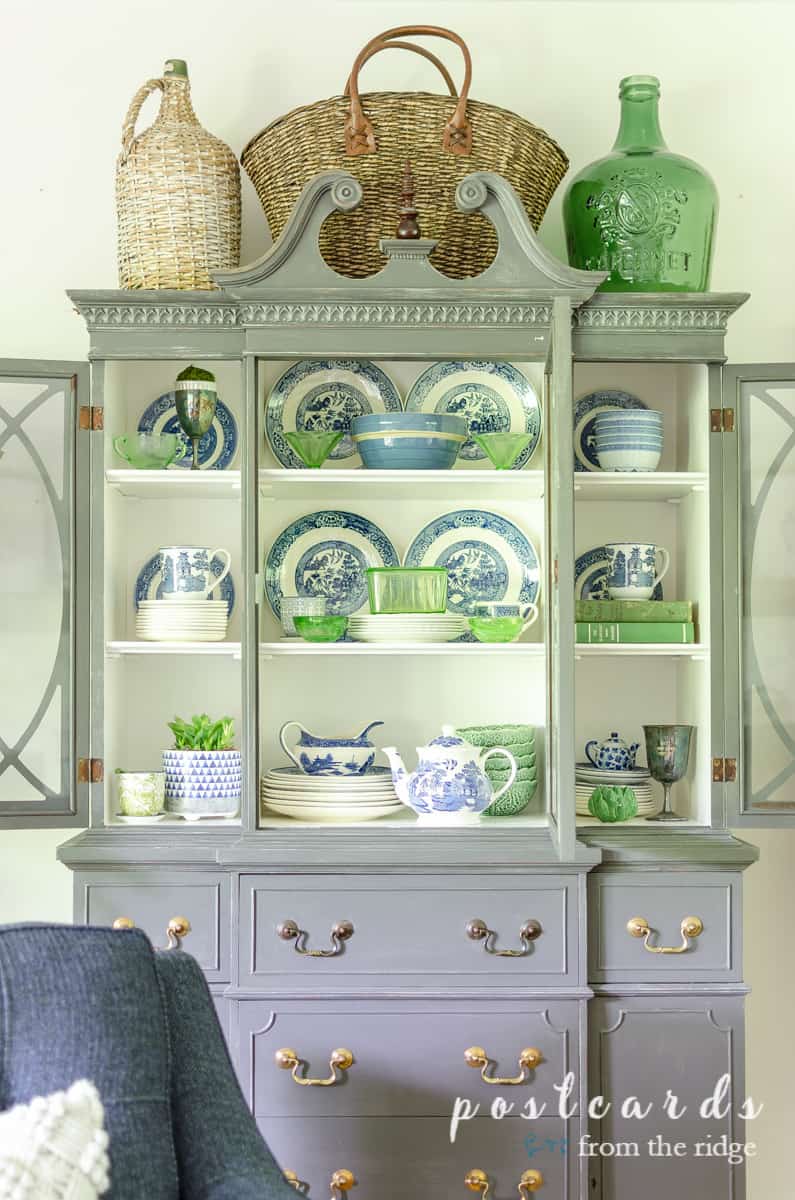 In addition to collecting white ironstone, I also collect (hoard)
vintage blue and white dishes. Like my white pieces, most of these are from thrift stores, estate sales,
etc., and have accumulated into a sizeable collection. Most of them are now
in the living room China cabinet.
3. Copper Pieces

Copper mixes beautifully with blue and white. It doesn't take much to make
an impact. I love this look for late summer/early fall. See more of this
look here:
20+ Ways to Decorate with Blue and White
4. Flower and Natural Items
For late spring/early summer, I added some Lily of the Valley flowers that
are blooming in my yard right now. I love using flowers whenever possible,
and these little ones are so pretty.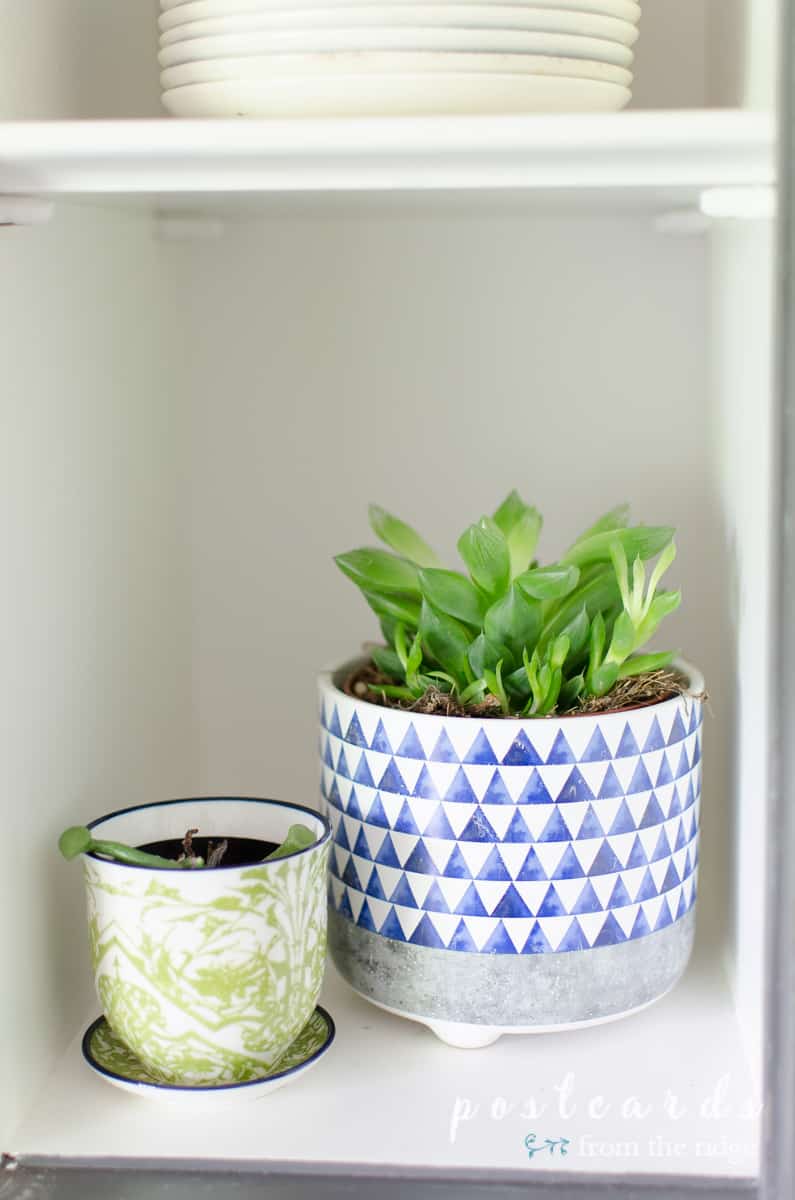 In the living room hutch I added some succulents for a little dose of
nature. They go perfectly with the blue and green theme that I have in
here.
5. Glassware & Pottery Pieces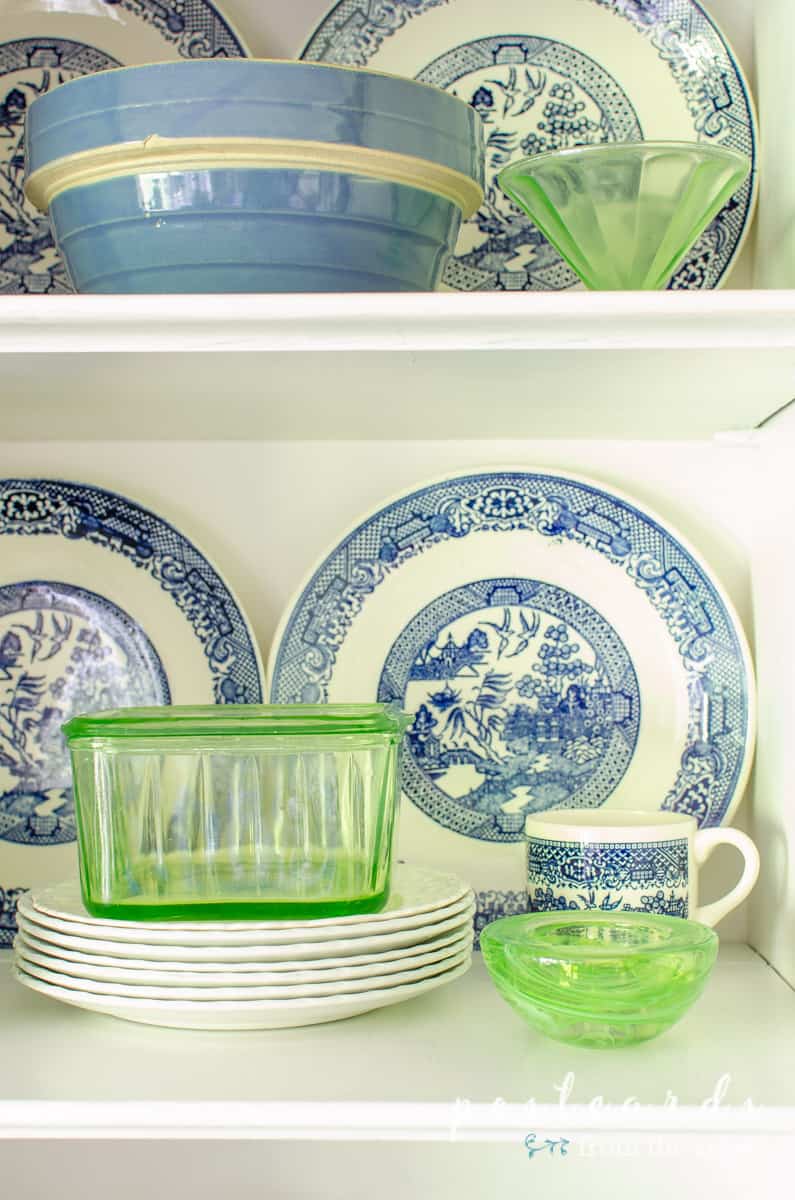 Add pops of color with colored glassware and pottery pieces. You don't have
to have many of these to make a statement, and they're usually pretty easy
to find at reasonable prices. My living room China cabinet has some
vintage green depression glassware
and some
vintage blue stoneware bowls
as accent pieces.
6. Vintage Books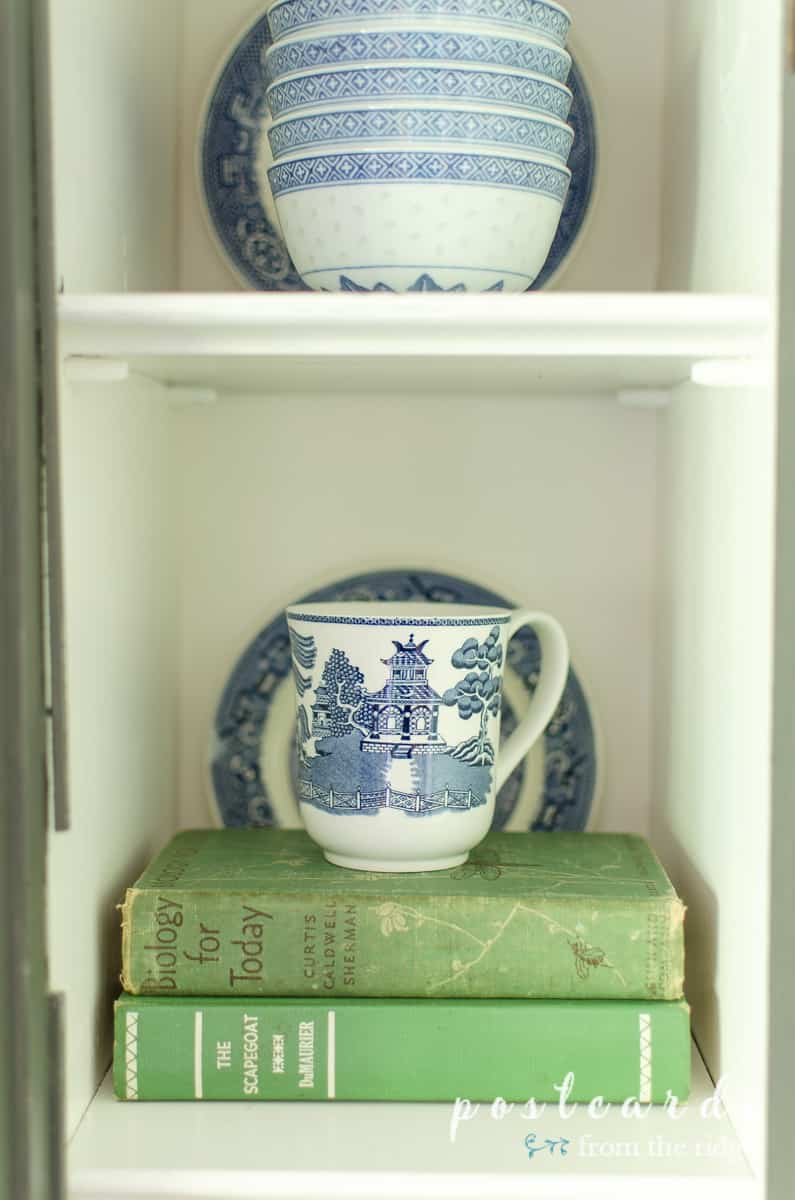 Old books are a fun way to add color and texture to any hutch, shelf,
cabinet, or display. And they're great to add height to an item whenever you
need it.
7. Vintage Silverware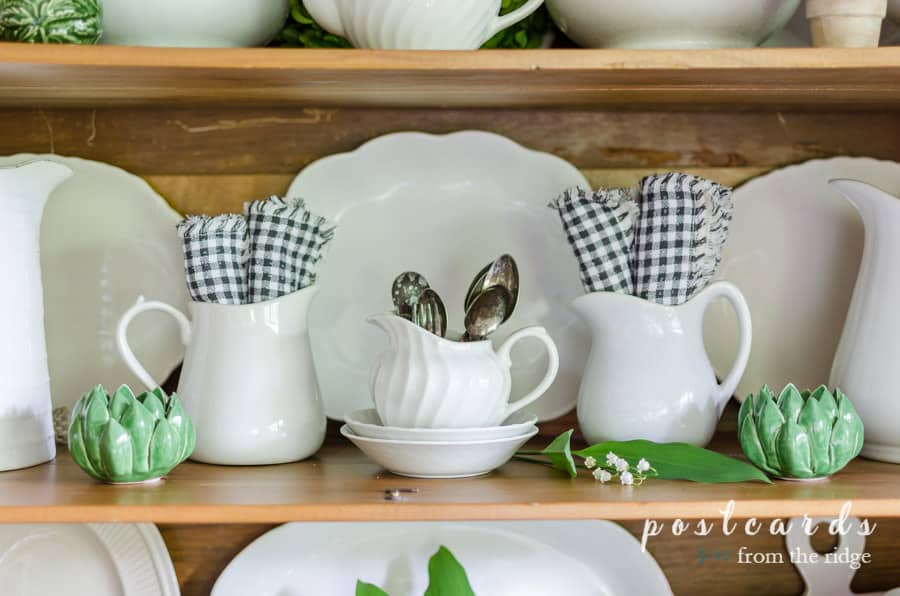 Are you team polished silver or team tarnished silver? Whatever your
preference, adding some
vintage silver pieces
is an easy way to add a bit of sparkle to a vignette. Obviously I'm team
tarnished silver, lol. (Artichoke tealight holders available in my shop here: Handmade Stoneware Artichoke Tealight Holders)
8. Vintage wooden butter molds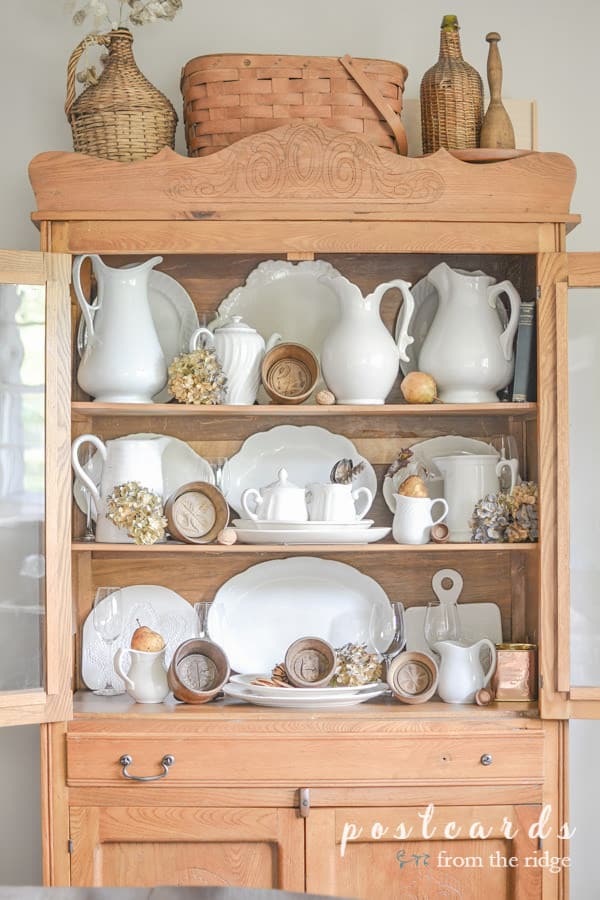 Got an unusual collection that you want to display? Add them to a
hutch or cabinet! I picked up these pretty,
old wooden butter molds
at an estate auction last year and added them to the hutch for a fall look.
I also added some pears and dried hydrangeas for a touch a nature.
9. Christmas Decor
Adding your favorite vintage Christmas items to your hutch is a quick and
easy way to make the space look festive. A few of my favorite
vintage mercury glass Christmas ornaments
placed strategically gave the hutch a very merry look without much effort at
all. Little preserved boxwood items add to the festive look.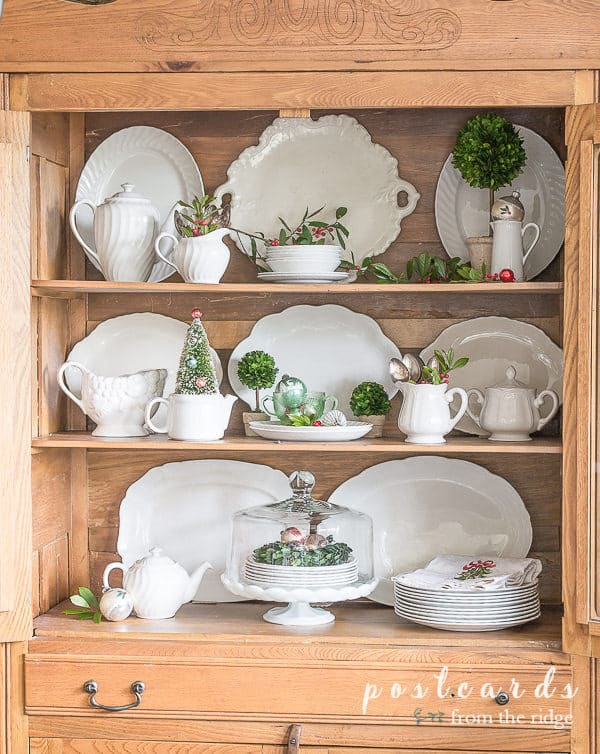 The Bottom Line
The most important rule? Use what you have and what you love.
I always try to use my stash/hoard when I'm decorating anything. If you're
just starting out, watch for sales and check thrift stores,
etsy,
eBay, and your other favorite sources for whatever it is that makes you happy,
and display them wherever you can see them. (Get my best tips for estate
sale shopping here:
How to Shop Estate Sales Like a Pro)
Use a cabinet, shelf, hutch, tabletop, or anywhere you like. It's your home
and you should love everything inside of it. (See more of my newly updated
living room here:
New Blue and White Living Room Decor)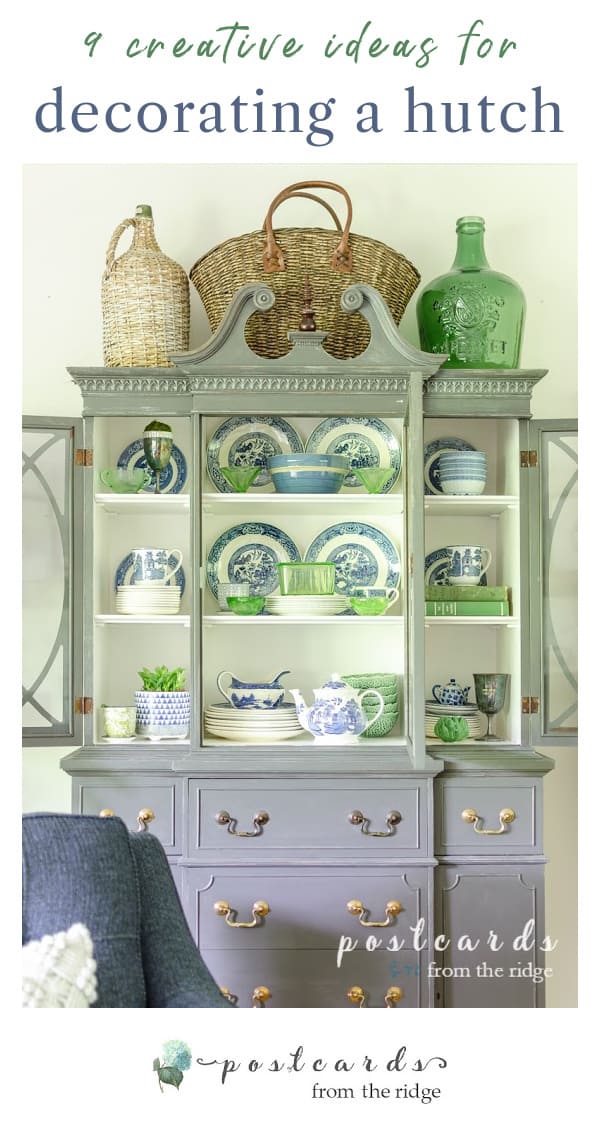 Now it's time to visit the lovely and talented Michele at
The Painted Hinge to see her ideas. You'll love her style, so be sure to drop by and see what
she's done! And visit all the posts below.
You are invited to the Inlinkz link party!
Thanks for dropping by!!