5 Reasons to visit Grand Tetons National Park and Jackson, Wyoming
5 reasons to visit Grand Tetons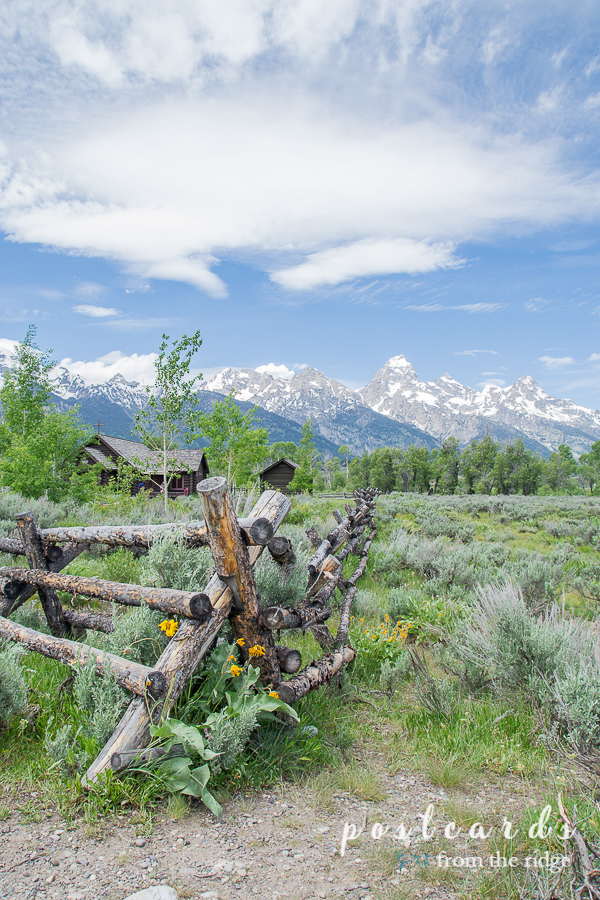 This post contains affiliate links for your convenience. For full
disclosure go here.
Hello, friends! Are you itching to travel to a beautiful place with amazing views? Do you love our national parks? We've visited many of them and today I'm sharing why Grand Teton National Park is one of our favorites.
If you love hiking, wildflowers, or just gorgeous scenery, then this needs to be near the top of your bucket list. We visited there and Yellowstone in the same trip. And while we thoroughly enjoyed both places, the smaller crowds and dramatic peaks of Grand Tetons made it a much more peaceful
experience.
I recommend visiting both parks if you can. They're not too far apart and you can do them both in a single trip if you have enough time. Here are the best things about Grand Tetons and Jackson, Wyoming.
5 Reasons to visit Grand Tetons and Jackson, Wyoming
Breathtaking Scenery
The scenery in Grand Tetons is simply breathtaking. Dramatic mountain peaks, tall pines, meandering streams….it's all there.
The peaks are beautiful from all sides. This view is from the northern part of the park.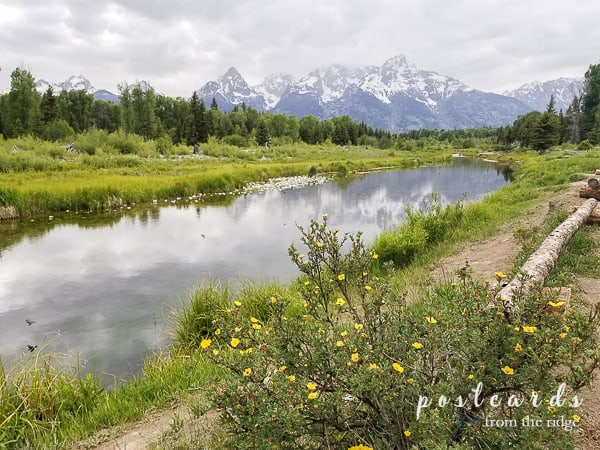 Schwabacher Landing is a very scenic spot with the shallow waters and views of the mountains.
It's an amazing place to watch the sunset, especially with the reflections on the water.
Beautiful Trails
Whether you're an avid hiker or just want to take a stroll on a gentle path through the woods, you'll find what you want in Grand Tetons.
The trails are well maintained and easy to follow. And they aren't usually very crowded at all.
Abundant Wildlife
Buffalo and elk and birds, oh my! And many other animal friends as well. You're sure to see plenty of wildlife throughout the park.
There are many beautiful species of birds. Isn't the color on this bluebird amazing?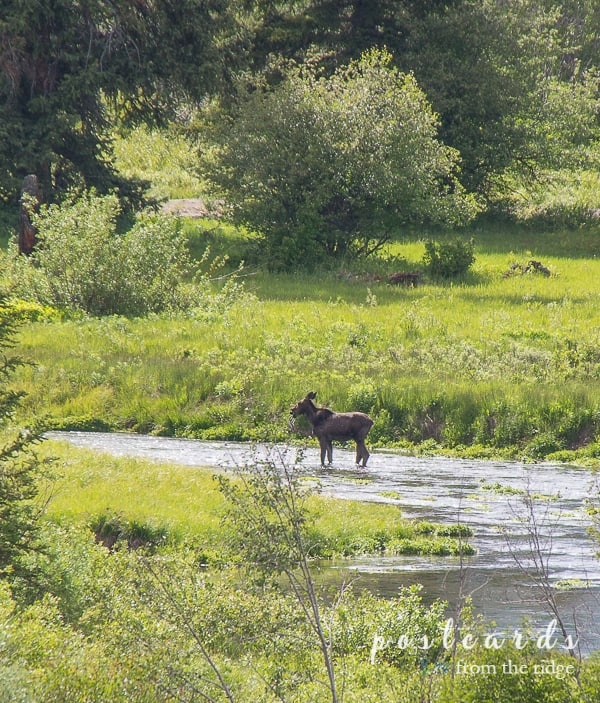 We spotted this elk taking a drink from a small stream after a rain shower.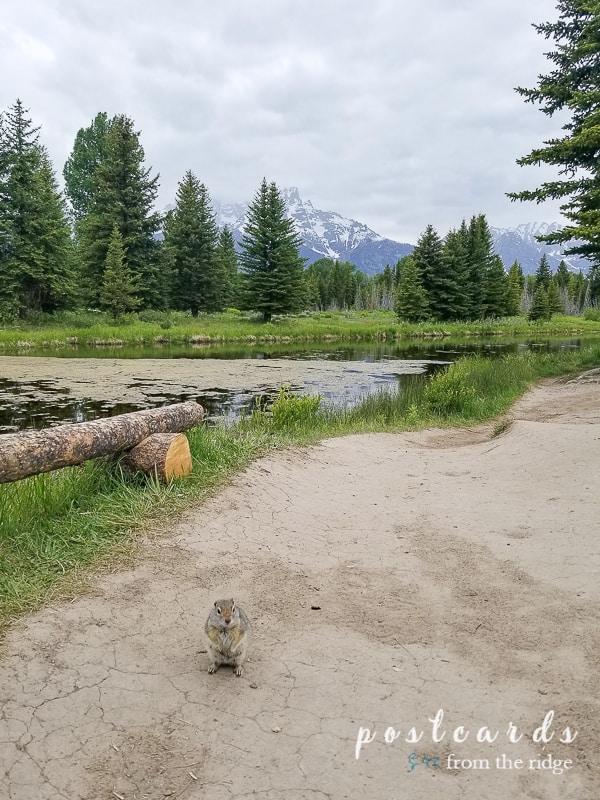 And this little chipmunk was begging us for a snack. He obviously gets plenty of them. (Please don't feed the wildlife.)
A mama duck and her babies were taking an evening swim during one of our outings at the park. Such a peaceful scene.
Wildflowers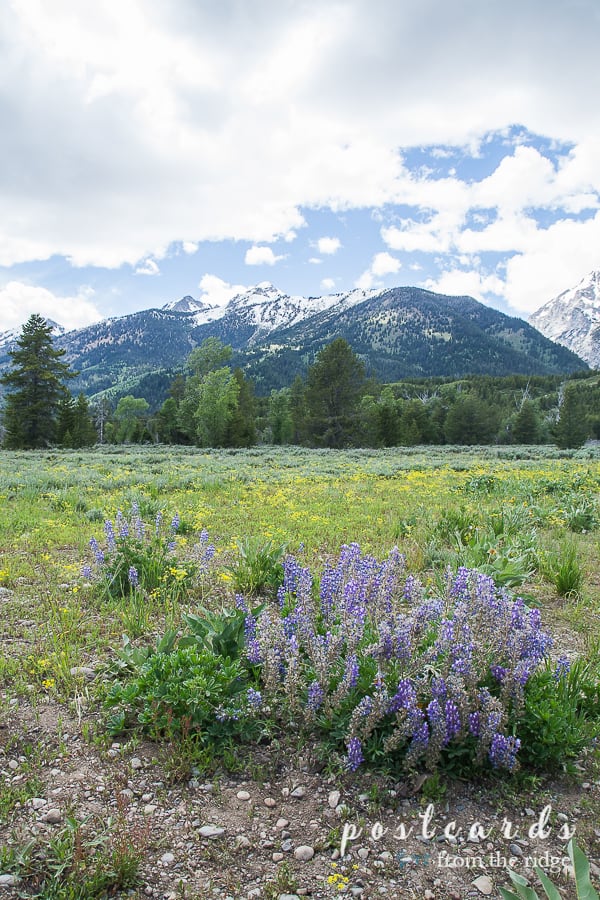 The warm season is a short one at Grand Tetons, but there are so many beautiful wildflowers in bloom.
We spotted this little fairy orchid on one of our hikes. It's very small but so unusual and pretty.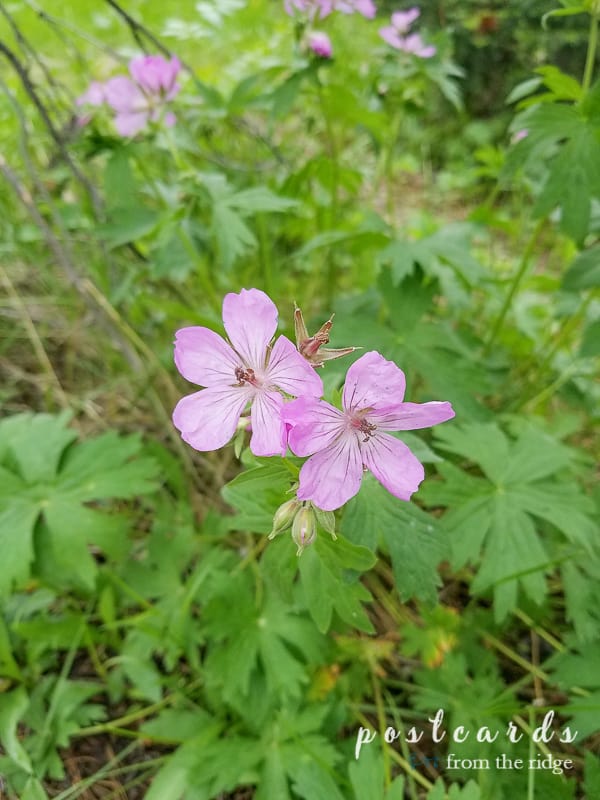 Historical & Interesting Buildings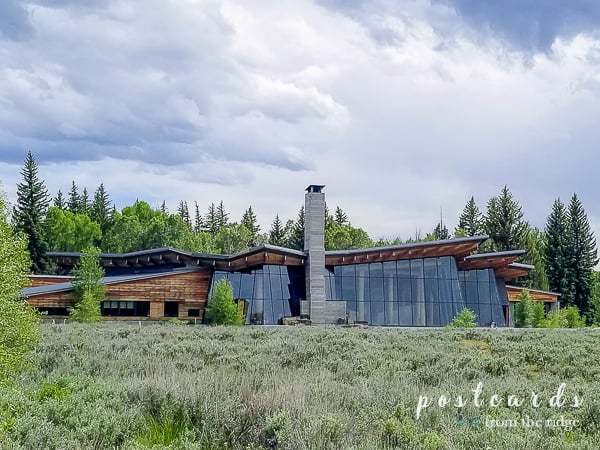 The visitors' center is a newer structure with a wall of windows showcasing the mountain peaks. The building itself is a showpiece.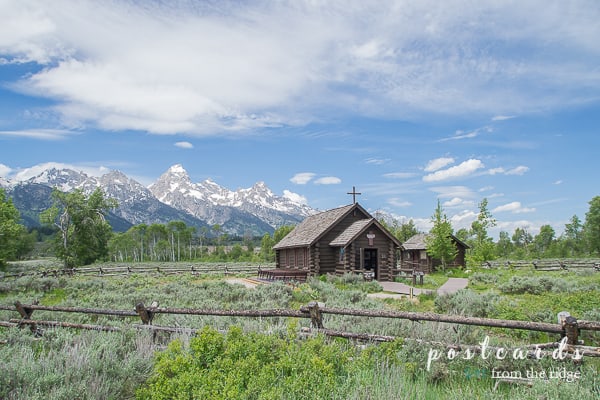 And the little chapel is so picturesque. You can go inside and take pictures from there as well.
The old general store is a relic from the early 1900's and still sells a few basic items like huckleberry sodas. Our girls were enjoying some here.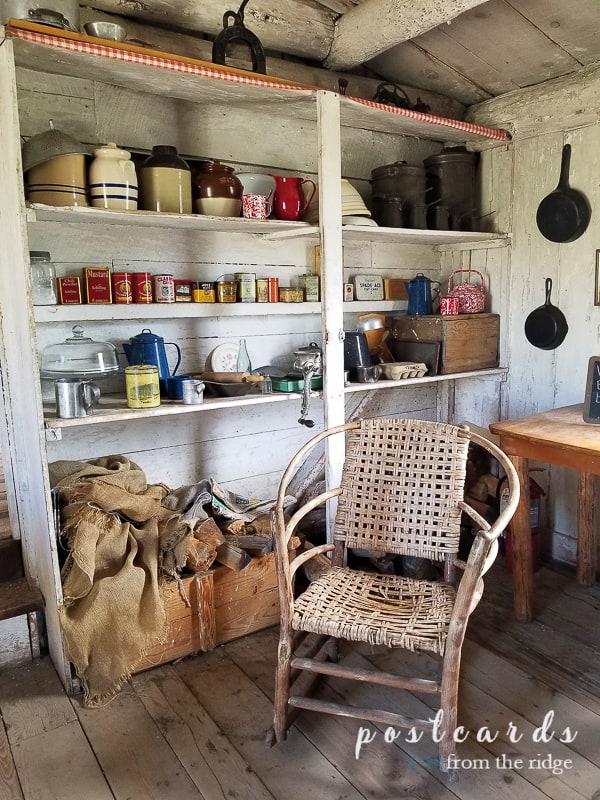 And there are some fun items inside that remind us of days gone by.
BEST WAYS TO SEE THE PARK
ON FOOT
There's no better way to experience the park than immersing yourself in it on the trails and footpaths. If your health allows it, I highly recommend it.
Being comfortable and safe is much more important than being fashionable when you're in the great outdoors. Here's what you'll need if you go out on the trails:
Bear Spray – You can't fly with it but you can order it ahead of time and have it shipped to your hotel for about half of what you'll pay there. Find it here: bear spray.)
Water Bottle – An insulated one will keep your water nice and cold. I really like this one: insulated water bottle.
Lightweight Backpack – I use love and use this one: lightweight backpack.
Hiking Shoes – The right shoes really do make your feet feel better. I have these women's hiking shoes and love them. They've seen trails in several different national parks.
Snacks – almonds, peanut butter crackers, fruit, and granola bars are a great choice.
Hat – the sun can be brutal and a hat will help keep you comfortable. I really like this ventilated sun hat.
Sunscreen
Rain Jacket or Poncho – Weather can change very quickly in the mountains and it's no fun to get soaked. A rain jacket or poncho fits easily into a backpack.
Layers and breathable clothing. Even if you're just doing a short trail you still want to be comfortable. See my favorites here Favorite Hiking Items.
BY CAR
Grand Teton is a great park to see from the comfort of your car. There are plenty of scenic overlooks just steps away from the road throughout the park. If you decide to tour the park this way, these items will make the journey more enjoyable:
BY BOAT
Boat tours are available for a unique vantage point. Or you can rent kayaks or take a float tour for a more adventurous experience. You can find out more here: Boating and Kayaking in Grand Tetons National Park.

ON A BICYCLE
There are some wonderful paved bike paths that follow the road inside the park. You can rent bicycles at the entrance to the park. It's a fun way to see everything.
BY BUS
If visiting Grand Teton National Park is high on your bucket list but you'd rather have someone else drive and plan all of the stops, a bus tour might be the perfect way to see it. They'll take you to the best views and most popular spots and you won't even have to get out your gps.
You can also ride horses in certain areas of the park and take an airplane tour. So many great ways to see it.
OUTDOOR ACTIVITIES
One of the most popular activity is going on a guided wildlife tour. There are so many wonderful things to do during your stay. Here are the most popular ones, according to visitors who've experienced it first hand: The best outdoor activities in Grand Tetons National Park

WHERE TO STAY
Inside the Park
There are plenty of accommodations including cabins and lodges inside the park. Be sure to book early because they fill up fast.
Just Outside the Park
You can find a large variety of hotels, lodges, inns, and more to stay at in nearby
Teton Village or Jackson Hole. Each area is only a short drive from the park entrance.
Camping sites
There are several nice camping sites if you prefer to stay in the park this way:
Colter Bay Campground
Gros Venture Campground
Jenny Lake Campground
Lizard Creek Campgound
Signal Mountain Campground
Headwaters Campground and RV sites at Flagg Ranch
WHERE TO EAT
We stayed and ate in Jackson Hole on our trip where there are a plethora of great restaurants. (There are also dozens of charming local shops along with some touristy ones if you want a
souvenir t-shirt.)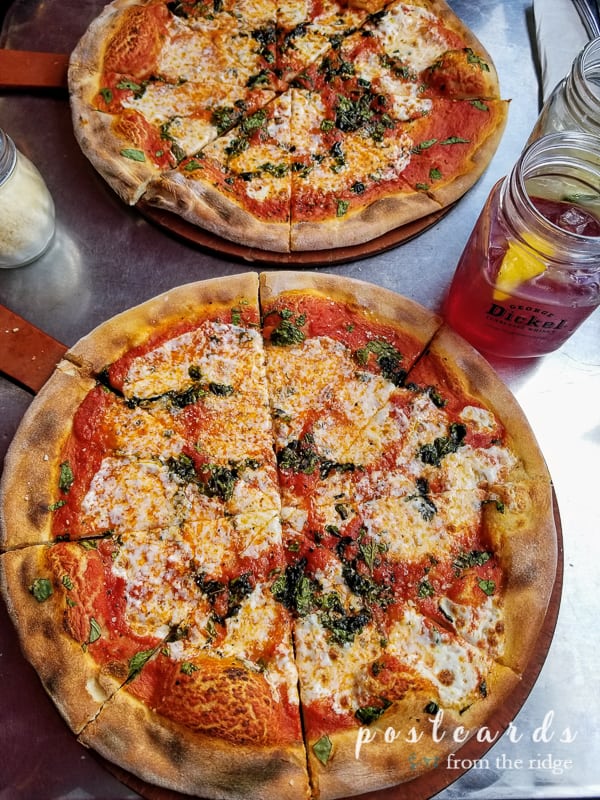 These were our favorite dining spots:
Breakfast
Lunch & Dinner
Winter Activities
If you don't mind the cold and snow, Jackson Hole and Grand Teton National Park are a beautiful place to visit in the winter. One of the most unique attractions is the National Elk Refuge, where thousands of elk winter in the valley. Sleigh rides through the refuge area are a great way to see the animals up close and personal. Find our more here: National Elk Refuge Day Trip.
Love skiing? Jackson Hole has some of the best ski resorts in the country. You can ski all day and relax in a cozy cabin or luxurious resort when you're done. Get details Jackson Hole Skiing.
This quote pretty much says it all. It was on the wall of one of the buildings inside the park and couldn't be truer.
I hope you've enjoyed this little tour of the Grand Tetons and have seen why it's such a wonderful place to visit.
Want to learn more? Go here for visitor favorites and reviews: Explore Grand Teton National Park
Subscribe! Be sure to subscribe to my newsletter for upcoming posts about other national parks and places we've visited and can recommend. Sign up here :