14 Stunning Kitchens With Wood Cabinets
beautiful kitchens with wood cabinets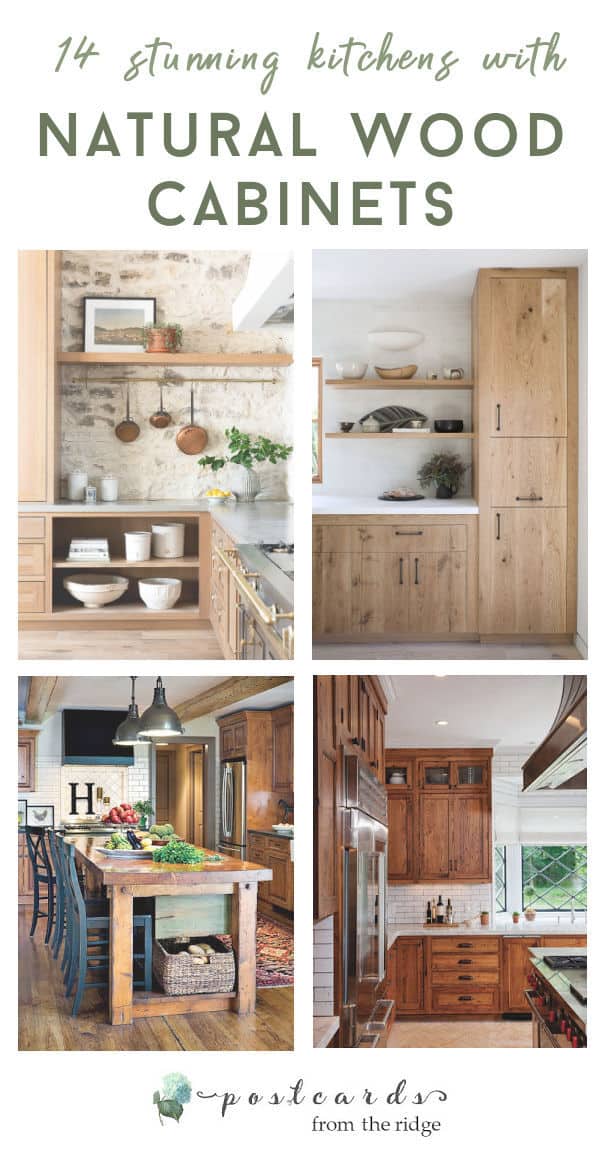 This post contains affiliate links for your convenience. I may make a small commission on products purchased with my link, but your price does not change. For full disclosure go here: Disclosure and Policies. Thank you for supporting my site.
14 Stunning Kitchens with Wood Cabinets
Natural wood cabinets add a warmth and charm to kitchens that you just can't get with paint. The woodgrain, texture, and organic feel of wood adds depth and character that makes any kitchen a welcoming and enjoyable space.
Today I'm sharing some beautiful kitchens with wood cabinets to inspire you. So if you're considering wood cabinets for your kitchen, these are some questions you might have:
Common questions about wood cabinets
Are solid wood cabinets worth the money? Solid wood cabinets add more value to your kitchen than engineered wood. So if you can afford solid wood, they will last longer and age better.
How much are wood cabinets? Stock cabinets range from about $60 to $200 per linear foot, and custom cabinets are usually between $500 to $1200 per linear foot.
What wood is the cheapest for cabinets? Pine is the least expensive wood but doesn't stain well. But you'll need to use a wood conditioner for an even stain finish.
What's the best type of wood? The best woods for kitchen cabinets are maple, walnut, oak, alder, and cherry.
Which type of hardware looks good with wood cabinets? Brass, bronze. or black hardware looks the best with wood cabinets.
NOTE: Wood stains look different on every type of wood so it's critical to see a sample on the specific variety of your cabinets.
Kitchens with wood cabinets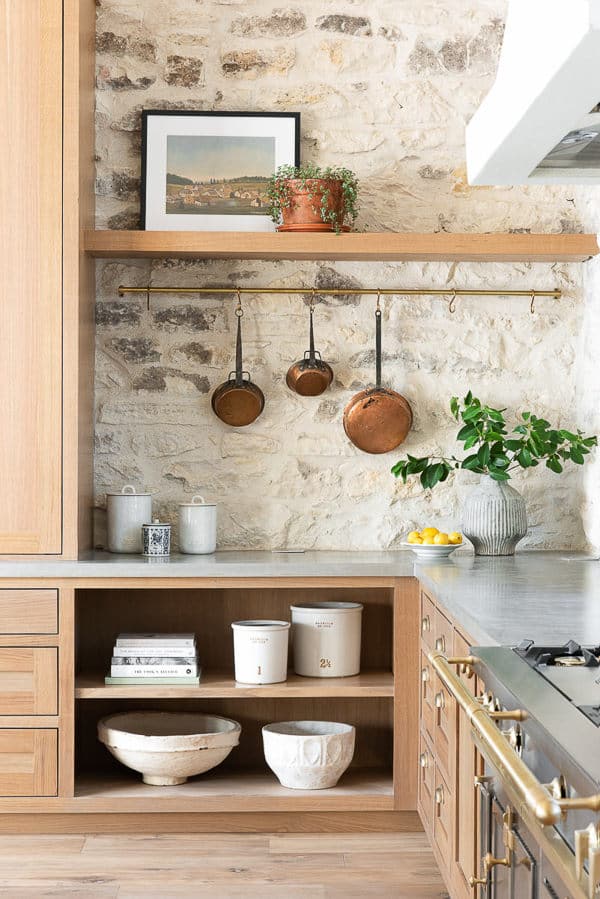 Photo: Danielle Jackson / Courtesy of Magnolia
Here's the gorgeous kitchen that Joanna Gaines designed for the kitchen of their new network. The old stone walls, vintage copper pots, and brass hardware complement the light wood on the cabinets in the floor perfectly.
And the coolness of the gray countertops and European stainless steel range balance the yellow warmth of the wood.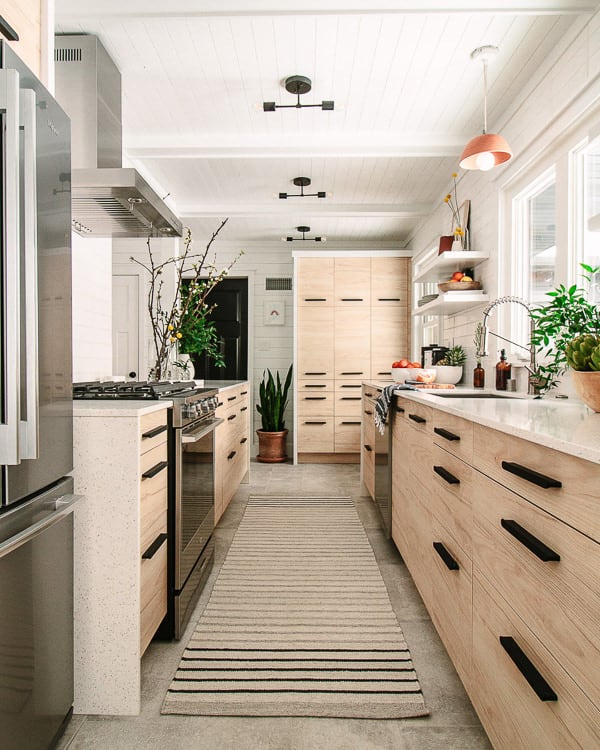 shop this look

This galley kitchen got a much needed facelift and a completely new look with the light wood cabinets. The black pulls add a nice contrast to the wood. And the striped rug ties it all together.
This modern kitchen has natural wood cabinets with a beautiful grain. The white marble countertops and backsplash keep the space fresh and clean. And the black pull bars on the cabinets soften the look a bit with the curves.
Birdie Farm
You can add pops of color to a kitchen with wood cabinets with an area rug and by painting the island or a section of cabinets. The sink and faucet are in this farmhouse kitchen are timeless and will never go out of style.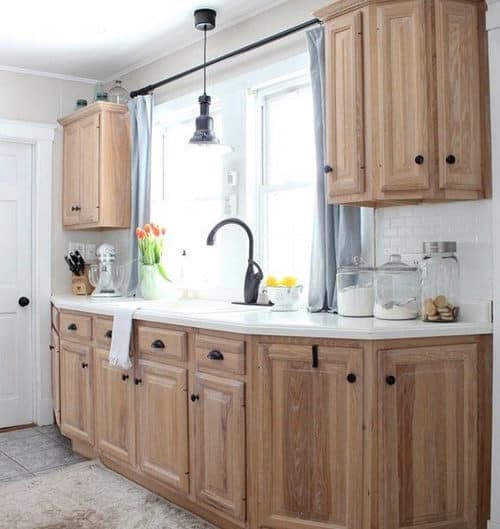 Tanya used a liming wax on her maple cabinets to soften them and tone down the yellow undertones. Our cabinets are also maple and I'm seriously considering using liming wax on them. What do you think?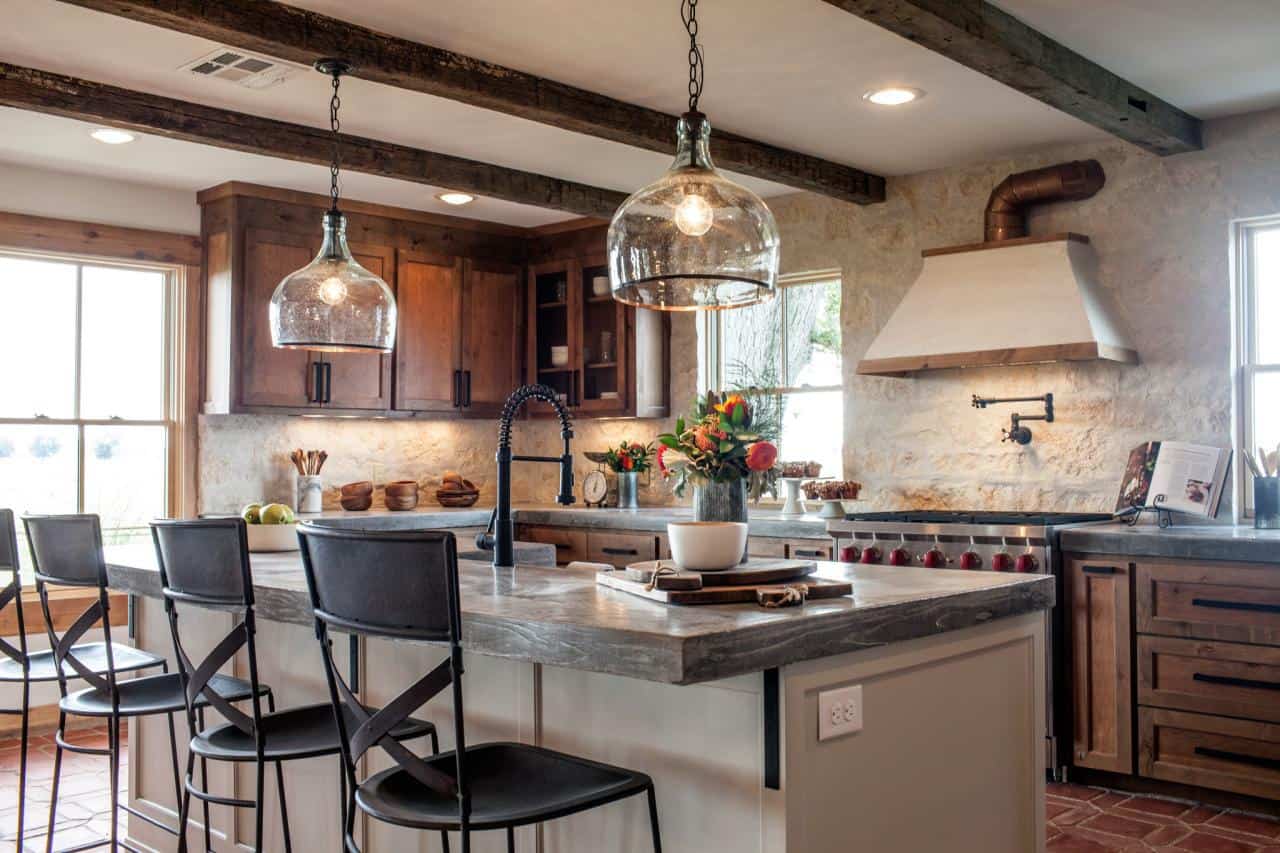 shop glass pendant lights

This rustic farmhouse kitchen from HGTV's Fixer Upper is loaded with charm. I love the beams and the heavy textured walls. And the off white walls and the glass pendant lights keep the space from feeling dark.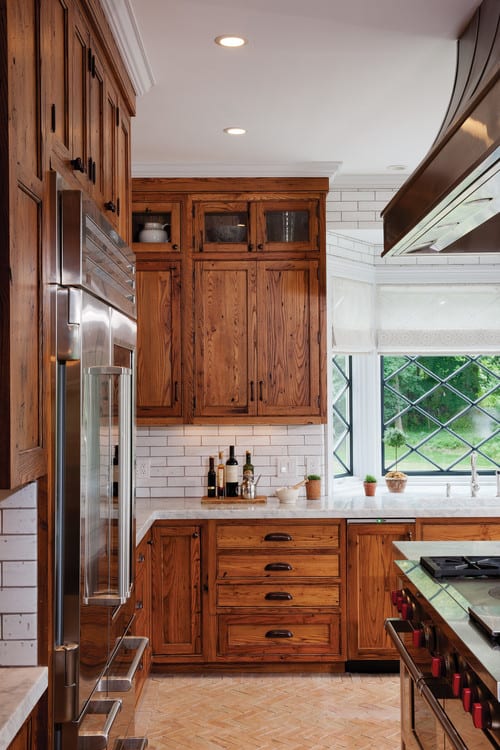 The wood grain on these chestnut cabinets is simply beautiful. They add such movement and texture to the space and give it a warmth you could never get with painted cabinets.
Also, the bronze cabinet hardware is the perfect complement for them. And the white subway tile keeps it fresh, modern, and light.
Design Manifest
I actually didn't even notice the top cabinets when I first looked at this photo. They add practical storage without making the space seem dark. And the white subway tiles once again keep the space fresh and clean. What do you think of the sink in the corner?
This vintage charmer is dreamy with the carrera counter and glass front cabinets. Those antique brass drawer pulls really add to the vintage feel. And I could definitely live in this kitchen.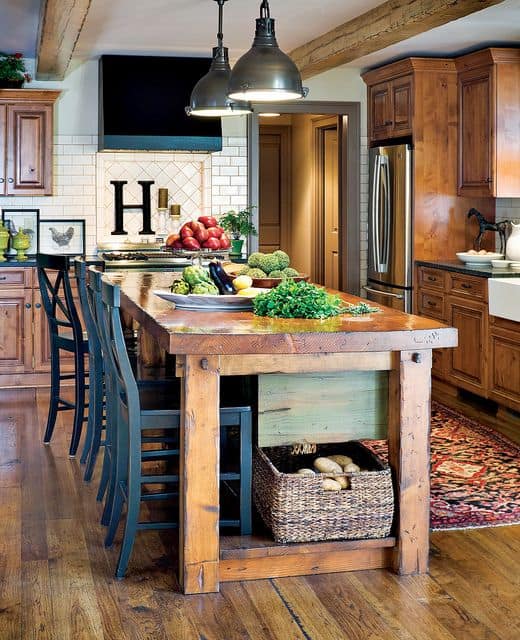 One of my favorite kitchens and all time most popular pins in pinterest, this kitchen is amazing. The area rug and painted chairs give it just the right amount of color. And those beams are so beautiful.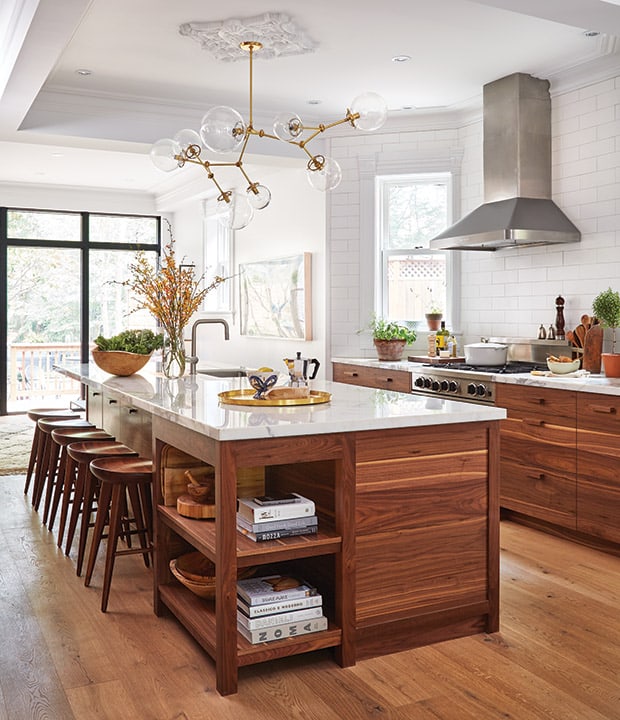 shop this look

The warm wood of the walnut cabinets, floors, and stools and the clever clever pops of modern style make this kitchen a real winner. I'd love to cook dinner in here every night, how about you?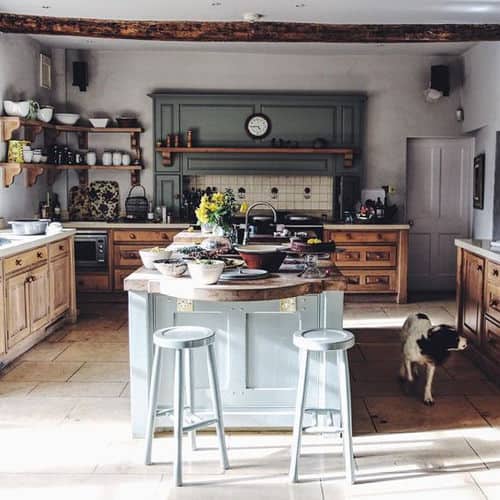 Jo Rodgers
This European kitchen oozes with charm. The beams, the open shelves, the timeworn cabinets, the green shelf over the cooktop…it's all so dreamy!
What have I learned by looking at these kitchens? I've learned that mine needs some fresh white subway tile and new hardware. And It looks like my to-do list just got a little longer!
Which one of these wood clad kitchens is your favorite?

If you're interested in ideas for organizing your kitchen, read this in-depth post:
Thanks for dropping by!
If you enjoyed this post, you might also like these: