Solar-Powered Sea Glass Mason Jar Lanterns
DIY Solar-Powered Sea Glass Mason Jar Lanterns
Hey, friends! I've got a fun, sustainable, and simple project to share with
you today and it's perfect for summer. Today is the Thrifty Style Team's
monthly challenge where I join with some of my talented blogging
friends.
We give you ideas for using freebies, thrift store items, hand-me-downs, or
anything that's budget-friendly. My friend Julie at Redhead Can Decorate hosts
this challenge and there are always so many creative ideas. They're all at the
bottom of today's post, so be sure to keep scrolling after you finish reading
about my project and visit everyone.
This post contains affiliate links for your convenience. For full
disclosure go
here.
For this project, I visited a creek on some rural family property and did a little digging for creek glass. It's pretty much the
same thing as sea glass, but it comes from a creek.
Sadly, there are houses
upstream that have dumped various things in the creek over the last
several decades. It's not toxic or gross, thank goodness. I really love this project because it cleaned up the creek bank as well as provide me with some pretty glass.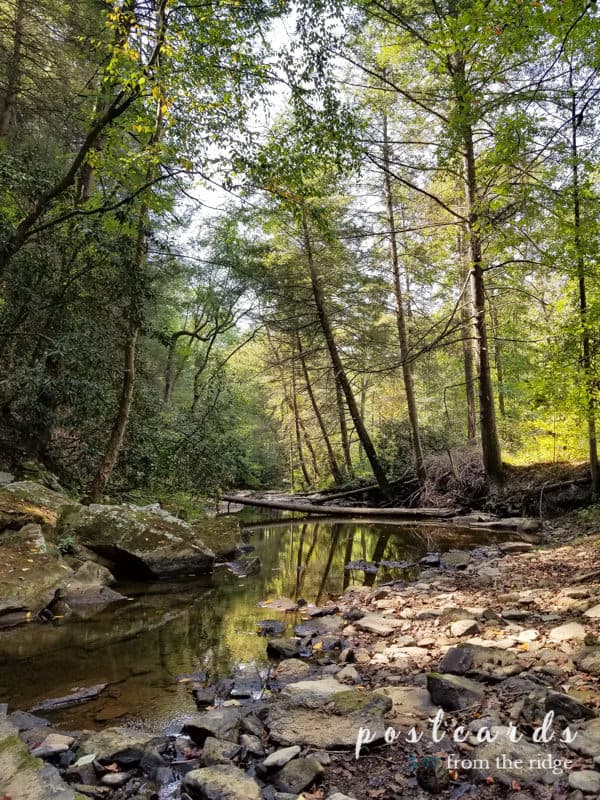 My trusty sidekicks of my mom and youngest daughter helped me with the dig. We spent an hour or so overturning rocks and finding small glass treasures
on the bank. And by the way, I'm pretty sure they thought I was a little crazy for wanting to gather dirty old pieces of glass, lol.
Our haul from the day included some pretty green, aquas, and blues as well as white, clear, and brown pieces. When I got home, I separated the pieces into color groups and gave them a
good scrub with some soapy water with a little bleach added. (Please wear
protective gloves, goggles, and old clothes if you do this).
This is how my favorite one turned out! I love the piece of the old blue
Coca-Cola bottle.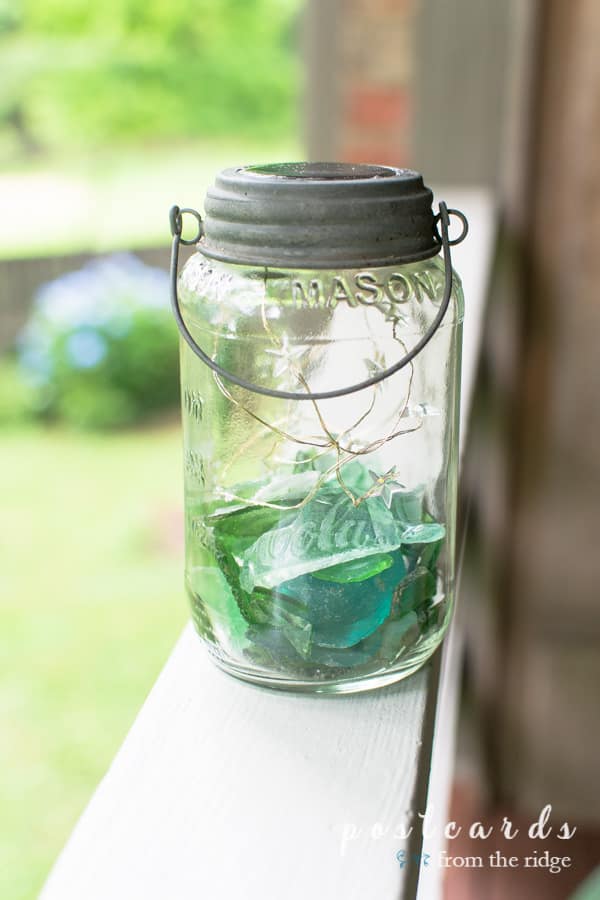 They look pretty during the daytime with all of the various colors. I grouped together greens and aquas, greens and blues, and browns and blues.
And they're so fun to see at night. I have them out on our deck and they stay lit for several hours if it's been a sunny day and they've soaked up a lot of light.
The little vintage cola piece is so cute.
Even the old brown beer bottle pieces look pretty at night. I love mixing them with the blue pieces.
My favorite Coca-Cola piece looks pretty at night as well as during the day.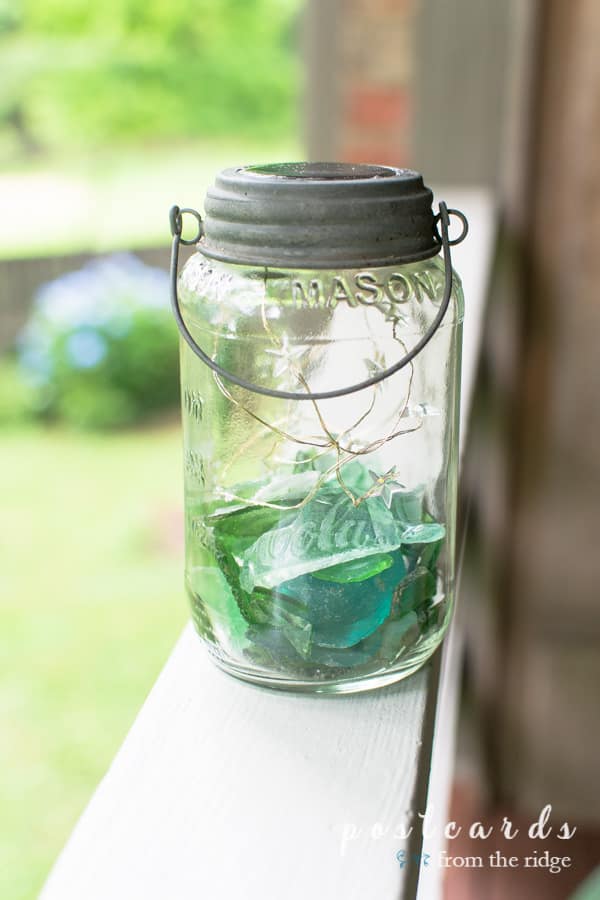 Supplies Used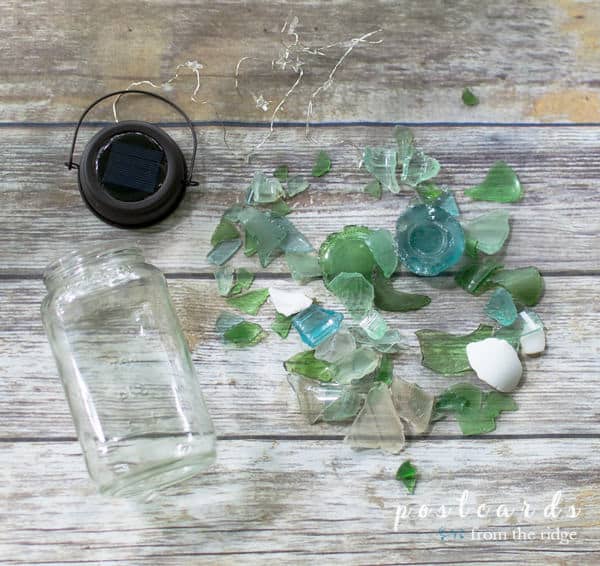 Jars
The jars I used for this project were various leftovers from spaghetti sauce, etc. so I spent nothing on those.
Lights
The rustic lights are from my shop, Emory Valley Mercantile, and can be found here: Solar Powered Glass Jar Lids with Lights.
Sea Glass/Creek Glass
The glass pieces cost nothing except the time it took to dig it up and clean it.
Here's a quick tutorial for these fun solar powered sea glass mason jar lanterns.
Yield: 1
Estimated cost: $15
DIY Solar-Powered Sea Glass Mason Jar Lanterns
prep time: 5 Mperform time: 5 Mtotal time: 10 M
materials:
tools:
No tools required for this project!
steps:
DIY Solar Powered Mason Jar Sea Glass Lanterns
Gather your supplies.
Add the sea glass to the jars.
Attach the solar powered lids to the jars, placing the lights where they accentuate the sea glass.
Enjoy!
NOTES:
Depending on how much sunlight the solar powered lids have absorbed, the lights will stay light for hours.
Recommended Products:
Rock and Glass Tumbler Machine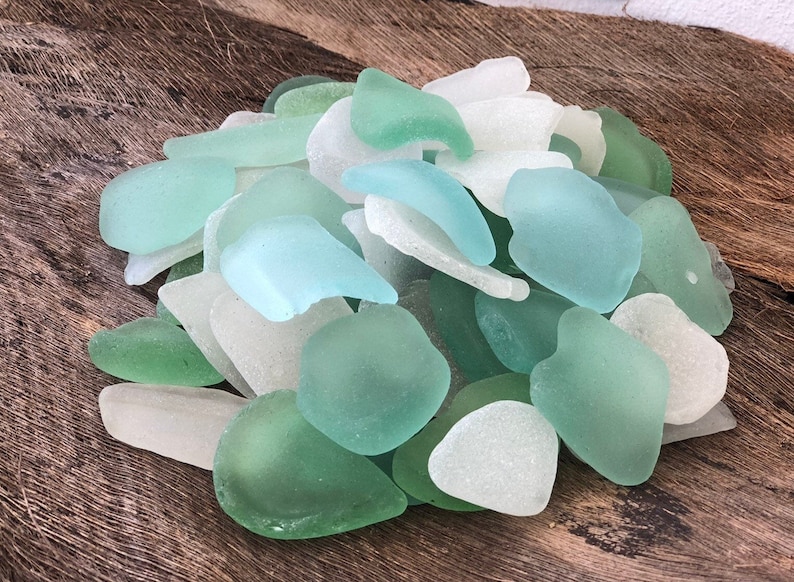 Sea Glass
Solar Powered Glass Jar Lids
Created using Craft Card Maker
Here are a few more creative ways to upcycle glass bottles and jars:
Here are more budget-friendly decorating posts with the Thrifty Decor Style
Team:
Now be sure to visit all of my thrifty and creative friends to see the projects they're sharing this month!
Redhead Can Decorate – Million Dollar Fresh Peony Centerpiece for $35
The Painted Hinge – Easy Sunflower Centerpiece with Vintage Bottles
DIY Beautify – How to Make an Industrial Initial Sign
2 Bees In A Pod – Rope Wrapped Candle Holder
Postcards From The Ridge – Solar-Powered Sea Glass Mason Jar Lanterns
The Tattered Pew – World Market Potting Bench Makeover
Sweet Pea – DIY Patriotic Garland
What Meegan Makes – Using Unique Vintage Pieces for Home Decor
Salvaged Living – Watermelon Garland for Summer
Sharing this project here:
Silver Pennies Sunday Link Party