8 Ideas For Making your home a peaceful sanctuary
Simple ideas for creating a sanctuary inside your home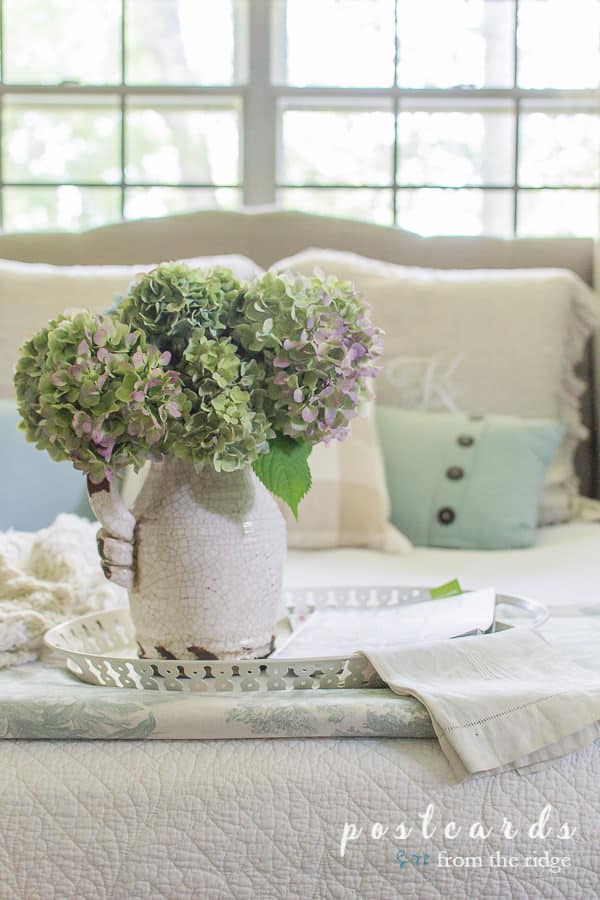 This post contains affiliate links for your convenience. For full disclosure go here.
Hello, friends. These days we're all doing what we can to deal with stress and difficult times. When you're at home, it should definitely feel serene and peaceful and a sanctuary from the harsh realities of the outside world.
Today I'm sharing a few tips for making your home as comfortable and relaxing as possible. Let's do a few things to make our homes a harbor from the storm that surrounds us.
1. Make your bedroom a retreat
More than anywhere else in your home, your bedroom should be a place you can retreat to and forget about everything else that's going on in the world. Here are a few ways to maintain a calming and peaceful atmosphere in your bedroom:
Clean sheets – Fresh, clean sheets will help you feel relaxed and cozy in your bed
A made-up bed – The simple act of making up your bed only takes a few minutes and gives your bedroom and more tidy appearance.
No dirty clothes on the floor – Put them in a basket or clothes hamper after you take them off to keep them off the floor.
Extras – a bedside lamp, throw pillows, and a throw blanket give an extra dose of coziness to any bedroom.
Using a weighted blanket has been proven to reduce anxiety
If your mattress is sagging or old or uncomfortable, consider investing in a new one for a good night's sleep. If you're in need of a new one, you can save 20% with my referral link here → New Mattress Discount Code (My daughter has one of these and loves it)
To recreate the look of this room or any in our home, go here → Shop Our Home
See some of my favorite affordable bedroom finds here → Favorite Bedroom Finds
2. Clear the clutter
Reducing chaos around the house can definitely help lower stress and anxiety. A daily sorting of mail and papers will make it easier to keep your counters clear. Consider a mail organizer like the diy mail toolbox I shared a couple of weeks ago to help organize any incoming mail.
See how I made created this mail zone here → DIY Wooden Toolbox Mail Organizer
Corral the kitchen counter clutter by storing your cooking utensils and essential seasonings in a basket and small pitchers and containers.
See many more ideas for keeping your kitchen neat and tidy here → Kitchen Organizing Tips
See my favorite home organizing finds here → Favorite Organizing Items
3. Clean
Keeping the house clean, especially the kitchen and bathrooms, will not only make your home look and smell nice, it's better for your health too. Lavender and lemon scents are reported to reduce stress and anxiety and many cleaning products are available with these scents.
See some of my favorite cleaning and organizing items here → Cleaning and Organizing Faves
4. Set the table
Make meal times feel extra special by setting the table and sitting down together to eat as a family. There's no need for anything fancy. I made the centerpiece above with thrift store vases, a cutting board, and flowers from my back yard. Simple and easy. If you do have nice dishes, go ahead and use them. Every day is a special occasion so there's no need to wait for a holiday.
You can see more of this table here → Rustic Spring Table with Daffodils
Need assistance in the cooking department?
Here are my favorite choices.
Meal kit delivery. If you're looking for an easy way to create a great meal, I recommend Hello Fresh. We started using it last fall and really do love it. Fresh ingredients are delivered to your doorstep. It comes with step-by-step instructions including photos. Each meal usually requires about 10 minutes prep and then you have a tasty meal in 20-30 minutes. You can choose the meals and the sizes, and stop it whenever you want.
Here's a special link to save $80 and get free shipping → Hello Fresh $80 discount
Recipe planning and grocery delivery. If you want some great recipe ideas, I've also used emeals and love it. You can choose the type of recipes you want based on your diet and the size of your family. Then you'll receive a week's worth of recipes and a shopping list to prepare all of them. If you want, you can get those groceries delivered to your doorstep with a service like instacart.
Here's a free 2 week trial for recipes and instacart delivery → eMeals + instacart 2 weeks free
For recipes only, here's a 2 week free trial offer → free 2 week trial for emeals
5. Make living spaces cozy and welcoming
In your living areas, make them cozy and welcoming by adding some texture. You can do this with throw blankets, pillows, area rugs, and curtains. All of these items soften the noise in a space and make it as cozy as a cocoon.
See more of this room here → Cozy Family Room
6. Add some flowers
Fresh or faux, flowers or plants make any space feel more cozy. If you have flowering trees or bushes in your yard, clip some branches and bring them inside to enjoy.
Many beautiful faux flowers can be found in my shop here → Flower Shop
7. Happy Zone
Do you have a favorite hobby or pastime that helps you unwind? Whether it's a space for exercise, crafting, cooking, or reading, carve out a special place where you can spend time doing what you love. It can be a corner of a room designated as a reading nook, an unused closet re-purposed as a craft space, or a guest room turned into an exercise room. The sky's the limit.
To see more of my craft room/studio, go here → Craft Room/Studio Tour
8. Make your home smell good
Certain fragrances are known to reduce stress. Lavender is the most widely used scent to calm the senses.
From the Mayo Clinic:
"Some studies have shown that aromatherapy might have health benefits, including:
Relief from anxiety and depression

Improved quality of life, particularly for people with chronic health conditions

Improved sleep
Smaller studies suggest that aromatherapy with lavender oil may help:
Reduce pain for people with osteoarthritis of the knee

Improve quality of life for people with dementia

Reduce pain for people with kidney stones"
You can learn more about aromatherapy from the Mayo Clinic here → Aromatherapy
Find a wide variety of essential oil diffusers here → essential oil diffuser
And many essential oils are available here → Essential Oils
If you're interested in creating your own custom candle at home, here's a simple tutorial:
What are some ways that you make your home feel calm and serene? Leave me a comment below and let me know!