The A list – Angie's favorites from around the web
Favorite finds for home and life
This post contains affiliate links for your convenience. For full disclosure go here.
Hello, friends! Where do you find inspiration and ideas? I find it on blogs, pinterest, instagram, magazines, books, and more. There's so much creativity and talent floating around the web and I'm constantly in awe of what I see.
Today I'm starting a new series where I'll be sharing things that have inspired me or caught my eye in the past week or so. I'm calling it "The A-List". Not very original, I know, but Angie's List was already taken and I didn't want any problems with trademark infringement!
Anyway, here are some things that caught my eye recently! Please visit each site and pin from there.
Favorite Blogs
My dear friend Laurie at Vinyetetc, is so talented as a photographer and stylist. And she has the most amazing collection of cool vintage items. I always love what she posts, and recently she shared a clever idea for making round labels like the one on the gorgeous green bottle in the photo below.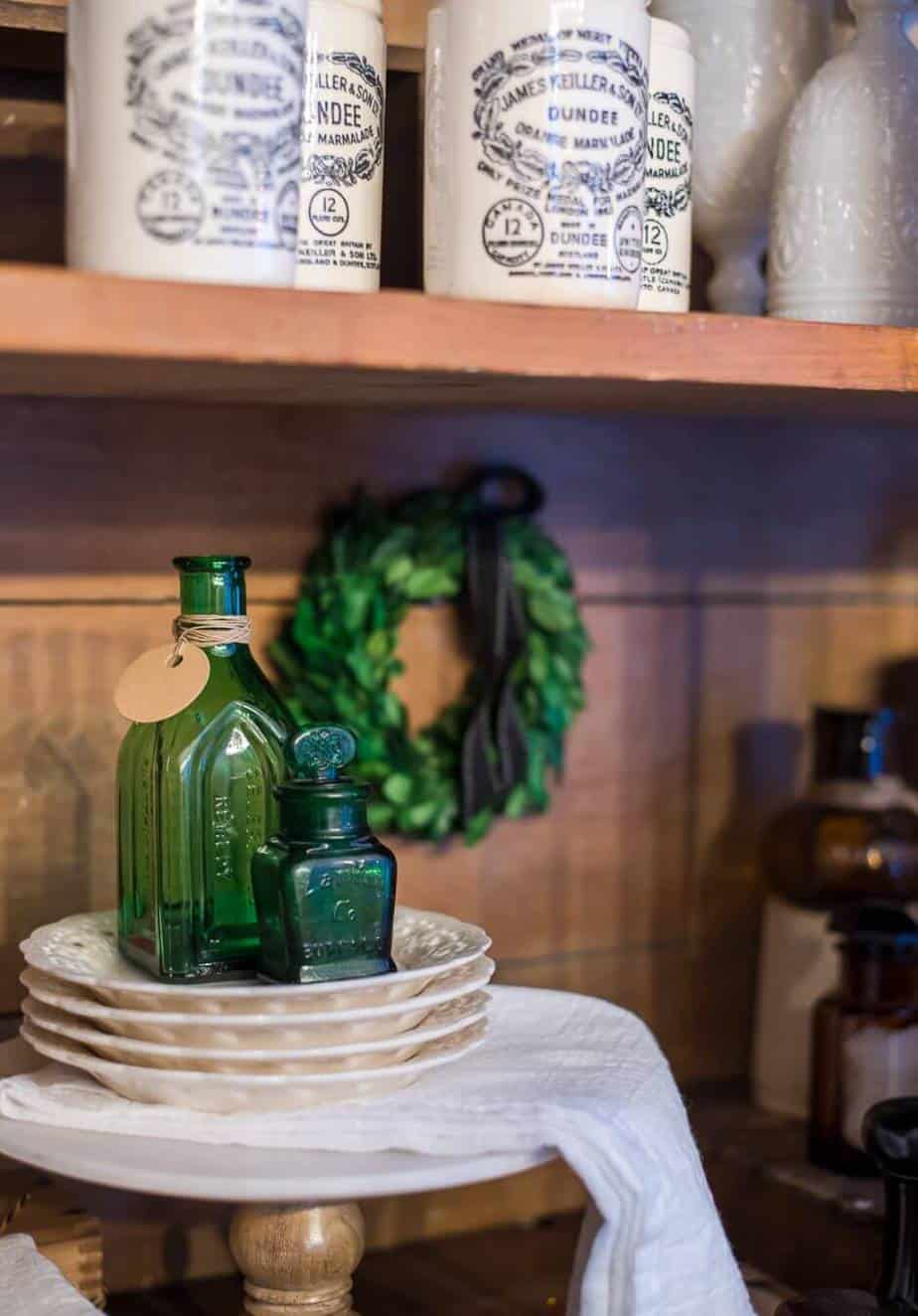 Hop over to her blog and see her simple tutorial here → DIY – round labels on vintage bottles
Jamie at anderson + grant has taken on the huge challenge of renovating a fixer upper. She recently shared the reveal of her living room makeover and it's stunning. You won't believe how this room used to look. It doesn't even look like the same space!
You can see the before pictures and all of the details of her new space here → Modern Farmhouse Living Room Reveal
This lovely basket with fresh flowers was made by Karen at Sanctuary Home Decor. She has a beautiful home and she shared a tutorial of how she put together the door basket.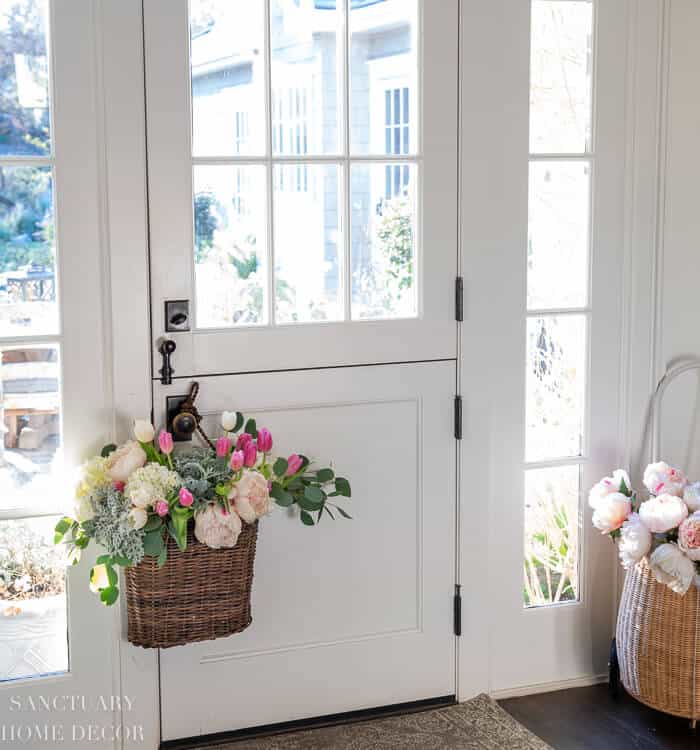 See how she made this pretty arrangement here → Simple Front Door Decorating Ideas
Do you need a little help getting your kitchen organized? Sherry at Savvy Apron has some great tips that you might find useful. And isn't her kitchen classic and beautiful?
Read all of her tips here → Kitchen Organization Tips That Work
Michael at Inspired by Charm also has a beautiful and classic kitchen. And isn't that topiary perfect? He shared some great ways for incorporating indoor plants on his blog recently.
See all of his ideas for using indoor plants here → Incorporating New Indoor Plants
Are you looking for a yummy recipe for Valentine's day treats? Amanda at Sincerely Marie Designs shared her recipe for Linzer Strawberry Heart Cookies and they look and sound amazing.
You can get her recipe here → Linzer Strawberry Heart Cookies
I'm always on the lookout for beautiful paint colors and this one from Juniper Home is stunning! They used Benjamin Moore Caldwell Green in this mudroom/laundry room project and it's so pretty.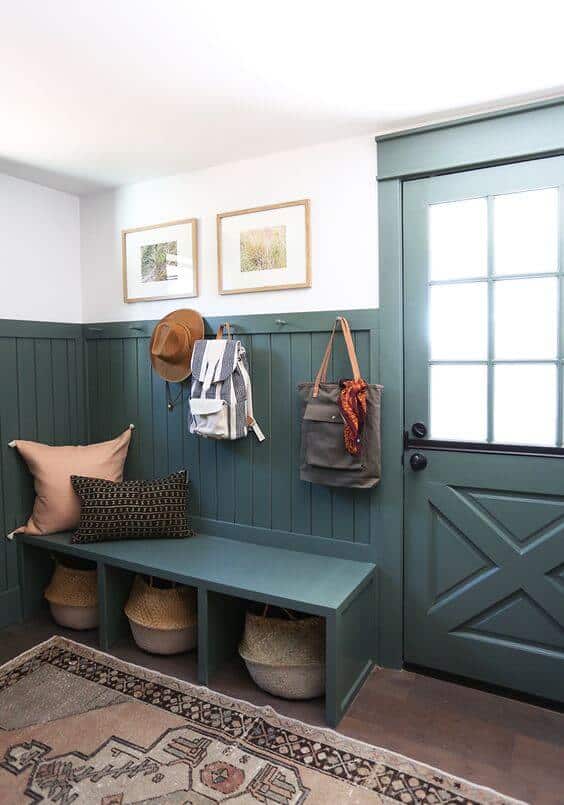 See all the details of this space here → Mudroom With Moody Green Walls
What I'm reading:
One of my goals for this year is to read more. I enjoy it so much and am vowing to make more time for it. I just finished reading "Where the Crawdads Sing" and loved it.

And I'm always trying to find ways to keep the house and myself organized. I started reading "Decluttering at the Speed of Light" last year and need to reread it and get back on the decluttering and organizing train.



What are you reading right now that you can recommend? Leave me a comment and let me know.
Favorite Instagram Moments:
Instagram has so many inspiring images, even if they sometimes don't look very realistic to me. I'm sharing a few that caught my eye recently. Click on any image to go to the instagram image.
Are you on instagram? You can follow me here if you are → Postcards from the Ridge on Instagram
A post shared by EMILY | Vintage Decor | GA 🍑 (@weatheredwaresandco) on
Fabulous Finds:
New and useful products always make me happy. Here are a couple that I've seen recently:
Peel and Stick Paint Samples
These peel and stick paint samples are such a great idea. You order the sample and stick it to your wall to get an idea of how it would look in your space, with your lighting. It's like painting a sample but involves no paint or brushes. Many colors are available and they're removable! They come in 12″ x 12″ sizes and in sets of 6. Various sets are available and they're made with 2 coats of real paint.
Sustainable Swaps
Are you trying to use more sustainable items in your day to day living? I've put together over 30 items that you can use in your home and day to day life that are earth-friendly and create less waste. See my recommendations here: Sustainable Lifestyle Picks
Here are just a few of the items that I love:
What has inspired you lately? Leave me a comment and let me know!!