17 Ideas for Decorating with Flowers
17 Ways to Use Flowers in Your Decor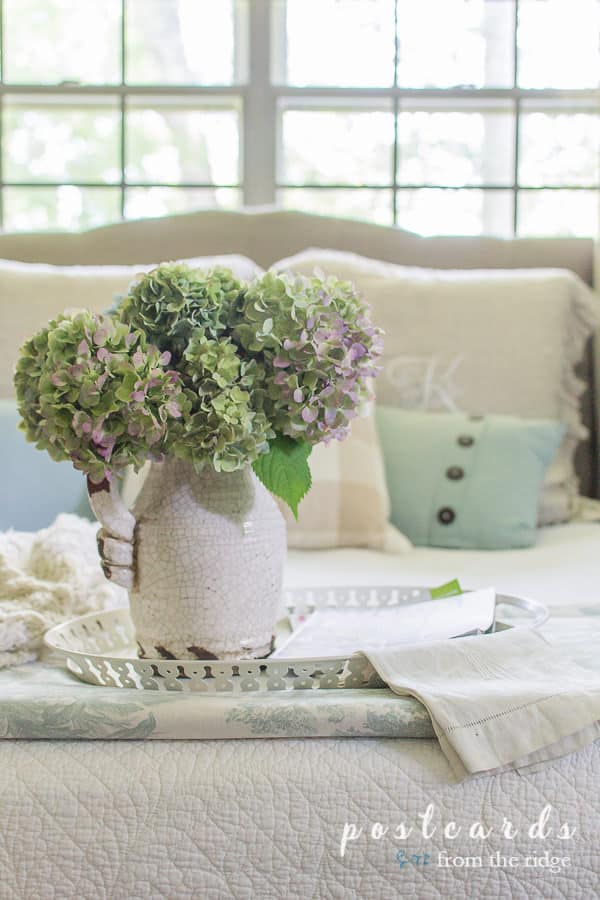 This post contains affiliate links for your convenience. For full disclosure go here.
Hello, friends! Is there anything that livens up a space better than flowers? They're a classic way to bring some color and life and add the finishing touch to any room. Today I'm sharing some my favorite ways that I've used flowers in our home. Ideas include using flowers from our yard, the grocery store flower department, dried, and faux flowers.
Ideas for Decorating with Flowers
1. Daffodils in Milk Glass Vases used as a centerpiece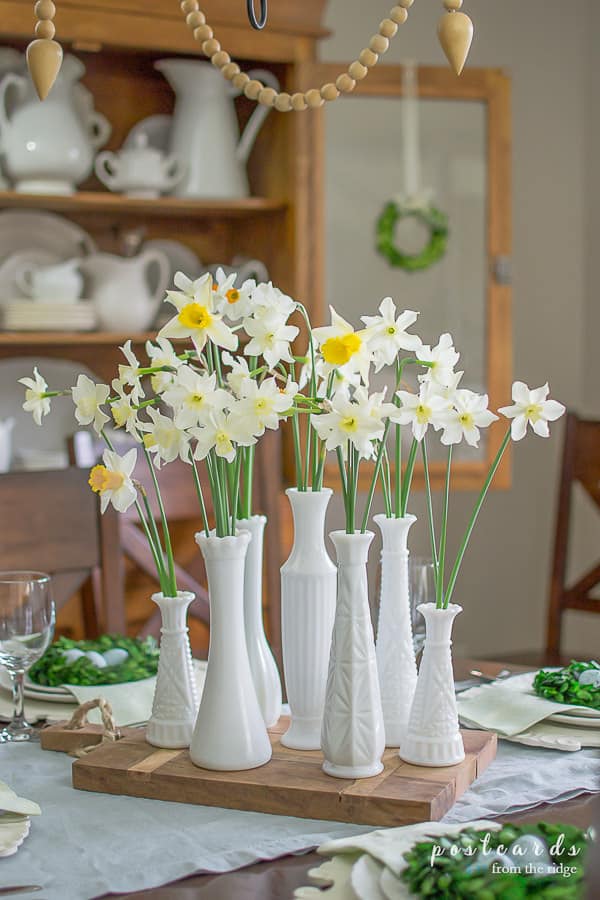 One of my favorite centerpieces was so simple but so pretty. I plucked some daffodils from the yard and added them some of my vintage milk glass vases, and then grouped them together on a wood cutting board. It was something I did on a whim because I couldn't think of anything else, but I love the way it looked. See the rest of this table decor here → Natural, Rustic Spring Tablescape
2. Quince Branches in a Vintage White Pitcher
Our quince bush is one of the first things to bloom in our yard. Each year, just before the buds open, I clip some of the branches and bring them inside to enjoy the rich coral color. It's a great way to add color in the late winter season.
3. Peach Blossoms in a Blue Metal Pitcher
Our house was built in the 1960's and has a very well established yard, including a few fruit trees. Our peach tree doesn't bear fruit that's edible, but the blossoms are so pretty that I always clip some branches and bring them inside to enjoy. And I love the way they look in the blue metal pitcher.
4. Decorating the Mantel with Daffodils
The bright yellow daffodils look so sweet with the deep purple grape hyacinths and the delicate little spring starflowers. It's a simple way to add color to a mantel. You can see the rest of the spring mantel here → Spring Mantel with Flowers and Vintage Finds
5. Mini Mason Jars with Grape Hyacinths
Tiny flowers need tiny containers and these little mason jars make perfect vases. They would look nice next to a kitchen or bathroom sink. Or any area with a small amount of space.
6. Vintage Bottles with Lily of the Valley
Sweet and delicate, the little bell shaped flowers of the Lily of the Valley are so fragrant. I like to use vintage medicine and extract bottles as vases for them.
7. Lenten Roses in a White Pitcher
Another early bloomer, these Lenten Roses have such a pretty color and are ideal for late winter and early spring.
8. Hydrangeas in a White Pitcher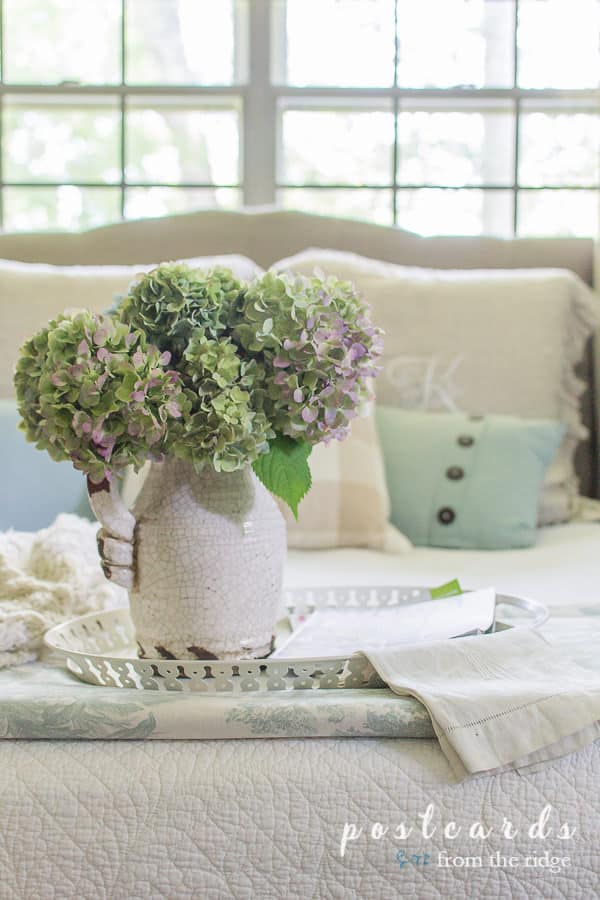 My favorite thing that I've ever planted is our hydrangea bush. Some years it only produces a few blooms, but most years it's overflowing with full, beautiful blossoms. I love to clip them and bring them inside to enjoy. The colors change from the time the buds start to bloom until they finally fade in the fall.
9. Dried Hydrangeas in a Vintage Wood Box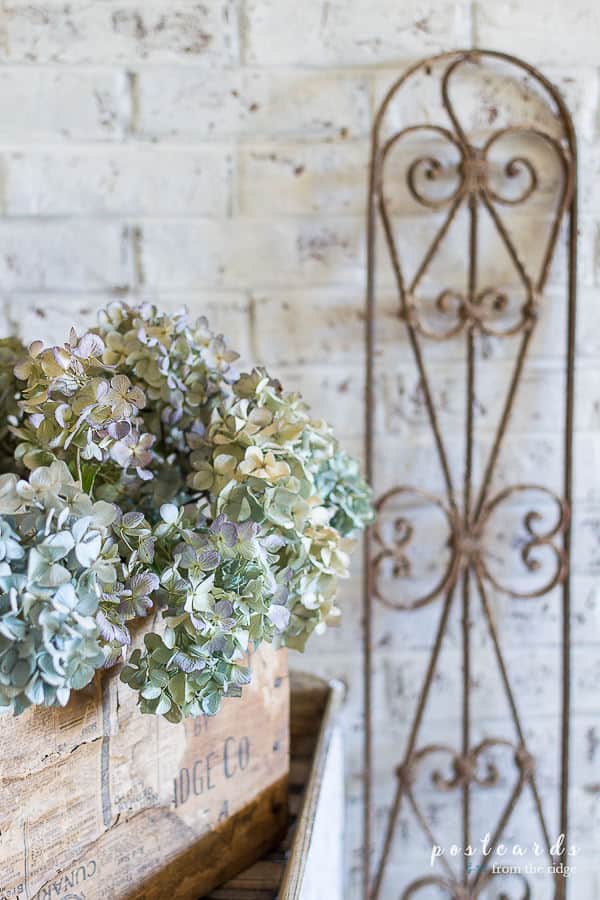 Hydrangeas are just as pretty after they've dried. And drying them is unbelievably easy. See how I dry mine here → How to Easily Dry Hydrangeas
10. Dried Roses
Something as simple as a few dried roses can be a beautiful way to add romance and color. I can't bear to throw out roses if they dry to a pretty color!
11. White Tulips in a Green Milk Can
Grocery store tulips are an easy way to make a beautiful centerpiece. I had a pastel color theme with this spring tablescape and the white tulips worked perfectly.
12. Dried Lavender in a Vintage Fishing Creel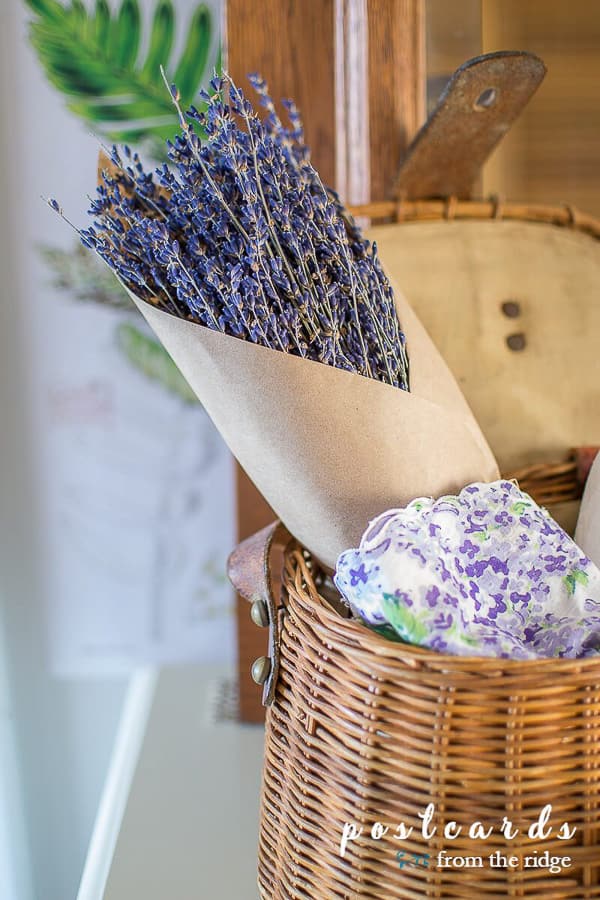 Dried lavender looks and smells so nice. I added a bundle to an old fishing creel and placed it in our entry for a fresh burst of color.
13. Pink Tulips in a Blue Mason Jar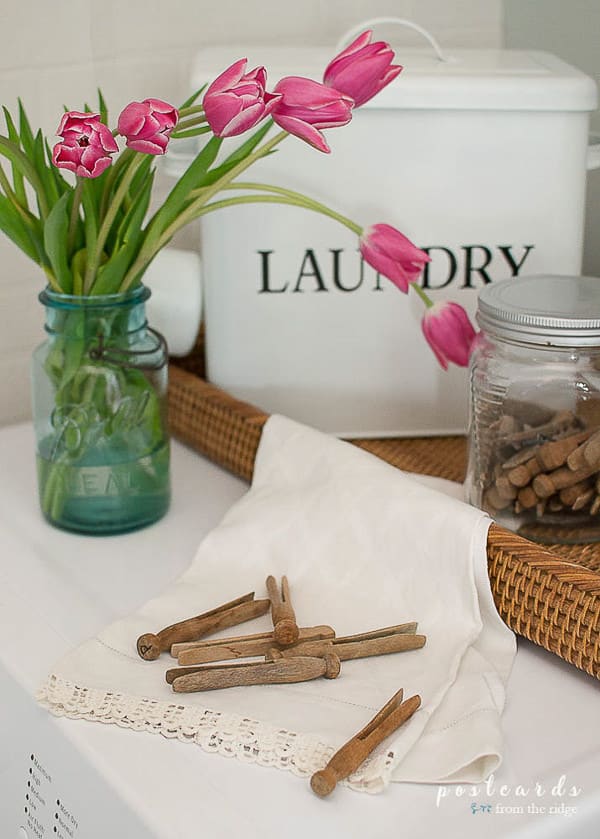 Who says you can't put flowers in the laundry room? These pink tulips also came from the grocery store and brightened up my tiny laundry room. The vintage blue mason jar made the perfect vase for them.
14. Pink Carnations in Milk Glass Vases
For an easy Valentine's Day centerpiece, grab some carnations at the grocery store and group them together in some vintage milk glass vases. I added these to a cake pedestal to make more of a statement. As a bonus, carnations are cheap and usually last a couple of weeks.
15. Carnations in a Soda Bottle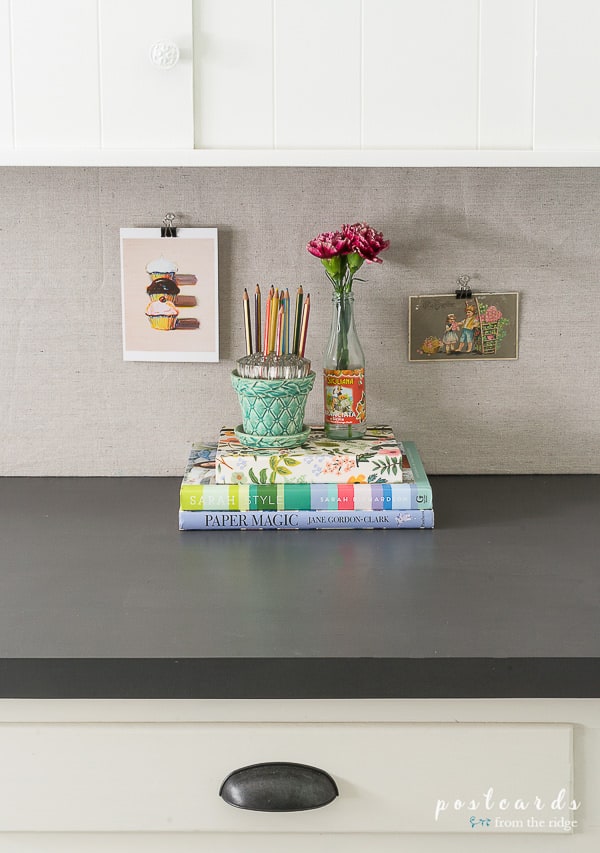 A cute soda bottle makes a great little vase. I added a couple of deep rose carnations to this one for a dash of color in my office.
16. Preserved Boxwood wreaths and Faux Hydrangeas
I used to be dead set against faux flowers, but there are some very realistic ones available these days. I added these pretty blue faux hydrangeas to a macrame tote bag and hung them on the wall in our guest room for some instant color and charm.
17. Faux White Hydrangeas in a Metal Tool Caddy
This tool caddy full of faux white hydrangeas made a great addition to our living room mantel. It would also be a nice centerpiece for a long table or dress up a kitchen island.
Where are the best places to get flowers?
Planting bulbs and flowering bushes in your yard will give you years of beautiful, free flowers. You can also find fresh flowers here:
Farmers' Market
Grocery Store Florist
Flower Truck
Florists
There are also some online places that you can order fresh flowers from. Here are a few recommendations:
See my favorite faux and dried flowers here:
What are some of your favorite ways to decorate with flowers? Leave me a comment below and let me know!