DIY Wine Bottle Luminaries
A simple and thrifty DIY wine bottle luminary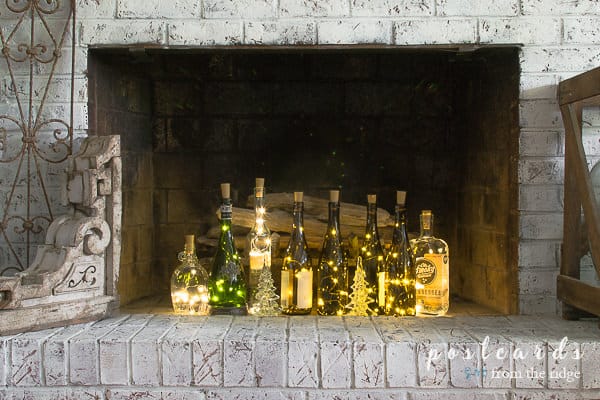 This post contains affiliate links for your convenience. For full disclosure go here.
Hey, friends! Have you started thinking about decorating for Christmas yet? I've thought about it but that's all so far. Today I'm sharing a super simple and thrifty project that's perfect for the holidays or any time of the year, really.
And all of my friends from the Thrifty Style Team are sharing thrifty Christmas ideas for you too! Be sure to scroll down to the bottom of the page to see them all.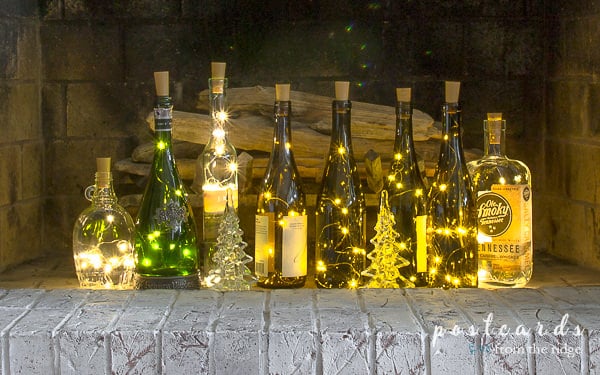 This project isn't only simple and thrifty, is also environmentally friendly! We're big recyclers in this house and recycled all of our glass bottles for years. But unfortunately our local recycling place stopped accepting glass in August of this year, so now I'm trying to find ways to re-use our glass items.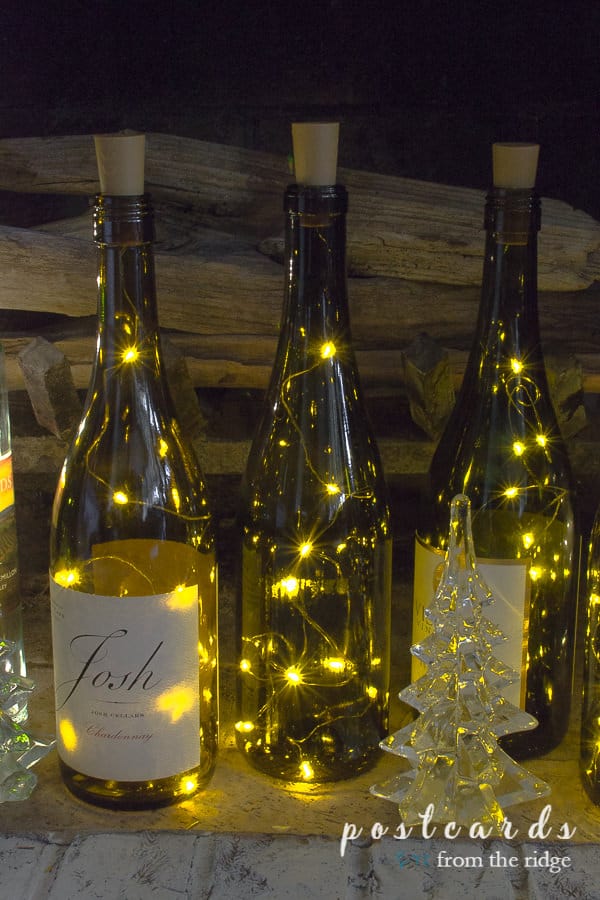 We don't drink a ton of wine, but like to have it when we have guests. So we've accumulated a few bottles since August.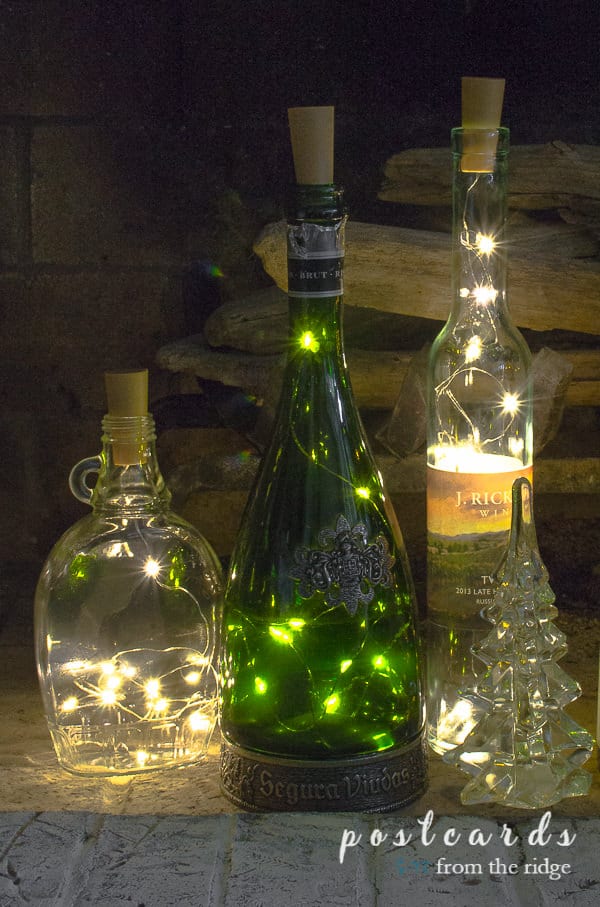 When I was trying to think of an idea to share for this month's thrifty style post, I knew this would be perfect. I mean, the bottles were free so you can't get any thriftier than that!
Also, do you see the little vintage glass Christmas trees? I snagged those at a thrift store a couple of years ago for a steal. I thought they looked great with the luminaries.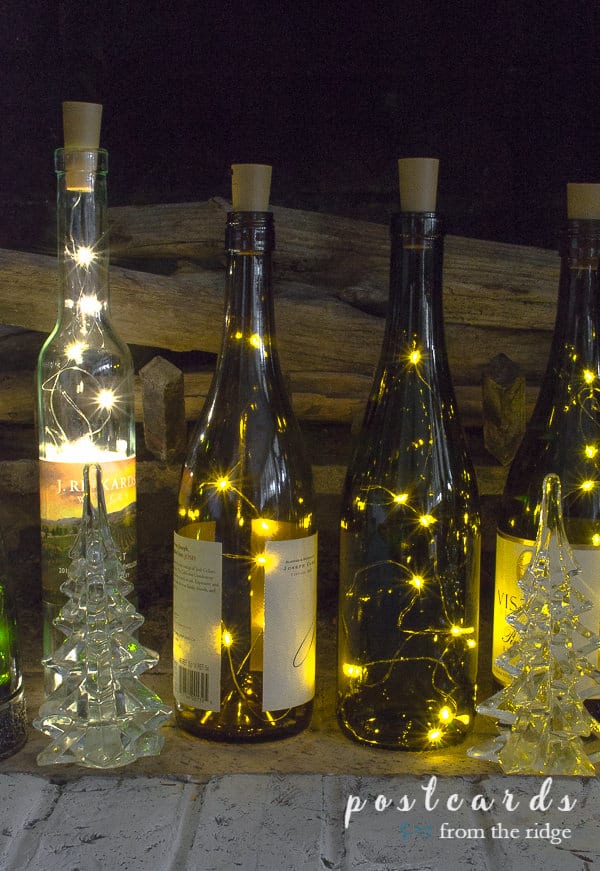 Here's the simple tutorial for you.
How to Make a Wine Bottle Luminary
Supplies Needed: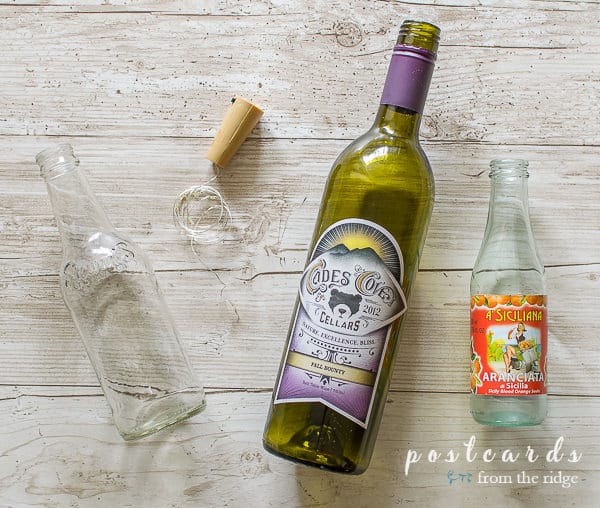 You really only need two things for this simple project:
Empty bottles
That's it. No drilling necessary.
Note: If you don't drink wine, you can use any bottle that has the same size opening at the top. Or you can ask your wine drinking friends to save some empty bottles for you. Or I'd be willing to bet that if you asked nicely at a local restaurant, they'd give you some for free.
Optional tools needed if you decide to remove the collars:
Strong scissors or utility knife
Pliers or wire cutters
Here's a comparison of the bottles with and without the collars:
⇧ Without collars ⇧
⇩ With collars (some of them) ⇩
There's not a whole lot of difference, so it's totally up to you.
How to remove paper labels from bottles: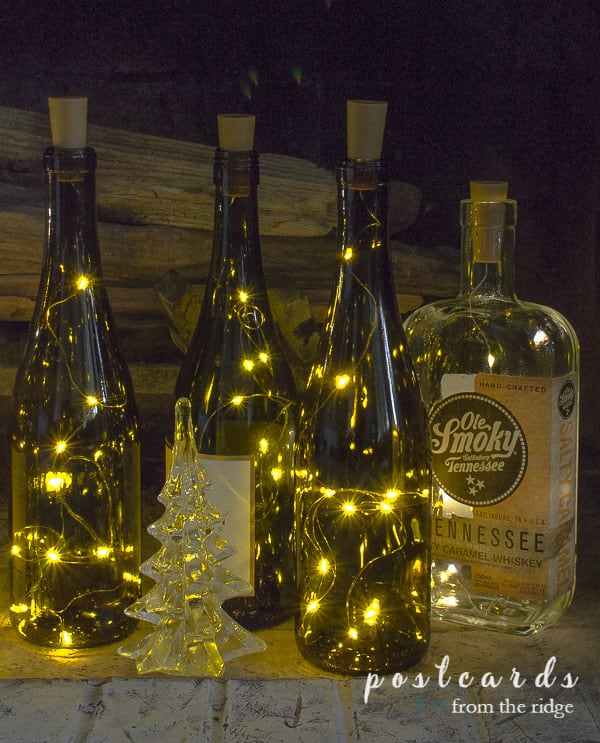 Some of my bottles have labels and some don't. If you want to remove your labels, here's all you need to do:
Soak a paper towel in cold water and then place it over the label.
Let it set for about 30 minutes and the label and adhesive should come off easily.
If any adhesive residue is left, you can use this adhesive and gunk remover to take it off.
Instructions for making the wine bottle luminaries:
Note – if you prefer a video tutorial I've added one on my new Youtube channel here → DIY Wine Bottle Luminaries Video
1. Empty the contents of the bottles. Once the bottles are empty, simply rinse them out and allow them to dry.
2. Remove the tab from the cork lights and unwind the string of lights.
3. Gently push the lights down into the bottle. If they all gather at the bottom, pull them out and gently bend them in a few areas to keep them closer to the top of the bottles.
I used these wine bottle lights and like them because they came with a tiny screwdriver to use when you need to change the batteries on the corks. They also came with extra batteries!
Such a great project for less than $12! Don't you agree?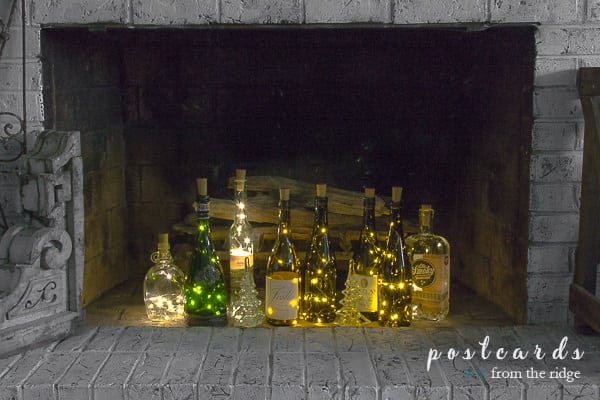 Where to use them:
These would look great in so many places. We don't use our living room fireplace since we added gas logs to the den fireplace, so I put the wine bottle luminaries in here to mimic the glow of a fire.
You could also use them in these areas:
Mantel
Shelf
Cabinet
Bookshelves
Kitchen counters
Dining table centerpiece
Where would you use them?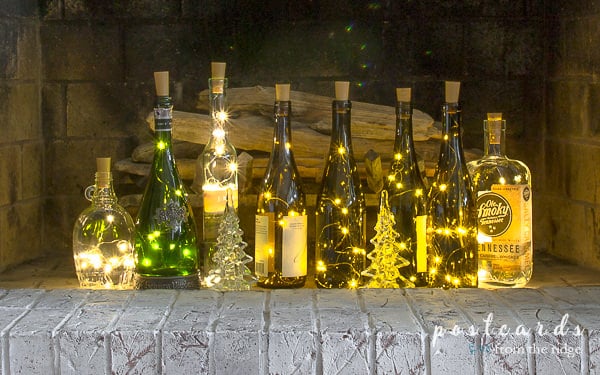 And now here are all of this month's thrifty style decor projects! Be sure to visit everyone and get some great ideas!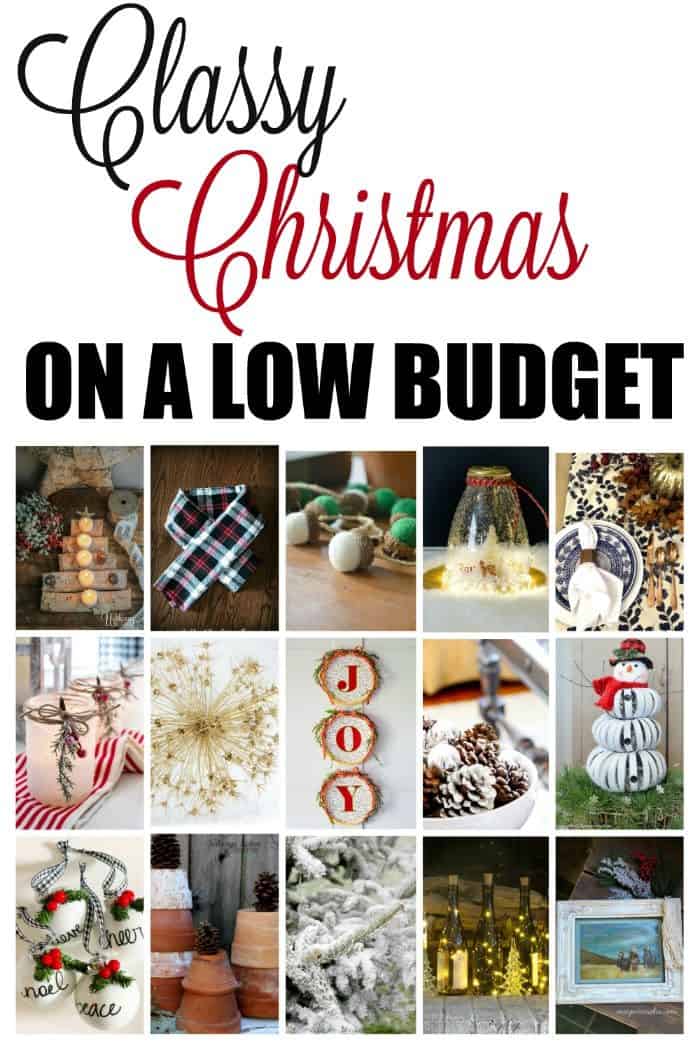 DIY FELTED ACORN GARLAND from Chatfield Court
DRIED ALLIUM CHRISTMAS ORNAMENTS from The Creek Line House
DIY UPCYCLED SNOW GLOBE from The How-To Home
DIY WINE BOTTLE LUMINARIES from Postcards from the Ridge
FROSTED CHRISTMAS LUMINARIES from DIY Beautify
EASY DIY PERSONALIZED CHRISTMAS ORNAMENTS from 2 Bees in a Pod
THRIFTY HOLIDAY DECORATING IDEAS from Bliss Ranch
REPURPOSED PILLOWCASE SCARF from Redhead Can Decorate
EASY HOLIDAY HOOPS from I Should Be Mopping the Floor
DECOUPAGE AND FRAMED CHRISTMAS CARD ON CANVAS from What Meegan Makes
DIY BIRCH LOG CHRISTMAS TREE CANDLE HOLDER from Unskinny Boppy
from Duke Manor Farm
MERCURY GLASS PUMPKIN TABLESCAPE from Jennifer Rizzo
TERRACOTTA CHRISTMAS TREES from Salvage Sister and Mister
CANNING RING SNOWMAN from Cottage at the Crossroads