Amazing Furniture Makeovers – A Book You'll Love Plus a Great Giveaway
"Amazing Furniture Makeovers" – a new book full of ideas and tutorials for painting, upholstering, decoupaging and more.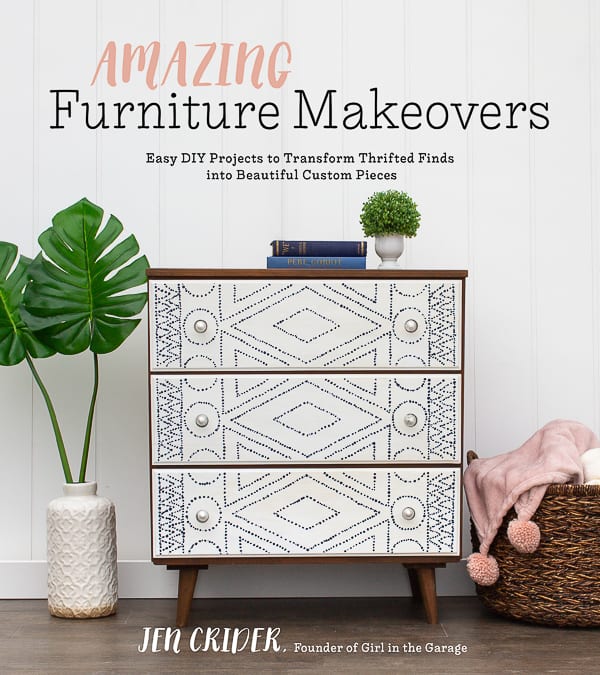 This post contains affiliate links for your convenience. For full disclosure go here.
Do you love painting furniture?
Are you always on the hunt for new ideas for giving thrifted furniture and found pieces a brand new look?
Then you're going to absolutely love this new book from my talented friend, Jen Crider.
Back when I began blogging in 2011, most of my projects were furniture makeovers. I had several friends in a small group of furniture makeover mavens and we shared themed furniture makeover projects each month. (You can see some of these projects HERE.)
One of the very talented friends in the group was Jen, who always shared the most beautiful makeovers and has just written a book sharing some of her furniture makeover tips. And today I'm giving you a little sneak peek of her new book, which will be released on June 4th.
Plus, you can enter to win a wonderful furniture painter's prize pack at the bottom of this post!


Give your boring dresser a brand new look with paint and stencils. Jen gives the details of how she transformed this piece in her new book.


Isn't this chair a beauty? Jen shares how she reupholstered the chair with a step by step tutorial including pictures. She also has other upholstery projects detailed in the book.
Think outside the box! Jen shares several clever makeover that will inspire you to go beyond the basic painted furniture makeovers to create a statement piece. Isn't this suitcase dresser stunning? She shares how she did this in her book.
There are dozens more ideas in her book that will inspire to to get out your paintbrush and update old, boring furniture.
Ready to learn more? You can view and purchase her book now and save over 33% HERE.
And you can enter to win all of these items by scrolling to the bottom of this post.
Thank you toSandpaper shops,Miss Mustard Seed's Milk Paint,Iron Orchid Designs, andGirl in the Garage for sponsoring this giveaway.
Enter here for this wonderful furniture painter's prize package!
You can find more information on Jen Crider's new book Amazing Furniture Makeovers: Easy DIY Projects to Transform Thrifted Finds into Beautiful Custom Pieces and the exclusive preorder bonus gifts by June 4, 2019 at https://girlinthegarage.net/amazing-furniture-makeovers/.
After reading Jen's new book, I'm inspired to give a makeover to some furniture that's been patiently waiting for me in our garage. Hopefully I'll share the new look soon.
What pieces are you inspired to makeover? Leave me a comment and let me know what you think!