Take a virtual tour of our living room and breakfast room
This post contains affiliate links for your convenience. For full disclosure go here.


Hello, friends! Welcome to our Christmas home! Today I'm joining with 14 other talented home bloggers for a farmhouse style Christmas tour. A great big thank you to Kelly at North Country Nest for organizing the tour!
All of the links and previews are at the bottom of the post, so be sure to visit everyone's home.
I've got lots of pictures of our living room, breakfast room, and a couple of hutches chock full of vintage Christmas goodness so let's get started!
Cozy Christmas Tablescape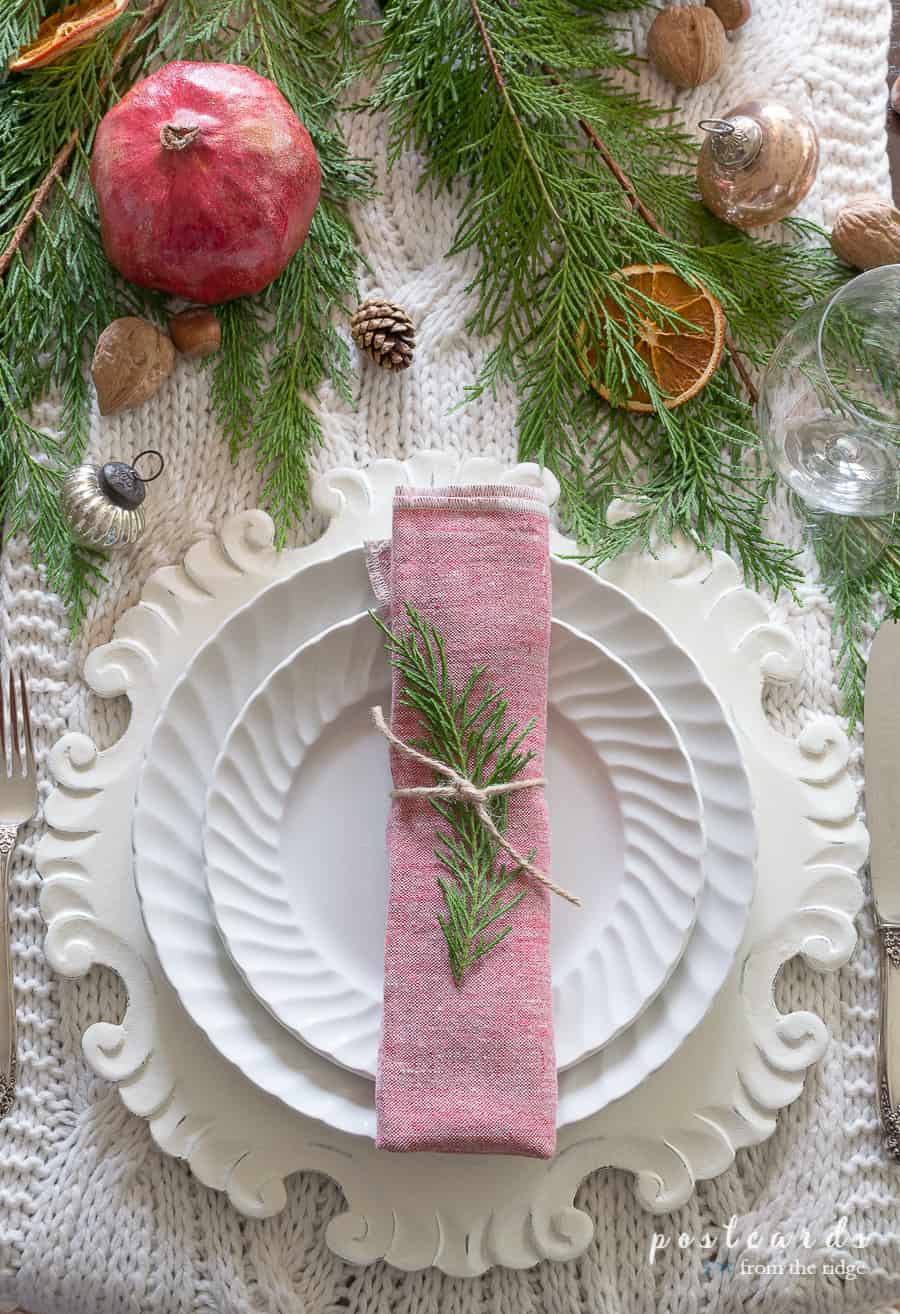 Our table is dressed up with a cozy Christmas theme this year. The cable knit table runner was my starting point and I drew lots of inspiration from it.
For the center of the table, I simply used some cypress branches and dried orange slices as a base. A few pomegranates, nuts, and small ornaments were added as filler.
The vintage glass candle holders were some that belonged to my late mother-in-law. I always like to add something to our holiday table that belonged to her.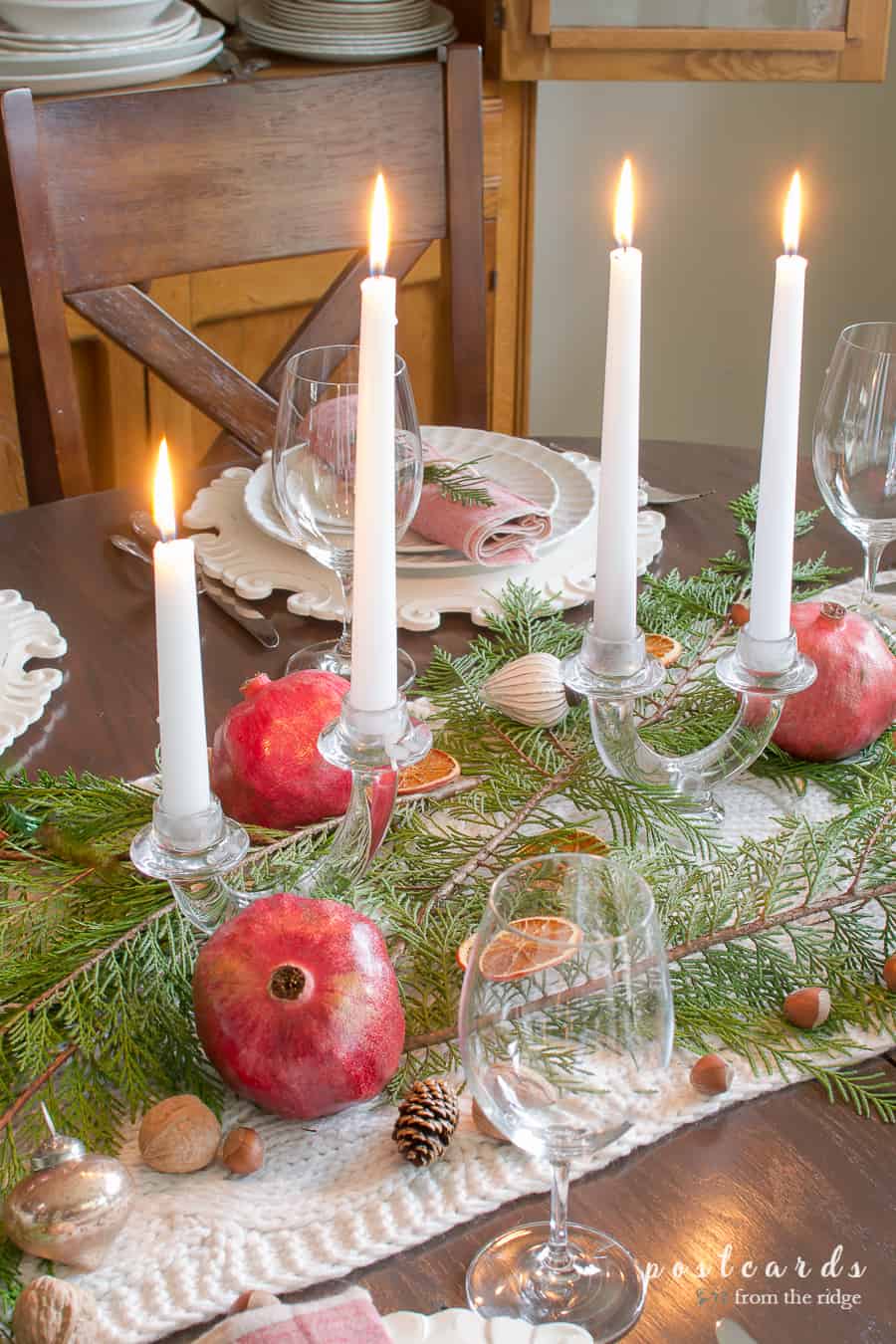 For the place settings I used my white wooden chargers as a base and added some white ironstone dishes that I found at the thrift store.
I love the character of vintage silverware and like to add it to the table for Christmas and special occasions. And the wine glasses aren't vintage, but were a birthday/mother's day present earlier this year. They add a needed sparkly element to the table. Plus it makes the wine seem extra special when it's in a nice glass.
Since we're really not fancy, I used these casual linen napkins and simply tied them up with twine. A little snip of cypress adds a festive touch of green to the place setting.
shop this look
Christmas Hutch
This old hutch has become one of my favorite things to decorate for each season. I always have my white ironstone dishes as a base and just change out the accent dishes and decor.
I never met a white pitcher I didn't like so I have quite a few of those. They're great as vases for flowers in warmer months.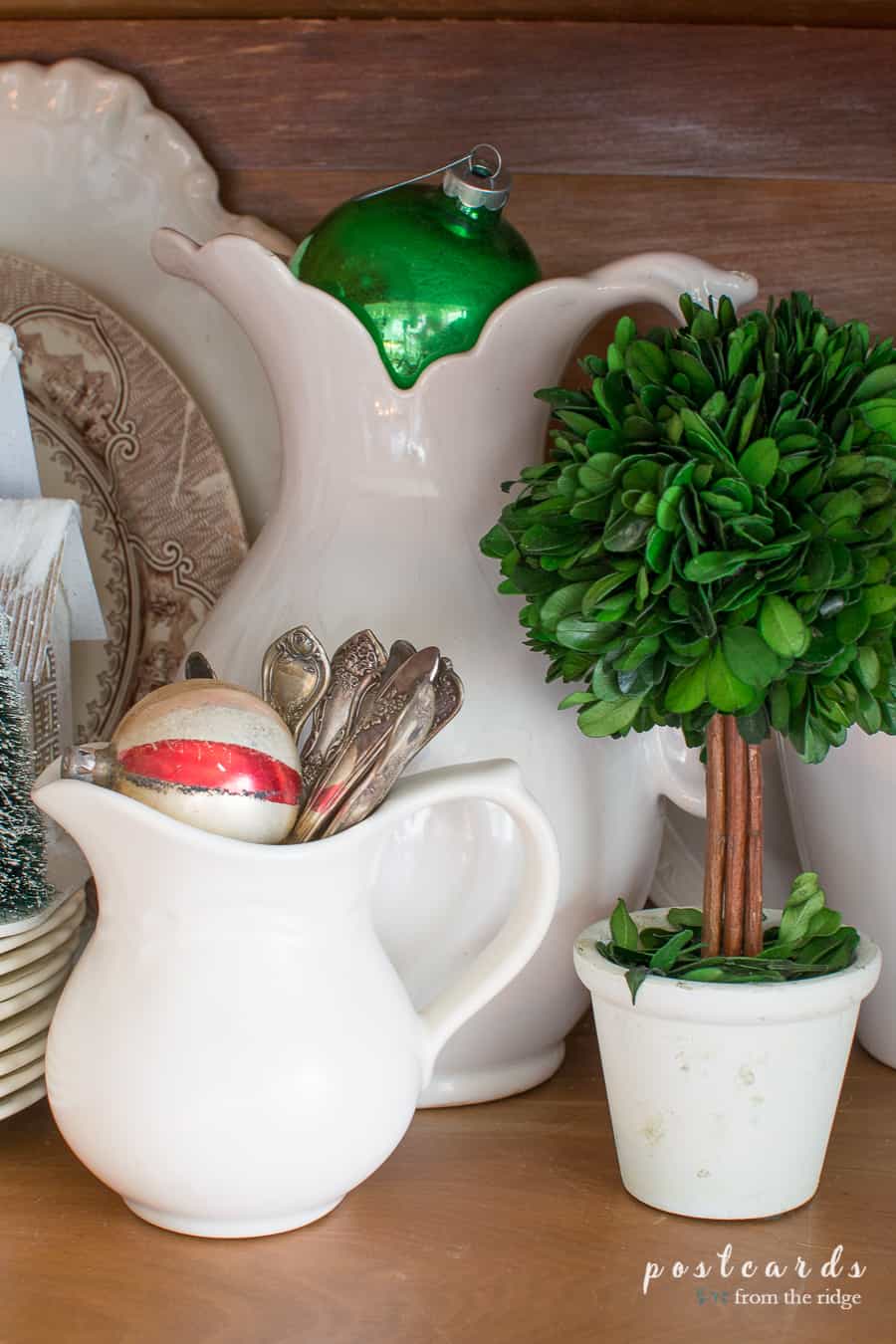 A few pieces of my Johnson Brothers Pink Castles are mixed in for Christmas, along with a few of my vintage Shiny Brite Christmas ornaments.
And a few pieces of slightly tarnished vintage silver add a bit of sparkle to the scene as well. I'm sure they would add even more sparkle if I polished them, but who's got time for that? I kinda like them tarnished. It gives them patina and charm.
Three Tiered Tray
Over on the buffet I have my 3 tiered tray decorated for Christmas too. A few spools of ribbon and some little glitter houses are the perfect size to sit here.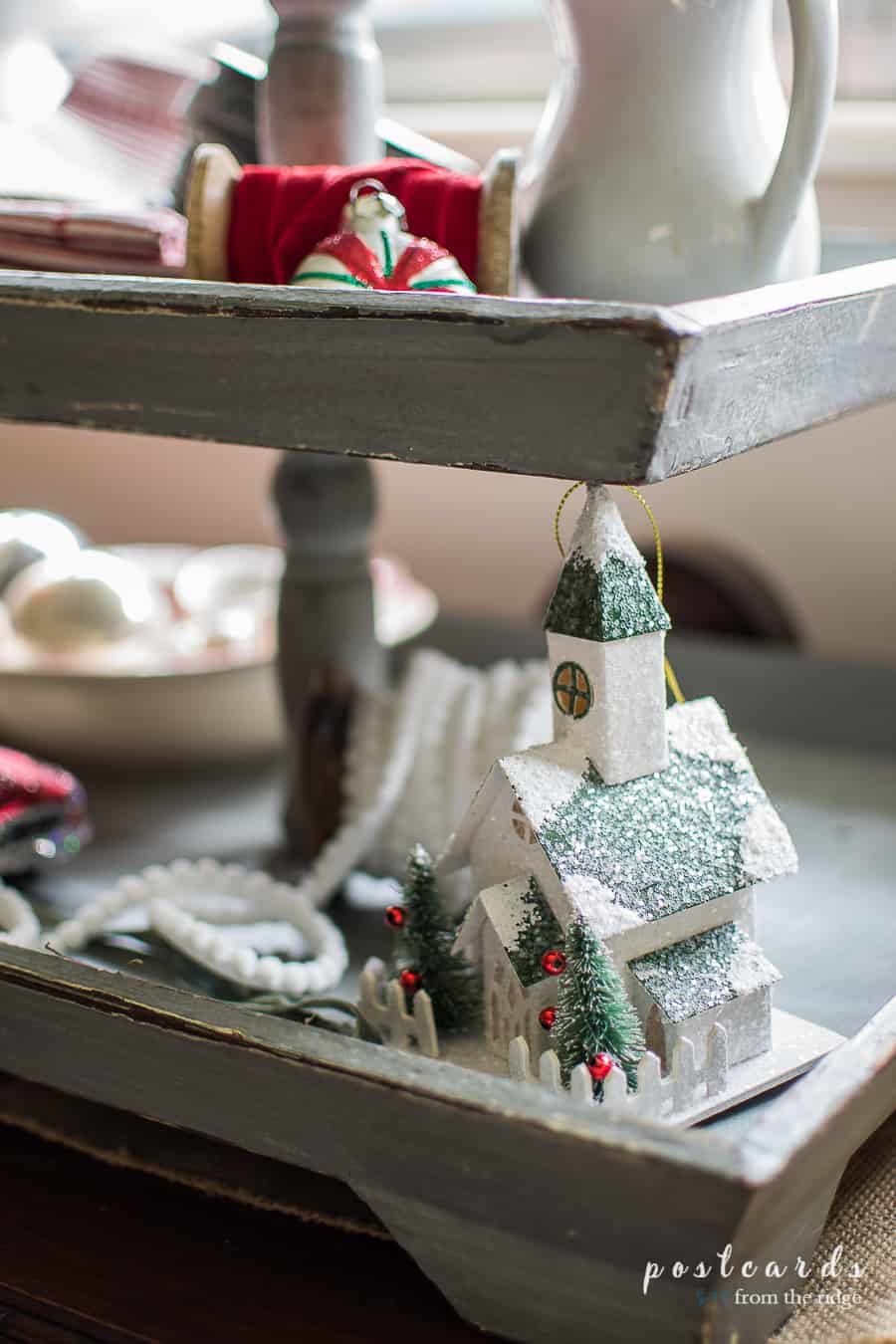 The red handled pair of old scissors is a fun addition. They're not just scissors…they also open cans and bottles and I'm sure they do something else too. An old fashioned version of today's 5-in-1 tool, no doubt. The red striped napkins add to the festive setting too.
shop this look
Cozy Christmas Living Room
Our living room is where our tree always is. This year I went with a cozy snowy theme. I used some plaid ribbon, knit garland, button garland, and snowflake ornaments on the tree. And this is the first time in over 12 year that we haven't had a real tree.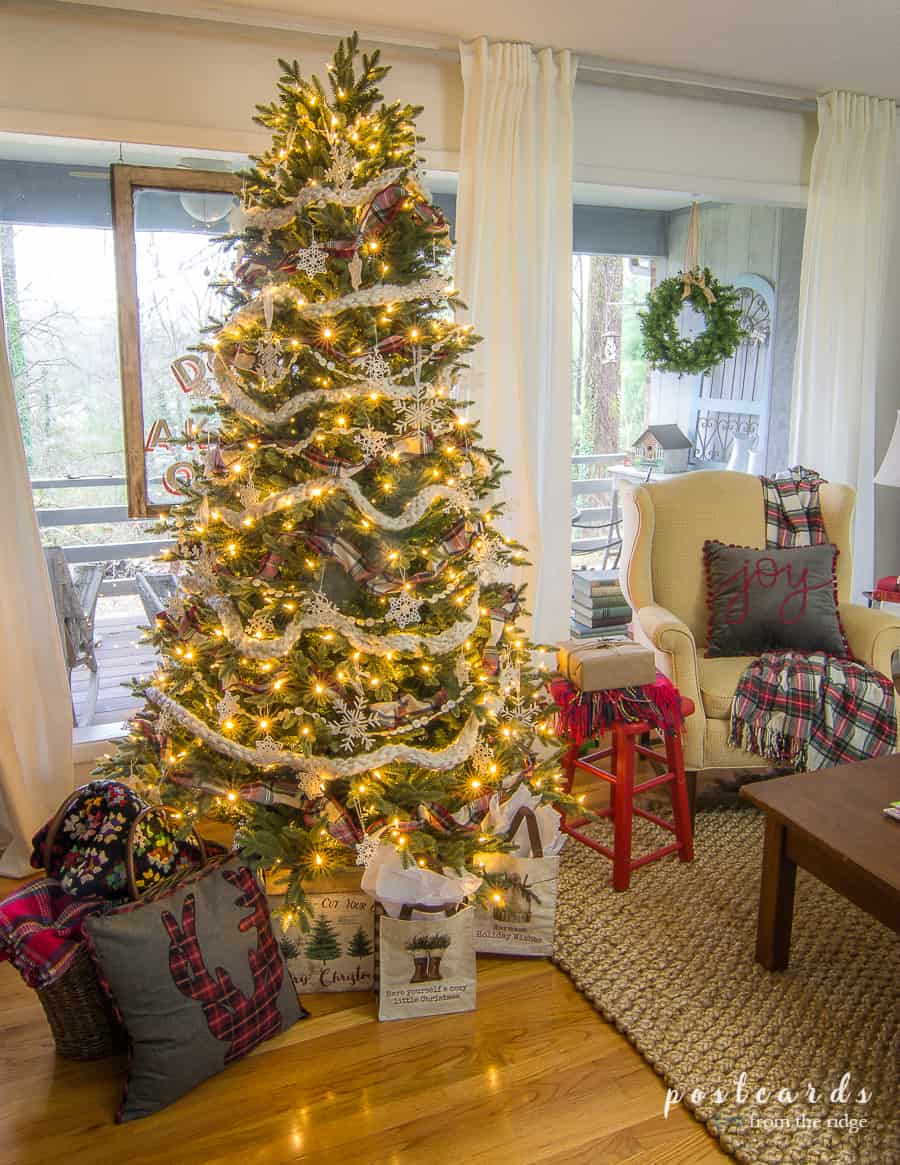 I got this one at Costco back in November and am really happy with the way it looks. I had done lots of research and looked at several online but this one had a decent price and still looks realistic. Plus it's pre-lit! That's definitely a win in my book.
A plaid deer pillow adds to the plaid theme.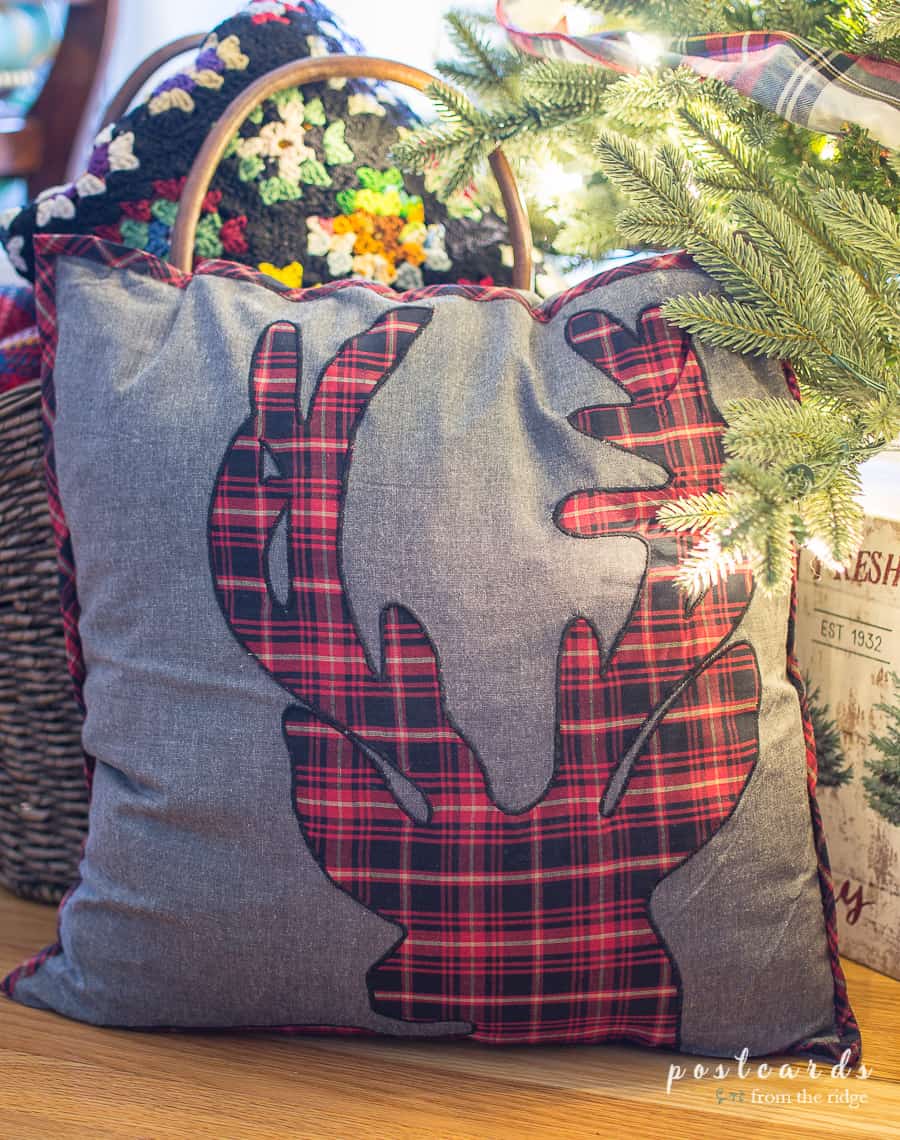 And these little reusable tote bags are the cutest things. They're tote bags and not actually gift bags, but are the perfect size plus they're reusable. Isn't the artwork amazing? (They're from my shop and are found HERE.)
I love all things velvet and this rich brown pillow is one of my favorite new items. I love the pompom trim on it. (It's also from my shop and is found HERE.)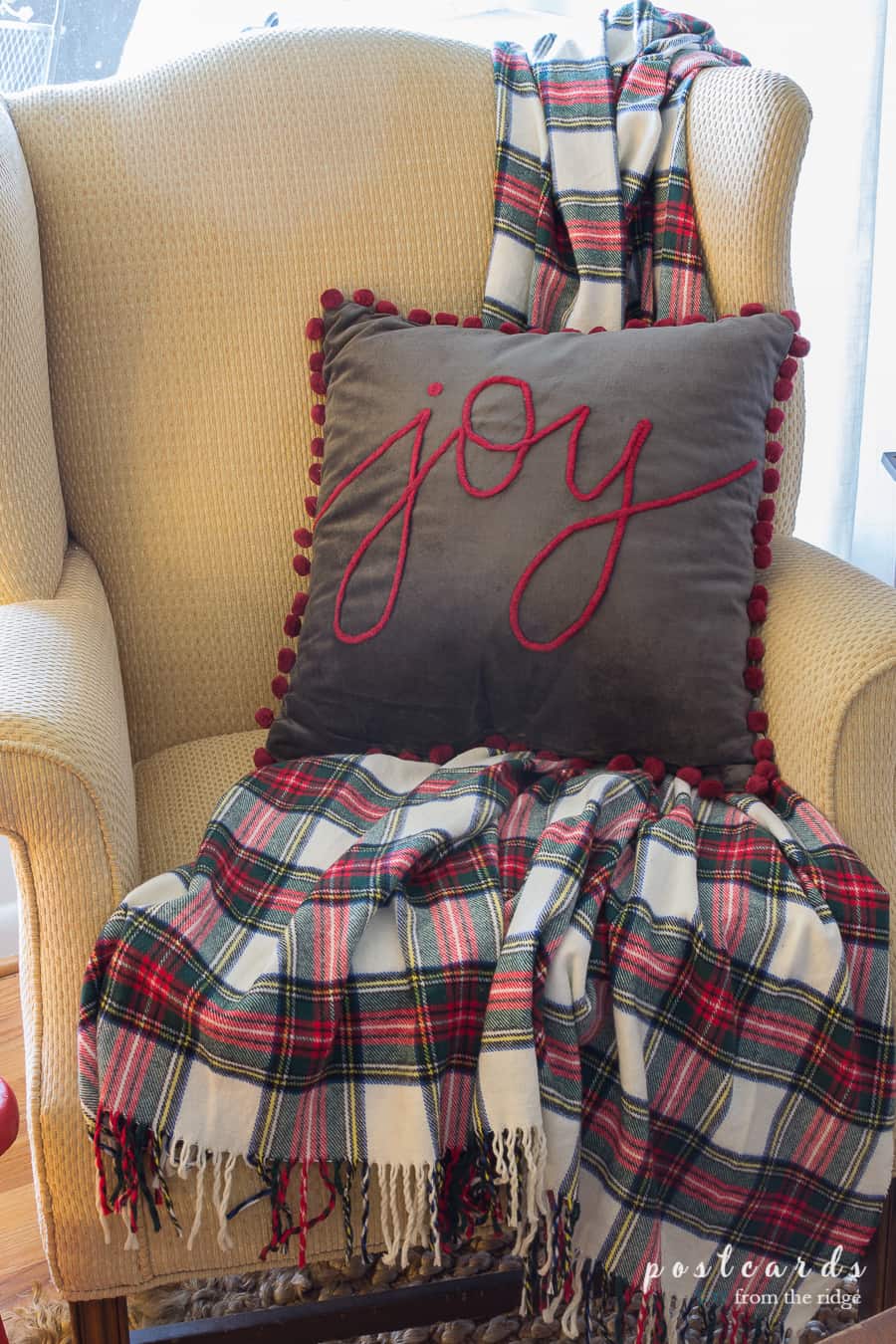 Can you ever have too many throw blankets? Not in my opinion! I layered these festive ones on my old wooden ladder and draped a pompom garland over them for a cozy little corner.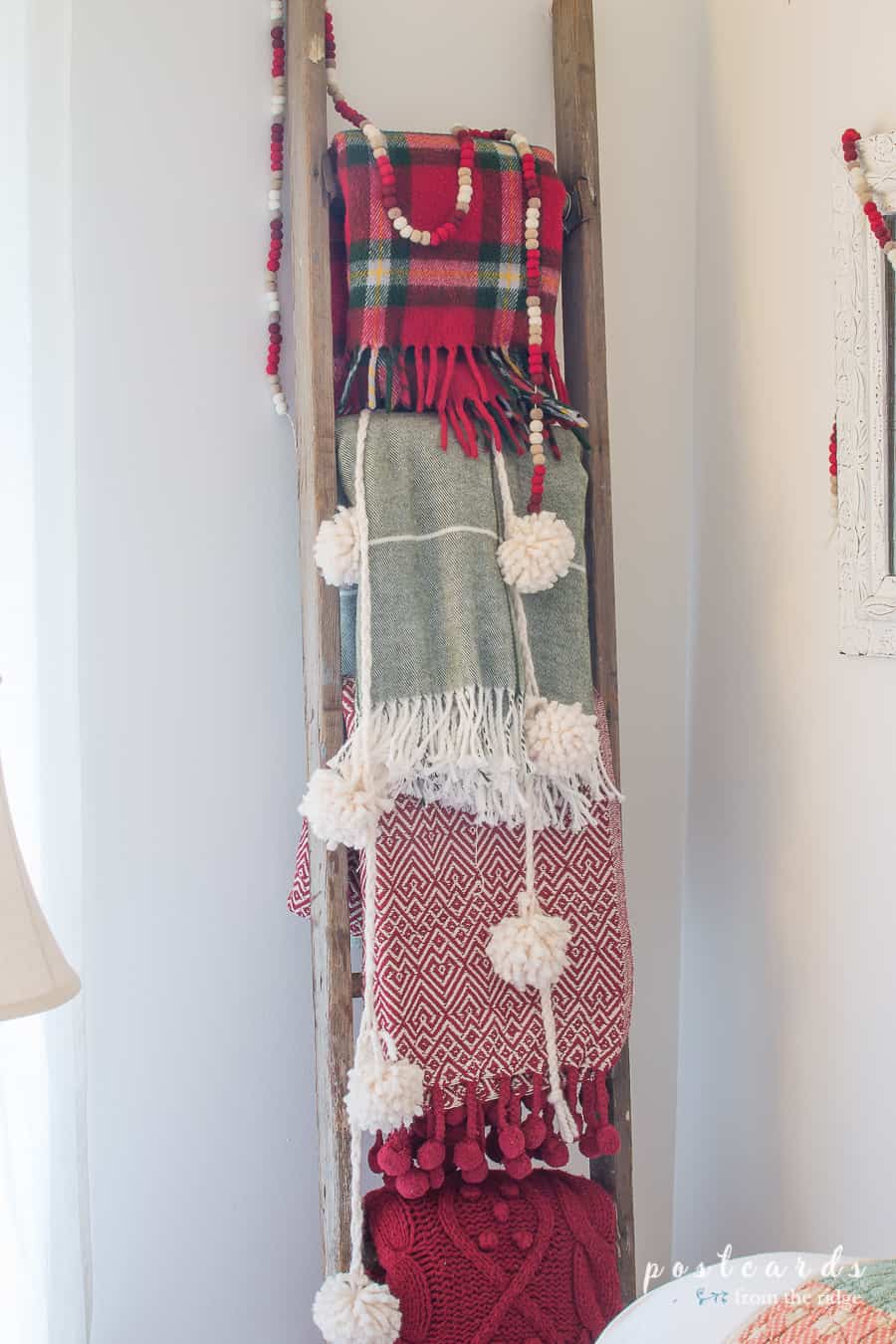 Our home doesn't have a dining room, so my China cabinet is actually in our living room. When we have a large group over for dinner, which isn't usually more than a couple of times per year, we rearrange this room and use it as a dining room.
It's kinda nice because it's a long room with lots of windows and a fireplace. But it's the first room you come to when you walk into our house so I don't leave it set up that way. Who wants to walk into a dining room when they enter a home?
Anyway, the China cabinet is full of Christmas decor right now.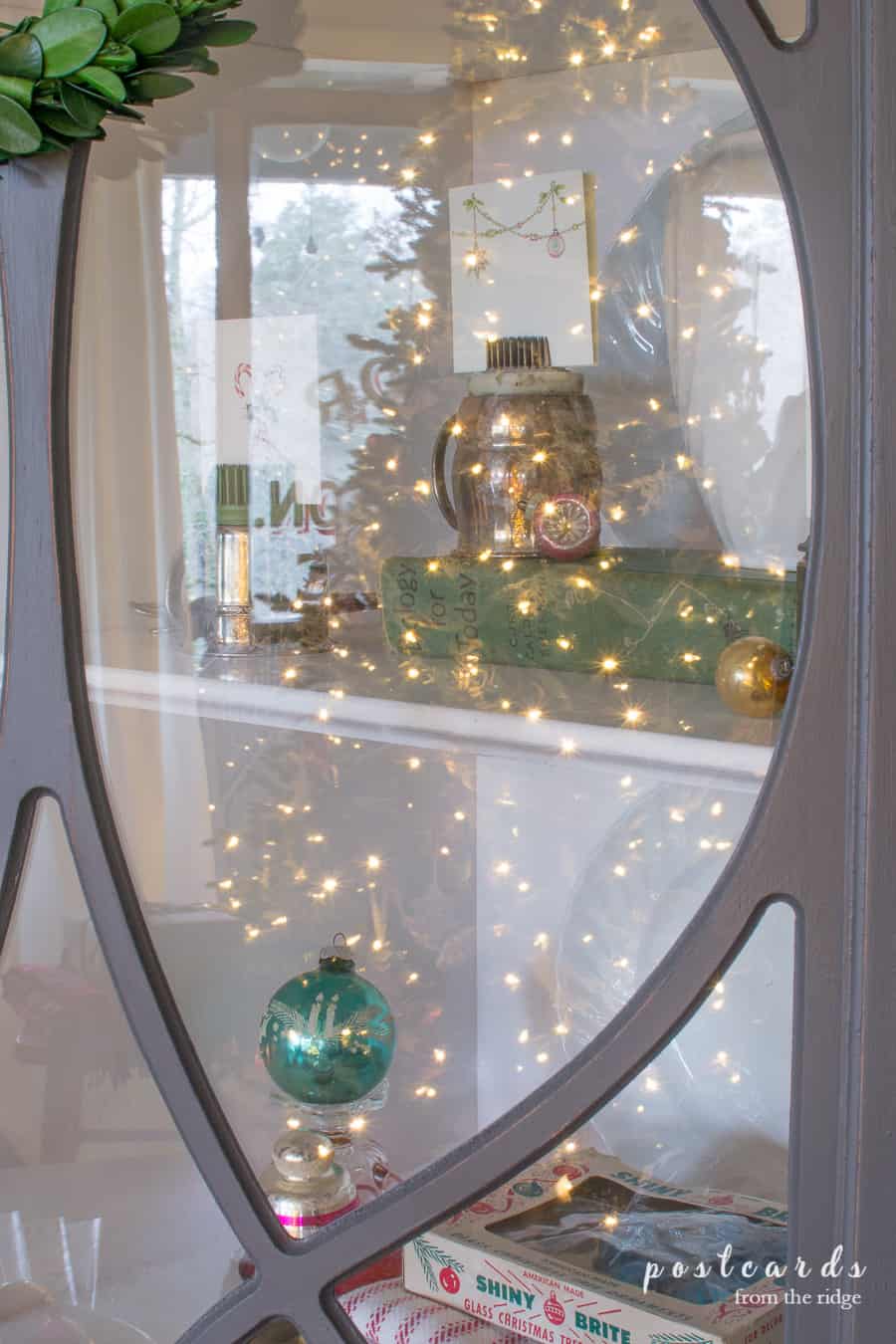 As you've seen, I have a large stash/collection/hoard of vintage items and I really like to use them whenever I can. Use it or lose it has been my motto since our house is bursting at the seams with stuff these days. I'll probably start selling some of my things online in the next few months because I really need to pare down my collections.
Anyway….I wanted to use these cute little cards that I found on a recent trip. I stuck them in some vintage flower frogs and then used some silver baby cups turned upside down as pedestals. Weird or clever? I thought it was pretty clever and am so glad I'm using all of these little goodies.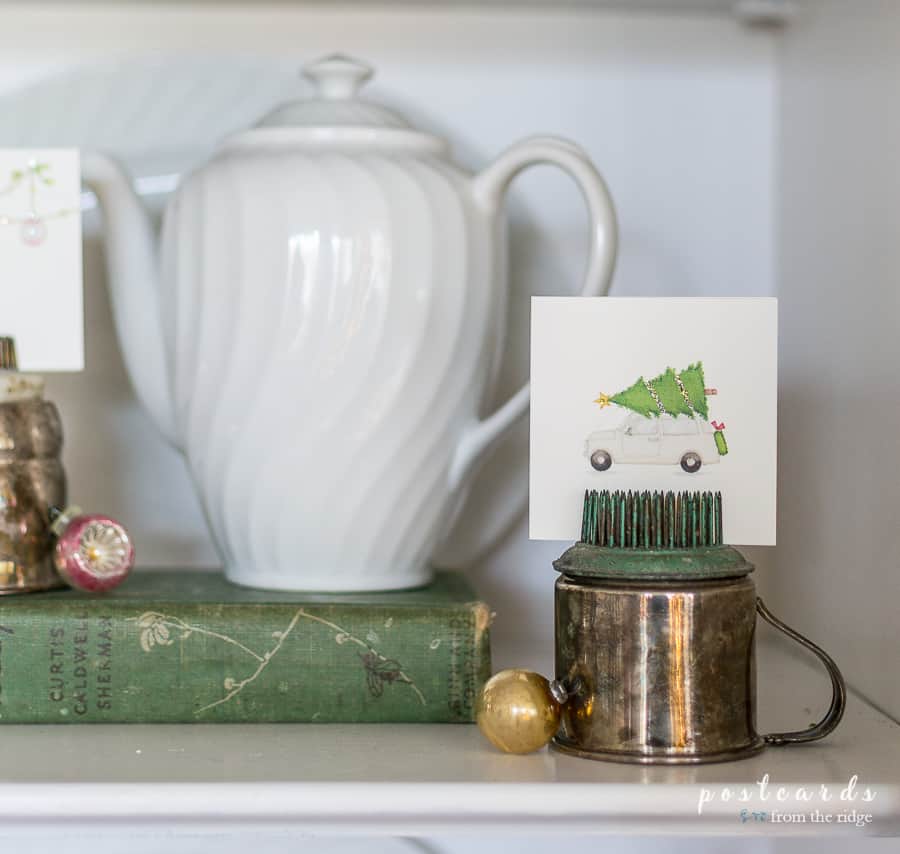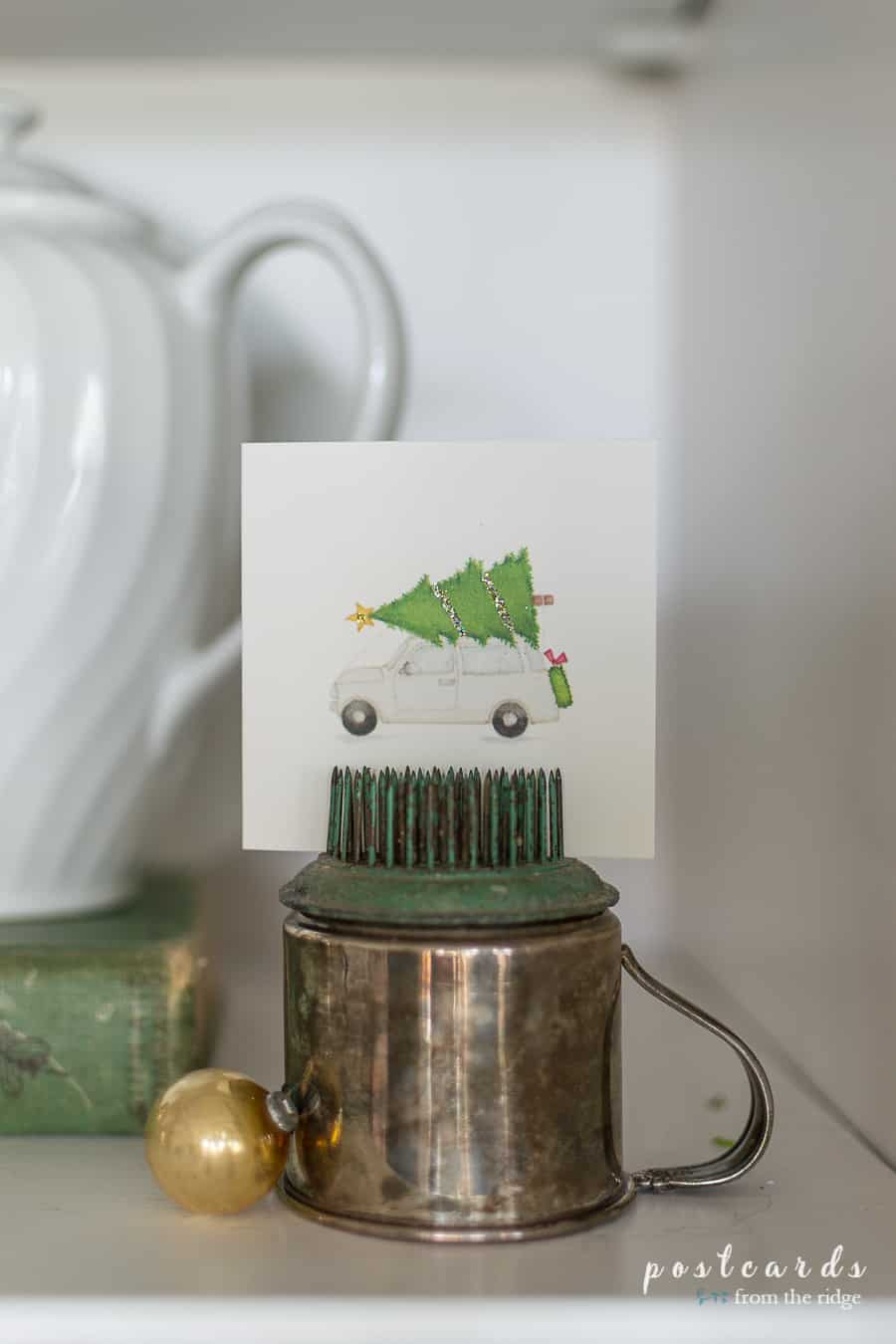 Another weird/clever/unique display here. Vintage glass bottles are something else I collect along with ornaments. I put them together and made some interesting little ornament displays.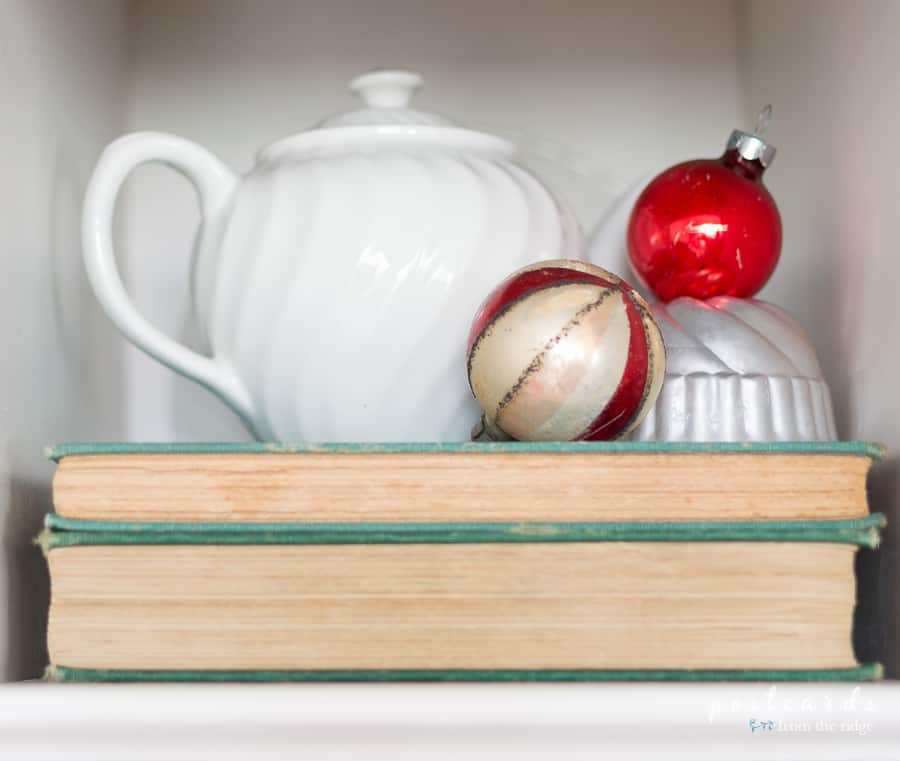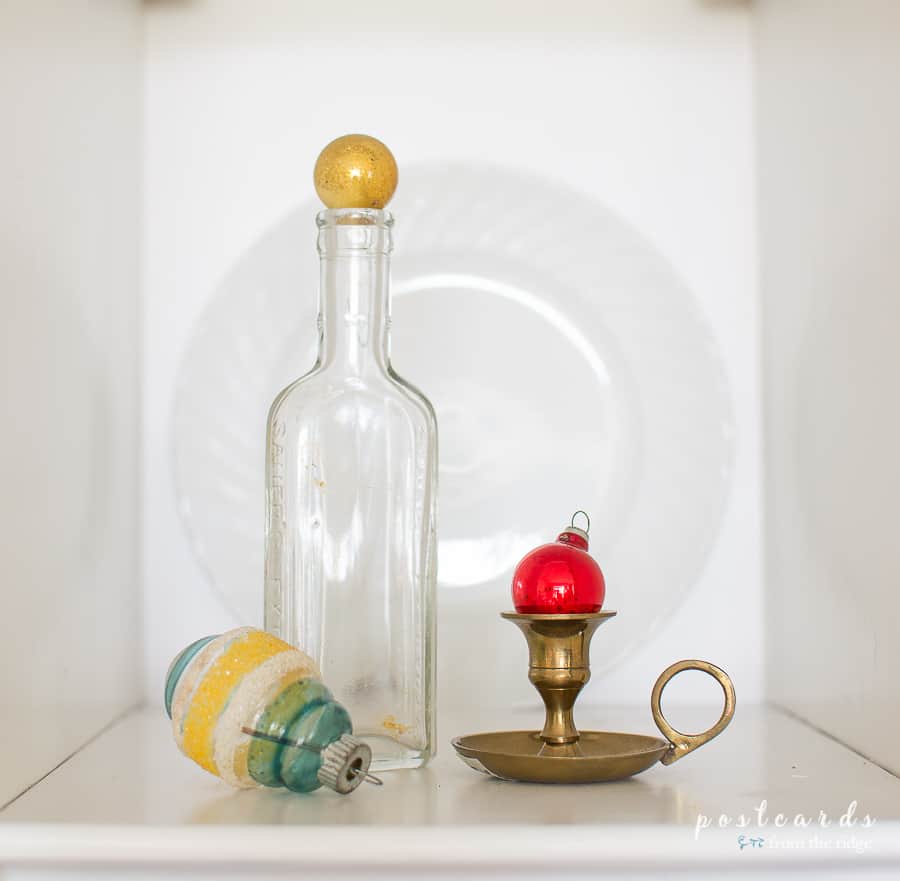 On the door of the China cabinet a little preserved boxwood wreath is hung with some pretty plaid ribbon. You can see a few more pieces from my stash. Do you have a stash of vintage items too?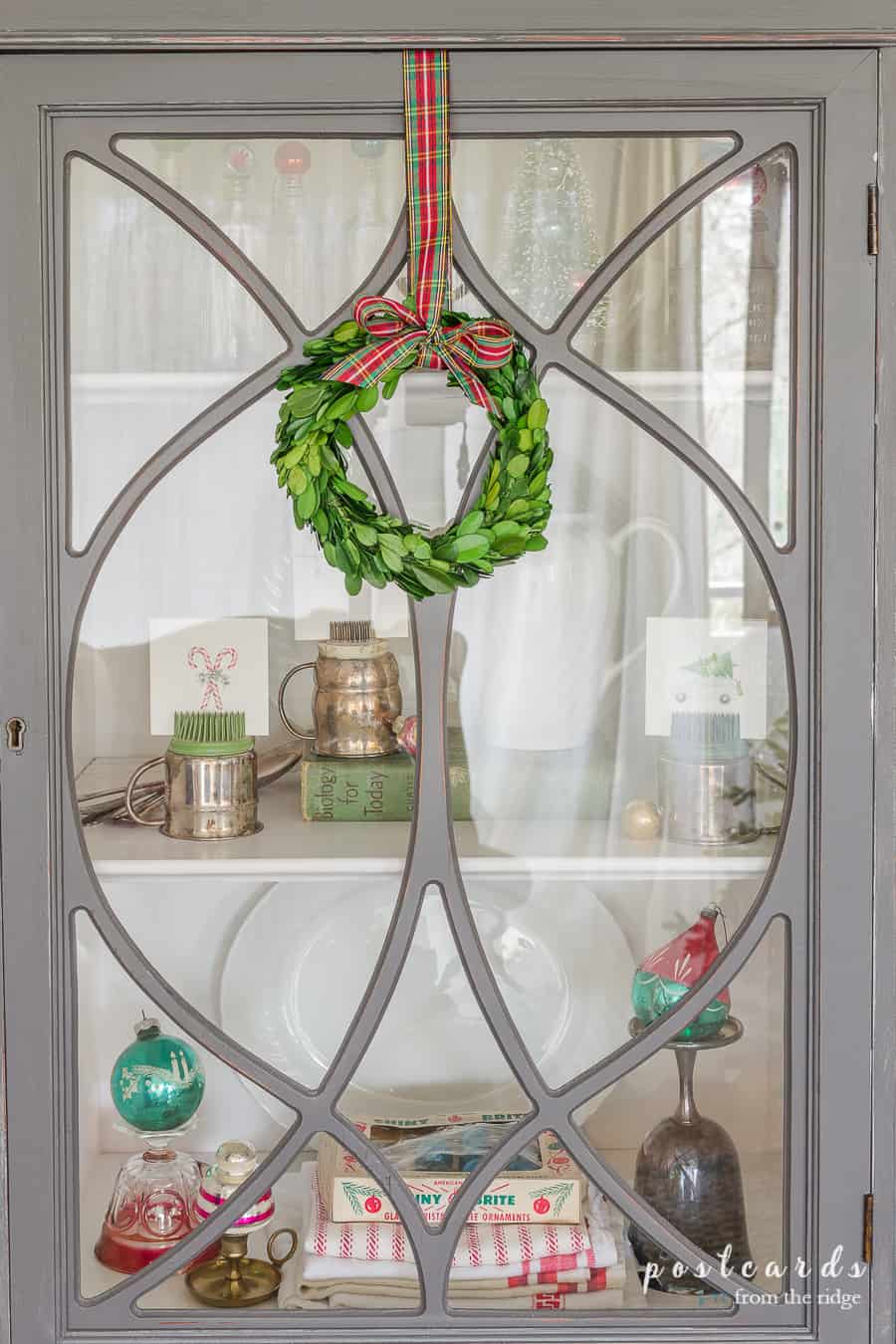 That pretty much wraps up my Christmas decor for this year. I meant to add some decor to the entry and family room fireplace, but it hasn't happened yet and honestly, it probably won't. I've been decorating for 2 weeks and feel like we have enough.
I might add just a few little pieces here and there before my oldest daughter comes home for Christmas. But the thought of getting a lot more out just to put it away a couple of weeks later isn't very appealing to me. Is that wrong? I hope not. The family says I always overdo it anyway.
I hope you've enjoyed today's tour! Be sure to scroll to the bottom of the post and visit my friends for more ideas.
See the details of our Christmas mantel shared earlier as part of a Christmas ideas tour HERE.
Here's a peek at our front porch. You can see the rest of it and all of the details along with 15 other bloggers' porches HERE.
See all of my Christmas decorating ideas since 2011 HERE.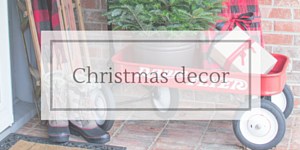 Visit my holiday shop with all of my favorite Christmas decorating favorites HERE.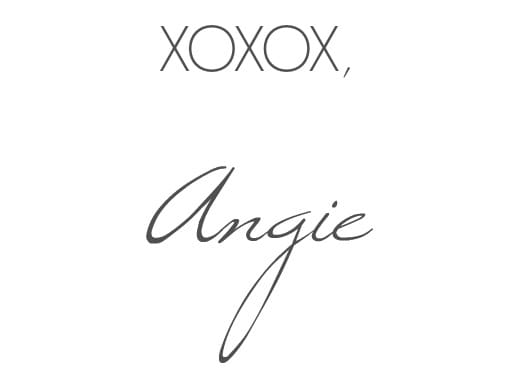 ---

North Country Nest // Joy in Our Home // Postcards from the Ridge // Sand Dollar Lane // Town and Country Living

A Blue Nest // DIY Beautify // Making it in the Mountains // Twelve on Main

The Frugal Homemaker // A Tattered Pew // Virginia Sweet Pea
Aratari At Home // The Honeycomb Home // Life on the Bay Bush Blog // Frazzled Joy // Cozy Traditional Home