21 Ways to Use Vintage Items in Your Christmas Decor
Ideas for using vintage items in your Christmas decor
This post contains affiliate links for your convenience. For full
disclosure go
here.
Hello, friends. Do you love using vintage items for your Christmas decorating
as much as I do? There are so many unique ways to use them and today I'm
sharing some of my favorites. Take a stroll through the past few holiday
seasons at our house and hopefully you'll get some great ideas.
1. Vintage Christmas Ornaments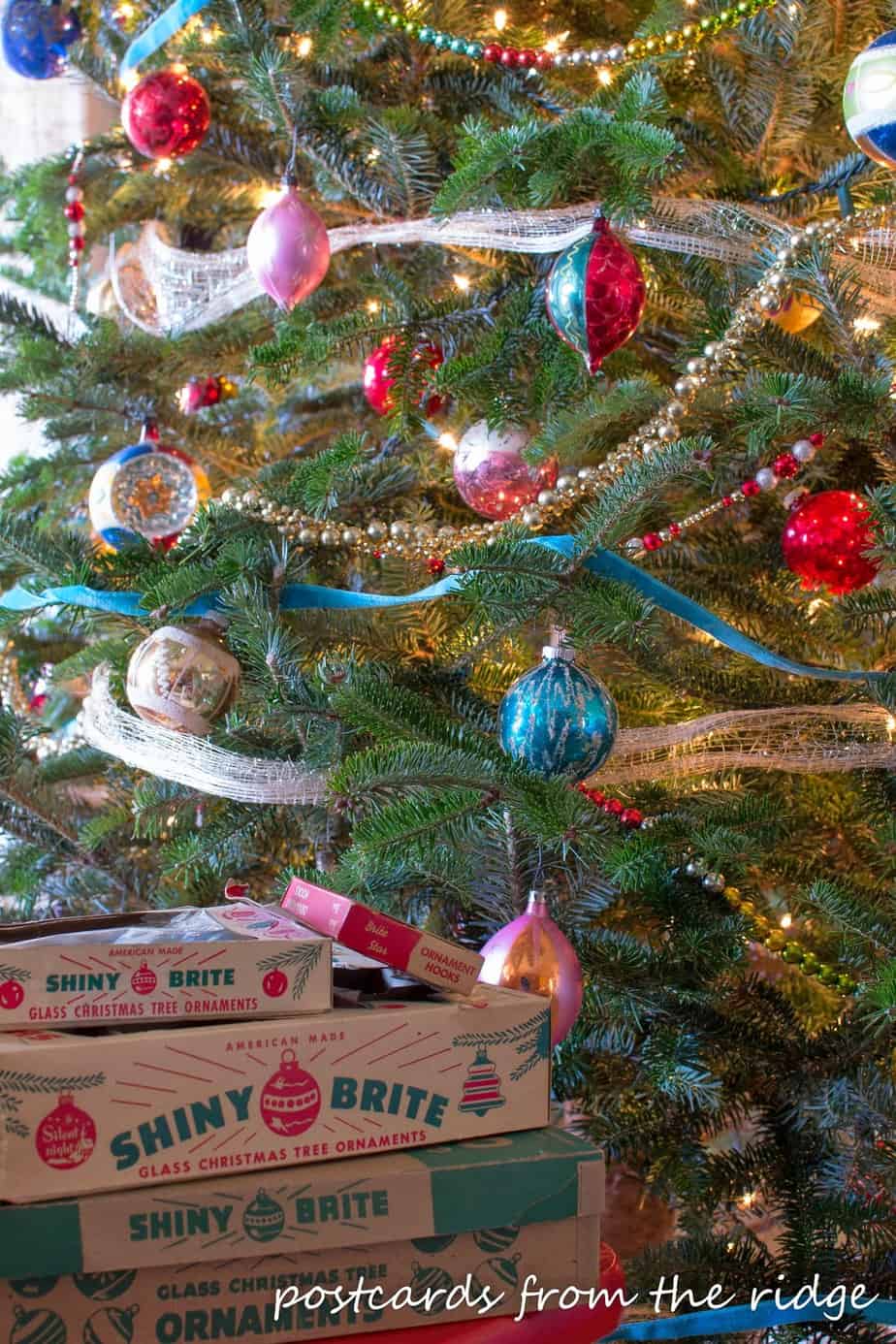 It goes without saying that
vintage ornaments
are perfect on your tree. They're so colorful and festive.
But you can also just place them around the house to add a pop of festive
color.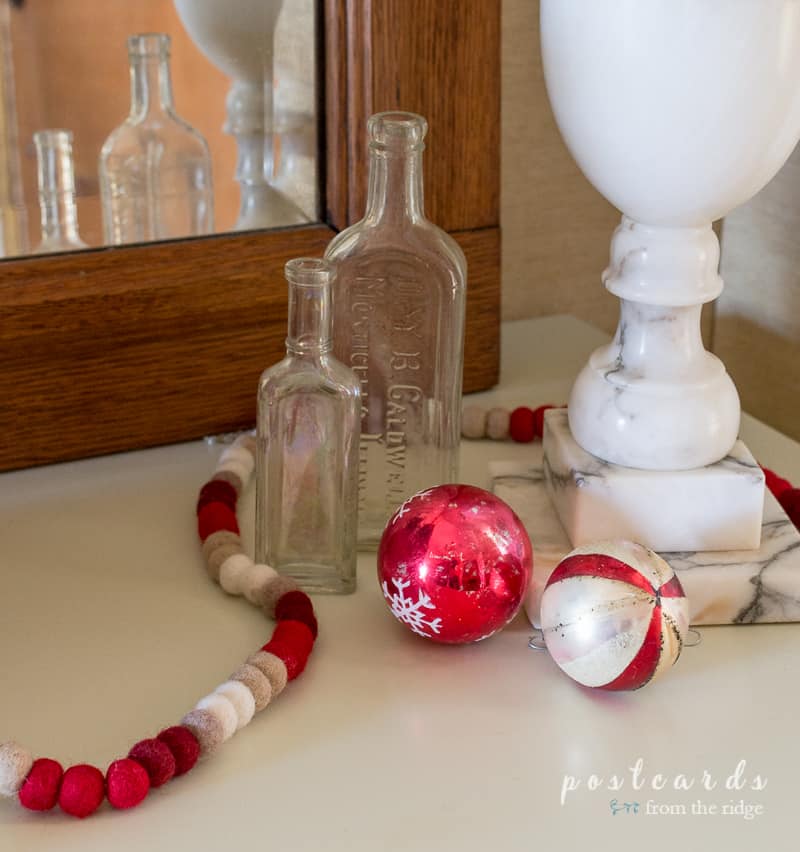 The vibrant hues make any area ready for the holidays.
They're also great in a
wooden bowl
with a strand of garland thrown over them.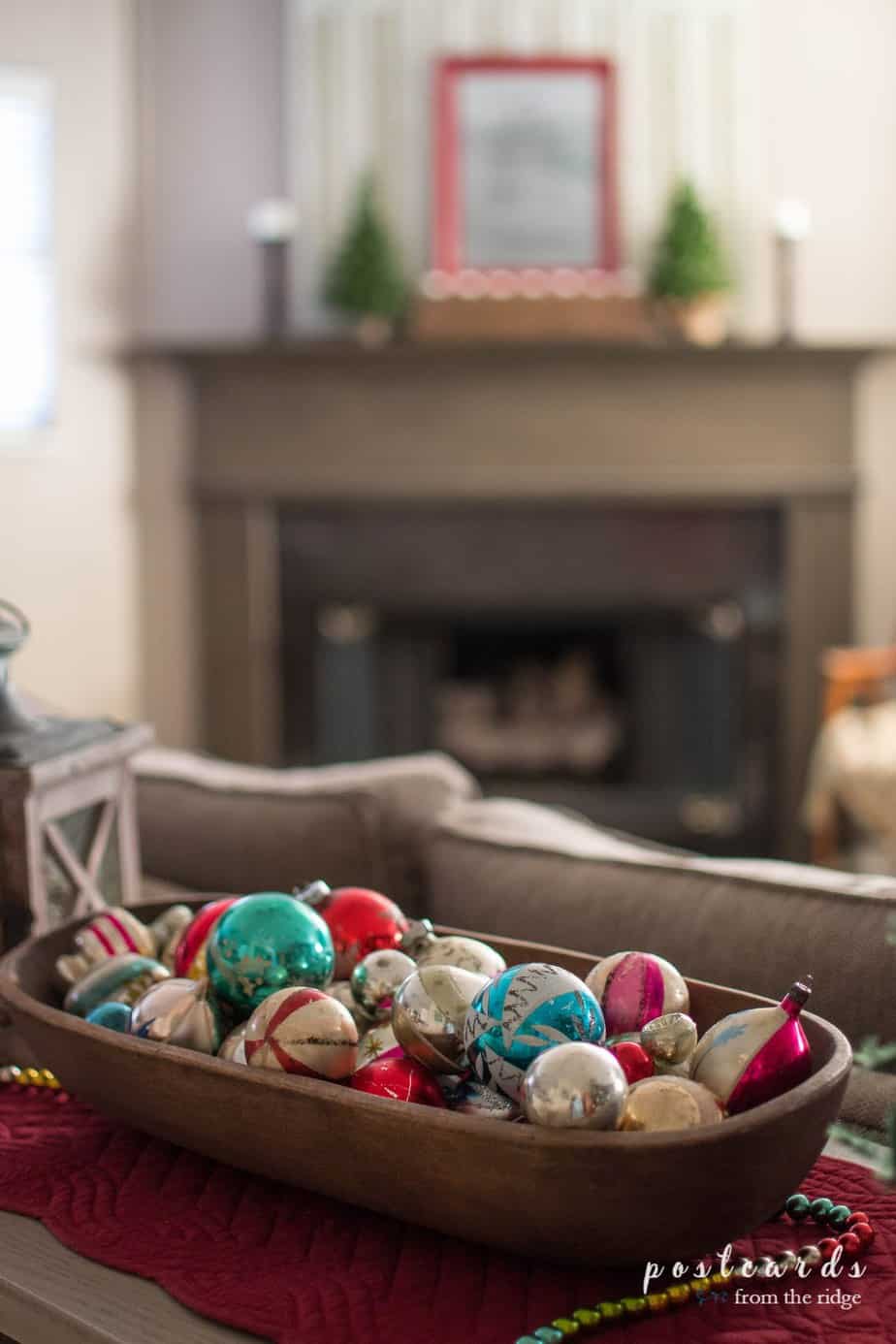 Find vintage ornaments here: Vintage Mercury Glass Christmas Ornaments
2. Vintage Silver

Another great vintage item to use at Christmas is
vintage silverware. Place a few pieces in a little ironstone creamer with some sprigs of
boxwood for a simple and quick vignette.
Or tie an strand of elegant velvet ribbon around a few pieces.
A few years ago I tied some
childrens' silverware
and sugar spoons to a little tree in the kitchen.
Find vintage silver here:
Vintage Silverware Pieces
3. Vintage Glassware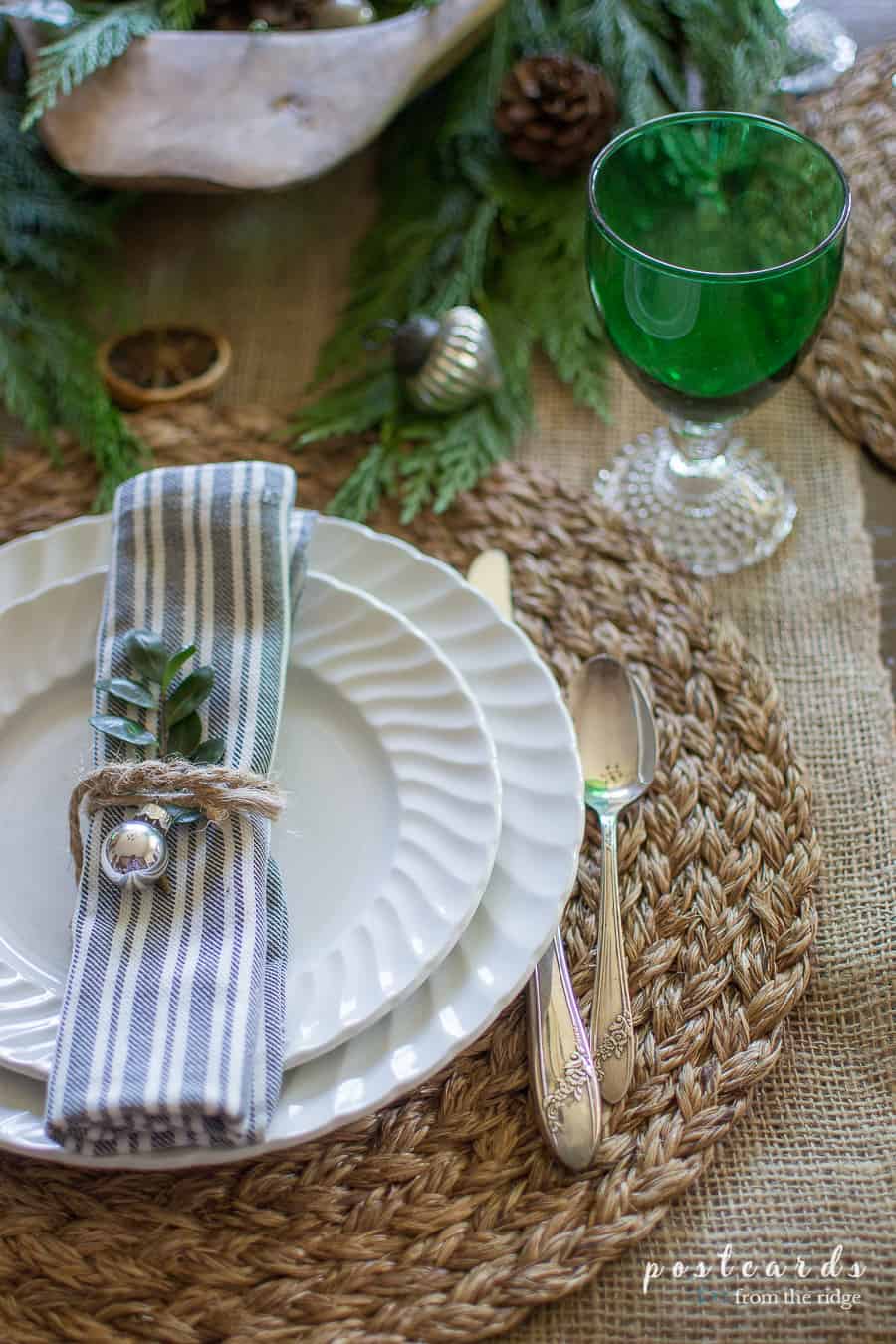 Green vintage glassware
adds a nice punch of color to a holiday table. These were favorites of my late
mother-in-law and they're perfect with this
tablescape.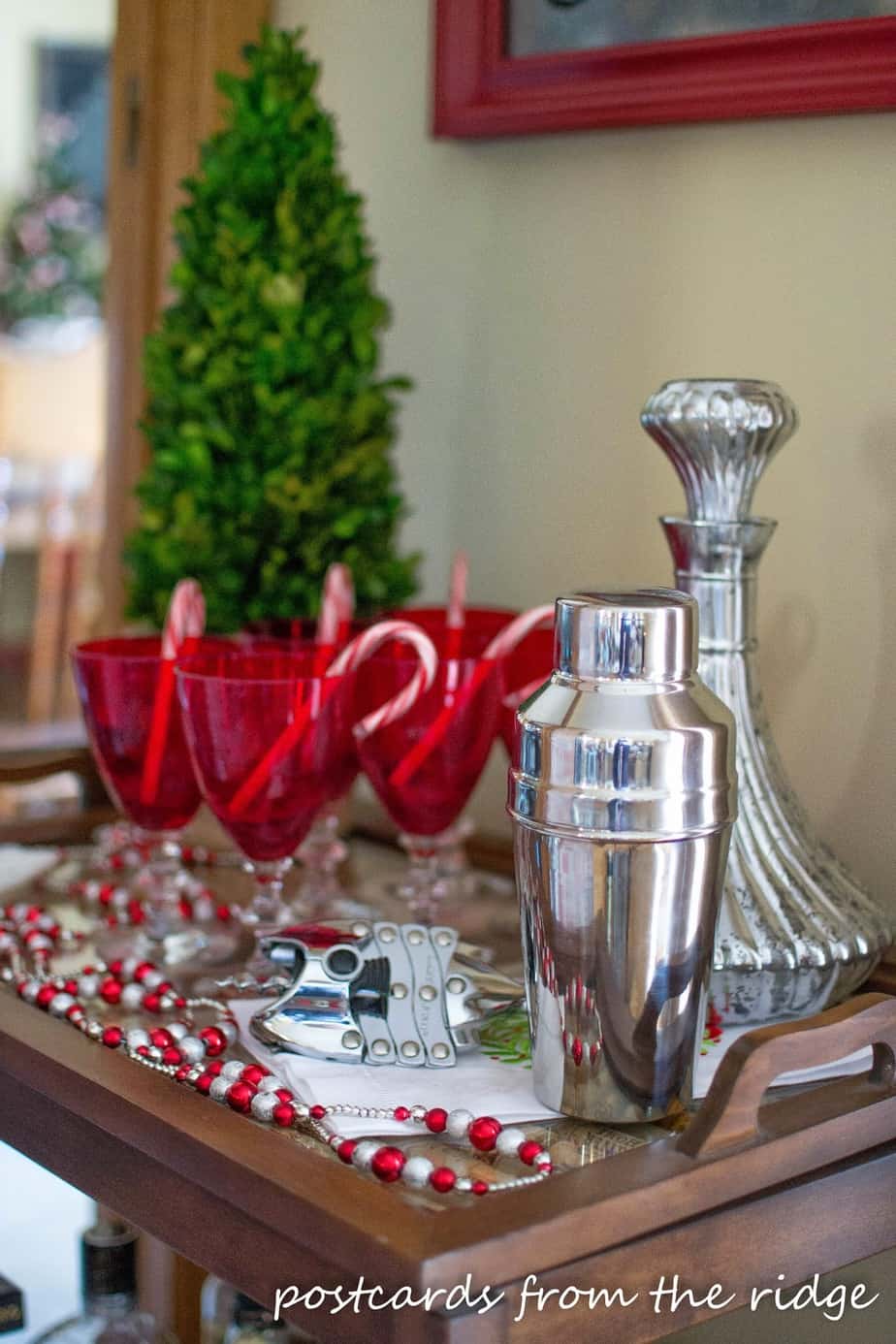 Dress up a rolling cart with some
red glasses
and candy canes.
4. Vintage Milk Glass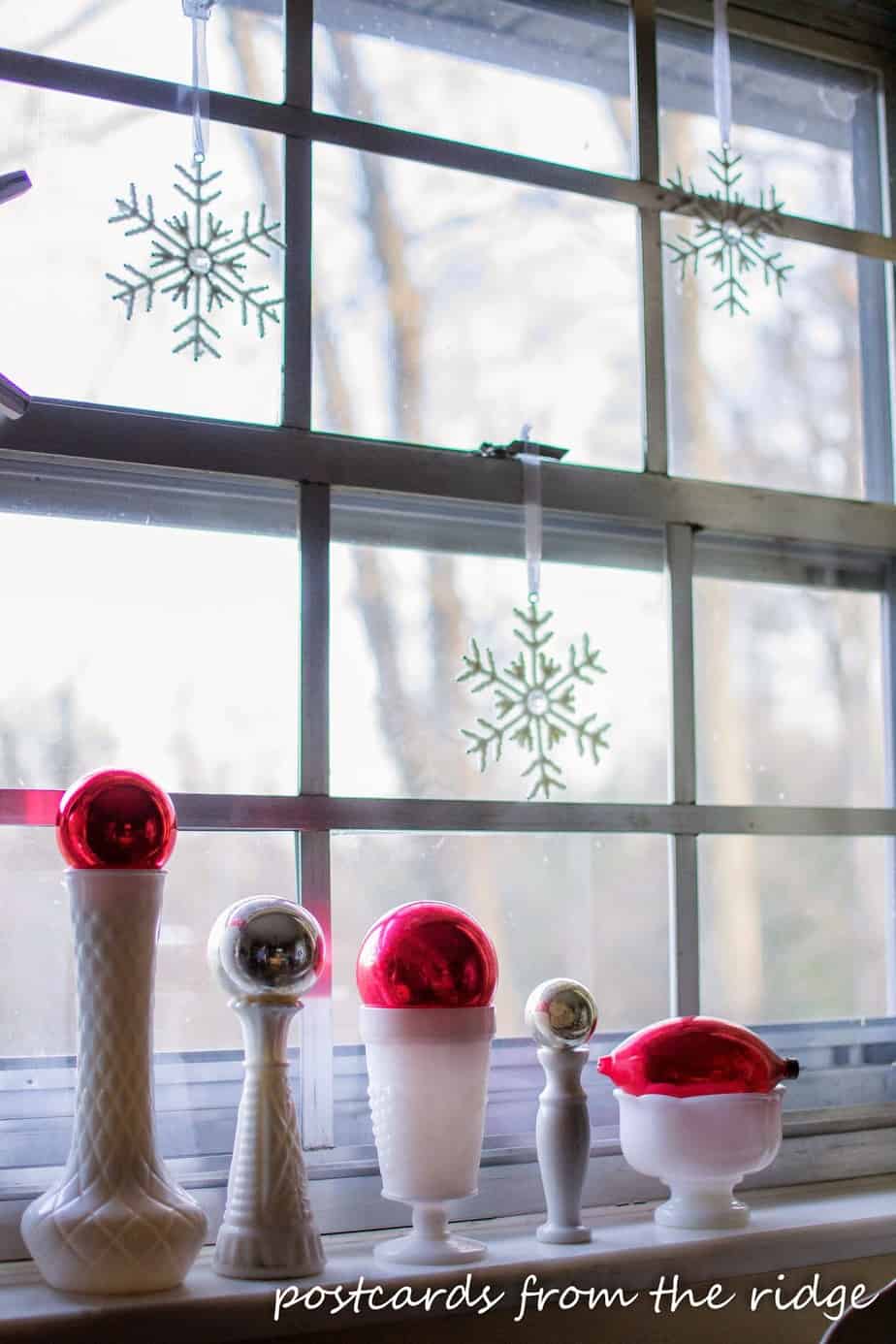 Milk glass
goes with any season and is a fun way to display vintage ornaments.
Find vintage glass here:
Vintage Milk Glass
5. Vintage Glass Cake Pedestal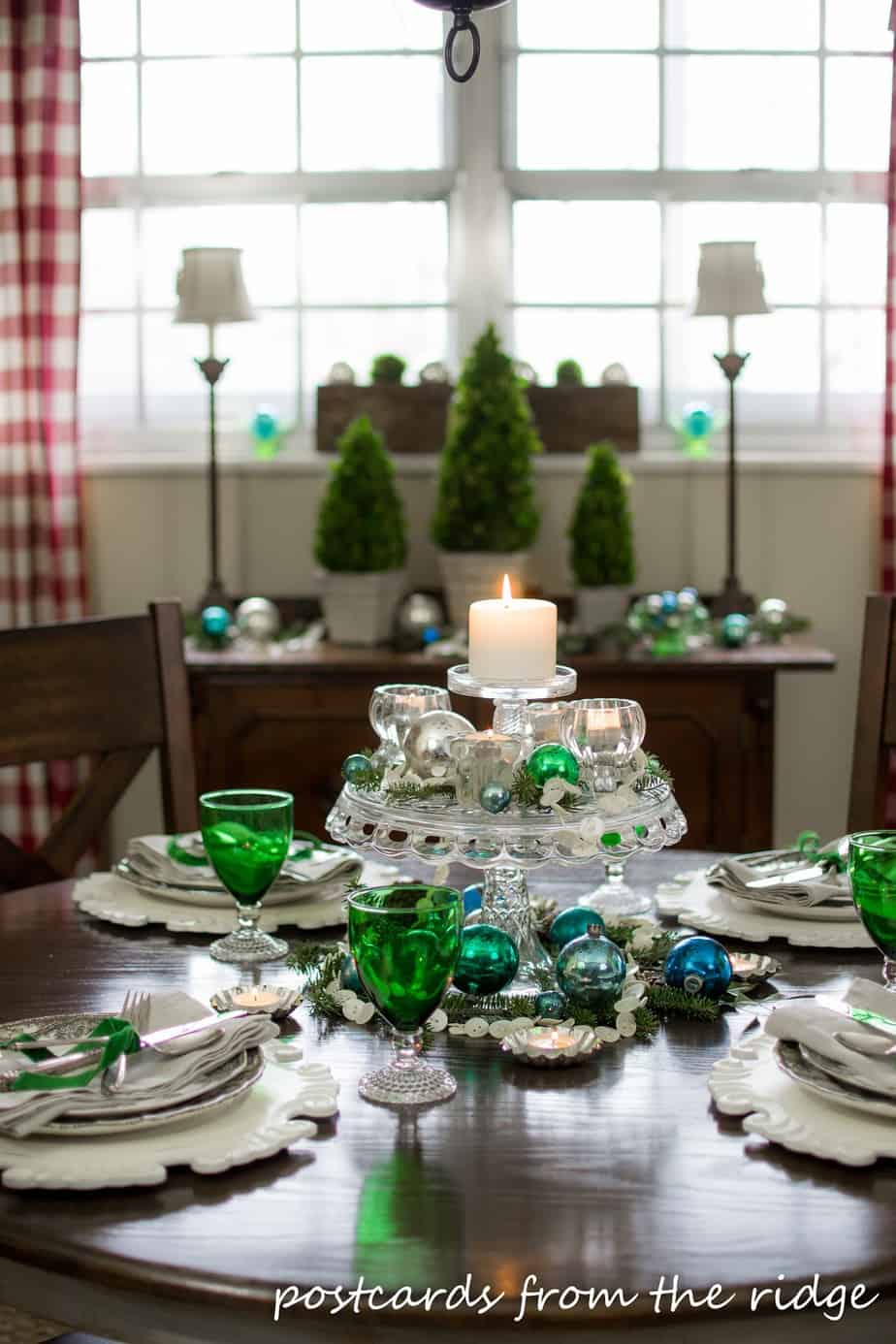 Add some sparkle to your table by using a
vintage glass cake pedestal
as a centerpiece.
6. Vintage Glass Candle Holders

Old glass candle holders
are another great vintage item to use at Christmas. Little tart tins are
perfect votive holders too.
7. Vintage Dishes

Christmas is the perfect time to dress up a hutch or shelf with some holiday
dishes.
shop this look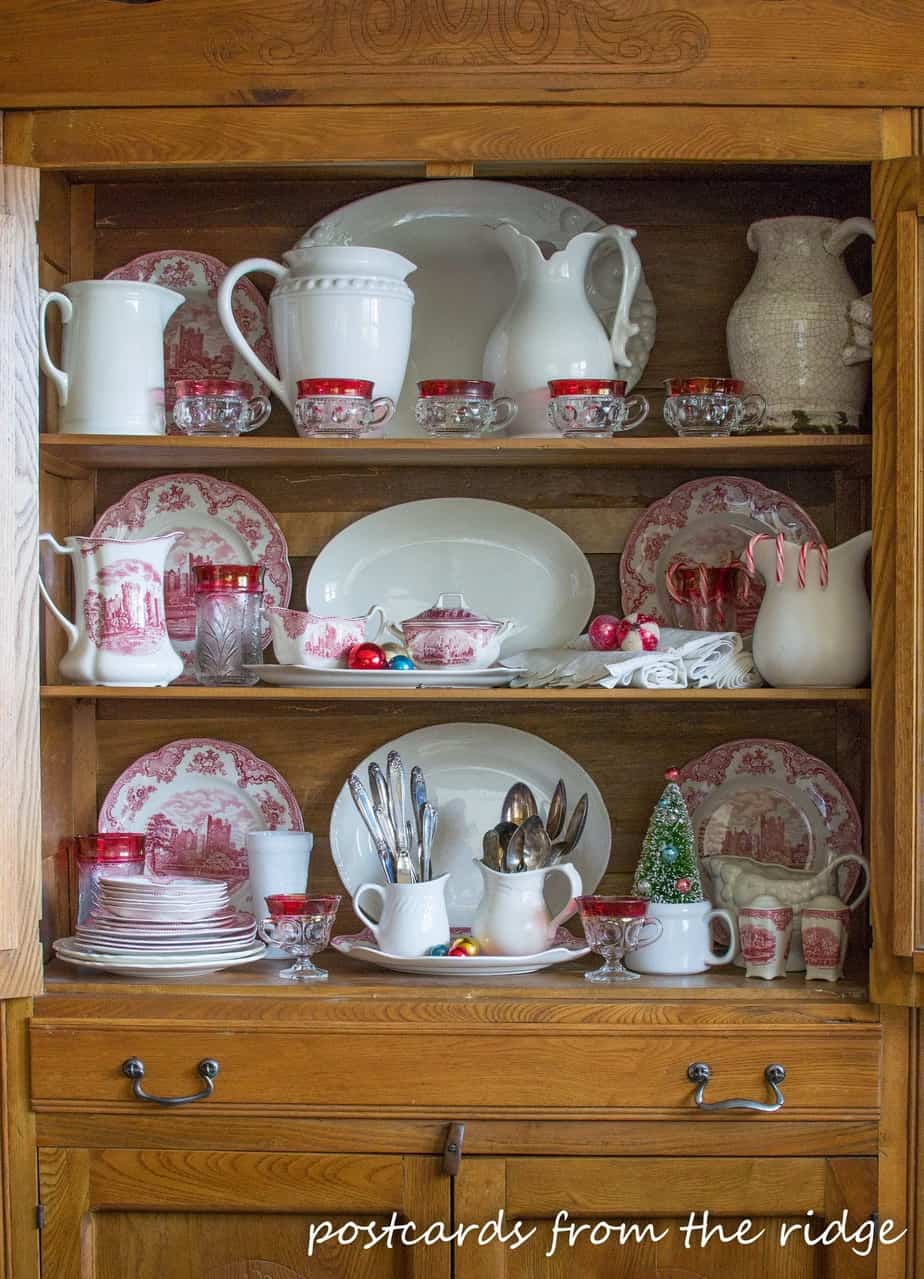 These
red and white dishes
and
red trimmed glasses
look so festive.
And the
winter scene on these dishes
have a more subtle effect but still have a holiday vibe.
8. Vintage Ironstone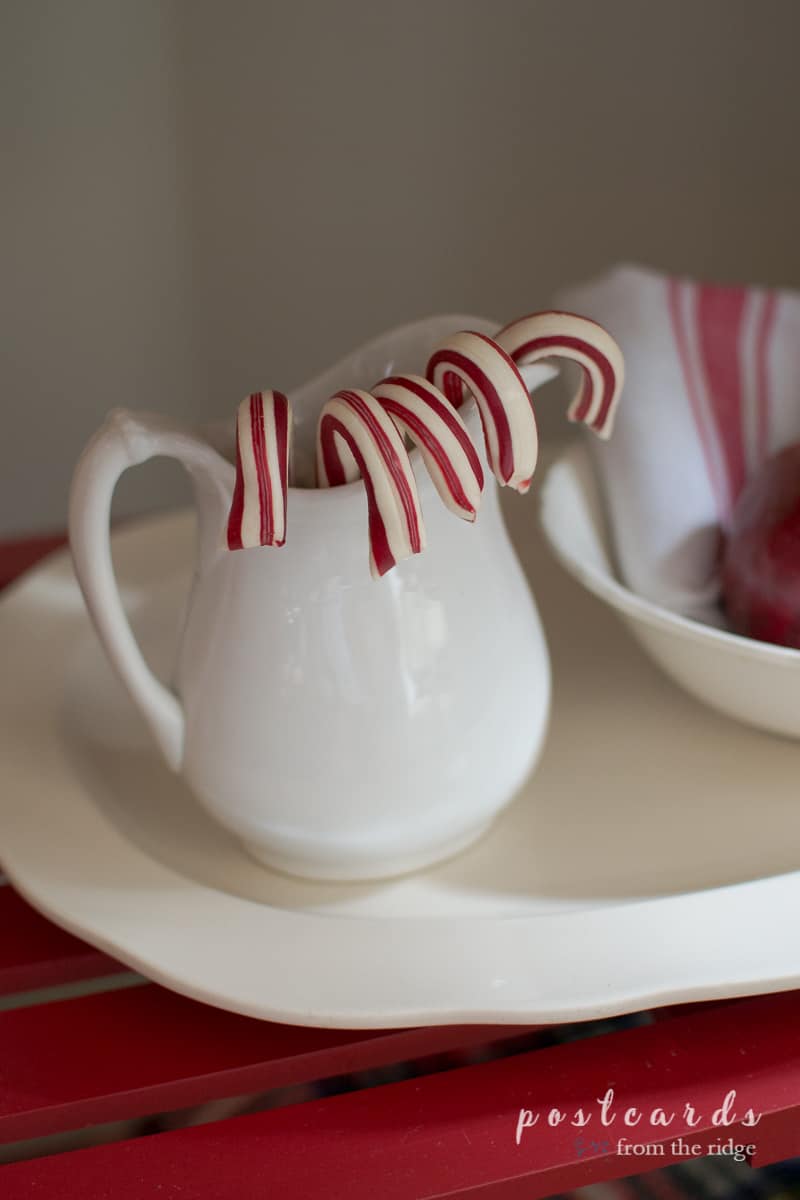 Ironstone goes with any color and looks especially pretty with reds and greens
at Christmas. I simply added some candy canes to a
little ironstone creamer
above.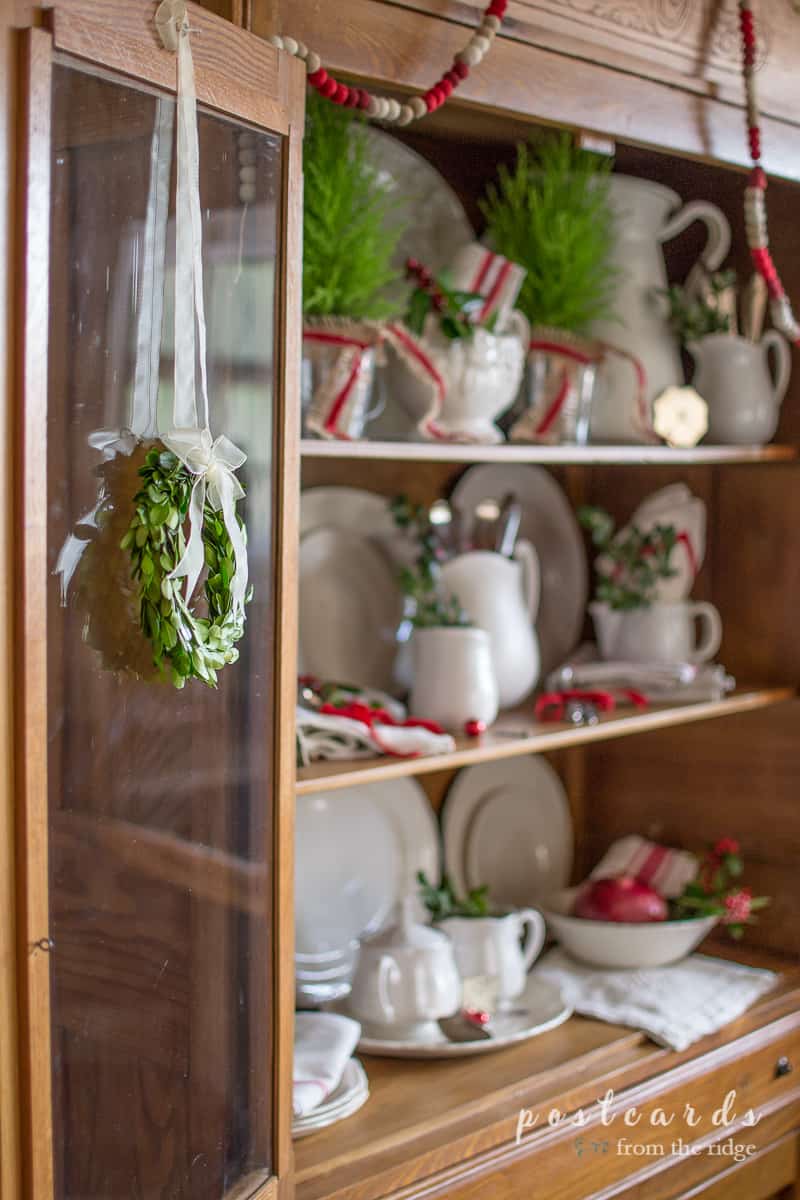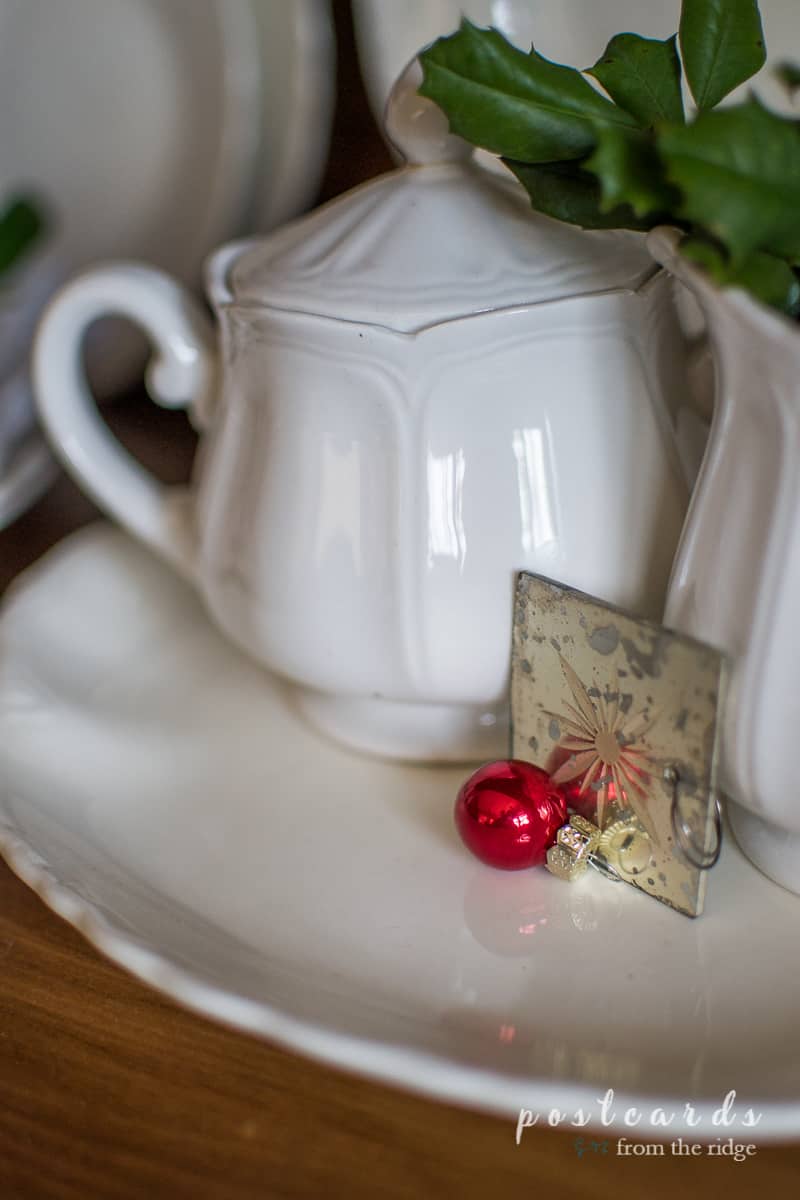 Vintage ironstone mugs
are the perfect way to offer hot chocolate mix-ins.
Shop for vintage mugs here: Vintage Stoneware Mugs
And
large ironstone bowls
are good for so many things like holding small packages.
9. Vintage Olive Basket

Vintage metal olive baskets
are nice for small trees and branches. They're also great for storing logs,
blankets, and toilet paper!
10. Vintage Tobacco Basket

A
vintage tobacco basket
fills up a large wall space with character and charm. Layer a wreath for a
more festive look.
11. Vintage Throw Blankets

Plaid throw blankets
are so cozy at the holidays. Hang them from ladders or simply fold them up and
set them out for Christmas charm.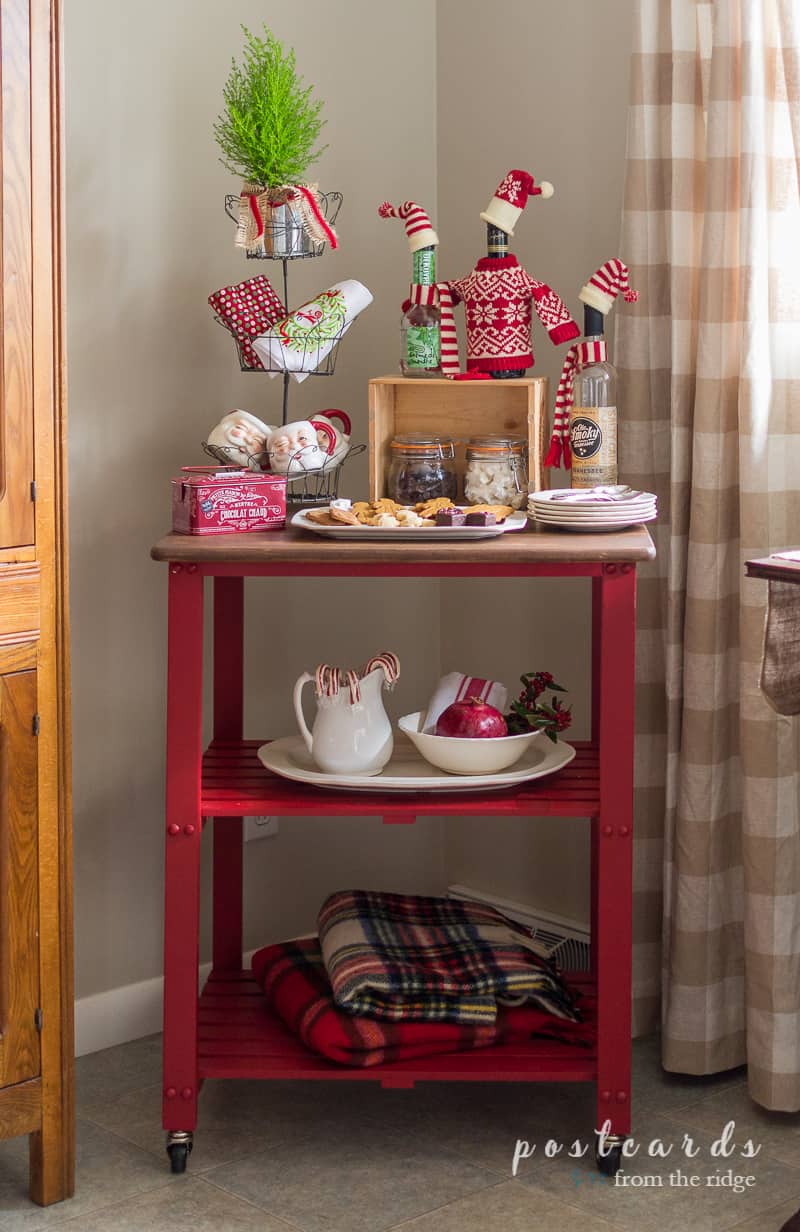 shop this look
12. Vintage Sled & Skates

Whether or not you get a white Christmas, it's still fun to decorate with
vintage wooden sleds
and
ice skates.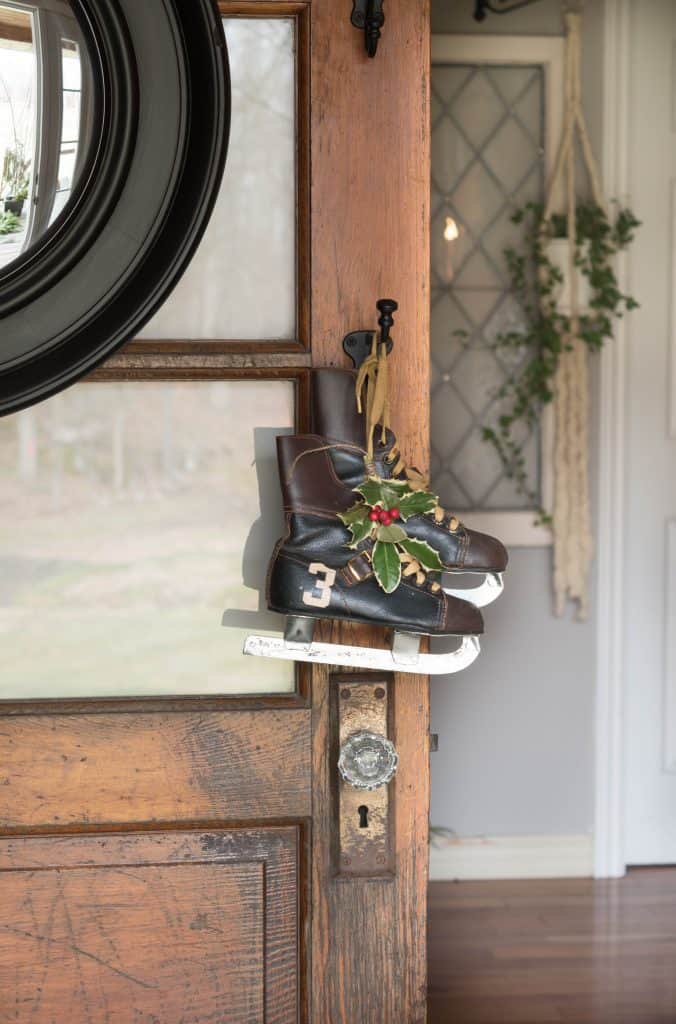 My friend Laurie at Vin Yet Etc made her old hocky skates look pretty with a sprig of holly. She
always has the most amazing ideas for vintage items.
13. Vintage Stoneware Crocks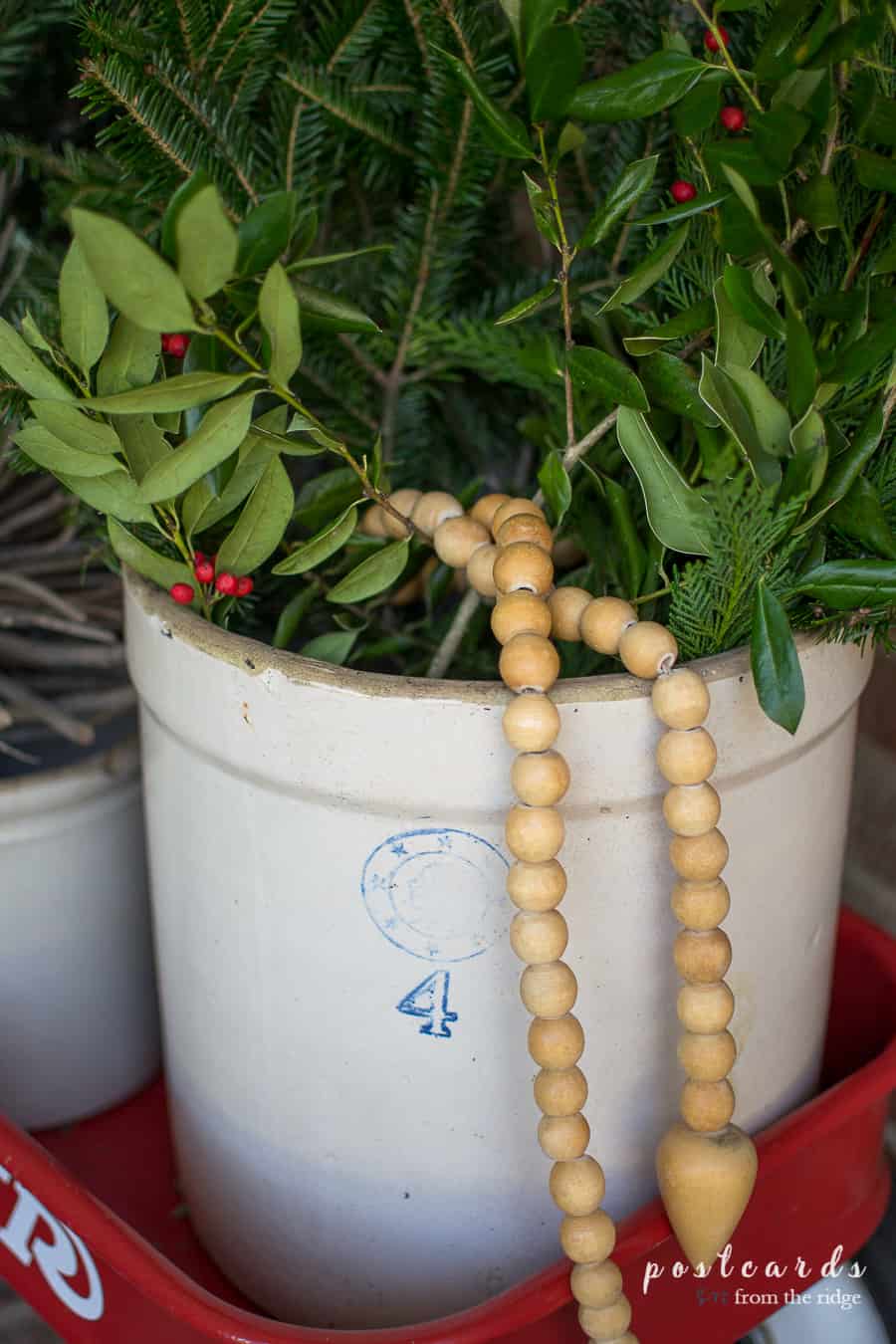 Old stoneware crocks
are so versatile are make wonderful places for branch clippings and small
trees.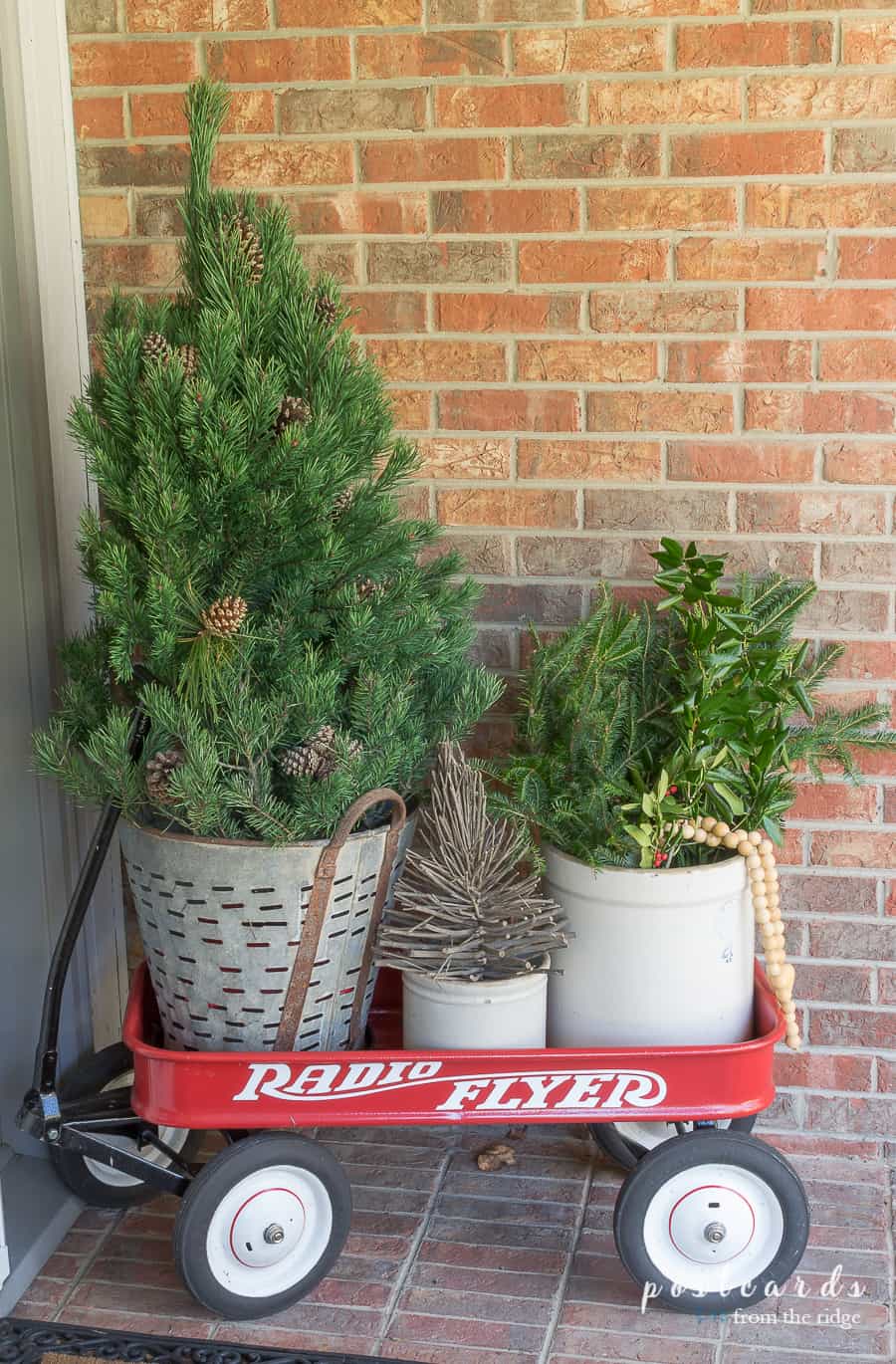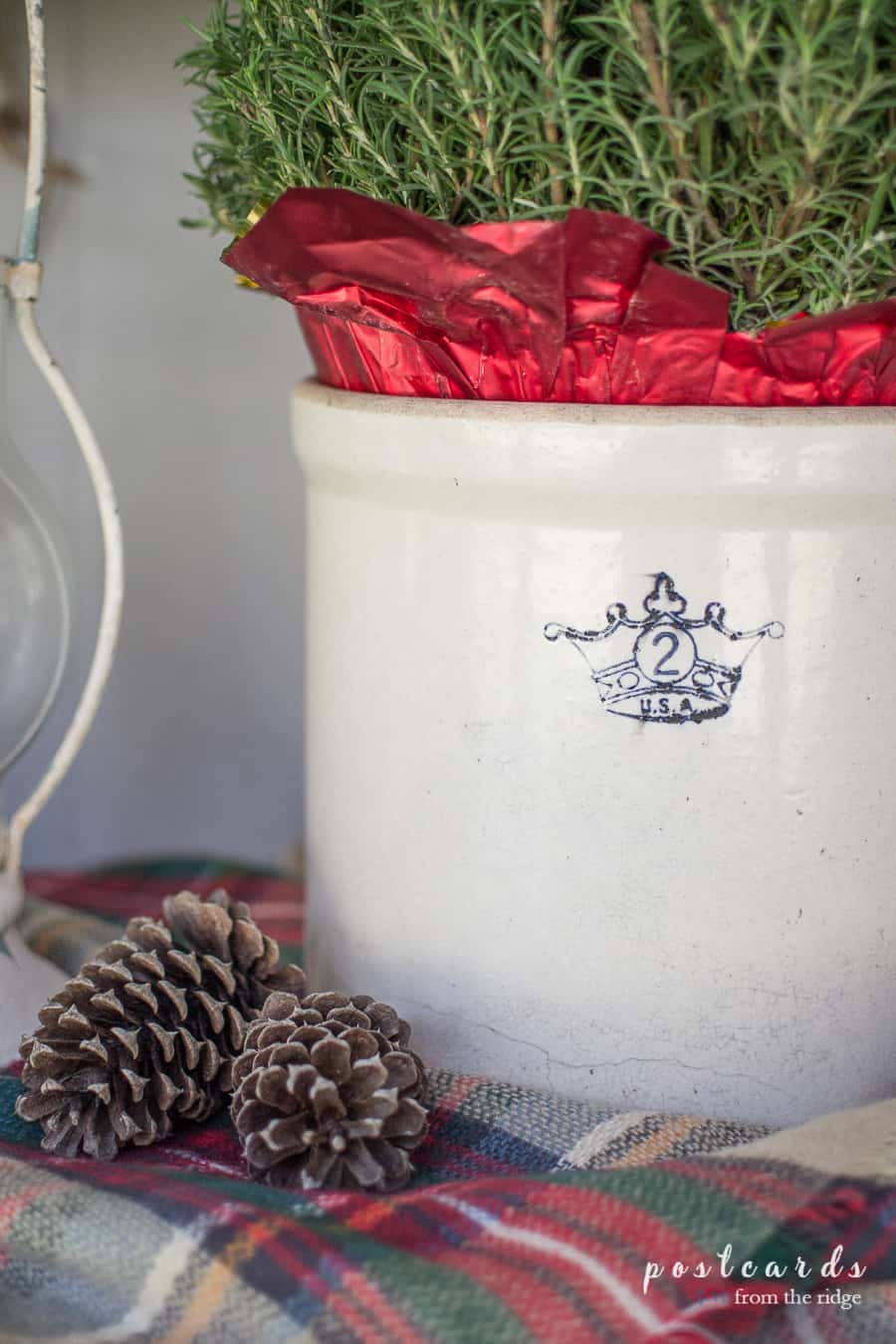 14. Vintage Red Wagon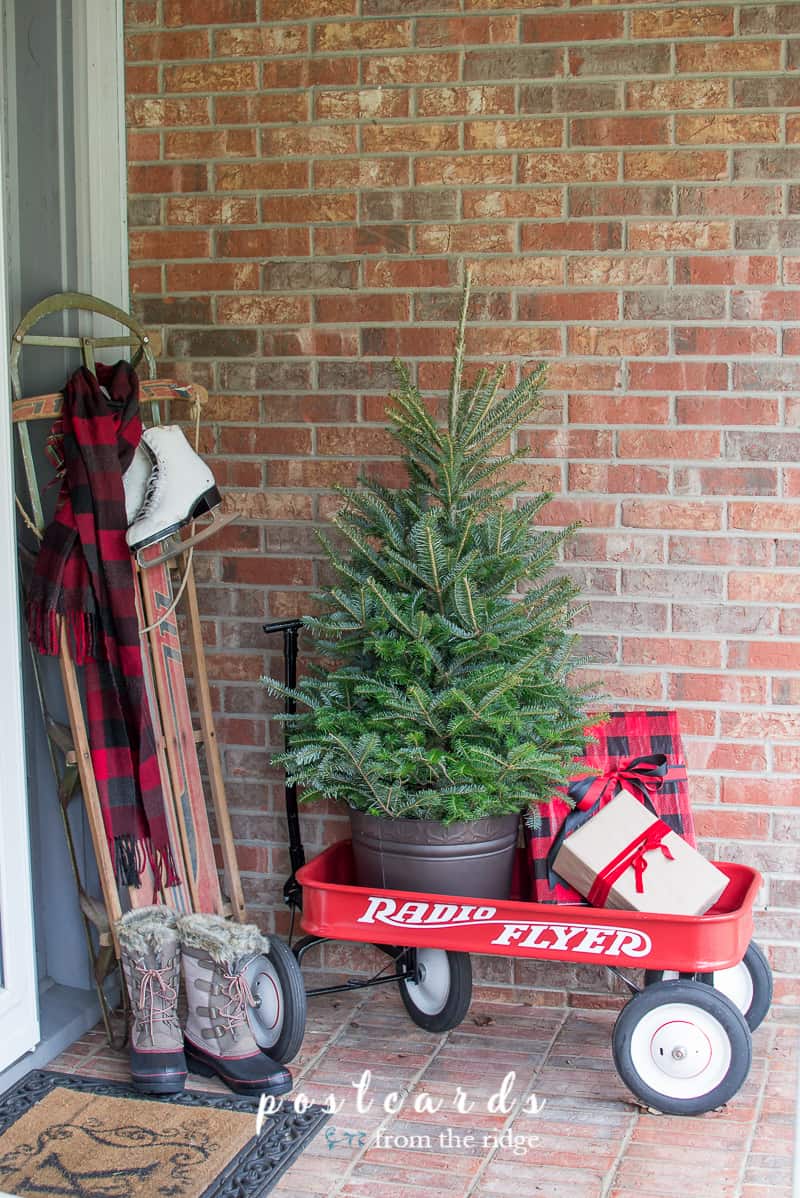 My dad's
old red wagon
is my all-time favorite thing to decorate our porch with. It's especially nice
at Christmas.
shop this look
15. Vintage Sheet Music

Small gifts look so pretty wrapped in
vintage sheet music.
Red velvet ribbon
finishes it off so nicely.
16. Vintage Quilt Used as Tree Skirt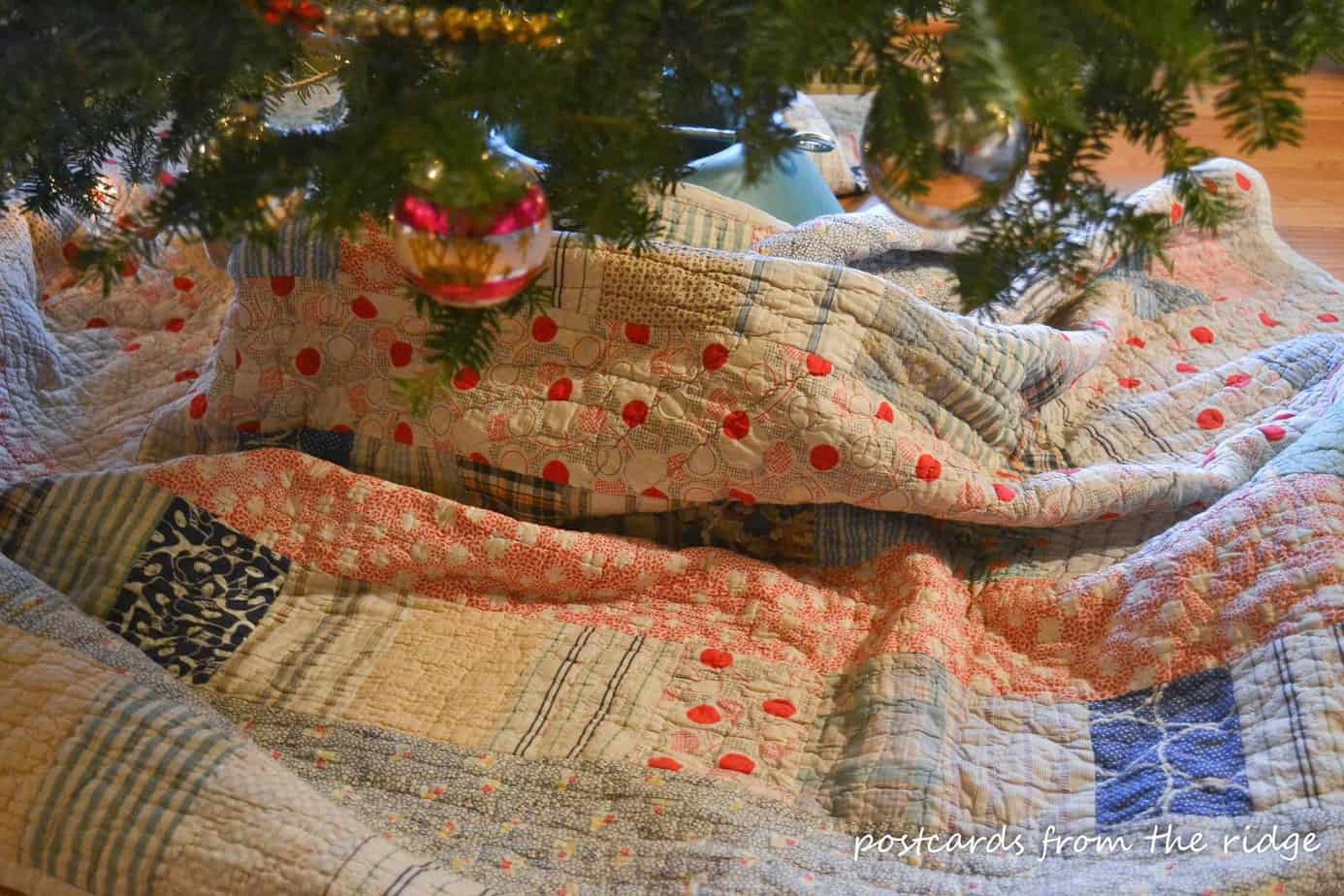 Got a pretty vintage quilt? Wrap it around the base of your tree for a cozy
tree skirt.
17. Vintage Linens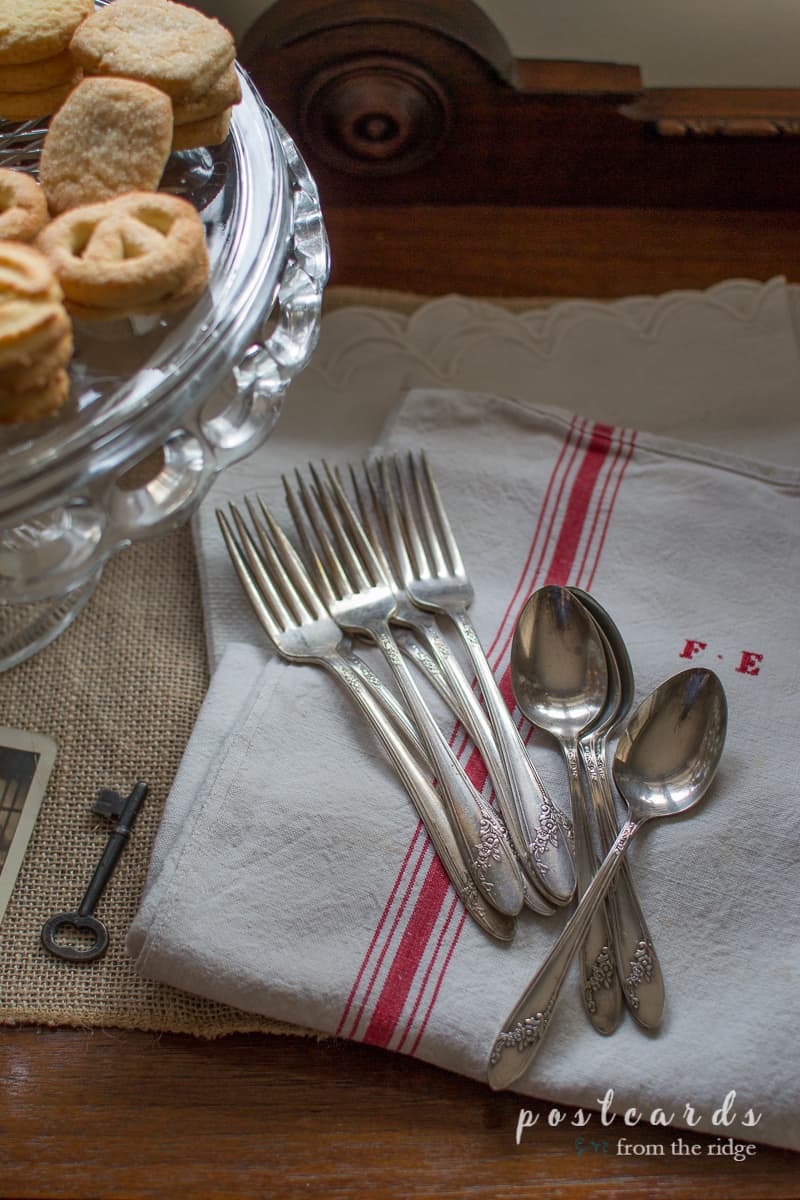 Vintage linens add such warmth and character at Christmas and any time.
Red grain sack linens
are especially pretty for the holidays.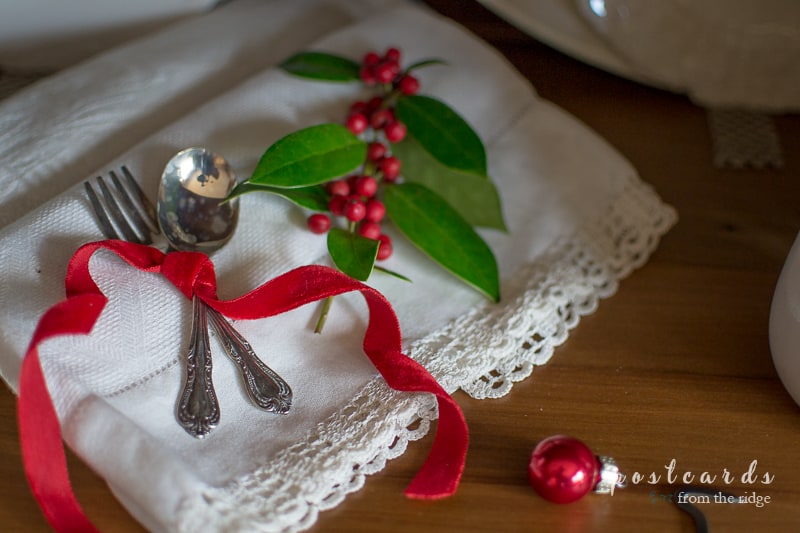 Place them on a flat surface, hang them on a towel bar, or tuck them into
bowls and pitchers for a soft touch.
shop this look
18. Jadeite

Jadeite dishes and bowls look perfect with this collection of vintage santa
mugs belonging to Kimberly at Serendipity Refined. Isn't it adorable?
19. Picnic Baskets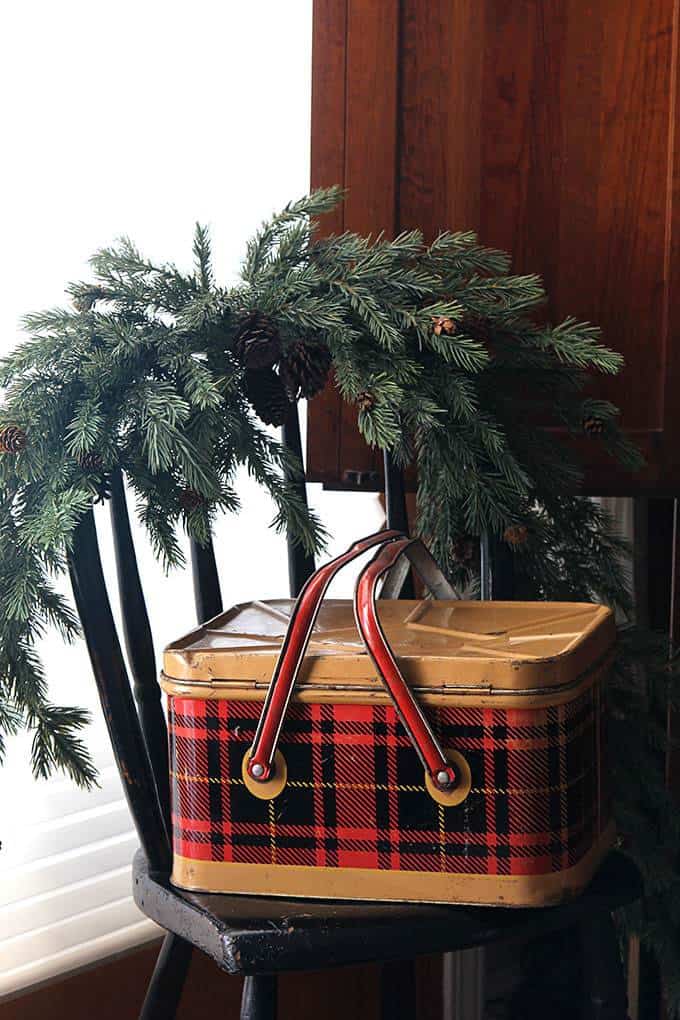 Pam at House of Hawthornes always has the best vintage goodies. And her vintage plaid metal
picnic basket makes a great addition to her Christmas decor.
20. Vintage Thermoses

Vintage thermoses are another fun thing to use at Christmas. I added my collection to a little wood crate and they look perfect on our living room coffee table. See more of them here: Vintage Thermos Christmas Vignette
Find vintage thermoses here: Vintage Red Thermoses
21. Holiday Punch Bowl Set

My friend Paula at Sweet Pea has so many wonderful vintage items, including several holiday punch
bowl sets. Aren't they festive?
22. Santa Mugs

For some whimsical fun, use some Santa mugs. Mine aren't vintage but are
close reproductions.
Shop for Santa Mugs here: Vintage Santa Mugs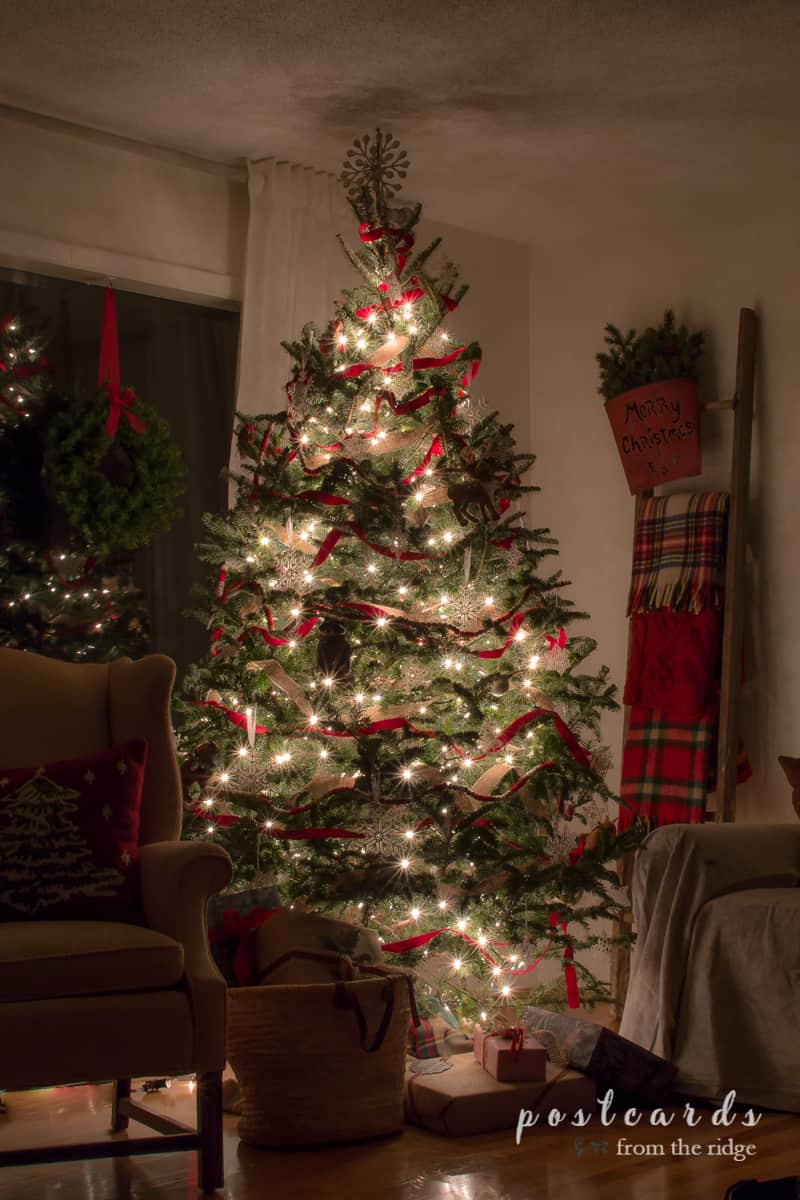 What are some ways you use vintage items in your Christmas decor? Leave me a
comment below and let me know!
P.S. Here are my favorite sources for vintage finds
See all of my Christmas projects and decorating ideas here: Christmas Archives.
Want more ideas for using vintage finds in your home? Here are more than 20
ways to use them to oraganize.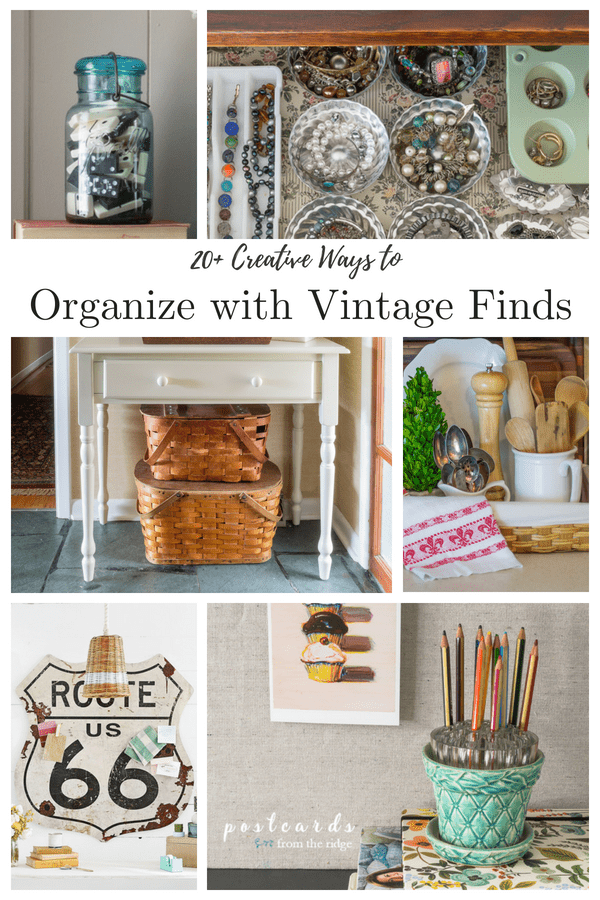 See all of my vintage decorating ideas here: Vintage Decor Ideas.