Vintage Lake House – Thrift the Look
See how to get the look of a vintage lakehouse on a budget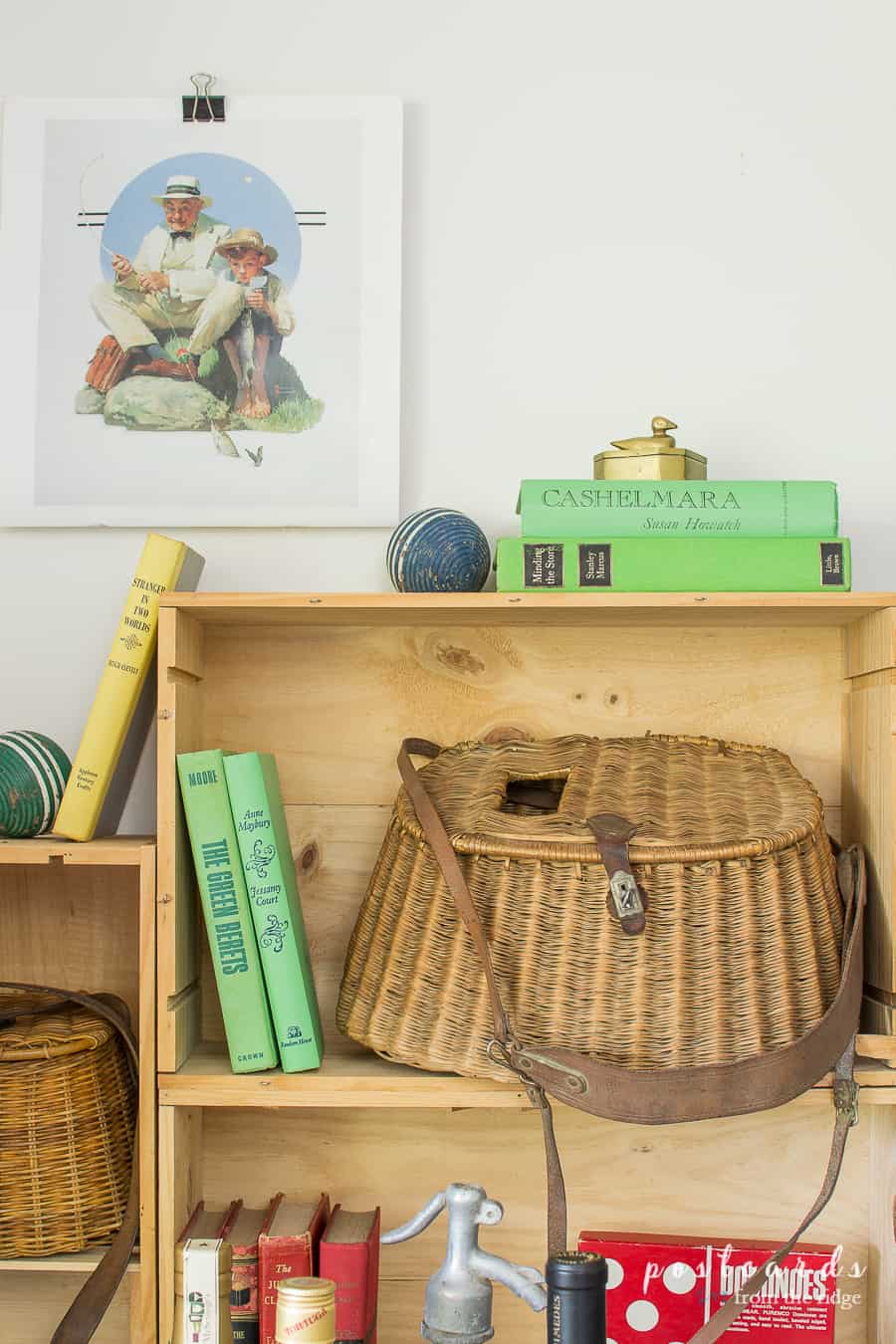 This post contains affiliate links for your convenience. For full disclosure, go here.
Hello, friends! Do you love the look of vintage lake cabins? If so, and if you also love the challenge of decorating on a budget, then you'll love this post.
Today I'm participating in a fun decorating challenge with some of my super creative, vintage-loving blog friends. We're showing you how to get the look of a vintage lake cabin with thrifted or second-hand items.
Sarah at Sadie Seasongoods found a couple of inspiration photos from a magazine for us. Our challenge was to recreate the same vibe and a group of us from the Creative Vintage Darlings facebook group have come up with some clever and budget-friendly ways to recreate it. Love vintage items? Go here to join the facebook group and see daily vintage inspiraion.
Here's the inspiration photo for my look:
This challenge is special to me because my parents bought a rustic lake cabin back in the early 80's. In the years since then, I've spent many days there swimming, sunbathing, and generally having a great time. They remodeled the house back in 1991 so it's not all vintage and rustic these days. But it still has some vintage elements splashed about the place.
Here's one of my favorite photos of their neighbors colorful chairs, snapped 6 years ago. Aren't they fun? (You can see a little tour of my parents' lakehouse HERE.)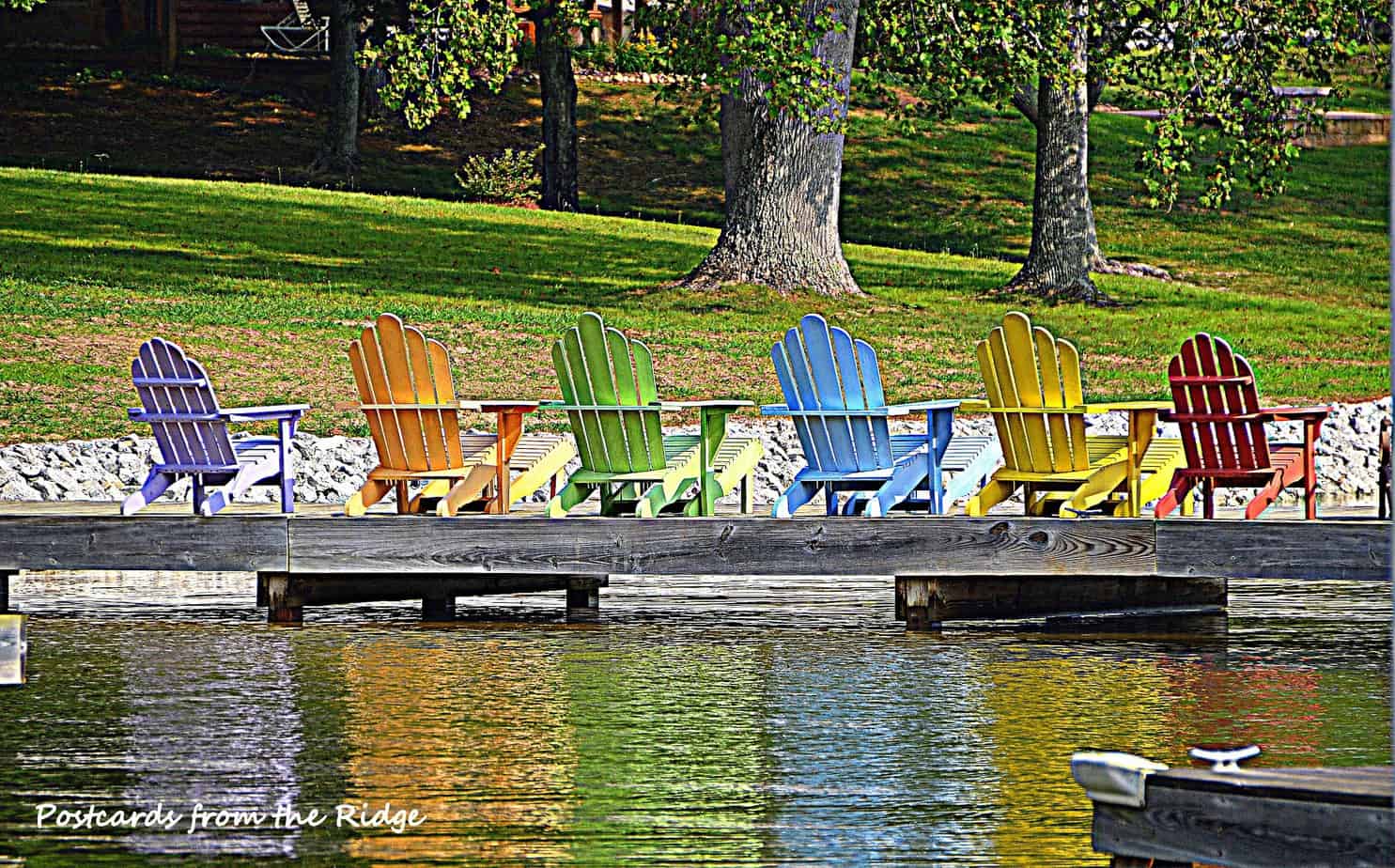 Lakehouses are great places to unwind when you're not working on them (just ask my parents about that). As part of my theme, I'm sharing what I think are the big reasons to enjoy a lake cabin, plus decorating ideas for you to use to get the same vibe. I raided my stash/hoard and also found a few items at the thrift shop and a tag sale.
The 3 R's of a Weekend Lakehouse
1. Relaxing
It goes without saying that a big reason for having a lake cabin is to escape from reality. Whether it's daydreaming in a hammock, napping on a sofa, rocking on the porch, or sipping a refreshing beverage, relaxation is a big part of any lake cabin.
A drink station or tray is perfect in a lakehouse and offers guests a nice way to relax. I recreated the look of the inspiration photo with things that I already had on hand. The vintage seltzer bottle is one that I've had for years. We got the Jack Daniels shot glass when we did a tour and tasting at their Lynchburg headquarters back in December. (That's a really cool tour if you ever get the chance to do it. And I don't even like whiskey that much.)
The rum and wine bottles both tie into the waterside theme with the ships on the labels. It's funny, we really don't drink much at all, but my liquor cabinet is pretty well stocked for whenever we do want something alcoholic. I've had this wine since 2016 and the rum since 2011! I think maybe I need to pop open the wine the next time we have some good steaks.
The fun lazy fish corkscrew came from a yard sale years ago. I think I paid $3 for it. Isn't it cool? My mom gave me the vintage cocktail jigger and red stripe napkins a couple of years ago. She's been thrifting and collecting for years and has taught me everything I know about it! I already had the tray.
Vintage bar accessories are usually pretty easy to find at thrift shops and estate sales if that's something you're interested in.
2. Recreation
For me, lake recreation has always meant swimming, boating, kayaking, and games. Over the years we've played volleyball, badminton, croquet, football and cornhole out on the lawn.
Croquet, anyone? I found the vintage croquet balls at an estate sale several years ago. I think I paid $5 for 5 balls. And they thought I was crazy for buying them. I love decorating with them and they go well with a vintage lakehouse theme. You can find them at yard sales and estate sales sometimes.
Playing games is a great way to pass the time a the lake when the weather isn't great. I've collected vintage games for years now. It's a habit I actually began when our girls were little and we were flat broke. I couldn't afford new games, so I would find them at yard sales. Our budget isn't as tight these days, but I still like vintage games.
Yard sales, thrift shops, and estate sales are great places to find all kinds of vintage games.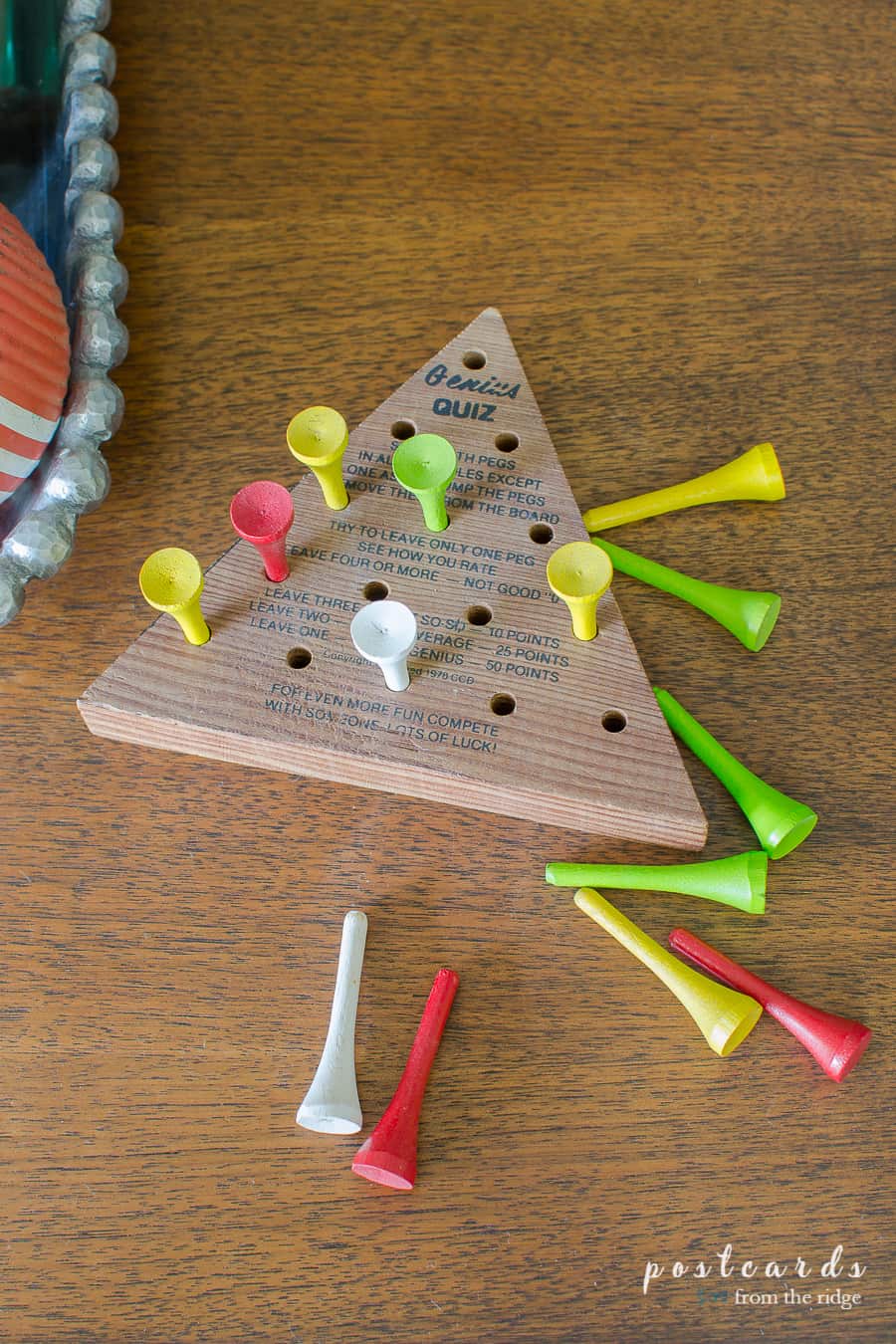 Would you believe that I've had this little peg game since I was 12? I got it on a trip to Gatlinburg way back when. I think that makes it an antique! Maybe not quite, but it's definitely vintage and is perfect for the vintage lake cabin look. The bright colors and rustic look fit right in with the theme.
Honestly, I can't remember when or where I found the vintage bingo game. Probably at an estate sale or yard sale. I've had it for years. We've played bingo with the girls and their friends during rainy days at the lake. They actually enjoyed it, even as teenagers! Sometimes you just need to turn of the phones and spend quality time with people. Playing games is a great way to do that.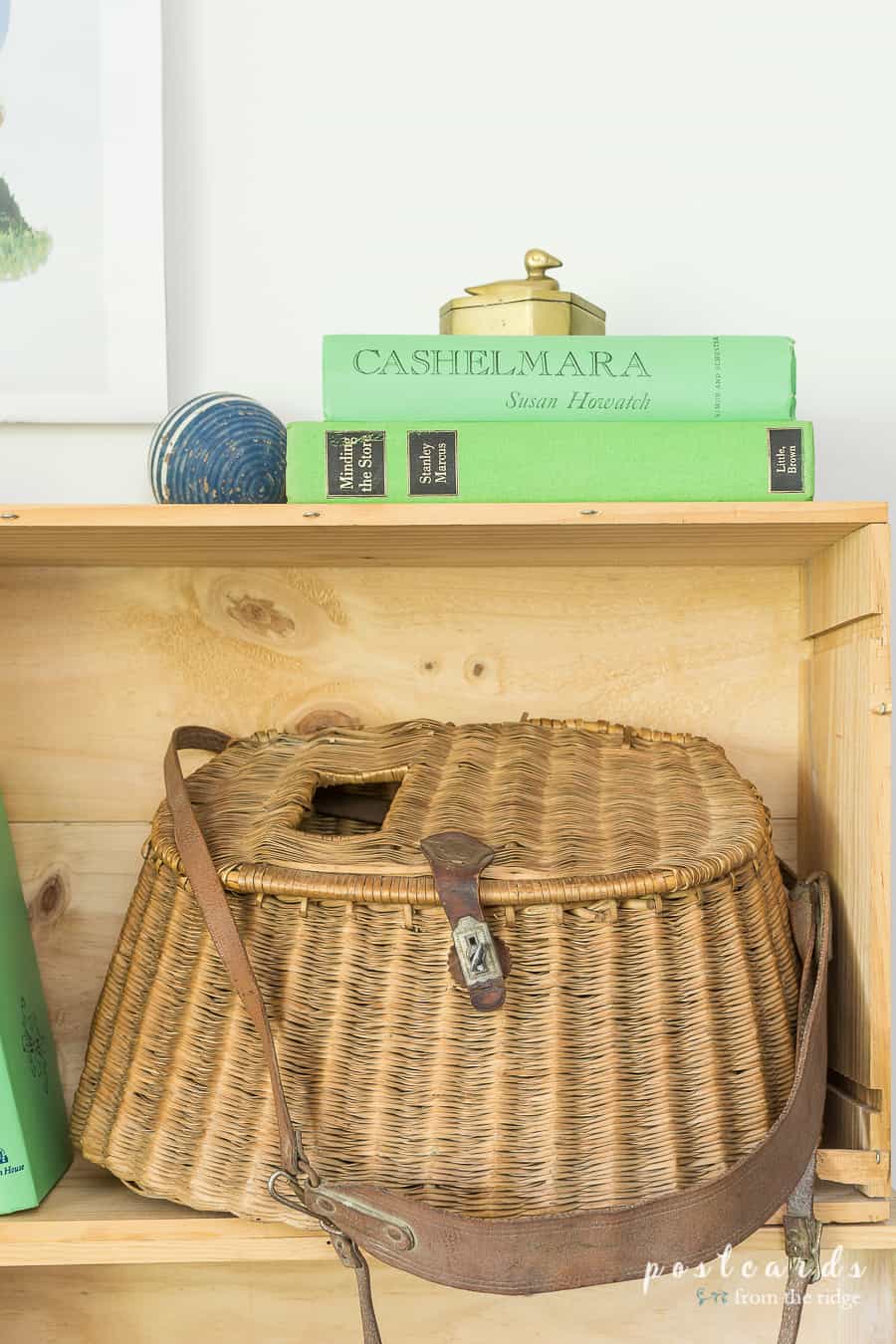 My brother loves to fish and my dad used to when he was younger. They don't use fishing creels when they fish, but I love the look for a vintage lakehouse vibe. I had a hard time finding things to recreate the look of the inspiration photo until I ran across these fishing baskets. I found them at a warehouse sale of an estate sale company for $4 and $8. What a steal!!
If you're looking for vintage fishing creels, check out estate sales or etsy. Or you might get really lucky and find one at a yard sale.
3. Reading
Honestly, I haven't read any of the books shown in this post. They're just for looks. But they do give the same look as the inspiration photo. I actually have read many books at the lakehouse, though.
I have a favorite thrift store near me that sells used hardcover books for $1 a piece. Most of them are newer, but I like to scour the shelves and pick out the old ones to decorate with.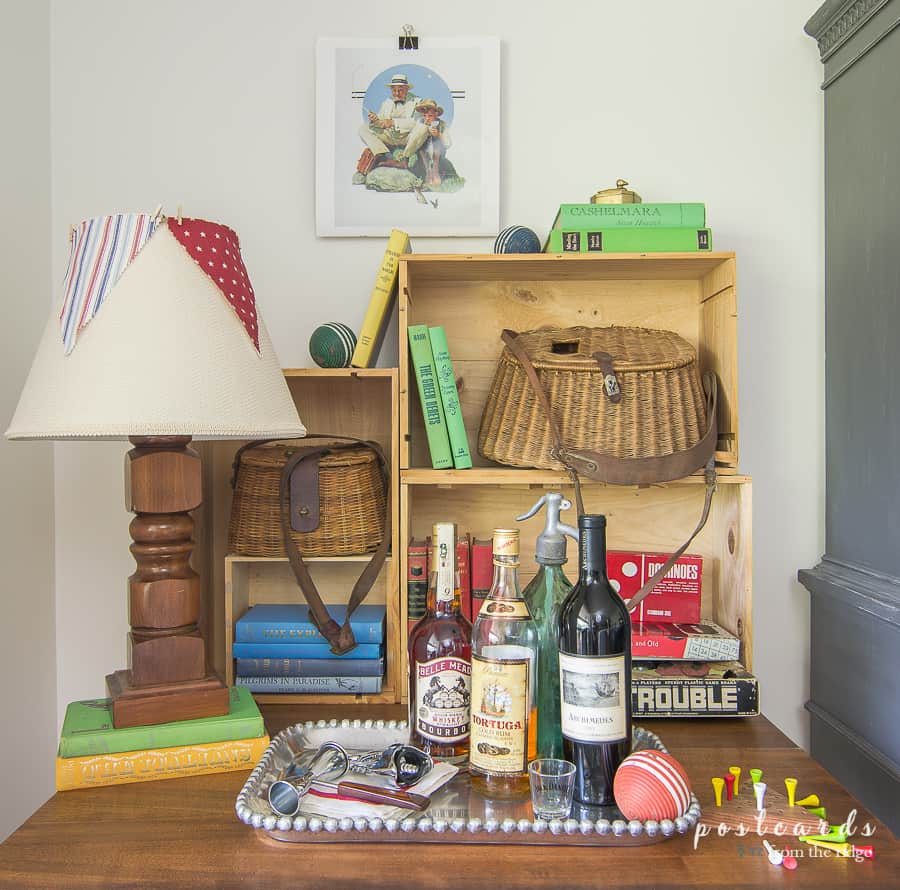 The last time I was there I found lots of green, blue, and yellow ones. Perfect for this post!
A couple of other items I found at the thrift shop for this look are the chunky wood lamp and the little brass duck on the top of the wine crates. Oh, and the wine crates were freebies several years ago. I used to work next door to a liquor store and asked them, very nicely, to save any that they were getting rid of and give them to me. I was thrilled when they brought me several of them! They're great for storage and makeshift shelves.
Another item perfect for a vintage lakehouse is the Norman Rockwell print. It's actually a calendar from several years ago that I held onto because I liked the artwork. Isn't that why you buy a calender??? For the artwork? Anyway, I thought the print fit the theme nicely.
Old calendars can sometimes be found at yard sales, estate sales, and thrift shops.
So I think the total spent for this entire scene, not including the items I already had, was less than $40. Not bad for an authentic vintage lakehouse look!
To see all of my budget decorating ideas, go HERE.
For my estate sale shopping tips, go HERE.
To see my curated collection of favorite vintage lakehouse items on etsy, go HERE.
Now please go see how the rest of the team thrifted the look.
HomeToHeather.com | Sadie Seasongoods | Virginia Sweet Pea | Postcards from the Ridge
Itsy Bits and Pieces | Audrey Would | Lora B. Create & Ponder | Vinyet Etc.