Modern Farmhouse Style Bedroom Accents
Makeover progress in our guest bedroom
Modern Farmhouse Bedroom Accents
Hello, friends! Today I'm sharing some sneak peeks of our modern farmhouse style guest bedroom makeover. I've joined the One Room Challenge and am sprucing up this space as my project. It's a 6 week challenge, and to be honest, this room didn't need a complete overhaul. The paint color was already nice and neutral and we had the hardwood floors refinished before we moved in 11 years ago. So this space mostly needed cosmetic updates, thankfully.
The room has had a couple of different looks since we bought the house. The first was for my then-6-year-old daughter. It was a light aqua with colorful bedding…perfect for a little girl's room. Sorry, I don't have any pictures of that look.
Next, I painted the walls with a neutral color and used some bedding and curtains that I had on hand and gave the space a cozy, cottage look. Here's how it looked at Christmas a few years ago.
Previous look: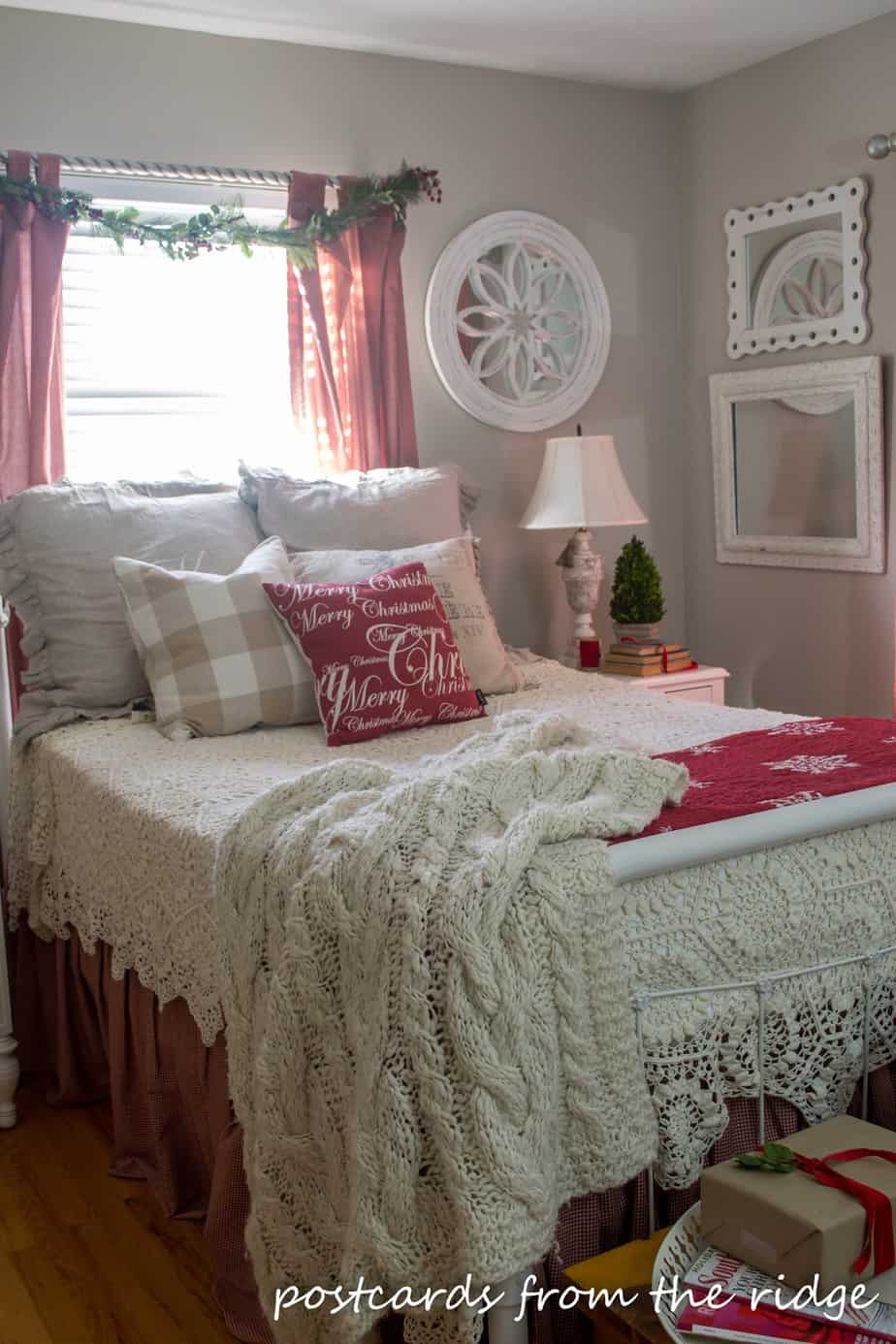 I still love this cozy look, but wanted something a little lighter and fresher in here. So the checked bed skirt and curtains have gone away, and the blankets are put away until some time in the future. The bed is now in the bedroom next door, where my younger daughter now lives since the oldest moved her bedroom to the basement.
Sadly, here's a reminder of how the room looked when I started the refresh. It had become a dumping ground and I actually removed several items from the room before I took this picture.
The Design Plan
Lighter, fresher, and more of a modern farmhouse, almost minimal look is the goal for this room and here's the plan:
Click for sources:
1 / 2 / 3 / 4 / 5 / 6 / 7 / 8 / 9
Paint colors (Benjamin Moore):
Walls, top swatch – Smokey Taupe
Trim, middle swatch – White dove
Accent, bottom swatch – Kendall Charcoal
I also shared the plan on my week 1 post. And here's how the progress is going:
One of the things I wanted to add in here was a natural rug. I wanted something light and neutral with a subtle pattern since most of the other elements in here will be solid colors.
Here's a peek at what I chose.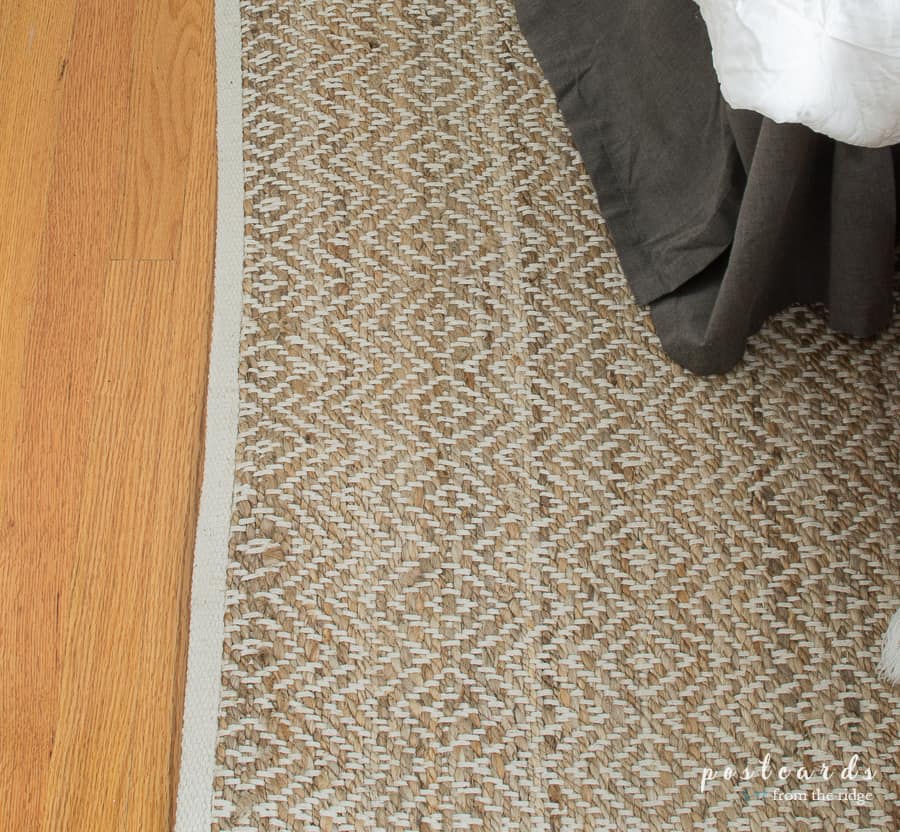 The jute and cotton rug adds some subtle texture and pattern. It's one from my online shop, Emory Valley Mercantile, in case you're interested in using it somewhere in your home too. You can find it in various sizes HERE.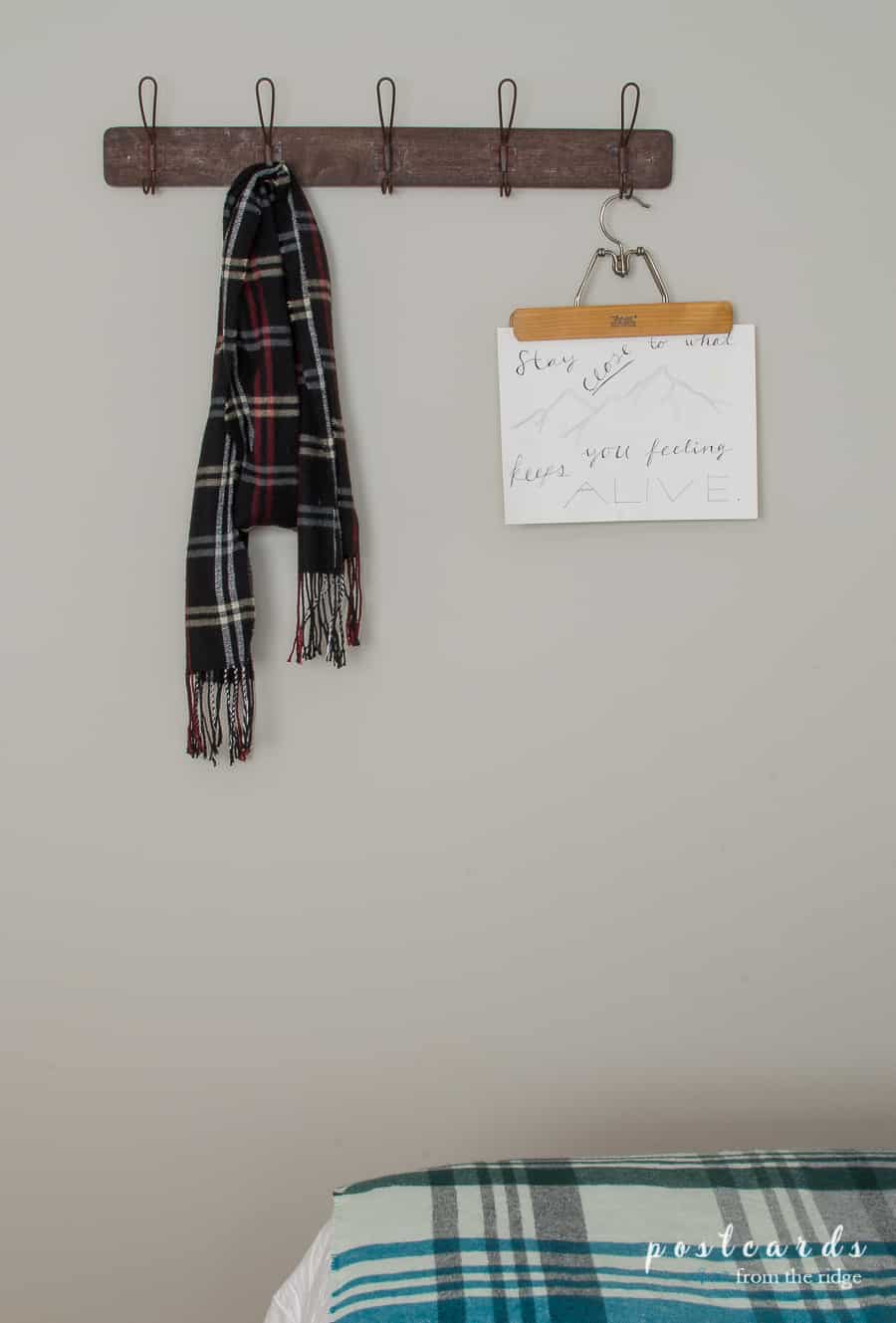 There's a very small closet in here that's filled with off season clothes, so additional hooks were needed for guests. Wall hooks are always a good thing in bedrooms and entries, and even laundry rooms if space allows it.
This wall rack is also from our shop. I added a plaid scarf that I already had, along with watercolor print that our youngest daughter painted for my husband a couple of years ago. It gives it a bit of a woodsy, cozy look.
You can find the wall rack HERE.
Accessories
Many of the items I'm using in here I already had.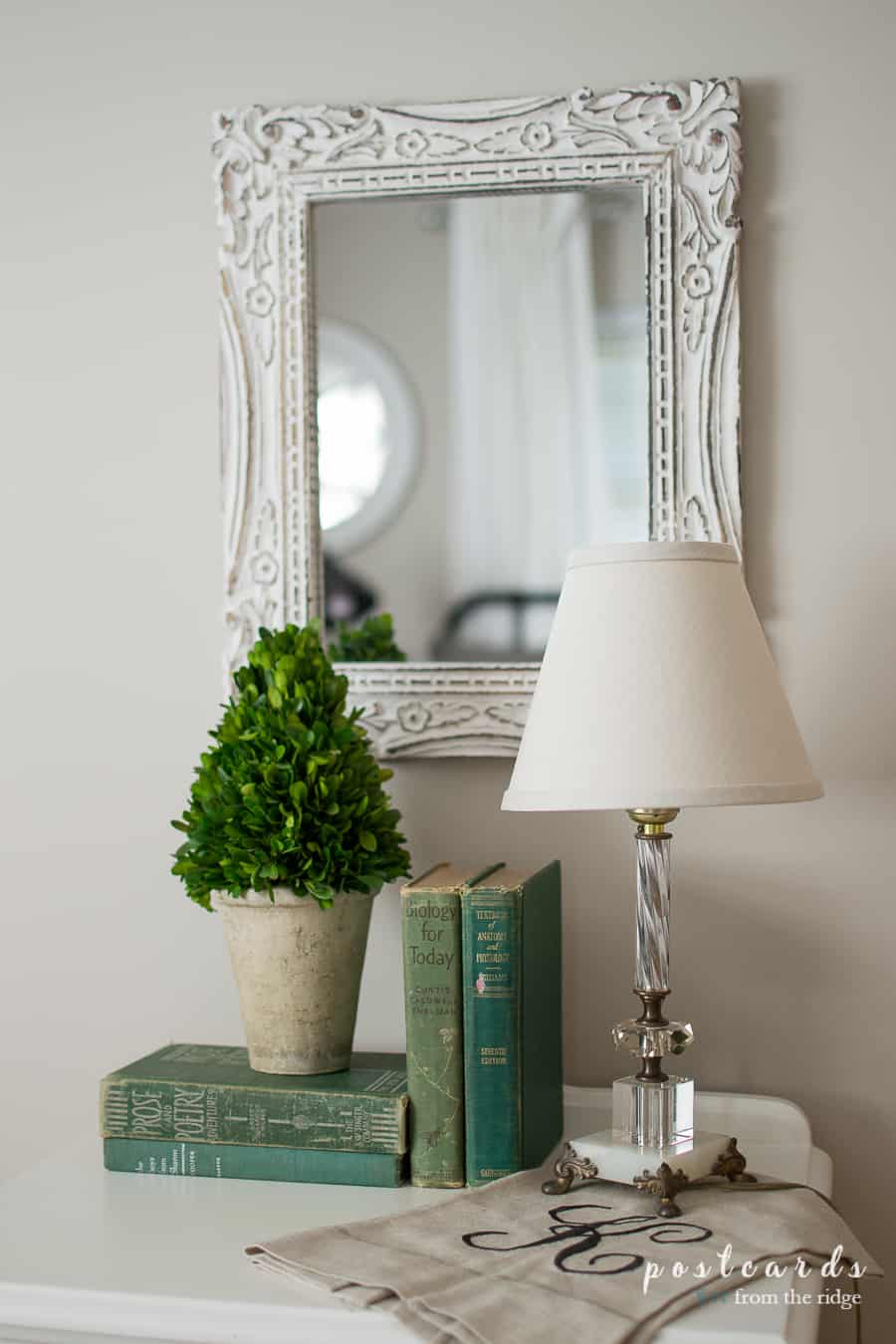 The books are from my ever-growing collection of vintage books. I relocated the lamp, dresser, preserved boxwood topiary, and monogrammed linen from other rooms in the house. And the mirror was already in here on another wall. You'll get to see more of this area in a later post.
Here's a look at my to do list.
To-Do List
Remove dated red gingham curtains ✔
Install new white curtains
Add a headboard
Replace one of the small nightstands with a dresser
Update the lamps
Add new bedding including a white quilt and charcoal Euro shams and bed skirt
Add a natural woven rug for texture ✔
Refresh the accessories with a mix of vintage and new items ✔
Find and hang artwork on the walls
Artwork
I'm working on some artwork that I'll offer as a printable, hopefully to be shared next week. The other items will be installed and revealed in the final week of the challenge, so stay tuned for that!
To see all of the other hundreds of projects, click the ORC logo below.

What do you think so far? Do you have a favorite thing from the design plan? Leave me a comment below and let me know!
Thanks for dropping by!