Fall Mantel with Plaids, Metals, and Farmhouse Charm
Ideas for decorating your fall mantel and more from 25 home bloggers.
Happy fall, y'all! Well, it's not officially fall yet, but in our house and in the homes of many of my home blogger friends, autumn has arrived! We're sharing ideas for decorating your home for fall including mantels, tablescapes, wreaths, printables, and porches. So many great ideas! You'll see sneak peeks and links to my friends homes at the bottom of the post so be sure to drop by and visit them throughout the week.
This post contains affiliate links for your convenience. For full disclosure go here.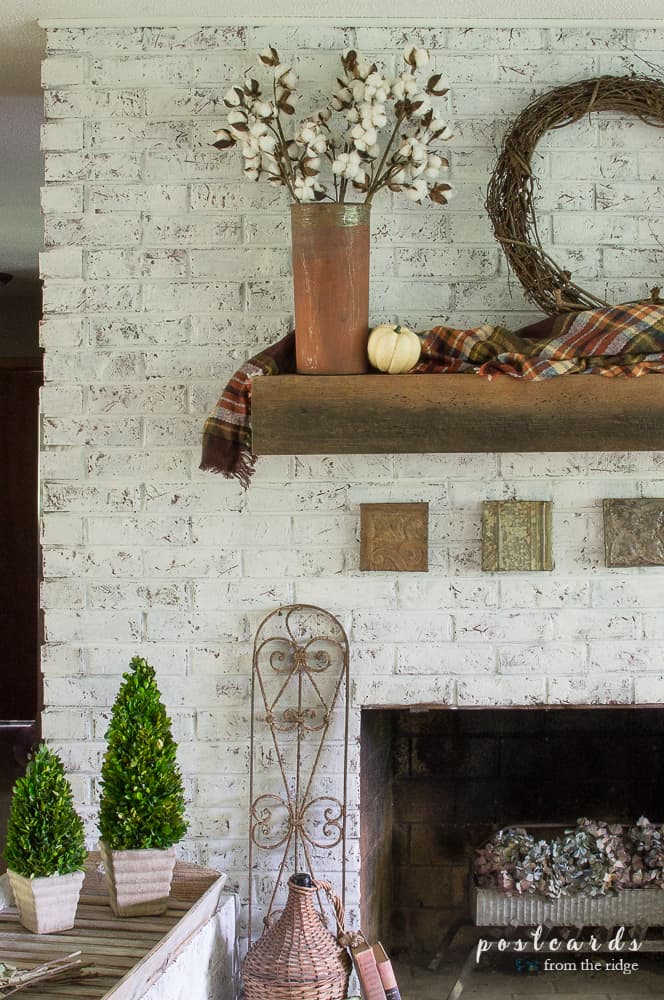 Our living room fireplace has a mix of farmhouse and French country, old and new, plaid and metal. Eclectic? Yes. Cozy? I hope so.
Apparently I'm drawn to rusty metals and have accumulated quite a collection over the past few years. The vintage metal sap buckets were found at the Highway 127 (world's longest) yard sale a couple of years ago. I loved them but didn't know what I would do with them. Do you ever do that?
My mantra is buy it if you love it (and if it's in your budget!) and you'll find a home for it.
The cotton stems add a nice soft texture to the metal buckets.
Another thing I collect is plaid throw blankets and oversize scarfs. There are actually 4 different ones here…one on the mantel shelf and 3 in the old egg crate.
The vintage egg crate belonged to my father-in-law who was a collector. I love that it has a Nashville farm on it since we lived there for many years. It's extra special to me. And my throw blankets fit perfectly inside it.
An old wicker demijohn and some old books add a bit more texture to the hearth. Old books always seem to find their way into our house and decor. The wrought iron fence pieces were found in an antique shop in Asheville last fall. Guess what? I didn't know what I was going to do with them either!
I painted our brick fireplace last week and really love the way it turned out. It has lots of twig and branch imprints and I wanted them to show up, so I did a dry brush technique on the bricks. I'll share a tutorial for it very soon.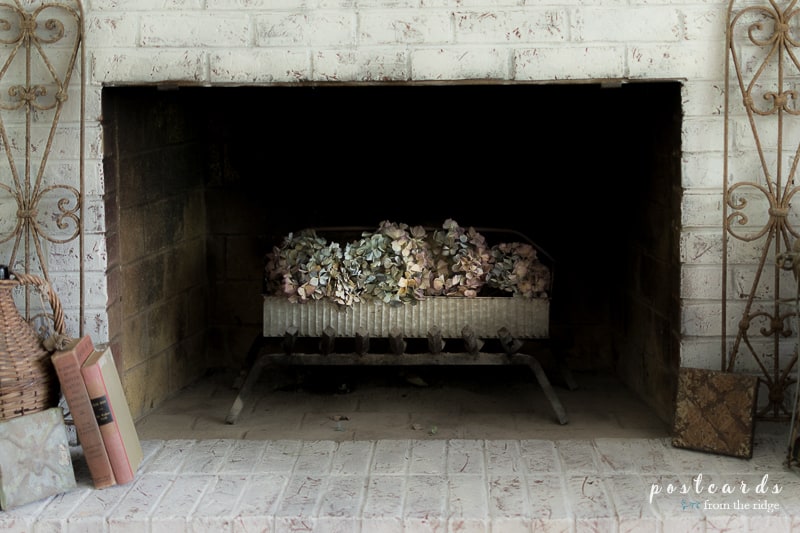 Since it's nowhere near cold enough for a fire, some dried hydrangeas in a metal tool caddy make an ideal filler for the fireplace opening.
Any time I can add hydrangeas to our decor I do. They add a nice texture and have such pretty muted colors.
The little vintage tin tile plaques came from the Vintage Days market. Again, I had no idea where I was going to put them but knew that I loved the textures and patina on them. They fill in the void below the mantel shelf.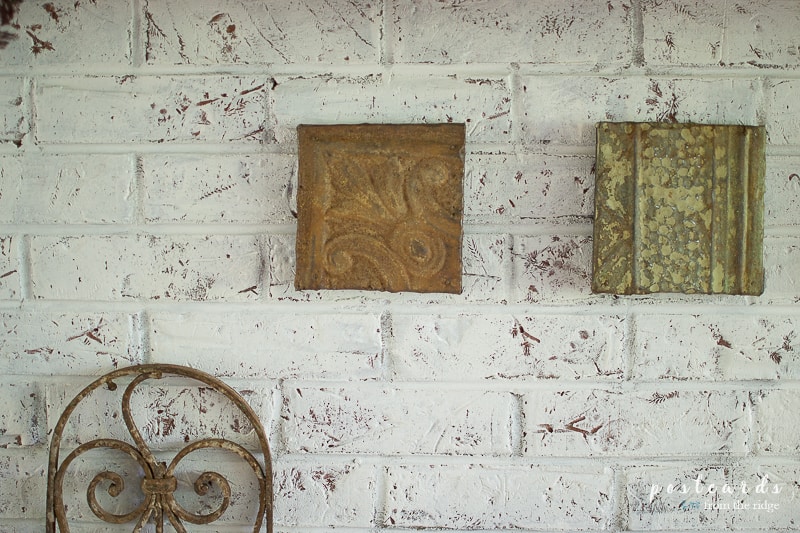 Last year's fall mantel vs this year's, after I painted the brick. Such a huge difference! Do you like the lighter look as much as I do? Watch for a tutorial on how I got this look very soon.
Click for sources of items:
And now here are all of my friends' posts on our Fall Ideas Tour. New ideas will be available each day this week, so be sure to visit everyone throughout the week.
Mantels on Monday
Postcards From the Ridge / The Chelsea Project / The Everyday Home / Shabbyfufu /
Tablescapes on Tuesday
Vin'yet Etc. / What Meegan Makes / Home is Where the Boat is / Making it in the Mountains
Wreaths on Wednesday
Worthing Court / Dukes and Duchesses / Cupcakes and Crinolines / My Creative Days /
Printables on Thursday
Inspiration for Moms / Hunt and Host / Domestically Speaking / On Sutton Place /
Porches on Friday
Petticoat Junktion / Housepitality Designs / Hymns and Verses / Cottage at the Crossroads /