Summer tablescape and a big announcement
Summertime tablescape ideas with red, white, and blue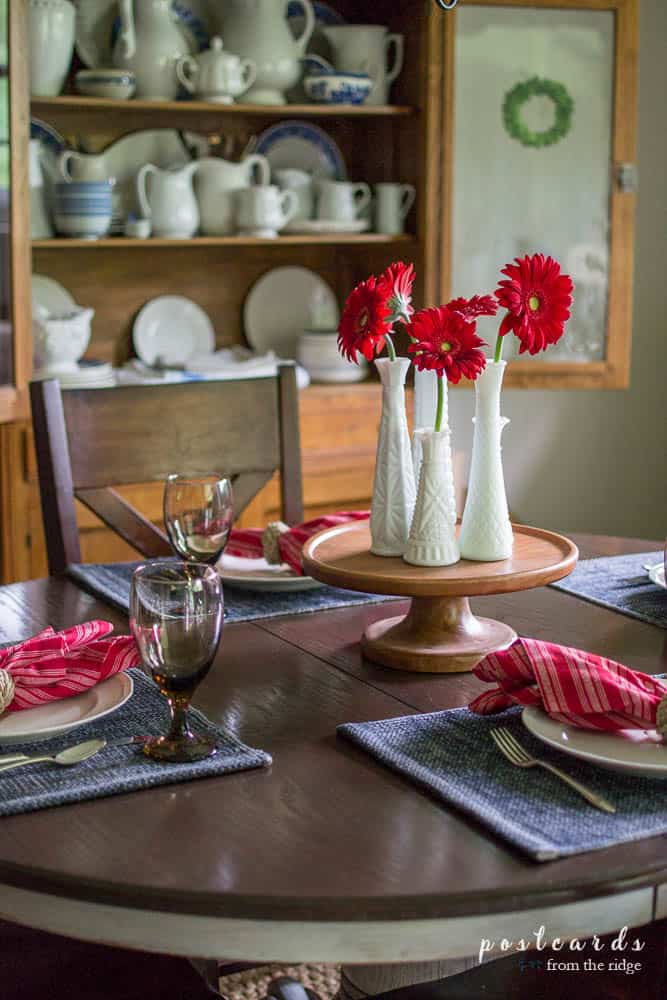 Hello, friends! I've been MIA a bit recently because I've been working on something really big that I'll share at the bottom of the post. But first, I want to show you our summertime table. It's somewhat patriotic and a whole lot of casual, and it fits our style to a T! See what you think!
This post contains affiliate links for your convenience. For full disclosure go here.
A few vibrant red grocery store zinnias were added to some of my favorite vintage milk glass vases. Elevating them on a cake stand gives them much more impact than simply setting on the table. They're so colorful!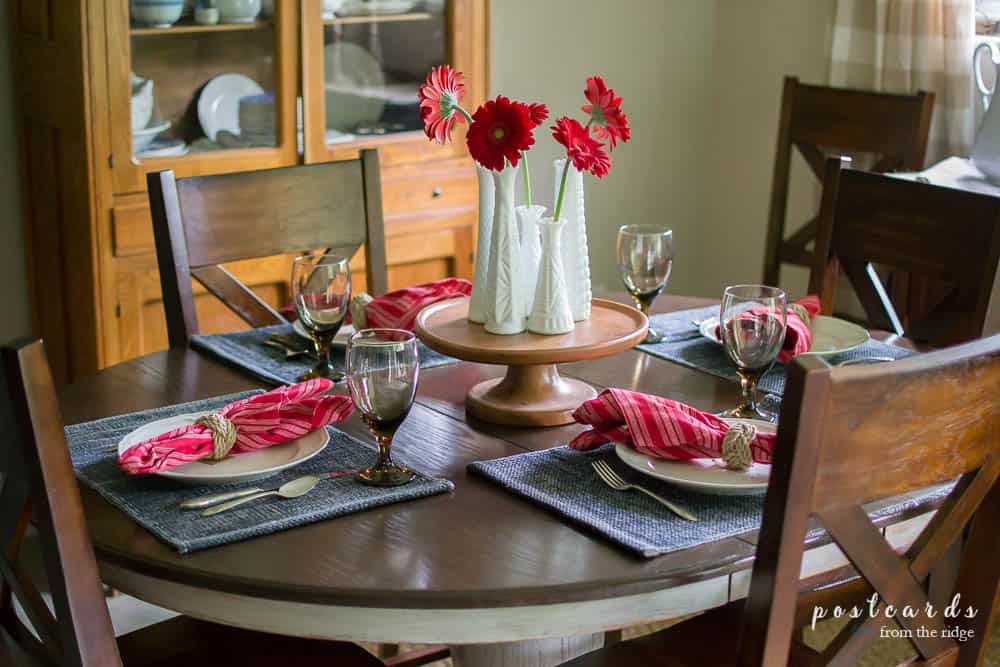 Some stonewashed blue placemats and red striped napkins give it a definite patriotic vibe.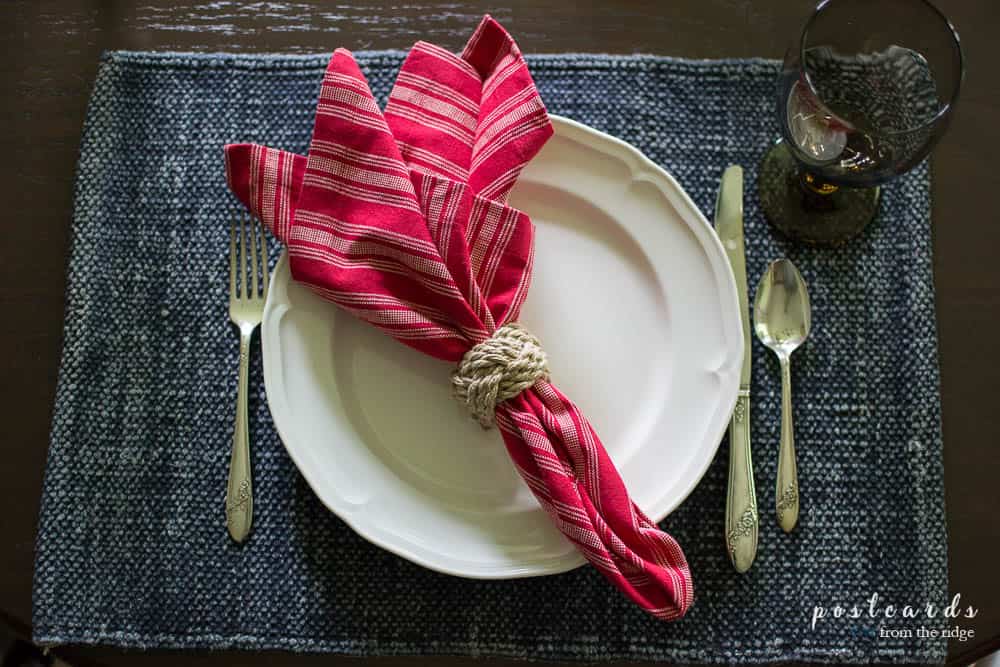 These nautical braided jute napkin rings add even more of a summery theme and make me want to head to the beach.
Now I'm itching to fire up the grill and cook a summery meal!
What do you think? Does it look like summer to you?
And now for a really big secret I've been keeping for the past couple of months.
I OPENED AN ONLINE STORE!!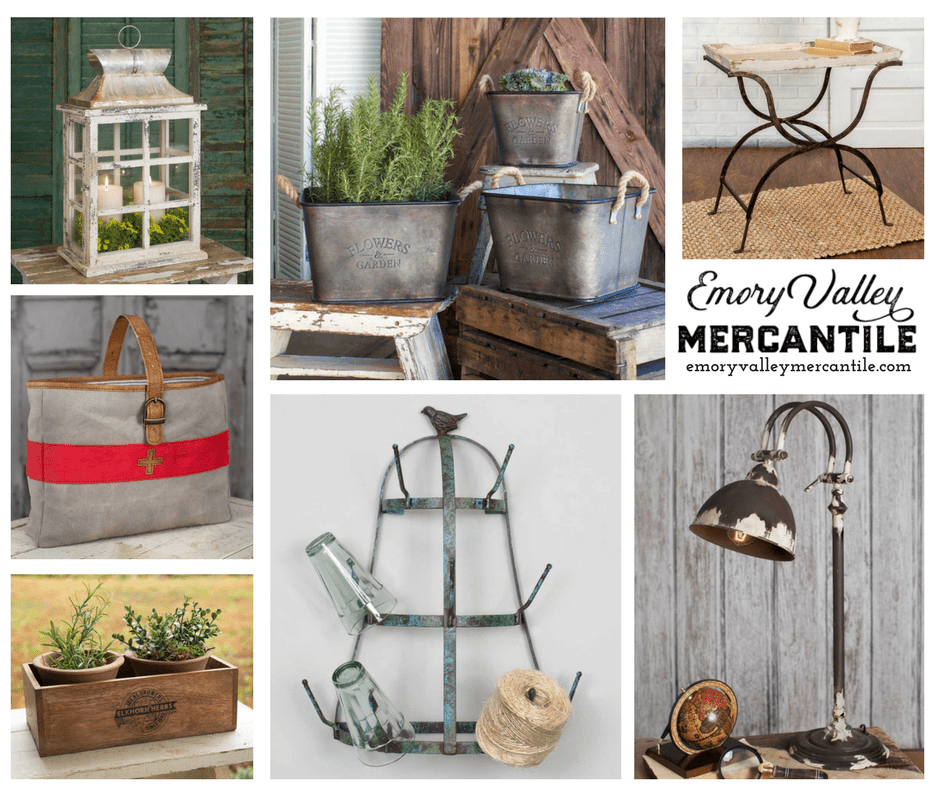 What??? Yep, I'm officially a shop owner, and it's called Emory Valley Mercantile. And the best part? Thanks to shopify it's all online so everyone can visit at any time, even while wearing pajamas! So far there are vintage style home decor items, lighting, small furniture pieces, totes and bags, and I just added some floral items.
There will also be vintage and found items, more lamps & lighting, rugs, pillows, and kitchen items. If you like the style found here on the blog, you'll like the shop too! And I'll be creating room ideas or mood boards to make it easy to decorate an entire space.
Why??? In 2015, after working retail for nearly 30 years, I began working from home on this blog and also helping some local clients doing some design work. And while I love the flexibility and freedom, I felt like something was missing. I owned a decorating shop when I lived in Nashville and always loved the thrill of selecting new home decor products for our customers. Now my love of finding beautiful products plus my craving for owning a shop again is all in rolled up into one place.
I'll definitely still be blogging and promise not to spam you with promotions for the shop, but I will occasionally feature some favorite items and announce new arrivals here. For now, I invite you to drop by and take a look around.
If you subscribe to our shop newsletter, you'll receive a 10% coupon code immediately! To sign up for that, go here: NEWSLETTER SUBSCRIPTION
Let me know what you think of the shop! Take a peek here: EMORY VALLEY MERCANTILE
P.S. If you like the tablescape, you can find the placemats, napkins, and napkin rings in the shop!
Have a wonderful Memorial Day weekend!