Tour our Christmas home including our entry, Christmas hutch, and happy hot cocoa cart
Hello, friends! And welcome to another glimpse into our Christmas home. Today I'm joining 15 talented home bloggers as we kick off a 4 day Farmhouse Christmas tour. I'm sharing some spaces in our house that you haven't seen decorated for Christmas yet so I hope you get some good ideas.
Here's a sneak peek at the homes on the tour, organized by Christina at Christina's Adventures. If you're here for the first time visiting from one of the other blogs on the tour, WELCOME! You can learn a little about me and the blog by going here: My Story. If you're a regular reader, welcome back to you! The links to all the tours are at the bottom of the post and you'll want to visit them all for some wonderful ideas for adding farmhouse Christmas touches to your home.
Now come on in and see how our hutch, entry, and hot cocoa cart are all decked out for Christmas.
This post contains affiliate links for your convenience. If a purchase is made after clicking one of the links I might make a small commission. Your price does not change. For full disclosure, go here.
CHRISTMAS HUTCH
One of my favorite things to decorate in our home is our antique oak hutch. It belonged to my husband's grandparents in their old farmhouse and is a cherished piece of furniture. I change the decor 3 or 4 times per year to go with the season.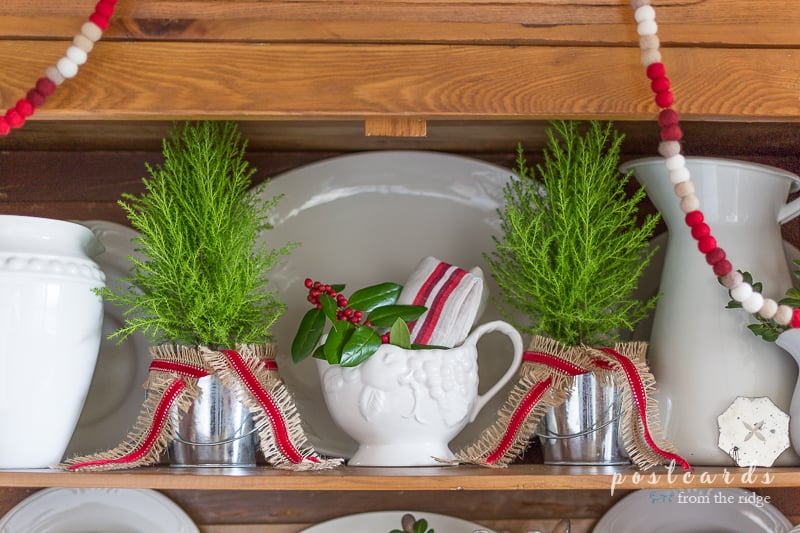 I'm using lemon cypress trees in our decor for the first time this year and have fallen in love with them. The bright color, and soft texture, and the small size is so much fun.
I've been collecting white dishes for years now and have many of them in the hutch for Christmas this year. A few red and green accents give it a holiday vibe. Most of the dishes and pitchers have come from estate sales, yard sales, and thrift shops.
To see my tips for estate sale shopping visit this post: How to Shop Estate Sales Like a Pro
A little glass ornament and a mirrored ornament add some sparkle and bling to the hutch.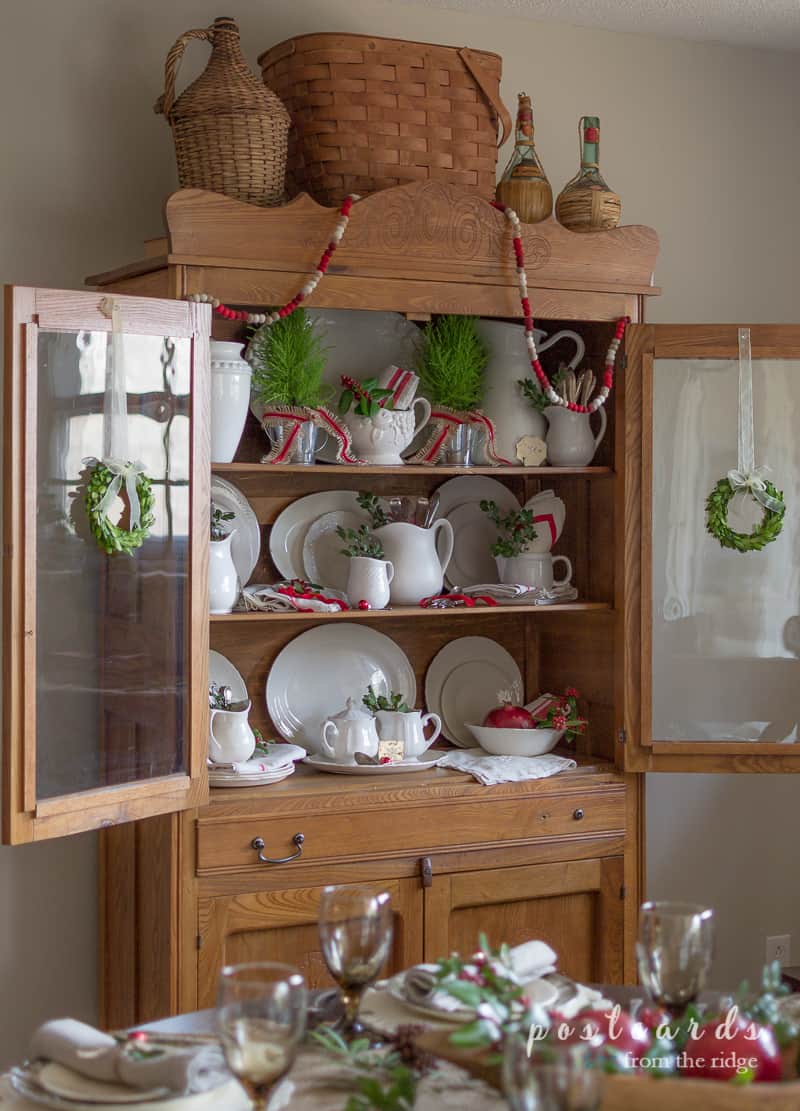 Another thing I collect is old silverware. I love the patina and the weight of it. And the designs are always so pretty. They look festive inside the little creamer pitcher with a sprig of boxwood.
shop this look
HAPPY HOT COCOA CART
Our hot cocoa cart is part bar cart, part cookie cart, part let's-just-get-warm cart.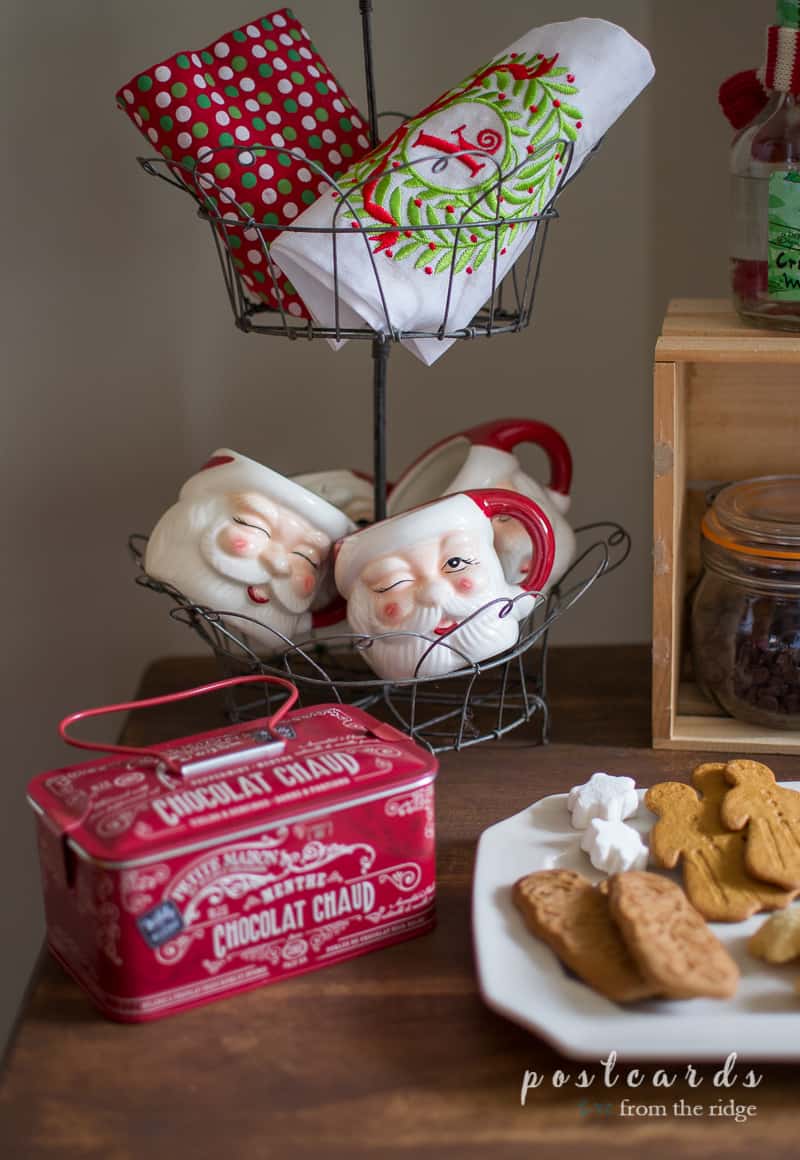 My favorite Santa mugs look like they have a happy little secret, don't they? Hmmm, I wonder what they're up to…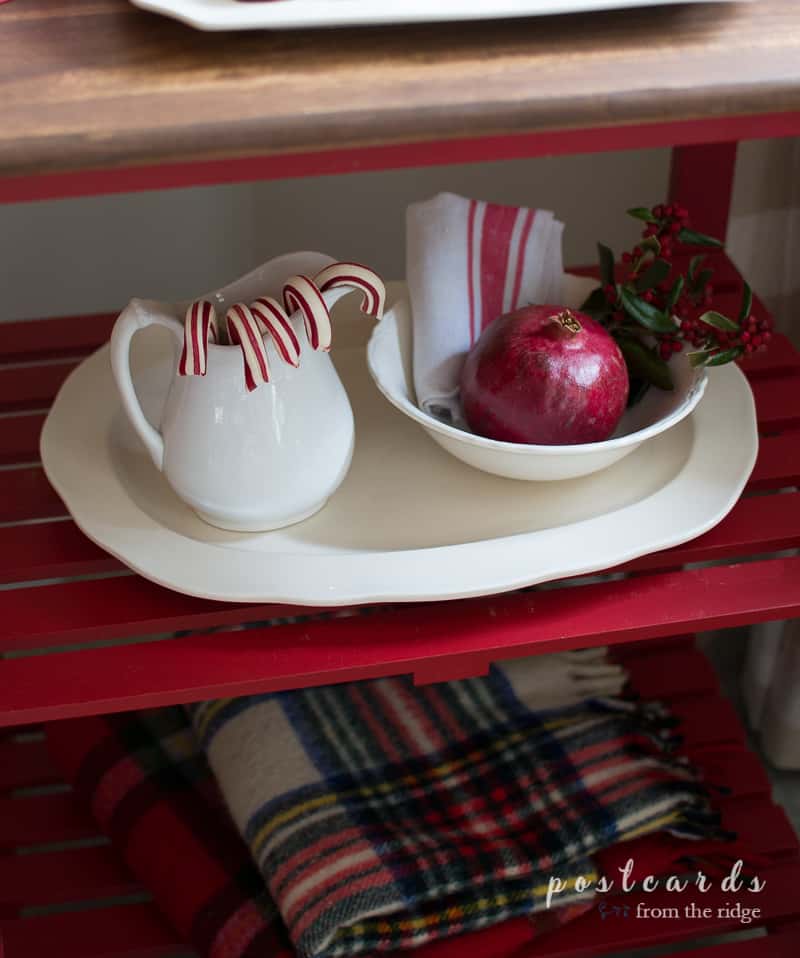 A little ironstone pitcher holds some candy canes that can be swirled in your hot cocoa. And the throw blankets will help warm you up.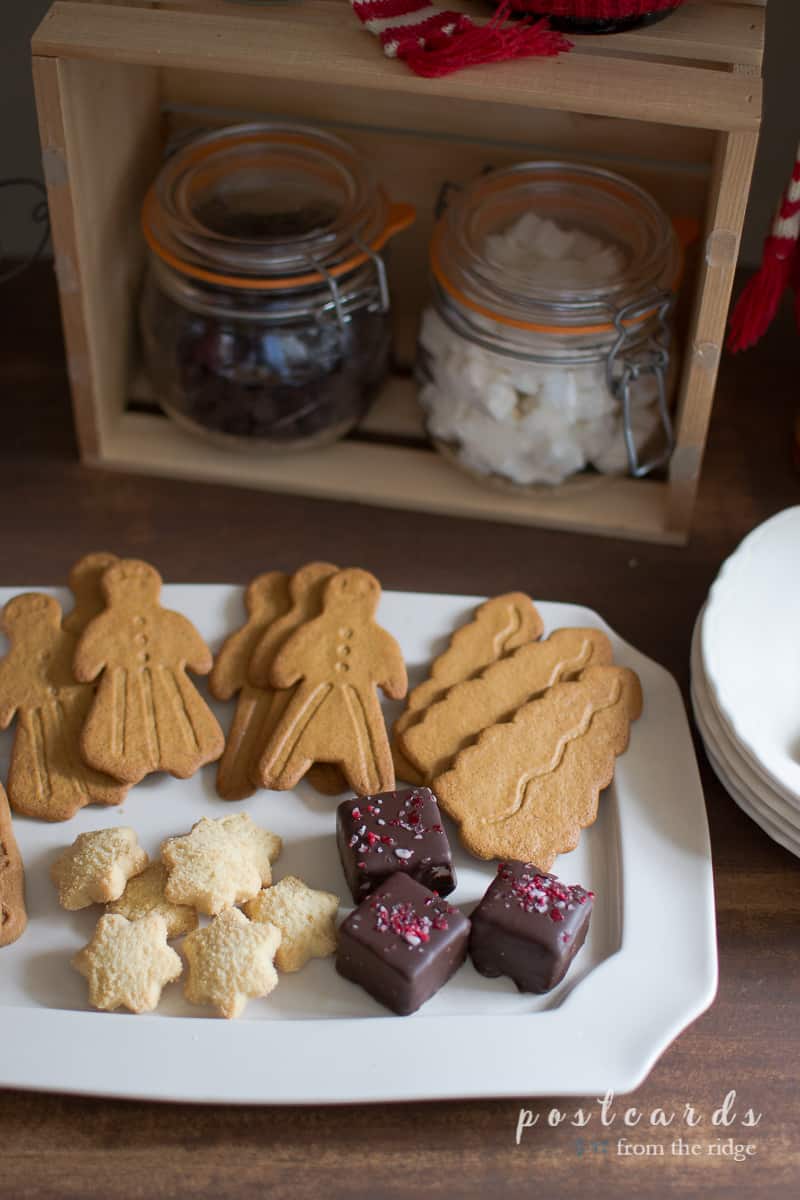 A little bit of cookie heaven awaits you to go with your cup of hot cocoa. And yes, I sampled all of these and they're all unbelievably yummy. Especially the little buttery star shortbread cookies.
It appears we have a couple of party crashers at the hot cocoa station this year. Ms. DeKuyper and Mr. Bailey have dressed in their winter sweaters for the occasion.
They're ready to have some fun, along with Mr. Ole Smoky.
There's that sneaky Santa again. He's the cutest, isn't he?
shop the look
ENTRY
Our entry is very small but is just big enough to welcome you with some Christmas cheer.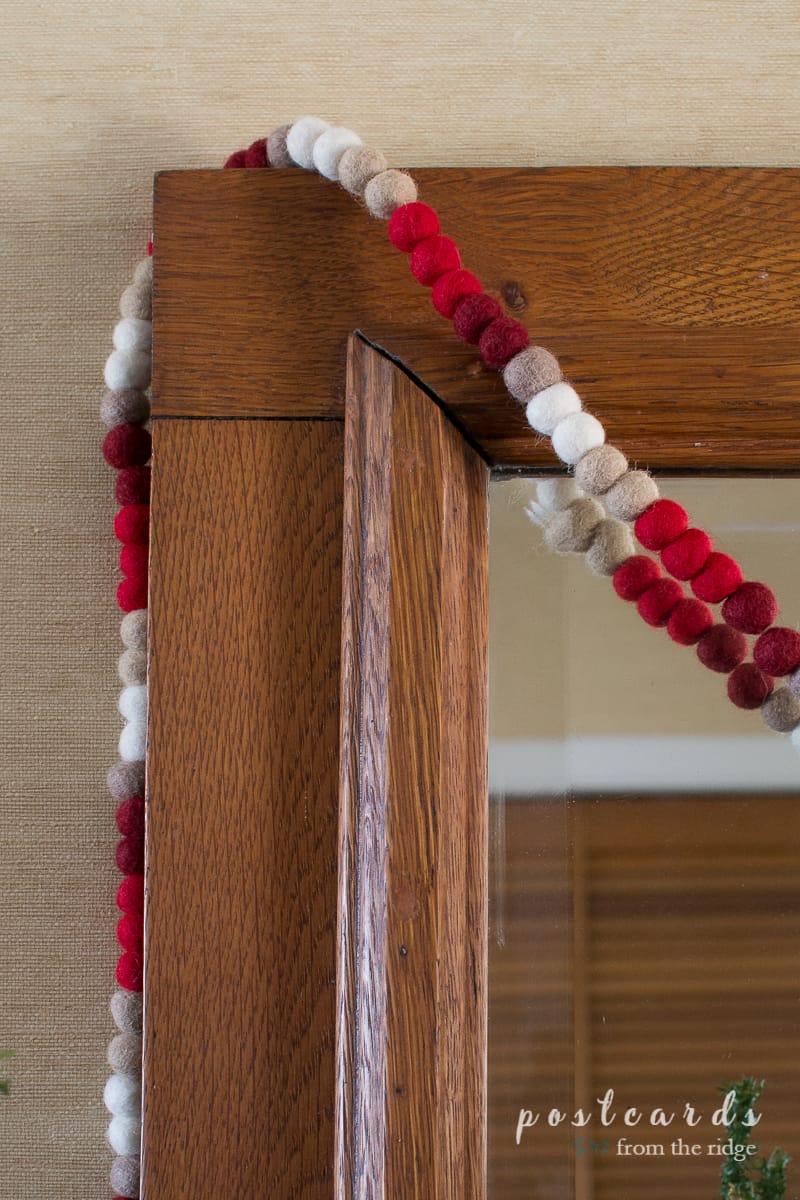 Some cozy felt pompom garland dresses up our old mirror.
An old wooden box makes a great place for some little trees and a fun woody that's hauling a Christmas tree.
And our house just wouldn't be Christmas without at least a few of my beloved vintage ornaments. I didn't put them on the tree for the first time in years so I had to scatter some of them throughout the house. I'm missing them on the tree though. (Check back here tomorrow when I'll be sharing what we did decorate the tree with.)
SHOP THE LOOK
SOURCES FOR HUTCH ITEMS
vintage silver // mini boxwood wreaths // red velvet ribbon // felt garland // lemon cypress trees // matching creamer and sugar // wicker wine jug (similar) // antique mirror ornament (similar) //
SOURCES FOR HOT COCOA CART
red kitchen cart (similar) // Santa mugs // bottle scarves and sweaters (similar) // snowflake marshmallows // plaid throws – vintage (similar here) // Santa Biscoff cookies // mini star cookies // peppermint marshmallows // holiday ginger snaps // monogrammed Christmas kitchen towel
SOURCES FOR ENTRY
small Christmas trees // table // felt garland // Woody with tree on top (similar) // mini boxwood wreath // snow boots // straw tote
Here are a few other areas of our house that I've already shared.
Our master bedroom is ready for winter. You can see more of it here: Christmas Master Bedroom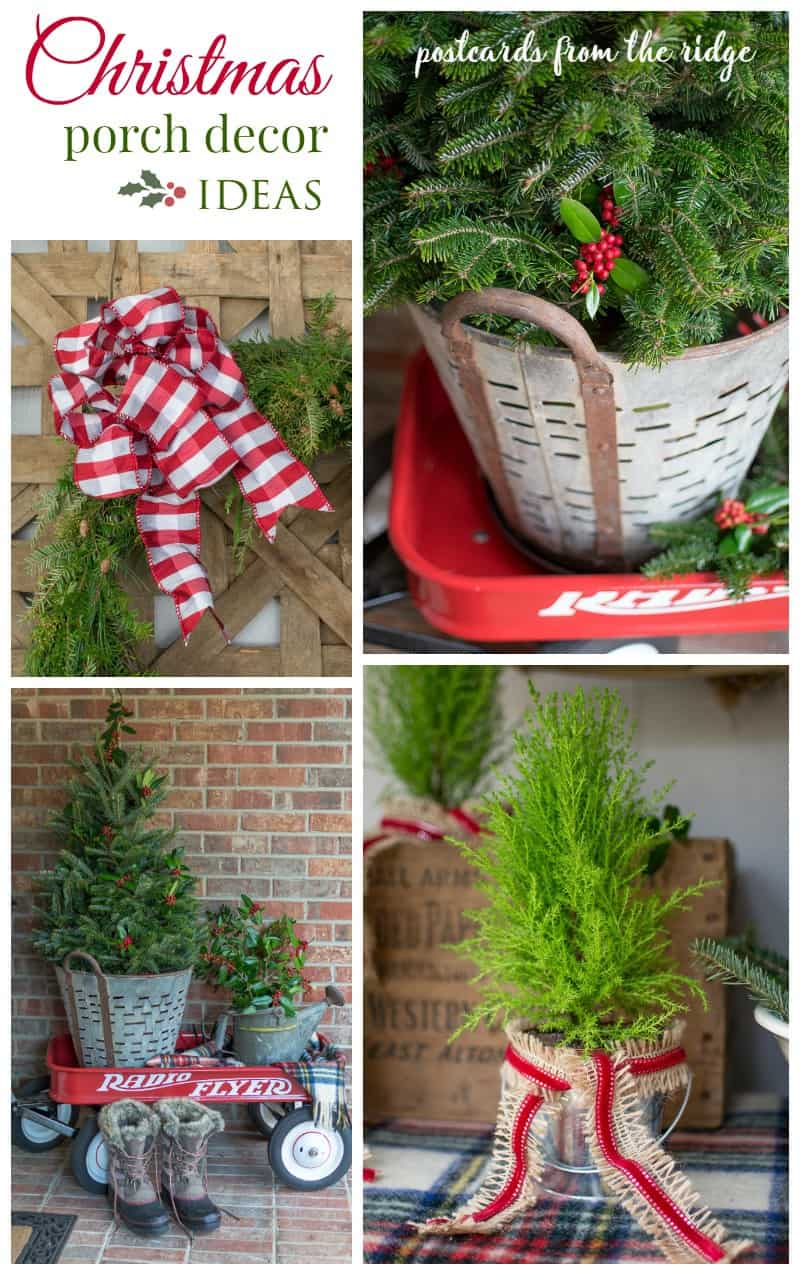 See all the details of our front porch here: Christmas front porch
Our Christmas tree has a cozy, farmhouse, snowflake theme this year and you can see more of it here Snowflake Christmas Tree
And see more of our holiday table in this post: Christmas tablescape
Don't forget to keep scrolling to the bottom of the page to visit all the blogs on the Farmhouse Christmas Tour!
Coming up – I'll be posting a couple more times about Christmas, including our tree and a yummy recipe for salty caramel pecan pie, and then will have some ideas for helping you meet your new year's goals of being more organized and staying on budget. I'll soon be taking a little break to spend with my family since our oldest will be coming home from college for the holidays in a couple of days.
Join our subscriber list today so you don't miss any upcoming posts. Click below to sign up.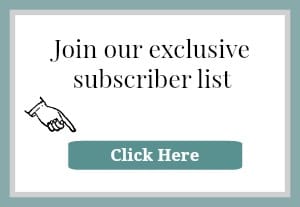 Thanks so much for dropping by today!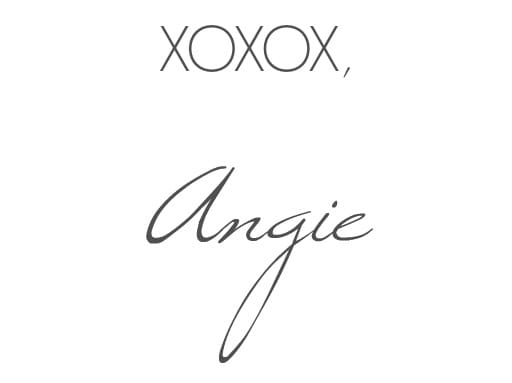 Okay, now that you've seen my house, continue on to The Design Twins blog to see their beautiful Christmas house tour! See all of the amazing farmhouse Christmas inspiration this week:
Monday
Tuesday
Wednesday
Thursday
The Creative Christmas Link Party is hosted by Janet of Shabbyfufu and the the bloggers of Blogging 50. Please visit all of the talented bloggers below!