Simple Christmas Front Porch Decorating Ideas
8 front porches with great ideas for Christmas decorating
Have you started your Christmas decorating yet? Maybe you're already finished and if you are, you're way ahead of me. I've done some areas of the house but have several spaces left to do.
Today I'm happy to be joining 7 other bloggers in a Christmas Porch Tour, hosted by Atta Girl Says. If you're visiting from one of the other blogs and are new here, WELCOME! I'm so glad you dropped by. You can get to know more about me and the blog by going HERE. If you're a regular reader, welcome to you as well! I hope you enjoy today's tour.
This post contains affiliate links for your convenience. If a purchase is made after clicking one of the links I might make a small commission. Your price does not change. For full disclosure, go here.
For our porch, I went with a rustic and casual style using vintage items and greenery.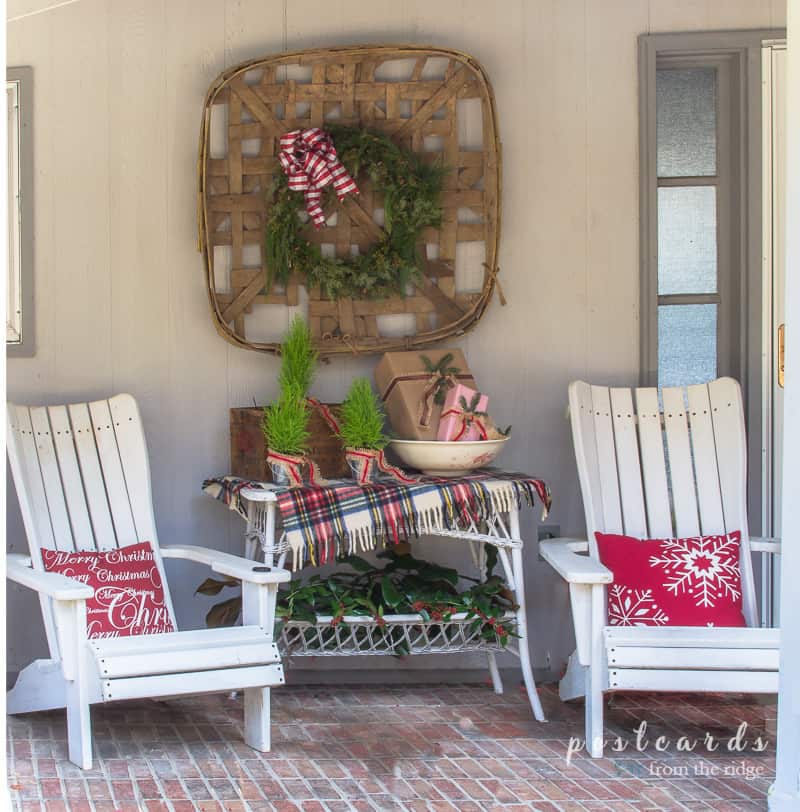 Going with the theme of this year's decor, I'm using mostly things I already had on hand mixed in with some natural elements. Here, I added a simple wreath I made a few days ago to our old tobacco basket. A couple of holiday pillows found their way onto our Adirondack chairs for a pop of color.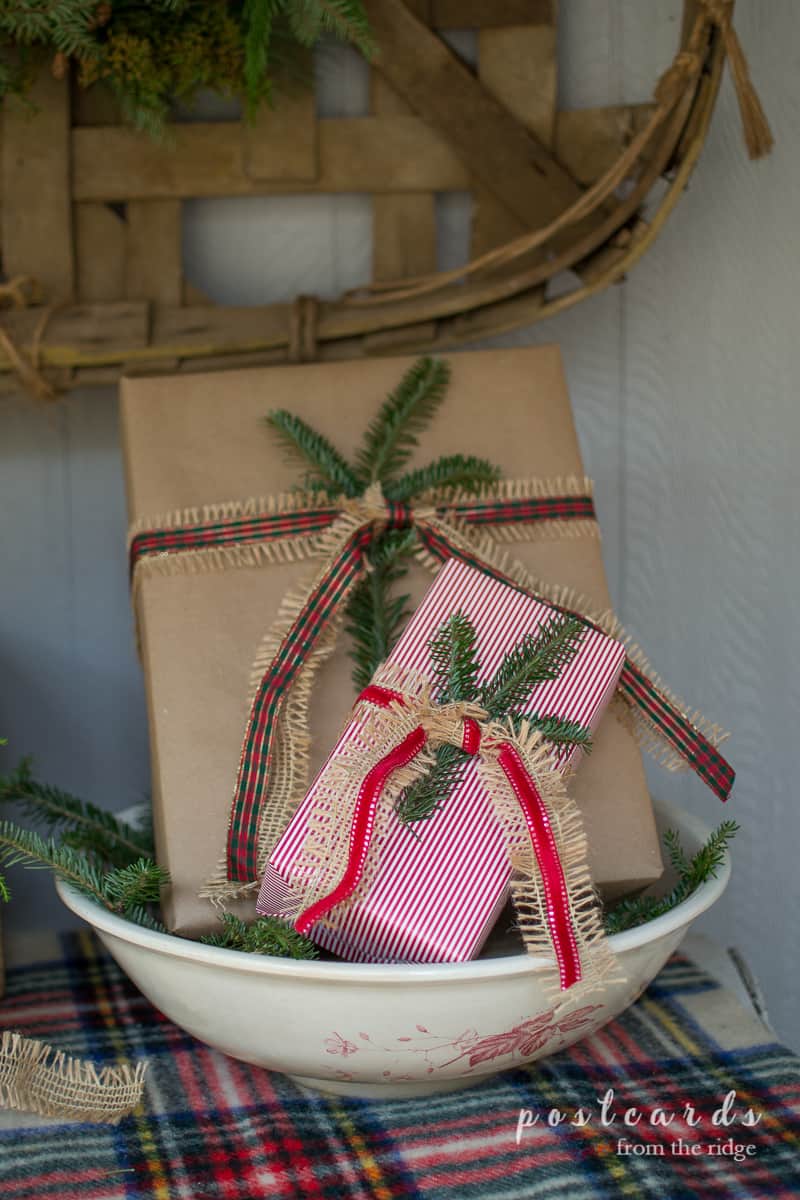 Some wrapped packages sit in my old ironstone wash bowl. A few sprigs of Christmas tree trimmings dress them up just a little.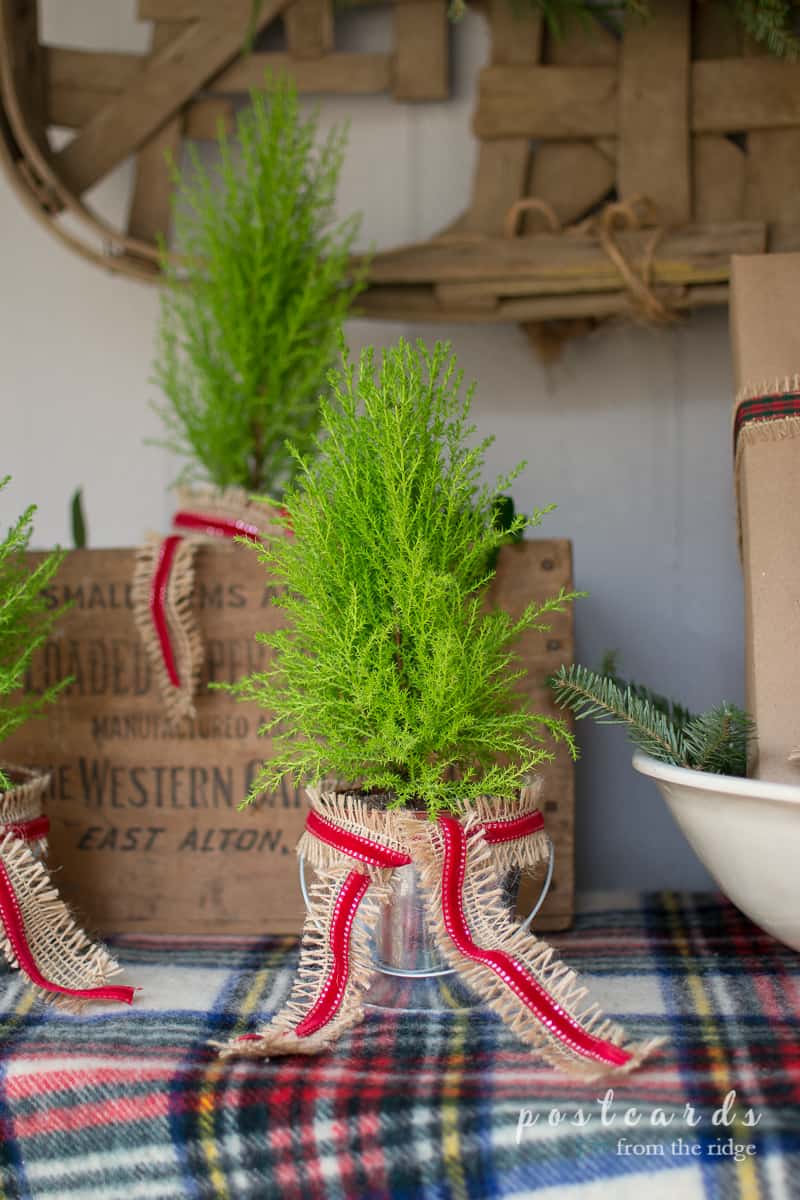 My baby cypress trees look right at home here on the front porch. This is the first year I've had these and will be using them from now on. I love the soft texture of their branches.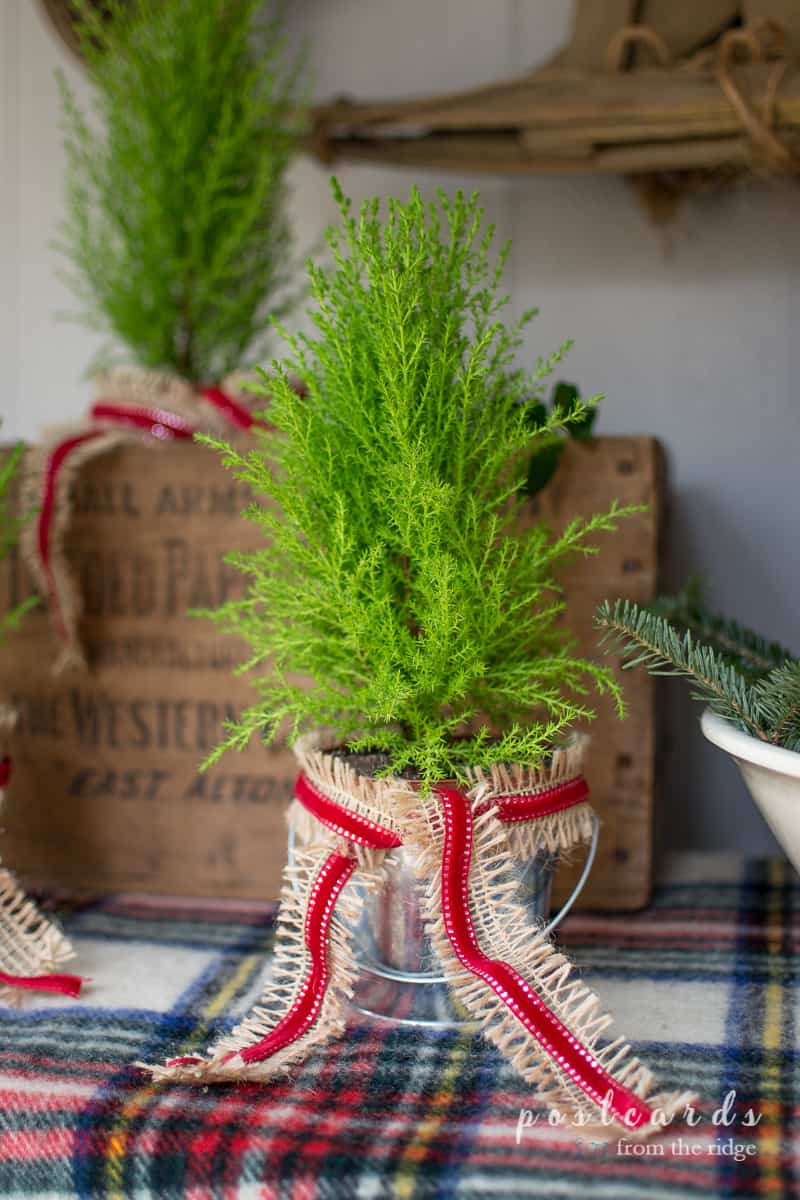 An old plaid throw blanket adds a little color, and the vintage wooden crate is a fun addition to the table as well.
SHOP THE LOOK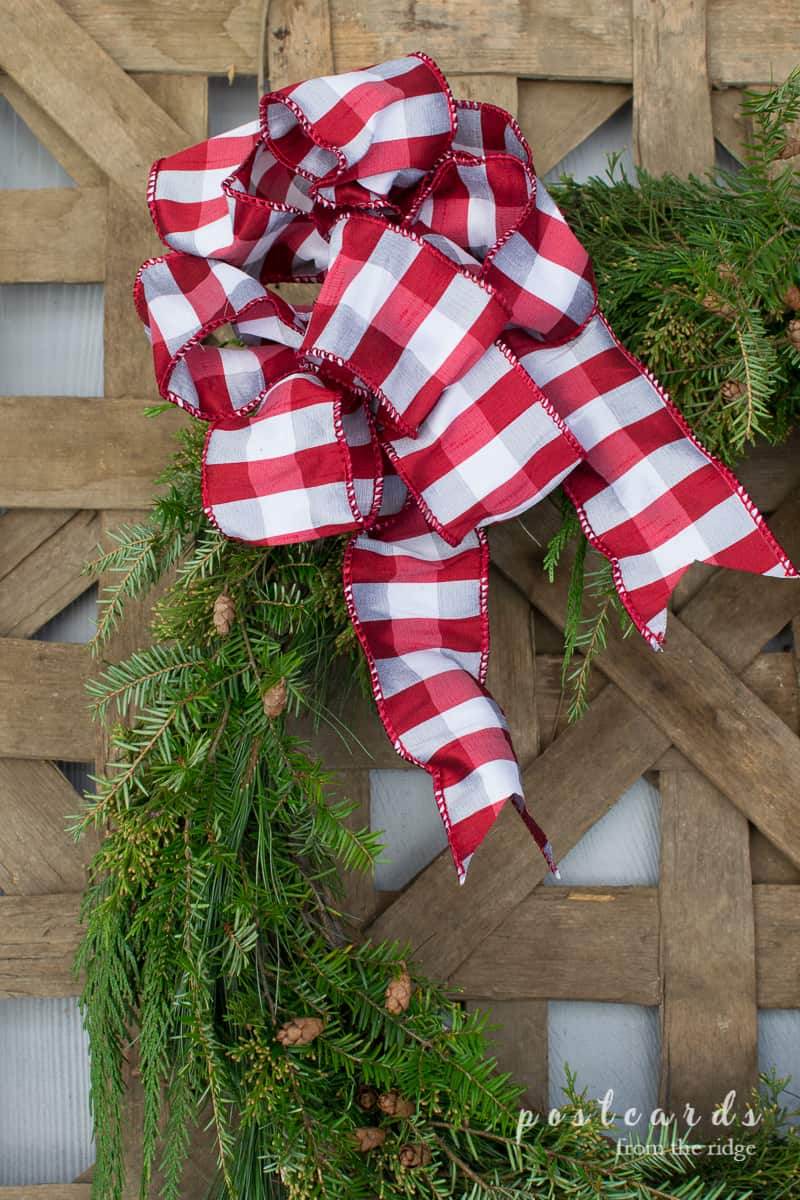 My mom, my sister, and I all made wreaths a couple of days ago using clippings from my parents' place. I used a grapevine wreath as a base for the clippings.
I made a bow with some festive plaid ribbon and attached it to the wreath for some color.
Hemlock, cedar, and juniper make up most of the wreath. I love the tiny pine cones on the hemlock branches.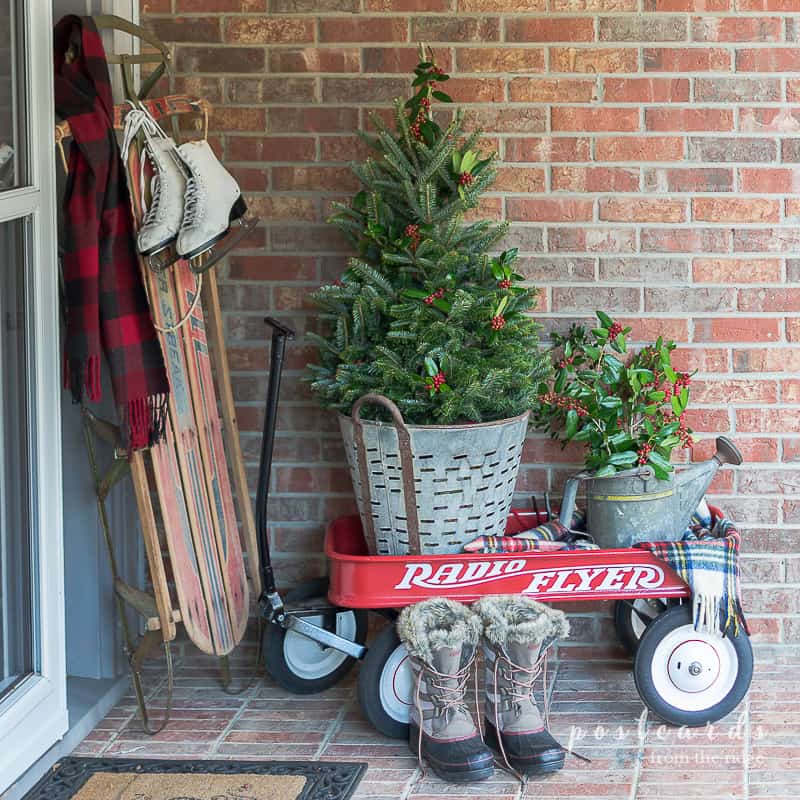 Over next to the door, my dad's old red wagon sets the scene. The red is perfect for Christmas and it's just the right size for the old olive bucket and a small tree I picked up. I tucked a few holly branches in the tree and in an old watering can for a bit more color.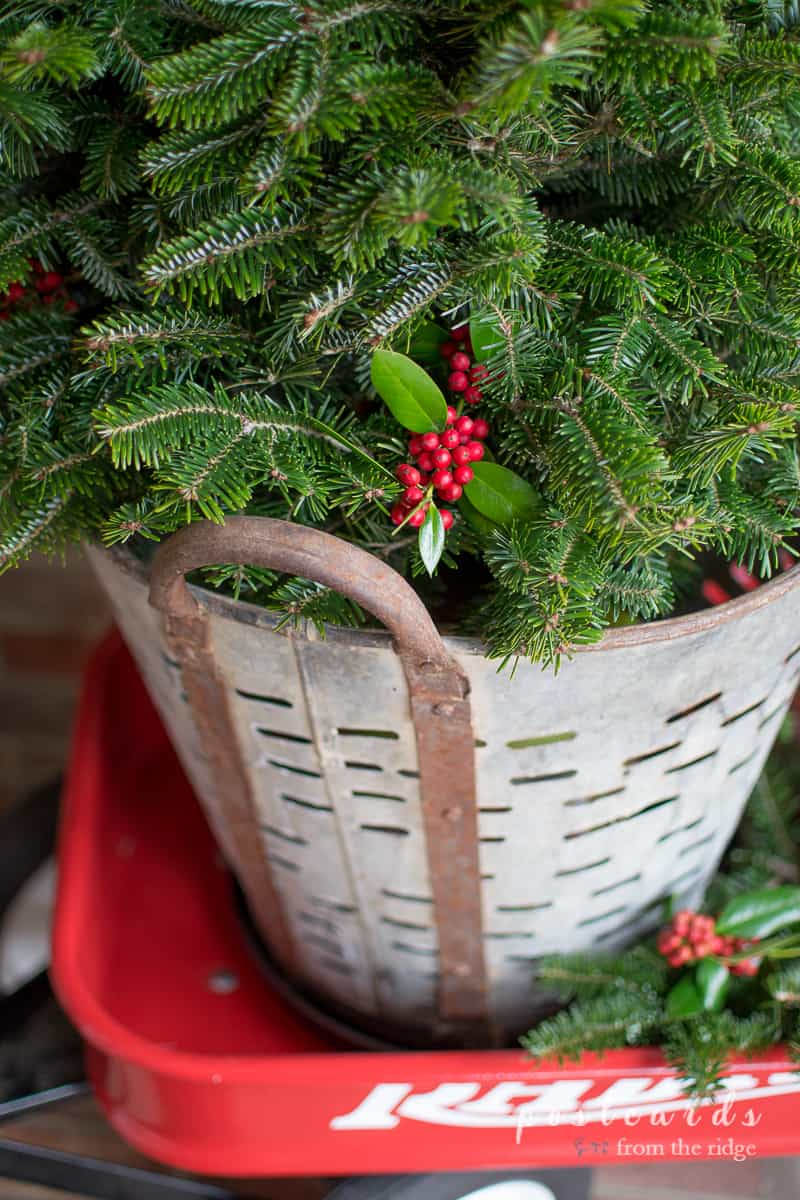 The scarf, ice skates, and sled make it look like winter here, although we've really not had much cold weather yet.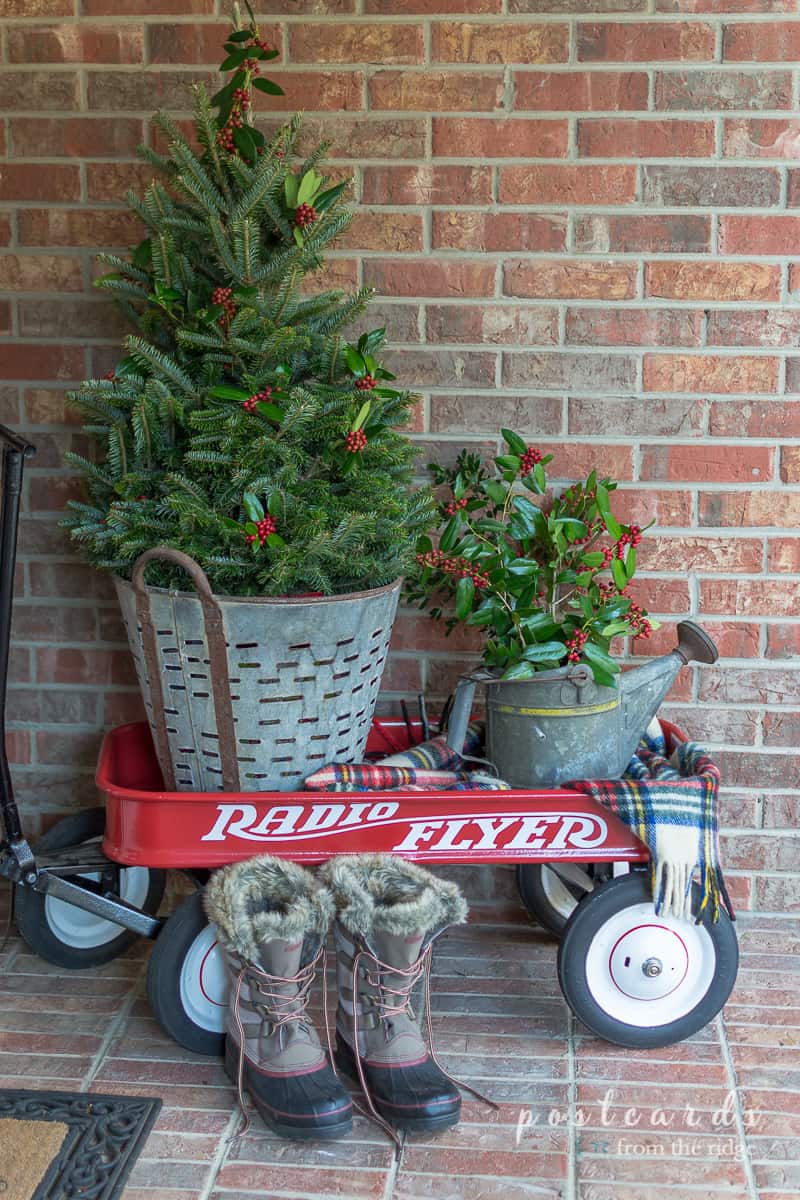 And my snow boots are ready and waiting for the fluffy white stuff to fall from the sky, if that ever does happen.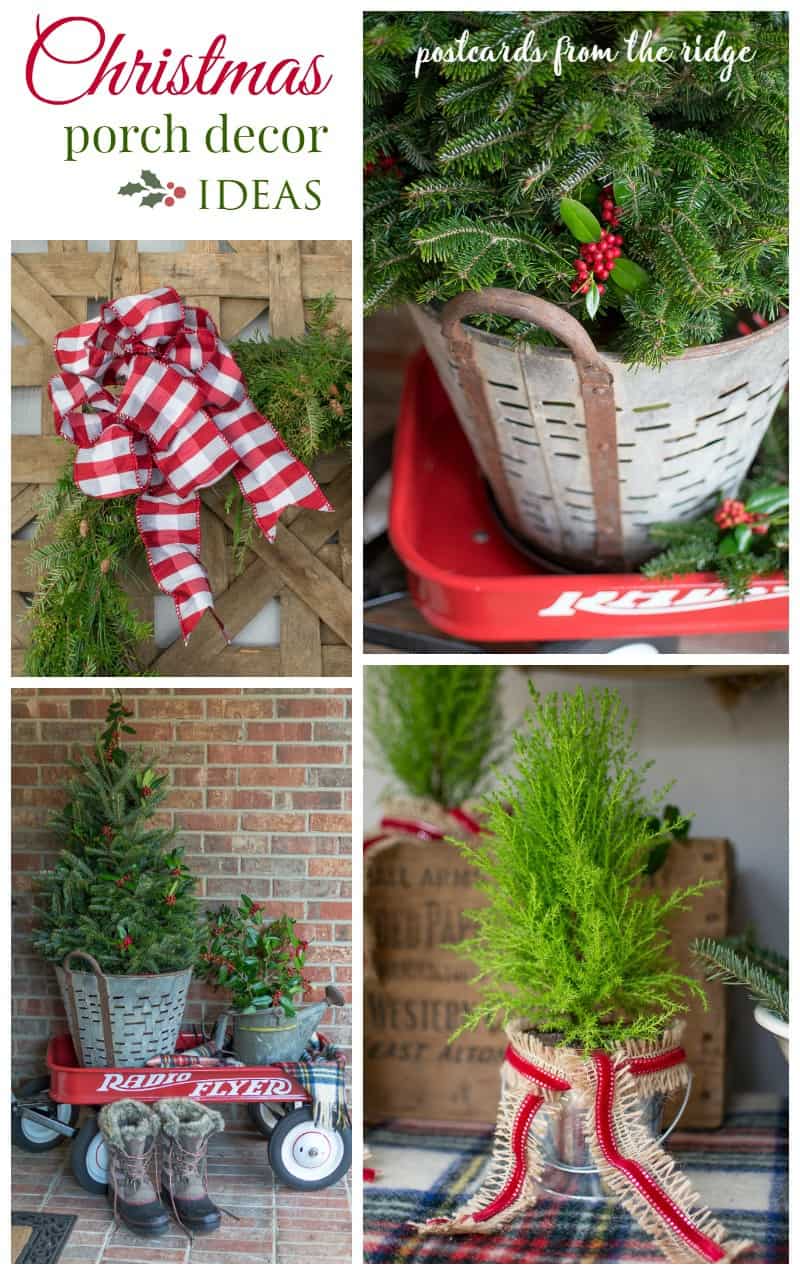 CLICK THE ITEM FOR SOURCE
vintage olive bucket // radio flyer red wagon // mini cypress trees // plaid throw blanket (similar) // red and black plaid scarf // snow boots // small artificial tree // vintage tobacco basket or this one (similar) // vintage sled (similar) // vintage ice skates (similar) // plaid ribbon // burlap ribbon // red velvet ribbon (similar) // vintage wash basin (similar) // red pinstripe wrapping paper
And here are all the porches on today's tour. Whether your style is vintage, rustic, farmhouse, French country, traditional or cottage, you'll find lots of inspiration as you deck your halls for the holidays.
Click on the links below to visit all of these gorgeous Christmas porches.
Atta Girl Says | Cottage at the Crossroads | Cottage in the Oaks
| House of Hawthornes | Our Southern Home | Postcards from the Ridge | Refresh Restyle | Worthing Court
Need ideas for the inside of your home? Take the Home for the Holidays tour with 30 of your favorite home bloggers. There are ideas for mantels, tablescapes, decor, plus crafts and recipes you'll want to try. To see it all go here 2016 Home for the Holidays Tour.
Here's a peek at the tablescape I'm sharing on the tour.
Get ideas for decorating your Christmas tree HERE.
Ideas for decorating your entry and stocking a hot cocoa cart can be found HERE.
Need some ideas for gift wrapping? Go here ==> Christmas Gift Wrap Ideas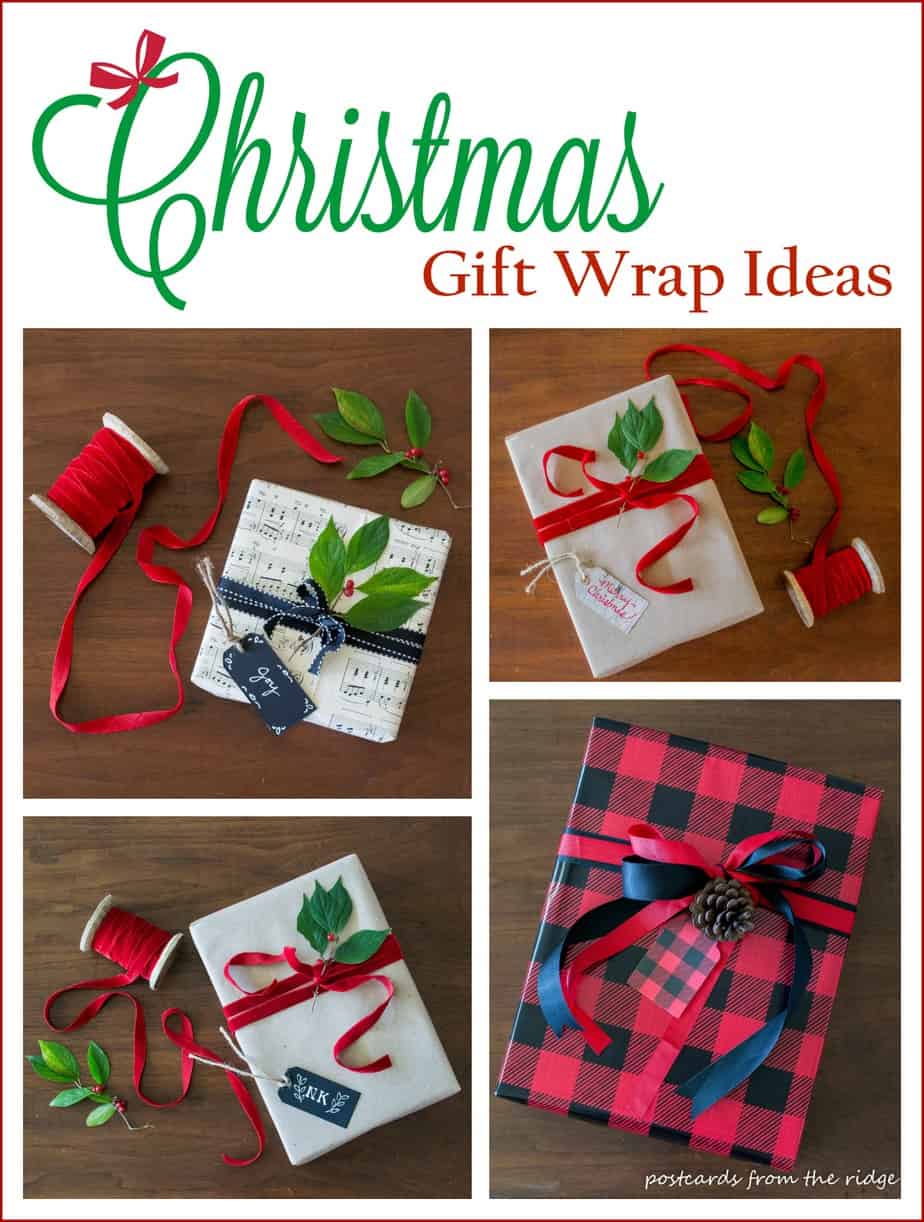 Join our subscriber list today by clicking below so you don't miss any of it.
Thanks for dropping by!
XOXOX,
Angie