Tiny 1890 California Cottage – Beautiful Home Tour
Hello, friends! Do you ever watch the television shows about tiny houses? We've been watching them for a while now and although they look really cute and efficient, I'm just not sure we could do it. Downsize? Yes. Micro size? No. That's why I love today's featured house so much. It's 970 square feet but has everything 2 people would need. Built in 1890, it's a total charmer. Read on for a tour of this cute cottage.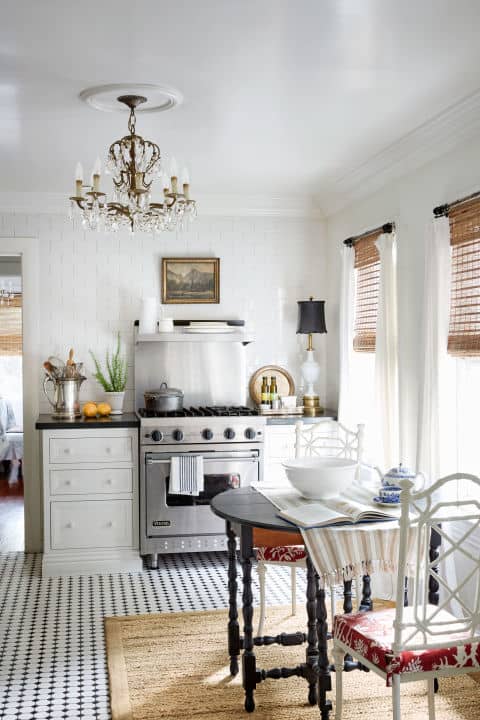 This post contains affiliate links for your convenience and to help keep this blog in operation. I may make a small commission from any item ordered but your price remains the same. For full disclosure, go here.
Our youngest will graduate from high school in just a couple of years and we're already talking about downsizing. Have you gone through this before? What was your experience?
Anyway, this home has just enough room for keeping the things you really love and need and eliminating the rest. I love the way that sounds.
Decorated with light colors and well chosen pieces, the house is cozy but not cramped. The mirrors help lighten the space and make it seem larger than it actually is. Such a great idea.
There's just enough room for two to dine in style and comfort. No need for a hidden table like you might see in those teeny tiny homes.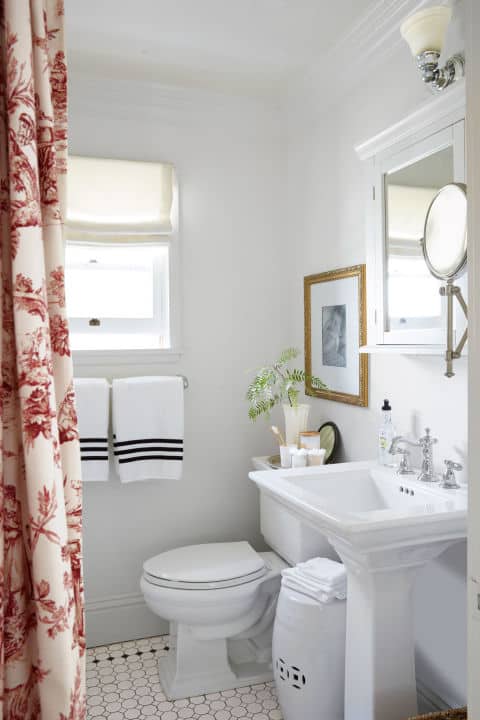 Nice and light, the bathroom is fully equipped and decorated in a quaint vintage style.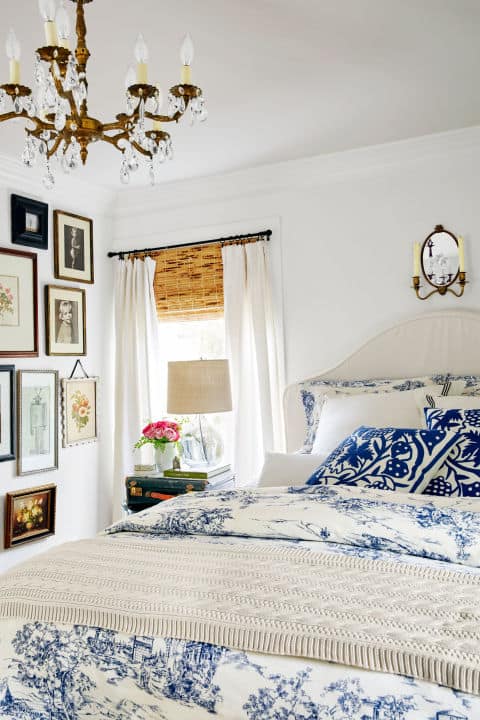 Janet, the owner, couldn't bear to part with her art collection so she created a gallery wall in their bedroom that is covered with her favorite pieces. The walls, bedding, and curtains in here are also nice and light but not too bland.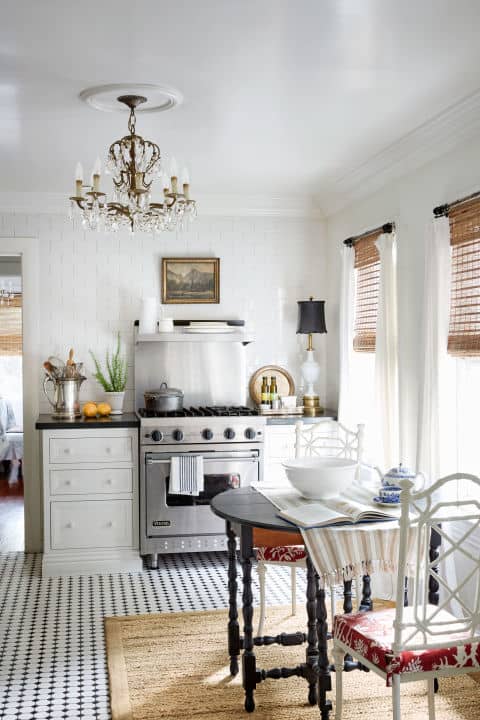 The fully functional kitchen has a professional quality range and everything else a cook would need. The table could serve as prep space if needed. And don't you love the way she has it decorated? The curtains, the lamp, that chandelier, and the artwork make it a feast for the eyes.
A place for everything and everything in it's place. Open shelves provide needed storage and easy access to their everyday items. And that farmhouse sink is wonderful! I also love the rug for an additional pop of color.
The office is so cozy with the navy blue walls. The basket and rug give a nice texture to the space. And another gallery wall gives the room a cohesive look with the rest of the house.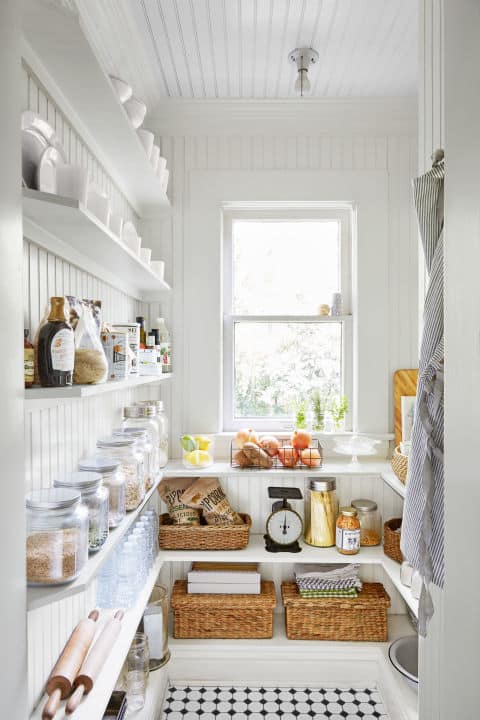 A fabulous pantry is carved out of a little niche, providing lots of storage for food items. The shelves are just deep enough to hold the jars and other items without taking up any additional space. So efficient!
The charming front porch offers another living space with the settee, plates on the wall, rug, and dresser. I'd love to sit out here and enjoy my morning coffee, wouldn't you?
So what do you think? Could you live in this cozy cottage? I'm sure I could after some major purging. Maybe someday!
In case you missed it, be sure to tour last week's Sunday Open House here, and the previous week's home here. But only if you love beautifully decorated farmhouses.
And be sure to subscribe to updates below so you don't miss the upcoming tours!
Thanks so much for dropping by!
XOXOX,
Angie
Photos by Roger Davies
Home owned by Janet and Larry Korff
Original feature article found here.