Bullet Journaling 101 – Tips for Beginners
If you've been on Pinterest, Tumblr, or Instagram recently then I'm sure you've seen bullet journaling. It's the perfect mix of artsy and organized and is a very popular trend these days. Part planner, part sketchbook, it's a way of taking your calendar and to do list and making it reflect your personality. And here's the best part – there are no hard and fast rules. My oldest daughter has been bullet journaling for some time now and I asked her if I could show off her work and get some tips for us wanna bees. Fortunately she said yes and I'm sharing that with you today.


This post may contain affiliate links for your convenience. For full disclosure, go here.


The "bullet journal" is an official item, started a few years ago by an organization guru and found here. There is a bullet journal you can purchase if you want to be completely authentic. But you can also be creative and come up with your own system of journaling. That's what we'll talk about today.
For inspiration, here are a few of my daughter's "spreads".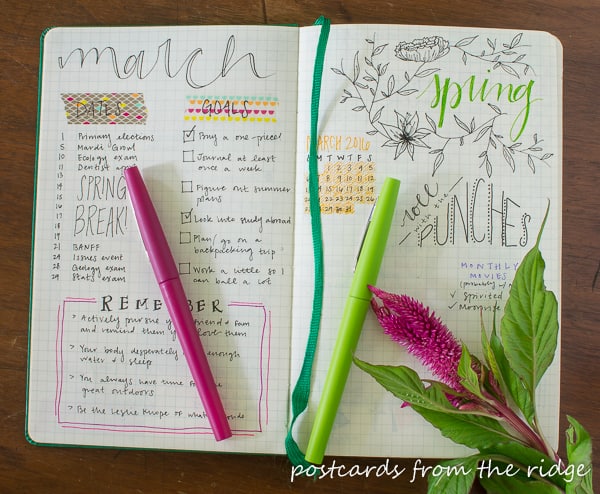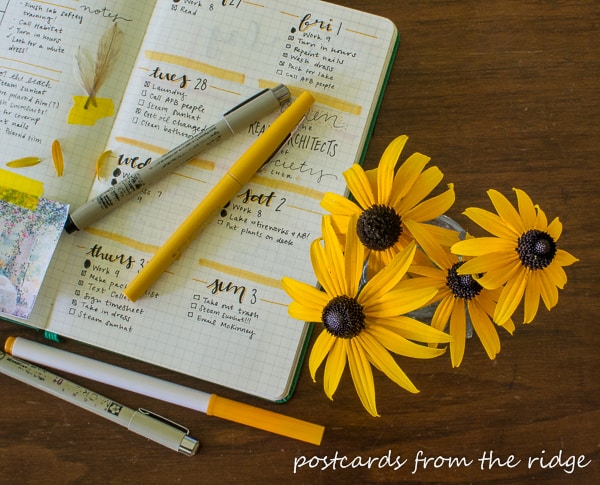 A work of art, isn't it. But I wondered if it's something that anyone can do, even us not-so-artistic people. I interviewed her to find out more about it all and how to get started. Here's what she had to say.
Brief introduction of yourself:
My name is Emily, I'm a junior in college studying Environmental Science, and I've been keeping a bullet journal for about 6 months now. My mom noticed that I was always carrying and doodling in a notebook, so she recently asked about it! I'm here today to answer some questions for her about bullet journaling in general as well as my experience with it.
How/why did you get started?
Earlier in the year, I had stumbled upon a bullet journal blog and found idea so interesting and fun. I started following multiple blogs that featured bullet journals, then finally started one of my own when I received a Moleskine notebook for Valentine's Day (my valentine was and still is a keeper). I spent a few hours setting it up and journaling has been a weekly habit since then.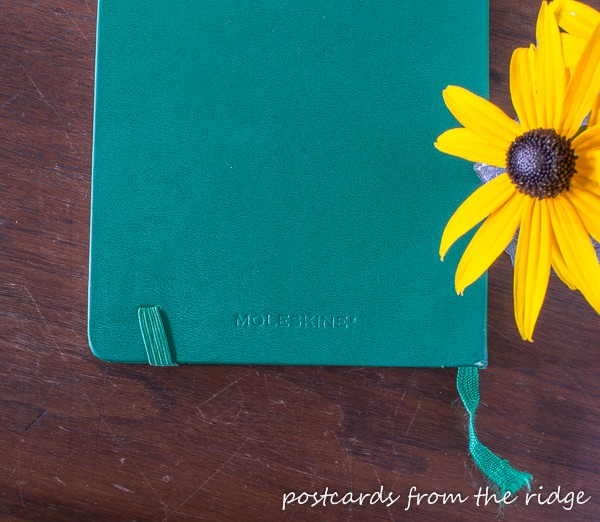 Although I still use a normal planner for more distant deadlines and events, I really like bullet journaling because it almost forces me to be artistic and creative on a regular basis. Since I'm a full-time student with little free time to just sit and paint or draw, my journal serves as a creative outlet that's a blank canvas every single week. In addition, I'm a lot less stressed when I'm organized, so I thought it wasn't a bad idea to have an additional planner.
How often do you journal?
At least once a week as well as at the beginning of each month. Every Sunday, I create my layout for the week ahead, and I do the same at the beginning of the month. Sometimes I'll make additional spreads during the week, such as packing lists, plant care guides, or goals for the semester. Once I make my layout for the week, I try to check my journal everyday to check off completed tasks or remind myself of meetings.
What do you enjoy most about it?
How much creative freedom I have! In the journal that I keep, each page is a blank slate. I can write, draw, and glue whatever I want onto it to match what mood I'm feeling. I see it as organization art, and a journal has less commitment than a canvas while being more significant than a piece of copy paper. Whenever I create a page that I really like and one of my friends compliments it, I feel very proud of my work and more confident in my abilities. It's very rewarding to make something efficient and beautiful out of a blank page.
Favorite tools/items for journaling?
Washi tape. I love washi tape. There are so many different styles out there that anyone can find a roll that suits their style! Just last week, I got some tape with little succulents on it, and another roll with our solar system. Tape is perfect for sticking in to-do lists and flower petals, or just jazzing up a little empty space on your page.
Another tool I love is markers. My favorite purchase in the past month was a 20 pack of Crayola markers, and I don't care how much that makes me sound like a kindergartner. Markers are secretly amazing for doing beautiful hand lettering, as well as add color and excitement to journals.
Any tips for someone who's just getting started?
Don't compare your journal to your inspiration. People who post pictures of beautiful journals have likely been practicing for a really long time and have a lot of supplies to customize their layouts. Just like with anything else, you will improve with practice. So keep journaling every week! You'll become more confident in your abilities and get so much closer to your journal goals. And if you really just don't like one of your pages, rip it out! There's absolutely no shame in starting over.
Also, do not feel like you have to buy all the expensive bullet journal tools. A lot of people who have beautiful journals have Moleskines, fancy pens, and nice art supplies. These are definitely nice to have, but not at all necessary! My first bullet journal supplies were a notebook I got for free, a cheap ballpoint pen, and a sticker sheet I was sent in the mail. Nonetheless, I still loved journaling, used my layout daily, and even got compliments on my work!
What would you do differently, if anything, if you were just starting one today?
When I first started, I would take over an hour to make my layout for the week because I wanted it to look perfect. And when it didn't, I would get upset and wonder why I wasn't as good as these other people. If I were just starting a journal today, I would use pictures of other people's journals as guidelines, not rules. Instead of spending 30 minutes trying to use the same handwriting as someone else, I would be more accepting of my abilities and skill level.
Thanks, Emily! Now I feel much better about getting started with mine. I hope it looks 1/10th as good as yours does. My favorite tip – don't compare yours to other's!
After I asked her these questions I started doing more research and wanted to share what I found. If you're just getting started like I am, here are some great ideas:
I think I need to do some practicing. How about you? For now, I'm going to use my old-fashioned paper planner and incorporate the bullet lists and add some drawings and maybe some stickers. I want to have it figured out by the beginning of the year and start fresh with a new journal. Stay tuned for my progress!
Tools for getting started with bullet journaling:
Are you a journaler or hoping to get started? I'd love to hear your experience with it. Leave a comment below and let me know your thoughts!
Thanks so much for dropping by!
XOXOX,
Angie