Blue Hydrangeas and White Ironstone for Summer
It's no secret that I have a soft spot for pretty flowers, especially when I'm able to clip them from our own yard. Do I love gardening? Not really. It gets very hot and humid here in Tennessee during the summer months and I try to avoid activities that make me sweat profusely.
So pulling weeds and coddling plants is definitely not my thing. But I do love pretty flowers, especially hydrangeas and peonies, which we are fortunate to have both in our yard. 
It's also pretty well known that I love old dishes and bottles and, well, lots and lots of other things. I'm a collector of many vintage items. A curator, if you will. You might think of another word if you were to drop by my house unexpectedly and view my stash.
They have a show about it on television that starts with "h" and ends with "oarders". It's frightening, and my house isn't anywhere near that level. But I do love my collections and change them out several times per year.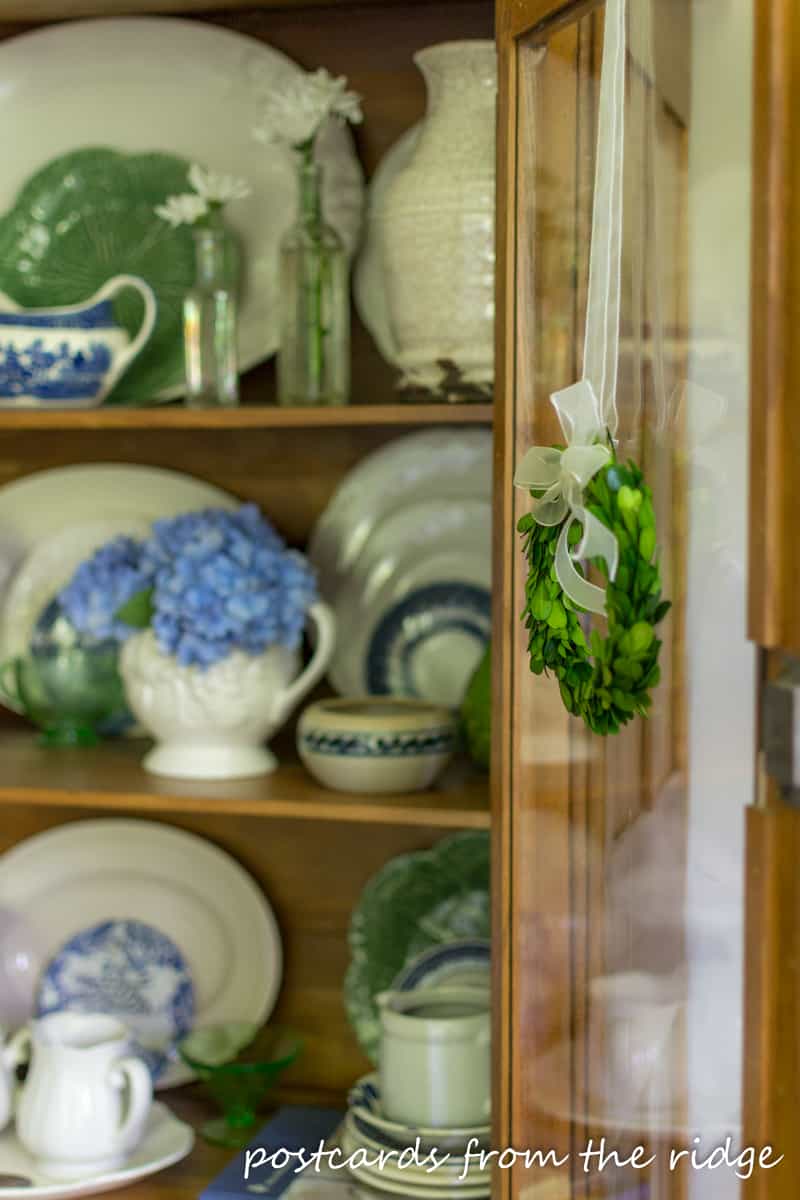 Over the past weekend I finally changed out our antique oak hutch in the breakfast room. It still had the pink accents that I added back in the spring. They looked so pretty, but it was time for a change. Go here to see the spring edition of the hutch.
I've really developed a love for blues and greens lately and wanted to add those colors to the hutch. So I rounded up some blue and green dishes and other items and went to work.
I found the little blue and white pottery bowl at an estate sale a few weeks ago for around $1. It was part of a stack of vintage items that I got for $25, so it was a steal. Don't you love it when that happens?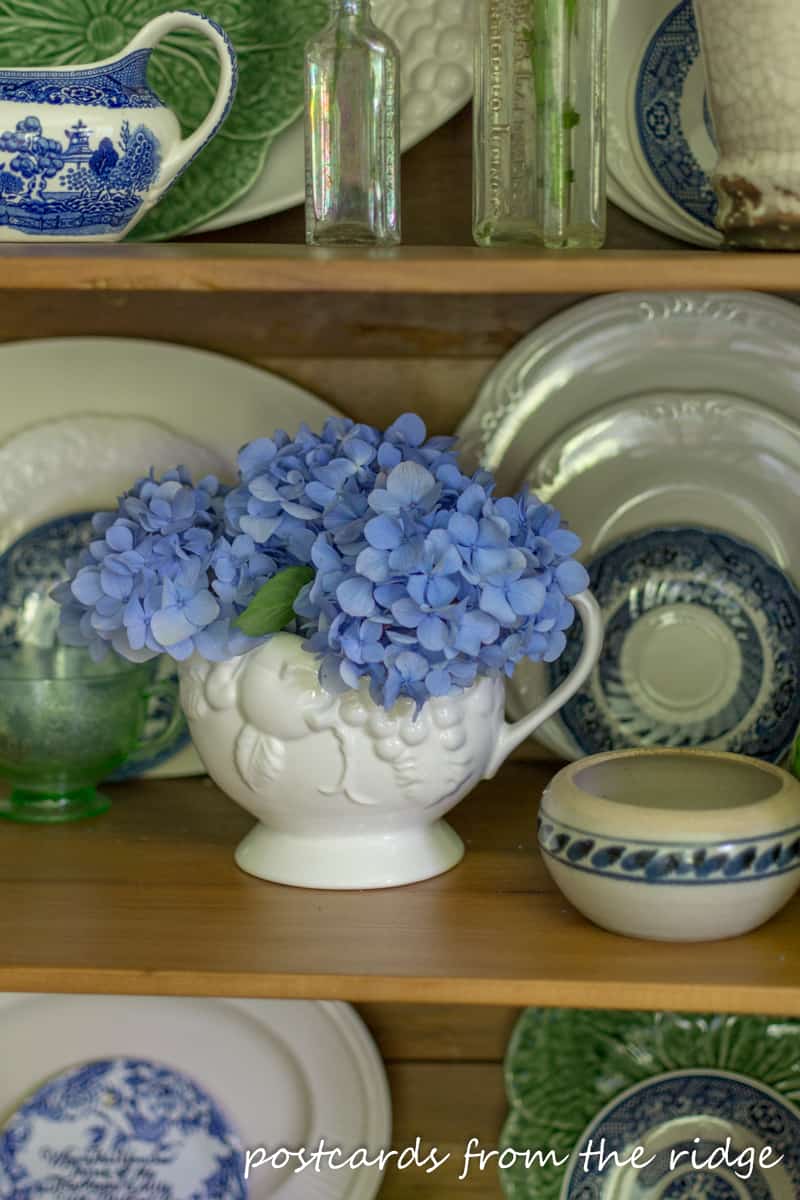 I thought our hydrangeas were dried up already, but was thrilled when I stepped out into the back yard and they still looked beautiful. So of course I clipped a few blossoms to add to the hutch.
There's not enough height inside the hutch for a vase, so I clipped the stems down to about 3″ and placed them in a white gravy boat.
Back story: The gravy boat was a gift from my husband's late aunt years ago. She gave it to us with a matching large platter after we hosted Thanksgiving at our house many years ago, not long after we were married. We didn't have several things that would have made hosting much easier, including a platter, a carving knife, and who knows what else. But it was a nice day despite our lack of adequate hosting pieces.
*If you're interested in hearing more about the stories behind my collection, let me know and I'll add more "back stories" in the future.*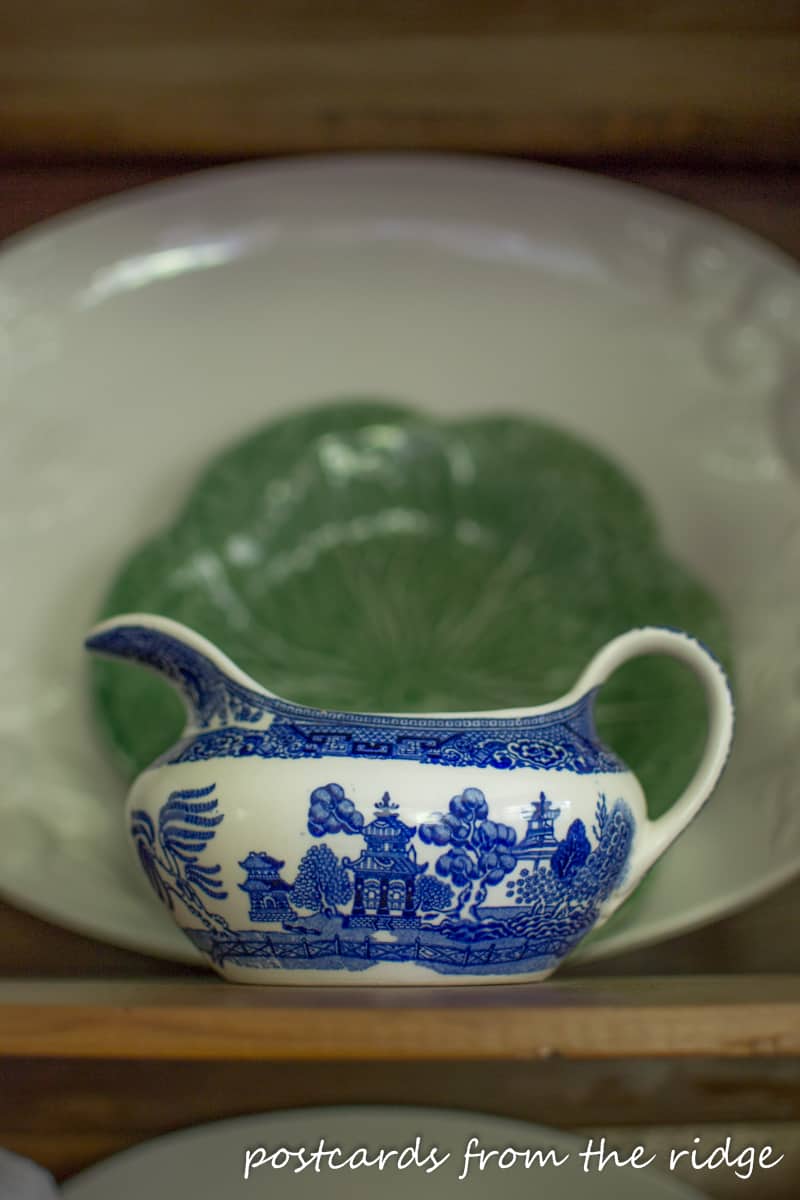 The Blue Willow gravy boat came from the same estate sale as the pottery bowl shown a couple of photos back. It was dirty but cleaned up nicely, don't you think? I love the cobalt blue.
My stash/hoard/collection of blue and green items. Most of them are vintage but there are few new pieces in here. I could tell you the story behind each one, but I sincerely doubt you really want to hear them all so I'll spare you the details.
Let's just say they've been accumulated over the past 25 years from estate sales, flea markets, yard sales, thrift shops, and discount stores.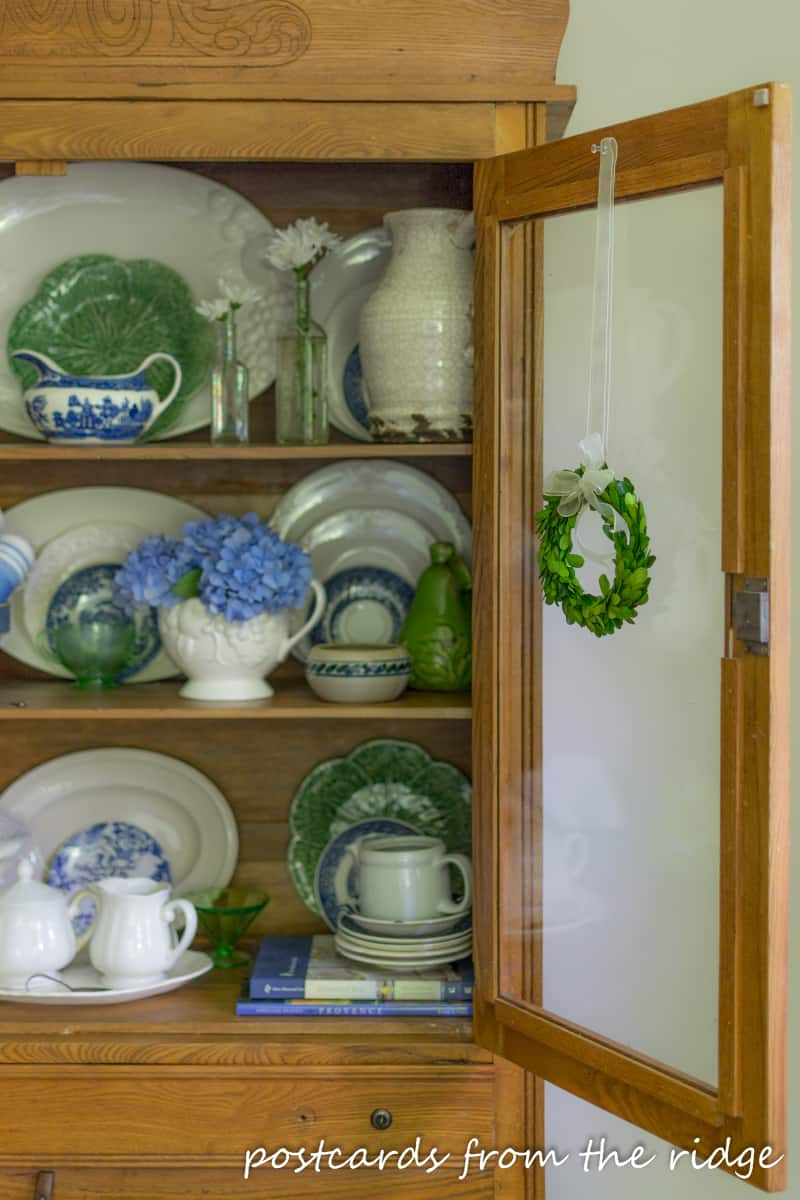 And I wouldn't trade any of them.
P.S. Please disregard the broken pull on the hutch drawer. It broke a couple of weeks ago and I haven't taken the time to repair it yet. Thanks. 🙂
What about you? Do you have lots of items that you've accumulated over the years? Do you also love blue and green? Leave a comment and let me know what you think!
Sources:
If you like this look, you might also like these posts: