I'm dreaming of a new or (at least updated) kitchen island and have been searching pinterest and the web for ideas. There are so many possibilities! The one above is sooo dreamy. The patina, the marble top, those chunky curvy legs…wouldn't it be a conversation piece? But alas, it has no storage. I've found lots of other inspiring islands on my search and I'm sharing them with you today.
This post contains affiliate links for your convenience. If a purchase is made after clicking one of the links I might make a small commission. Your price does not change. For full disclosure, go here.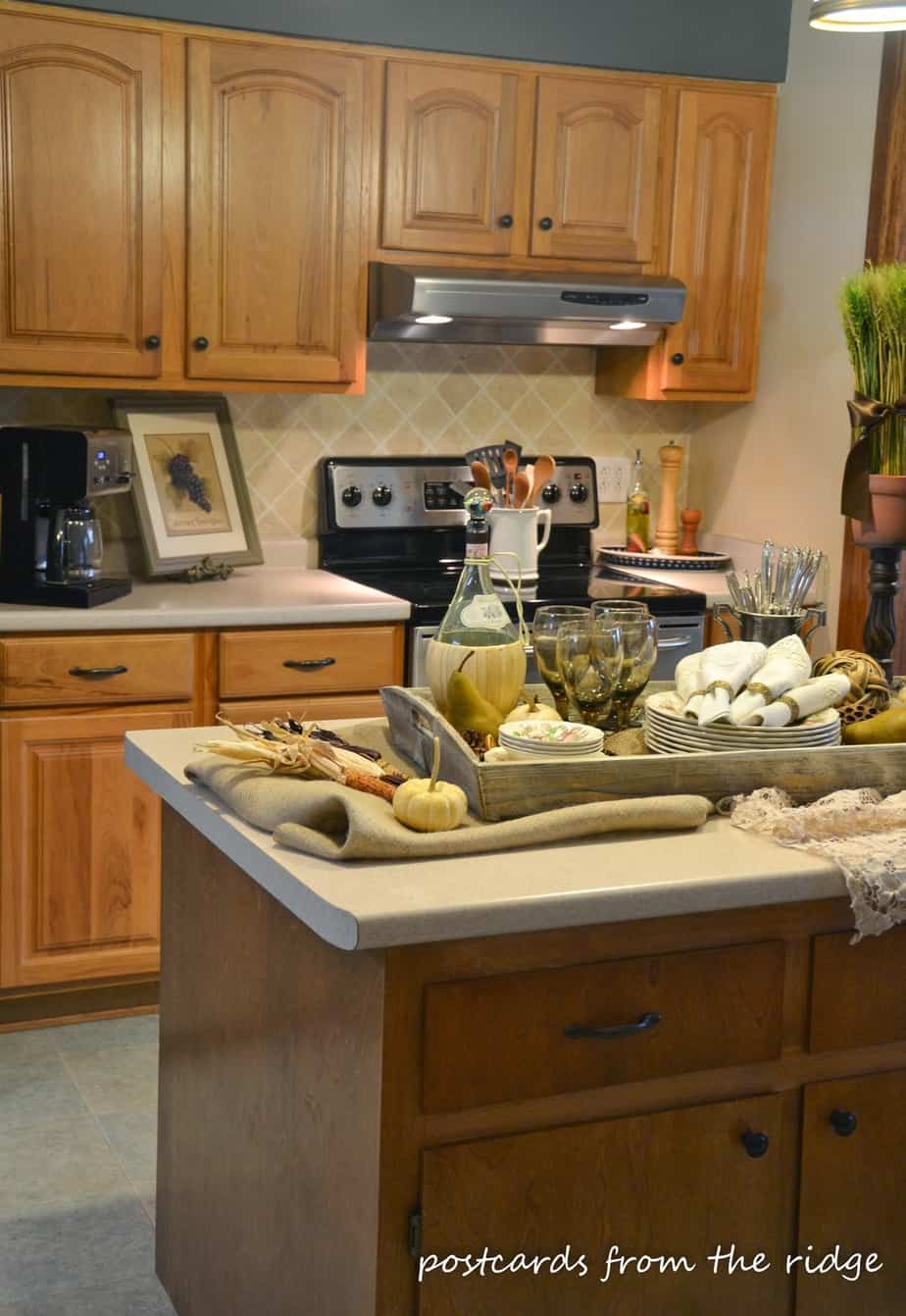 One of the reasons we loved our current house is because it had a good sized kitchen with an island. You can see a glimpse of it in these photos from 3 years ago. The island pretty generic, but is wonderful as a serving area and prep area. I'd love to replace it or give it a facelift. Here are some that inspire me.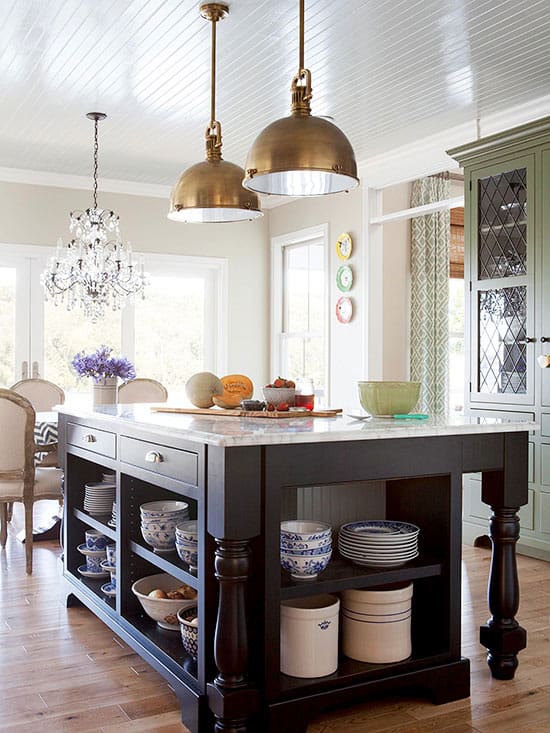 From BHG, this one has tons of storage and is huge. The black would be a little dark in our house and would show every speck of dust. We have dust bunnies in our home sometimes and they would definitely find their way onto those shelves.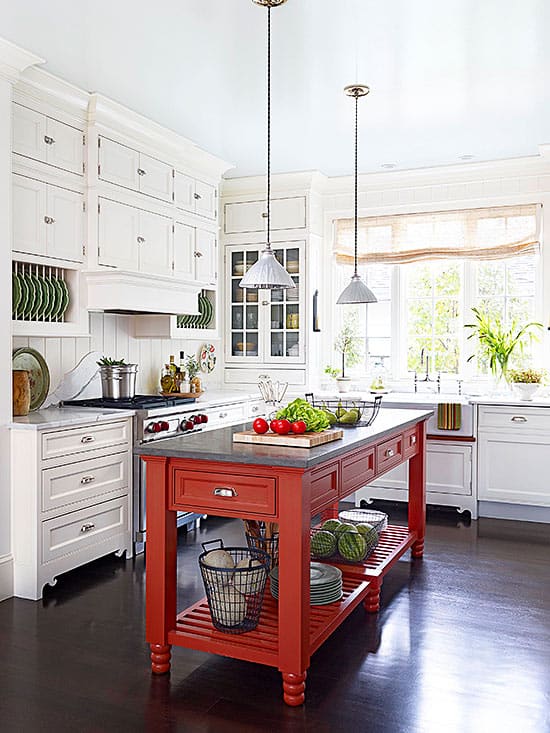 The red really pops on this one. I love the bottom shelf for storage and the fact that it has drawers. This would be perfect for a galley or shotgun kitchen. From BHG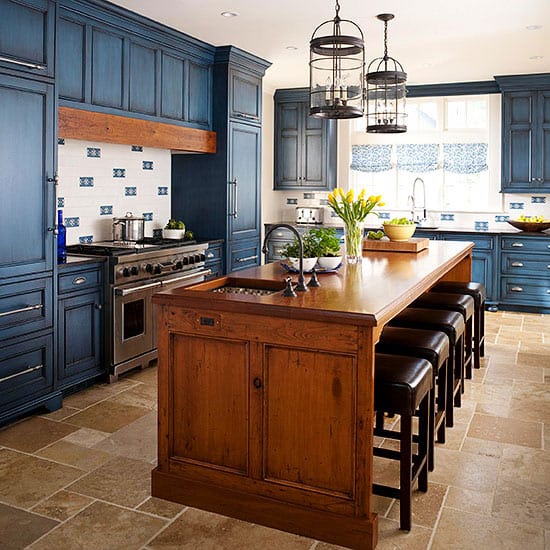 I love this wood island, and check out those fabulous cabinets! Would you have blue cabinets in your kitchen? From BHG
The color on this one is great, and I love those stools too. I think this particular style would be a little too formal for our kitchen, but it is gorgeous! From BHG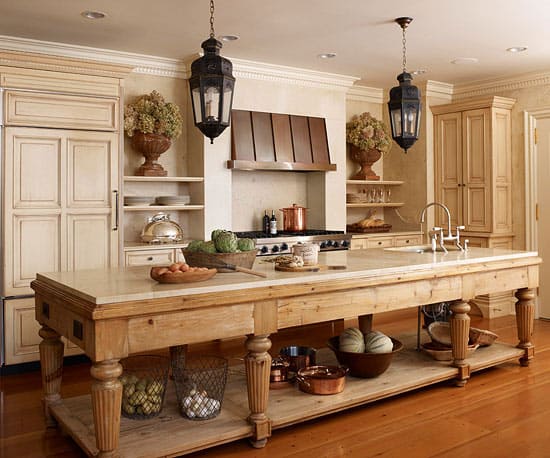 Wow! I wish our kitchen could accommodate one like this! We could use about 1/2 of this one. I love the rustic wood and chunky legs. And it looks like it has outlets on the end. That would be great. From BHG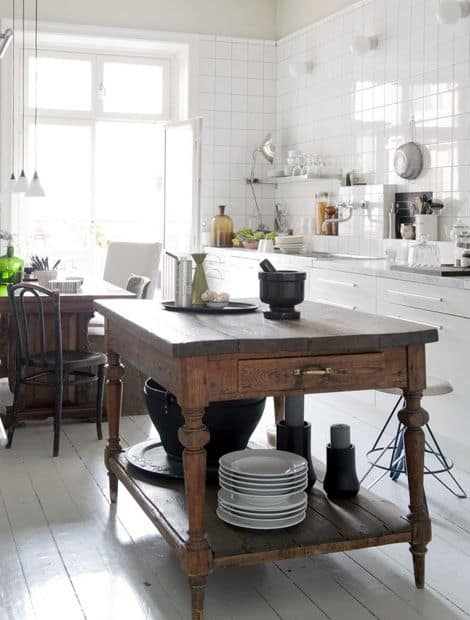 The time worn patina on this one is so dreamy. It would be a great size for small or medium kitchens. And would look perfect in my house. From Apartment Therapy
This rolling kitchen island is so versatile. It would be perfect for a small kitchen or even an outdoor kitchen. I love the fact that is has wheels so you could move it out of the way when you're not using it. My mom has something similar to this in her galley kitchen.
Do you have a kitchen island? Is yours open? What do you love or not like about it? I'd love to hear your suggestions.
P.S. I'm making a few tweaks to the blog so if something doesn't look right let me know. I've also switched our email delivery service to make it easier to read. You can sign up for that here.
Thanks for dropping by.
XOXOX,
Angie
If you're new here, sign up for email here or follow along here so you don't miss a thing:
Email * Facebook * Hometalk * Pinterest * Twitter * Instagram

For handy tips and tutorials, go here.


To see my painted projects, go here.

For tasty recipes from my kitchen, go HERE.
For some simple tips for capturing a great photo, go HERE.
Go here to learn about having an online design or color consultation.
And go here for dozens of photos, ideas and favorite paint colors.