His and Hers Favorite Things for Thanksgiving
Raindrops on roses and whiskers on kittens. Yes, these are a few of my favorite things, as well as crisp apple strudel! And today I'm sharing some favorite things for our Thanksgiving holiday. Some of these we already have and can highly recommend, others are on a wish list. (Are you listening, Santa?)
This post contains affiliate links for your convenience. If a purchase is made after clicking one of the links I might make a small commission. Your price does not change. For full disclosure, go here.
My blog adviser, aka my husband, wanted me to add his favorite items to the list so I of course agreed. He's in charge of the turkey for Thanksgiving day and will be smoking a turkey breast. If you've never had it prepared this way, you have to try it. The flavor is incredible and it stays moist and juicy. Plus it keeps the oven free for other dishes. His smoker of choice is this electric digital smoker and he loves it because he can "set it and forget it" (his words exactly).
One of the main reasons he can set it and forget it is because of this handy gadget, a wireless meat thermometer set. The thermometer probe is placed inside the meat while it's cooking and the wireless alarm beeps when it reaches the recommended temperature. No need to stand watch over it! (He can be setting the table for me instead, lol.)
Since we're talking gadgets that make life easier, this electric knife is a lifesaver. It makes carving the turkey or ham a breeze. We got one for a Christmas present a few years ago and will never go back to a regular knife!
And now I'm sharing some pretty items that are on my wish list for next year plus some that I already have.
These dishes from Williams Sonoma have me swooning. The colors are designs are so pretty. I never thought I would want turkey dishes, but what can I say? These are gorgeous!
I just purchased these linen napkins from World Market and already love them. They're a little less green than they look in this photo. They're soft and have a nice classic look. I also got some of the linen color that can be used with most any of our dishes.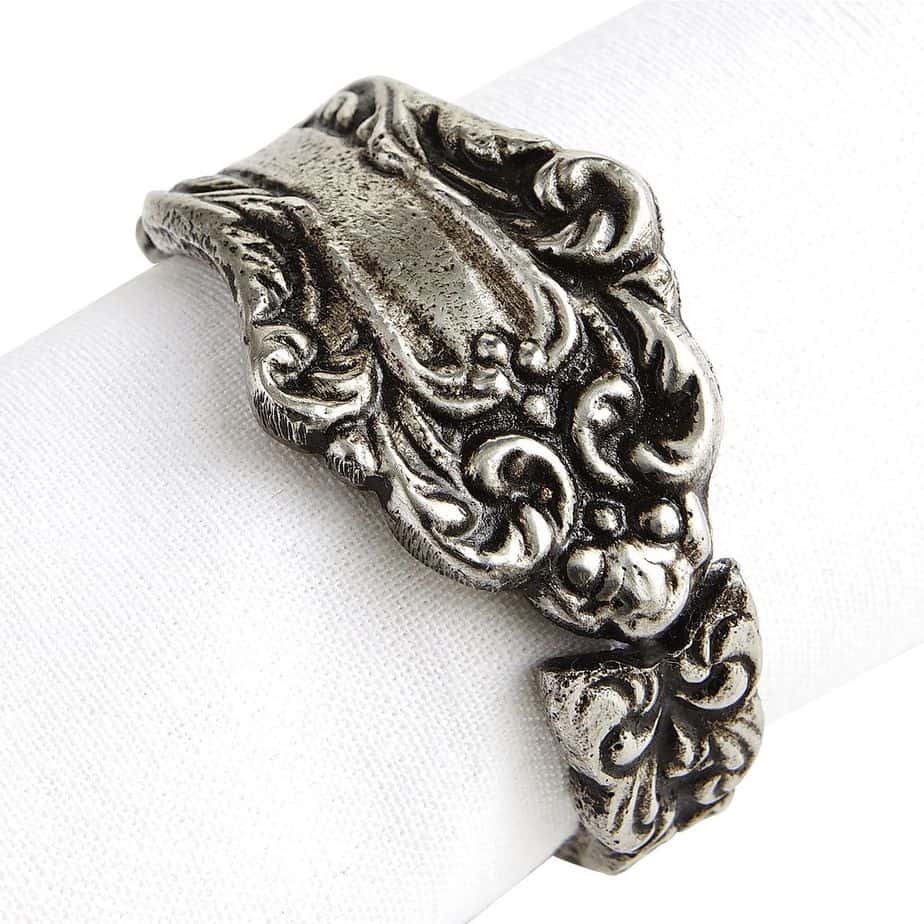 These napkins rings from Pier 1 are on my wish list. They would mix in wonderfully with our vintage dishes and linens, don't you think?
We've needed new silverware for a while now and I love this mismatched set from Mikasa. I could mix our old pieces in with these and nobody would ever know the difference!
We've had our crystal since we were married almost 25 years ago and I'd love to get some new pieces like these from Mikasa. The smokey gray is more current than our gold rimmed pieces and I love the shape of these. Maybe an anniversary present….
This dried wreath from West Elm could be used year after year. I love the colors and textures. And with the cinnamon sticks I'm sure it smells divine! This is on my wish list!
I currently have some pretty white charger plates from Pier 1, but these bronze charger plates are stunning. They would be perfect underneath Thanksgiving dishes.
That pretty much wraps up our recommendations and wish list. What's on your entertaining and cooking wish list?
Sources (affiliate links):
Coming up next –
How to make your overnight guests feel welcome.
Holiday house tours.
A countdown to Christmas
Dozens of ideas for mantels, tablescapes, wreaths, and crafts for the holidays.
And more! Whew, I'm tired just thinking about all of it!
Thanks so much for dropping by my little space on the world wide web!
XOXOX,
Angie
If you're new here, sign up for email here or follow along here so you don't miss a thing:
Email * Facebook * Hometalk * Pinterest * Twitter * Instagram

For handy tips and tutorials, go here.

To see my painted projects, go here.

For tasty recipes from my kitchen, go HERE.
For some simple tips for capturing a great photo, go HERE.
Go here to learn about having an online design or color consultation.
And go here for dozens of photos, ideas and favorite paint colors.