Two Ingredient Game Day Cupcakes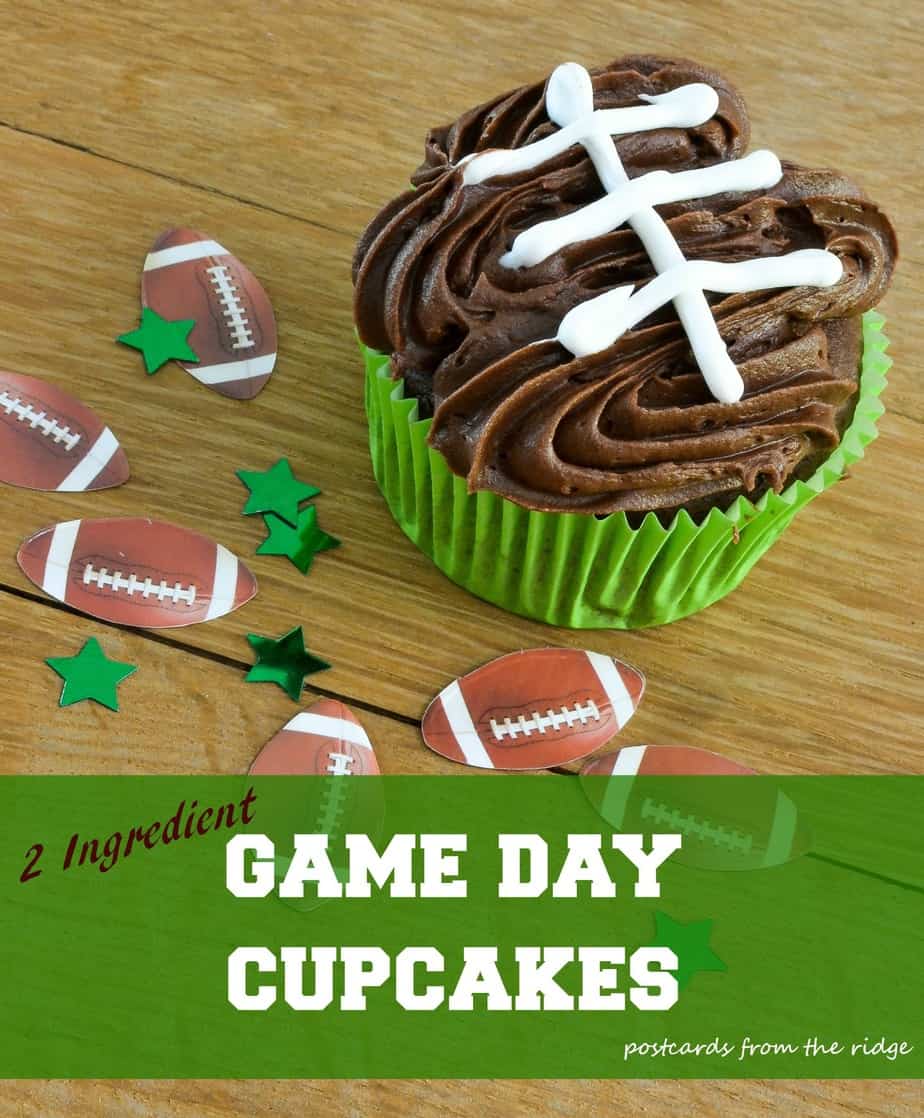 What is it about watching college football that makes it so thrilling?
Is it the contagious excitement of the student section cheering on the team?
That old familiar fight song that's played every time they score? Or maybe
it's the camaraderie and great food that's enjoyed before and during the game.
Whatever the reason, we love, love, love college football at our
house.
I must admit, as much as I enjoy the fight songs and the excitement of the
whole day, the food is always a favorite for me.
Game day food is special. And though many people get downright competitive with their game day
food, we like to keep it simple but tasty here.
Our best and most memorable game days involve stocking up on our favorite game
day drinks and food from Kroger. They have everything we need to feed a
fanatic group of football fans.
A few salty snacks, a few sweet ones, some great drinks like Dr Pepper® and we're set to watch and enjoy the game.
One of my new favorite game day treats is my 2 ingredient Dr Pepper® cupcakes. Sound too good to be true? Nope, it's true. And if you're wondering how good they are, my 15-year-old daughter said they're the best cupcakes she's ever eaten. And she's the picky child!
Adding the white frosting took several tries to get it right. Unfortunately
we had to eat the ones that looked really bad so you don't get to see
those. I recommend practicing on something rather than a cupcake if you
don't want to have any bad looking ones. They still taste good regardless of
how nice the laces look, though.
These Dr Pepper® cupcakes are the perfect sweet addition to your game day
treats. Rich, chocolatey, and just a hint of delightful Dr Pepper®. They're
almost as good as the drink itself!
Are you ready to cheer on your team now? What's your favorite game
day tradition? Please share in the comment box.
Thanks for dropping by our homegating party. GO TEAM!!
This is a sponsored conversation written by me on behalf of Dr Pepper®.
Here's the simple recipe:
Two Ingredient Game Day Cupcakes
Yield: 18 cupcakes
prep time: 5 Mcook time: 15 Mtotal time: 20 M
You'll love these yummy and simple to make cupcakes. They're perfect for
game day or any day.
ingredients:
For the Cupcakes
1 Box Devil's Food Cake Mix
1 12 oz can of Dr. Pepper
For the Frosting
1 can of Chocolate Frosting
1 can of Vanilla Frosting
instructions:
How to cook Two Ingredient Game Day Cupcakes

For the Cupcakes
Preheat oven to 350.
Line muffin pan with cupcake liners.
In a medium sized bowl, add the cake mix and Dr Pepper®. Mix on
low speed for 1 minute and medium speed for 2 minutes.
Fill cupcake liners 2/3 full. Bake for 15 – 18 minutes.
Let cool completely.
For the Frosting and Football Laces
Frost with the chocolate frosting.
Add laces with a small frosting tip.
I used a
cake decorating toolto frost my cupcakes.
Created using
The Recipes Generator
XOXOX,
Angie
If you're new here, sign up for email here or follow along here so you don't miss a thing:
Email * Facebook * Pinterest * Twitter * Instagram