A Few of My Favorite Things ~ Milk Glass, Ironstone, Alabaster, and Mercury Glass
What are a few of your favorite things? I didn't realize how strongly I felt about certain collections until I took a good look around the house. After taking a quick inventory, I can tell you that some of the things I'm most attracted to are milk glass, ironstone, and alabaster lamps. There are also lots of other vintage items including mercury glass Christmas ornaments and anything with hints of turquoise. So if it's old, white, turquoise, or a shiny holiday object, there's a good chance I have some of it in our home.
This post contains affiliate links for your convenience. If a purchase is made after clicking one of the links I might make a small commission. Your price does not change. For full disclosure, go here.
Today I'm teaming up with a few of my favorite blogging friends and we're sharing a few of our favorite things. After you're finished here, click on the photos at the bottom of the page to see my friends' wonderful collections. And we invite you to join in the fun and share your favorite collections on instagram using the hashtag #whaticollect. We want to see your collections!!
Here are some of my favorite things.
Milk Glass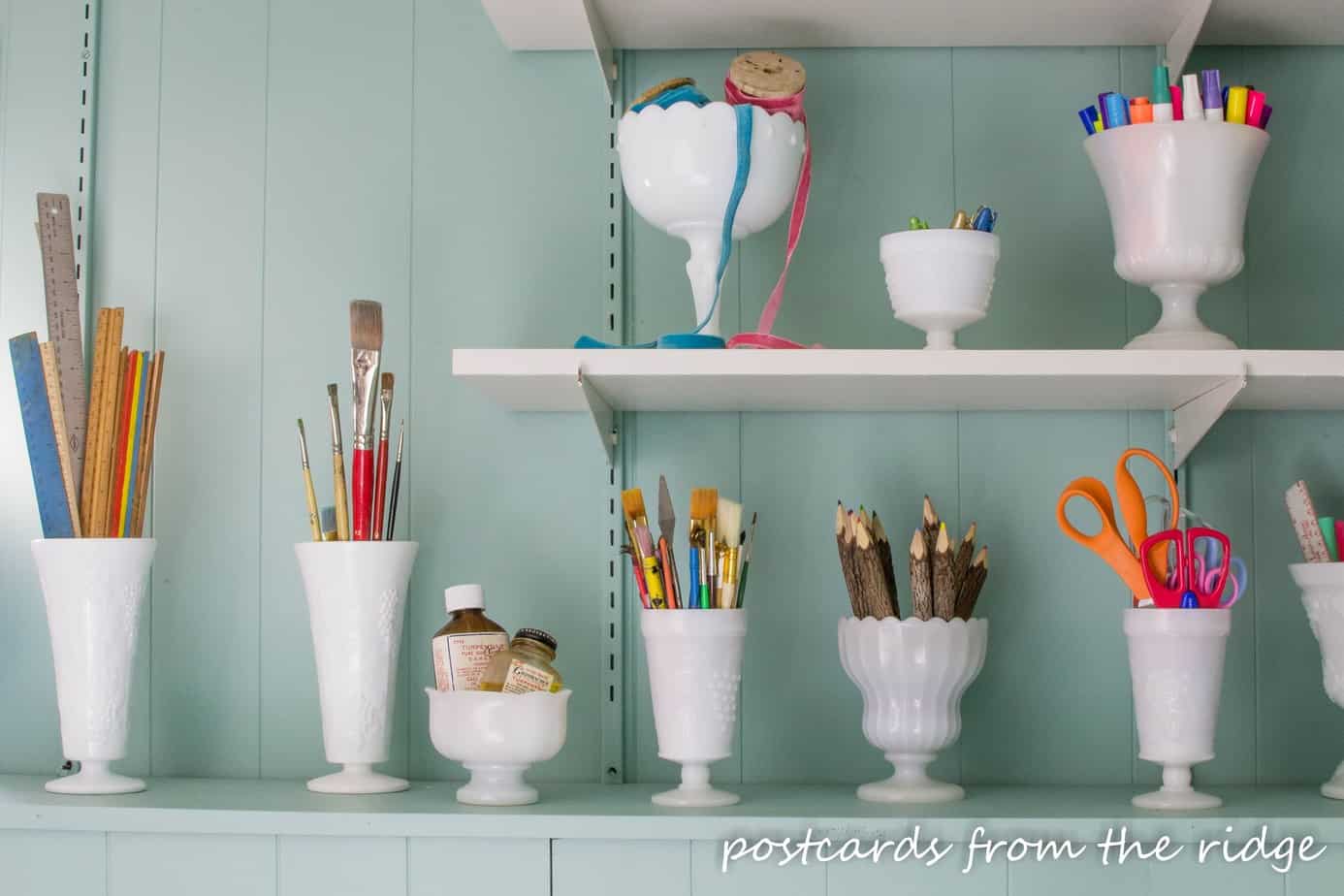 In my studio/craft room I used a lot of my milk glass collection to hold supplies. Most of these were found at yard sales and thrift shops. They're very inexpensive and come in lots of different designs and shapes.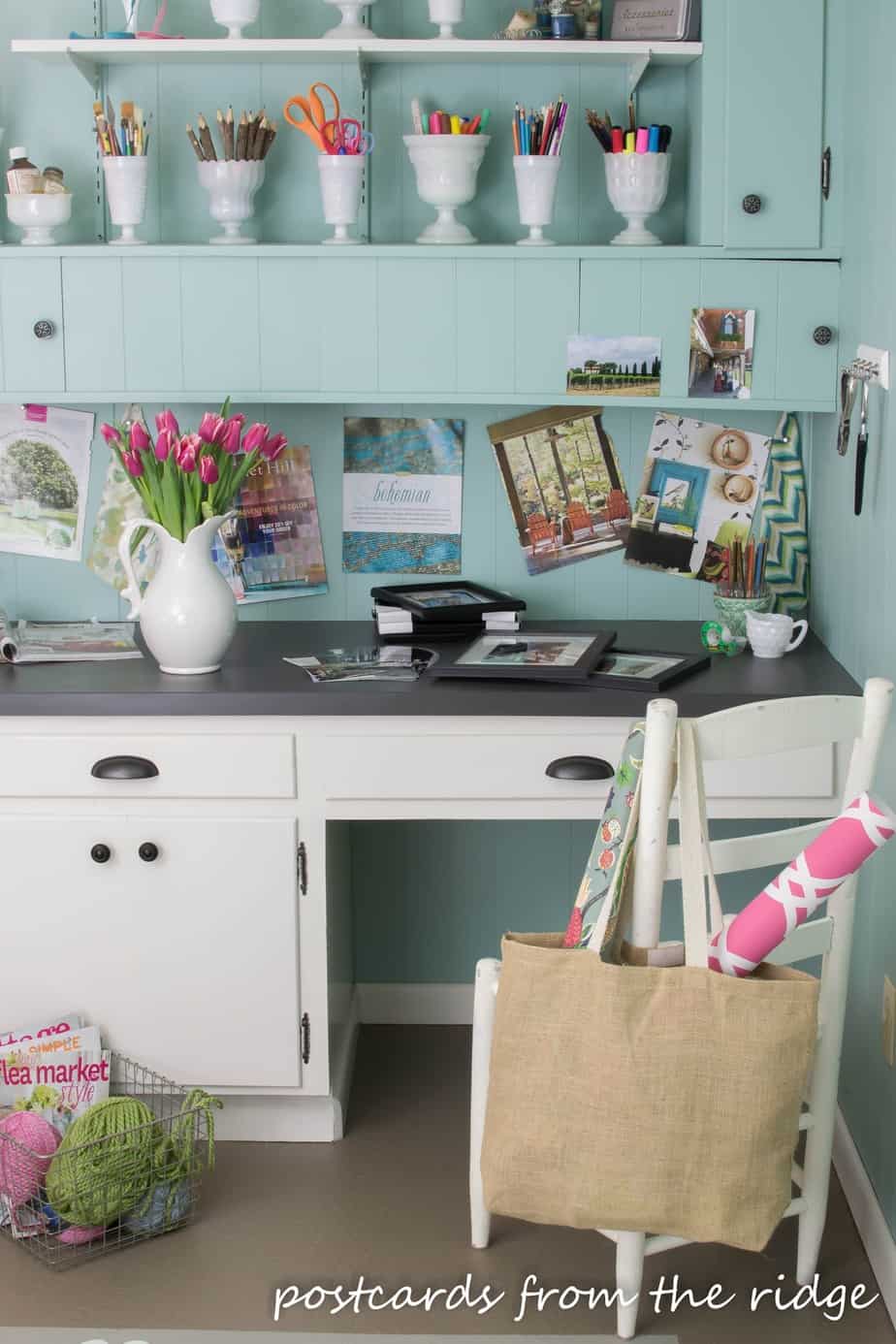 This is one of my favorite rooms in the house. Go here to see more of this space.
Our breakfast room window was decorated with two of my favorite collections…milk glass and vintage mercury glass ornaments. To see more of our decor from 2014 Christmas go here.
Cake, anyone? This plate is one of my favorite pieces of milk glass, found at a yard sale. For a great recipe for hummingbird cake, go here.
To learn more about collecting milk glass, go here.
Ironstone and Alabaster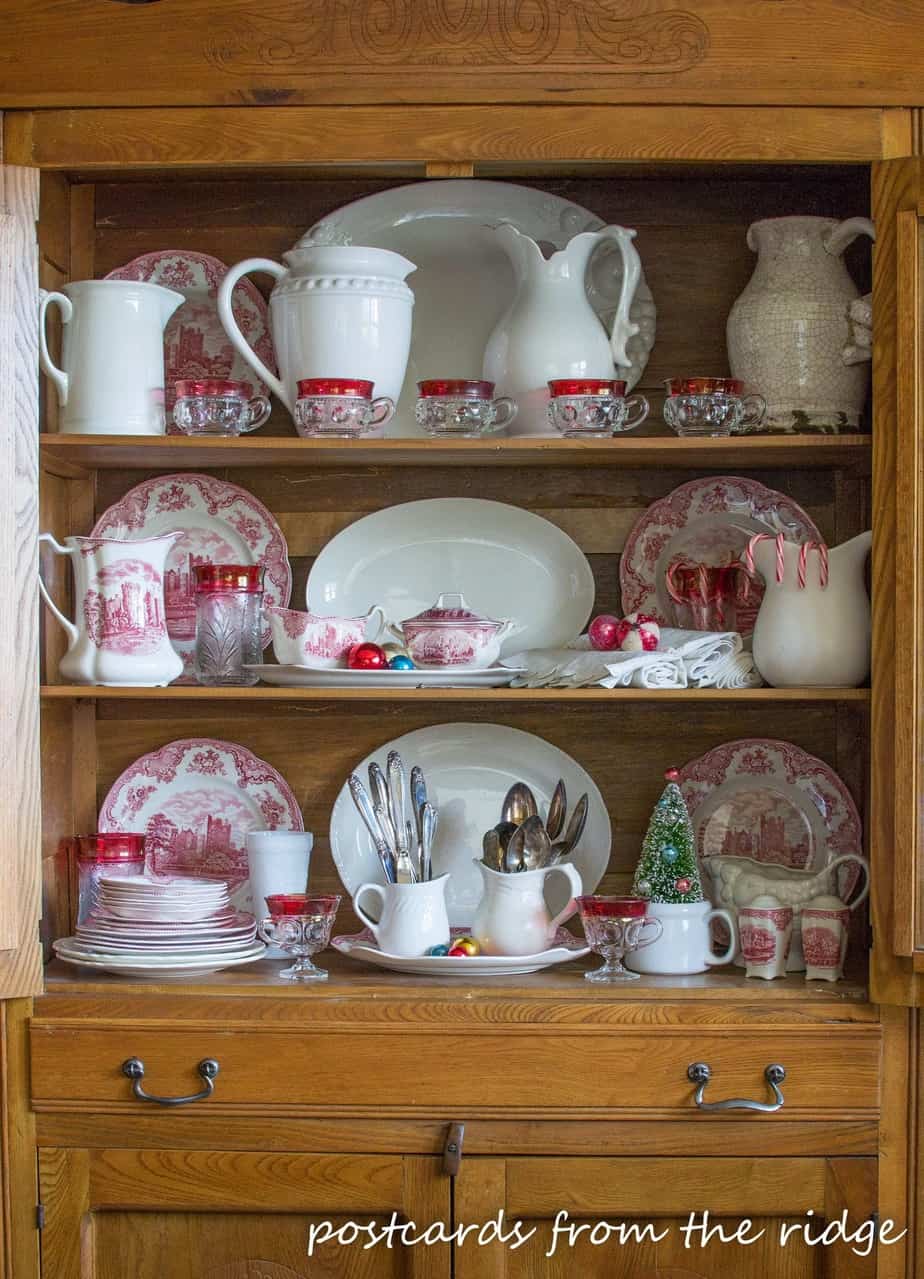 I've been collecting pitchers and platters over the past 20 years or so. Most came from thrift shops and yard sales. Oh, and I also have several collections of dishes that I change out each season. I'm NOT a hoarder though. Collector is a much nicer term. To see how we decorated our home for Christmas go here.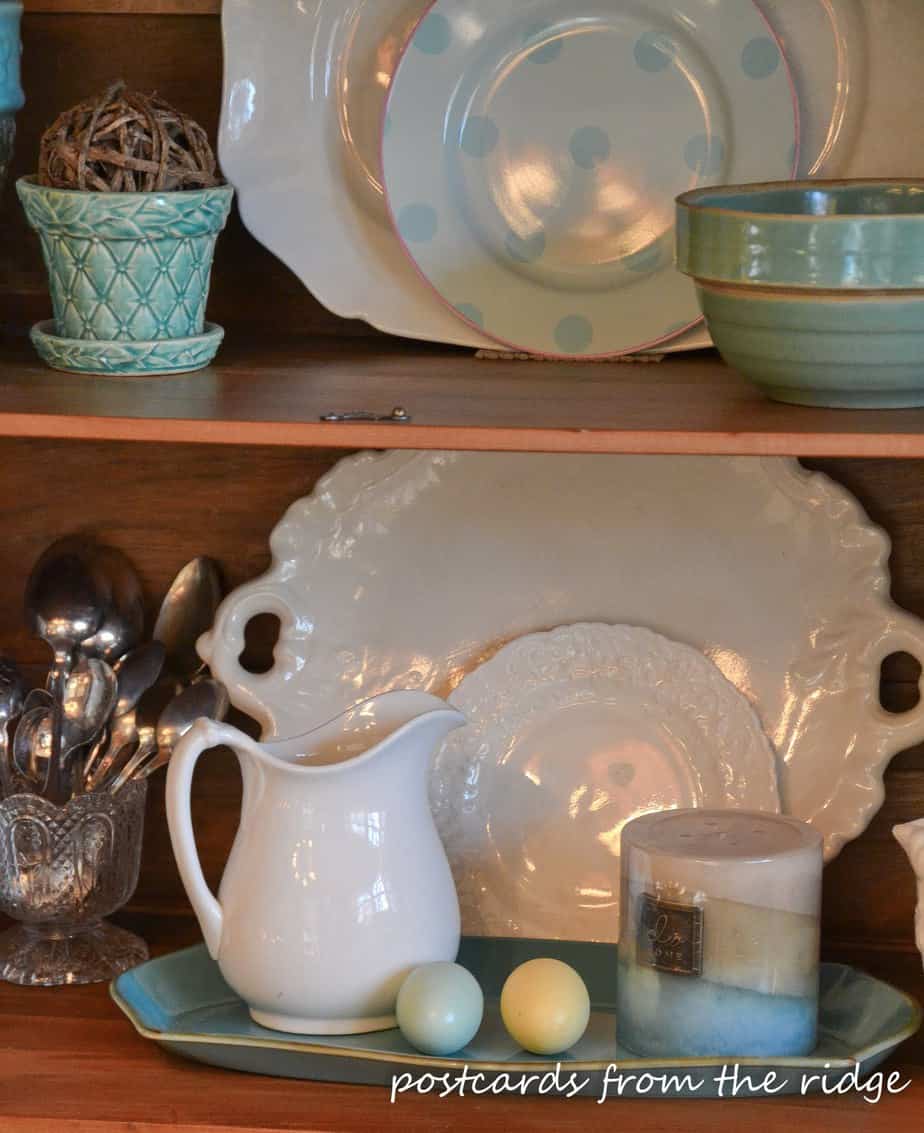 My favorite colors here with the turqouise and white. And peeking out from the back are a few spoons from my vintage silver collection. But I wasn't born with one in my mouth, for sure.
There's not any ironstone in this shot of the living room, but the alabaster lamp is one of several that I've collected over the years, mostly from estate sales. This room recently got a little spring makeover and the pieces behind the sofa were added for some turquoise color. To see more of this space, go here.
Interested in starting a collection of turquoise bottles? Go here to find some very affordable ones.
Our nightstands have alabaster lamps that I bought from a former neighbor. And of course, a touch of turquiose in here too. To learn the story behind our night stands, read this.
Surprise!!! More ironstone and alabaster! This time they're sitting on top of one of my favorite painted pieces. To see how I painted this piece, go here. It was very simple to do.
In our new powder bath I added an old white mirror and used a couple of old ironstone dishes for soaps. The little bowl is the perfect size for a bar of soap and the small platter is a great catchall. To see more of this room, go here.
To find out more about collecting ironstone, go here.
Vintage mercury glass ornaments
Since Christmas is many months away I won't bore you with more photos of my beloved ornament collection. But if you do want to see more, you can go here. I might actually be a hoarder of these. 🙂
To start your own collection of mercury glass ornaments, go here.
Thanks for dropping by.
Don't forget to visit my blog friends and share your favorite collections in instagram using #whaticollect.
XOXOX,
Angie
If you're new here, sign up for email here or follow along here so you don't miss a thing:
Email * Facebook * Hometalk * Pinterest * Twitter * Instagram

For handy tips and tutorials, go here.


To see my painted projects, go here.

For tasty recipes from my kitchen, go HERE.
For some simple tips for capturing a great photo, go HERE.
Go here to learn about having an online design or color consultation.
And go here for dozens of photos, ideas and favorite paint colors.
Thanks so much for dropping by my little space on the world wide web!