Sneak Peek of Our Powder Room Remodel
***Product was provided for this post by Moen. However, all opinions and words are strictly mine and I only work with and recommend products from companies that are reputable and that I think would be of interest yo you, my readers. This post contains affiliate links. ***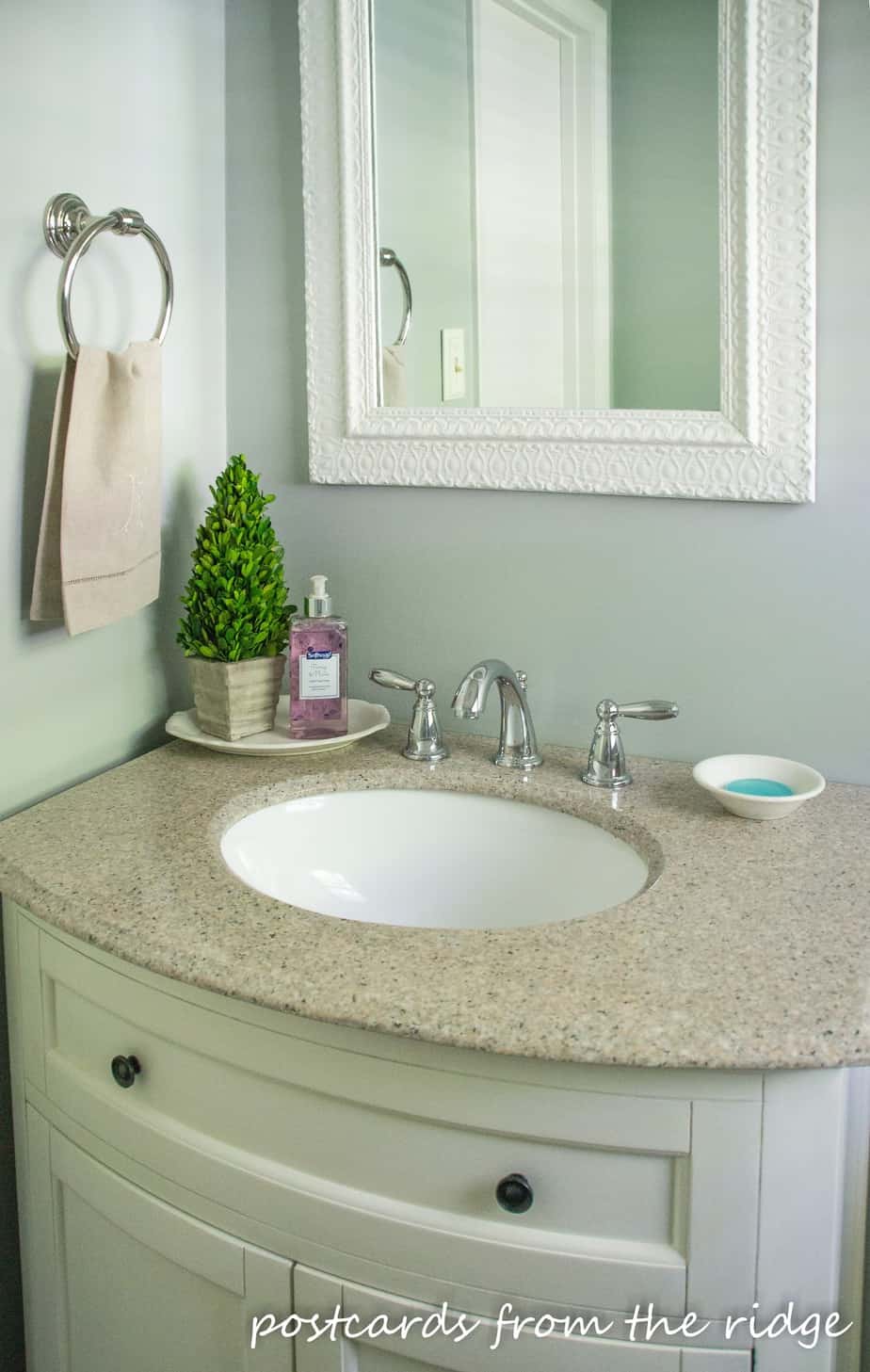 There have been lots of things going on at our house recently, inside and out, and one of the best things is our powder bath remodel. This room had a 1960's green sink and toilet, carpet (yuk), and a partial wall of paneling that didn't make much sense to us. We hired the same contractor that we used for our master bath and guest bath remodels and he and his crew finished it last week.
This post contains affiliate links for your convenience. If a purchase is made after clicking one of the links I might make a small commission. Your price does not change. For full disclosure, go here.
The sink and vanity are the prettiest things in here. I had a really hard time settling on one but am very happy with the one I finally decided to order. We're so thankful for Moen who provided the gorgeous faucet for this project. (To find out more info on our faucet go here.) They were kind enough to partner with us again on this project, in addition to partnering with us on our kitchen faucet upgrade last spring. This is the 3rd time we've used Moen products and couldn't be more pleased with the quality and the looks. There's a good reason why they're the #1 faucet brand in North America.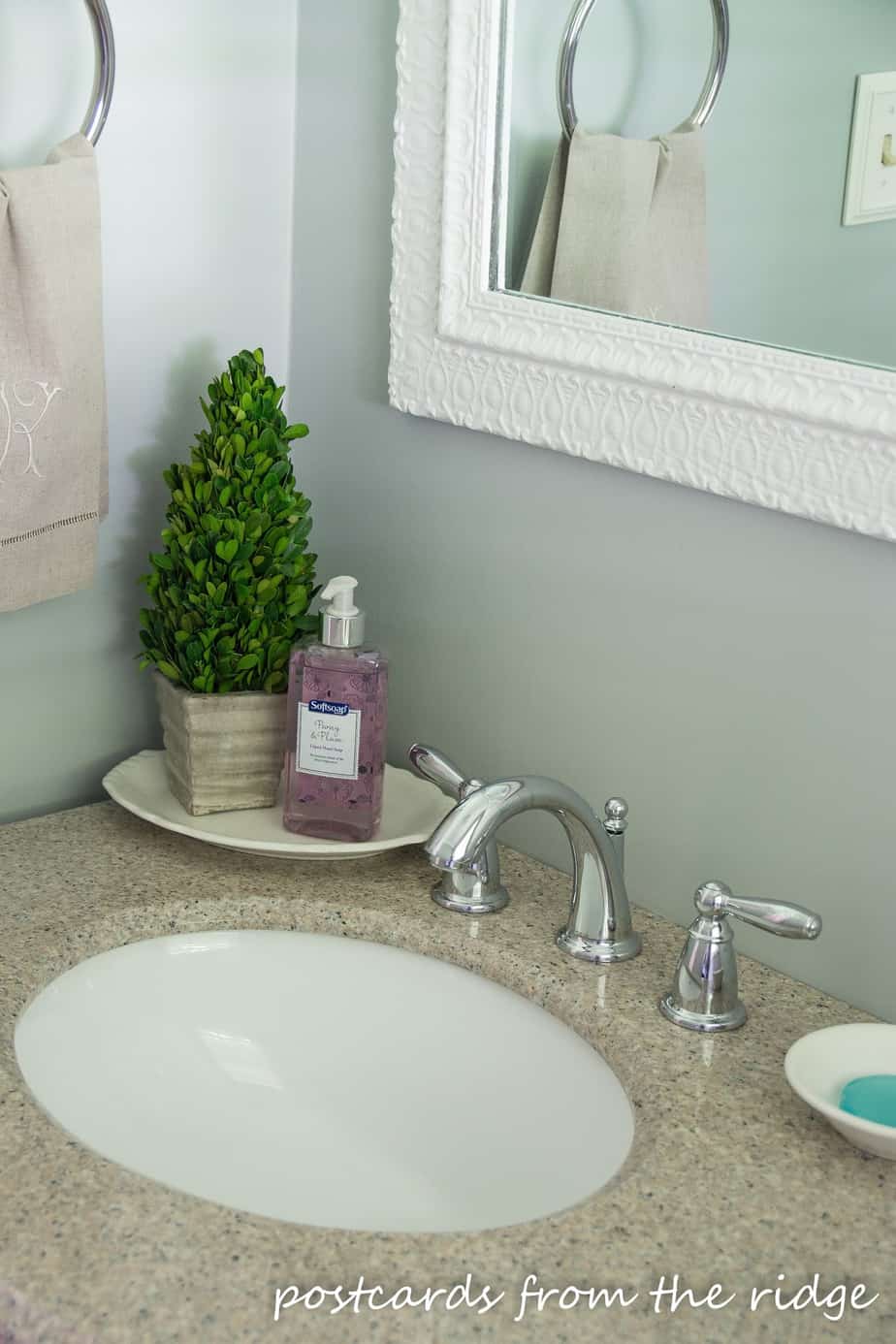 I installed the kitchen faucet myself and was impressed with how easy it was for a newbie like me to follow the thorough instructions. But I let the contractor install this faucet on the bathroom vanity since they were doing the vanity installation. If it were just a faucet replacement, I would have definitely done it myself since I didn't mind, and actually enjoyed changing out the kitchen faucet.
And I have to thank the Haven organizers for the vanity. At last summer's conference I was the lucky winner of a $500 grand prize gift card from Home Depot. As soon as I discovered how much it was worth I knew exactly what I was going to use it on…a new vanity. When I first opened the card I thought it was for $50 which I was thrilled with. But then I looked closer and saw the $500 amount and nearly passed out. Thanks Haven and Home Depot!! I can't wait for this summer's conference!
I'm still planning to build a couple of small shelves to go over the toilet and I'll add some things to the wall. Look for a full reveal of the space soon after I get those things checked off the list.
Do you have any projects that you're working on?
And most importantly, where would you love to add a new Moen faucet?
Sources:
Find the vanity here
Find the faucet here.
XOXOX,
Angie
If you're new here, sign up for email here or follow along here so you don't miss a thing:
Email * Facebook * Hometalk * Pinterest * Twitter * Instagram

For handy tips and tutorials, go here.


To see my painted projects, go here.

For tasty recipes from my kitchen, go HERE.
For some simple tips for capturing a great photo, go HERE.
Go here to learn about having an online design or color consultation.
And go here for dozens of photos, ideas and favorite paint colors.
Thanks so much for dropping by my little space on the world wide web!