Scenes from Charleston and Kiawah Island, SC
This post contains affiliate links for your convenience. If a purchase is made after clicking one of the links I might make a small commission. Your price does not change. For full disclosure, go here.
Our girls were both on spring break last week and we were able to get out of town for a few days and unwind. We stayed at one of our favorite places, Kiawah Island, South Carolina. It's a nature lover's paradise with lots of dunes, beaches, marshes, wildlife and bike trails. While we were there we went kayaking, rode bikes, and visited Charleston and Folly Beach which are less than an hour away. I hope you don't mind me sharing a few of my favorite photos today!
We've been to Charleston a few times before and decided to go through a different part of town this time. We meandered through the French quarter and were glad we did! The style of housing and the decor was gorgeous. And in our experience, getting a little lost on purpose and wandering around a beautiful old city has resulted in some of our best times on vacation. We've stumbled across the most beautiful things!
A close up of the door reveals decades, actually centuries of character on this door. Although I don't think I would like it on my own door, I absolutely love it here. The cracks, the uneven wood, the peeling paint, the tarnished brass doorknob, the deteriorating threshold…perfection.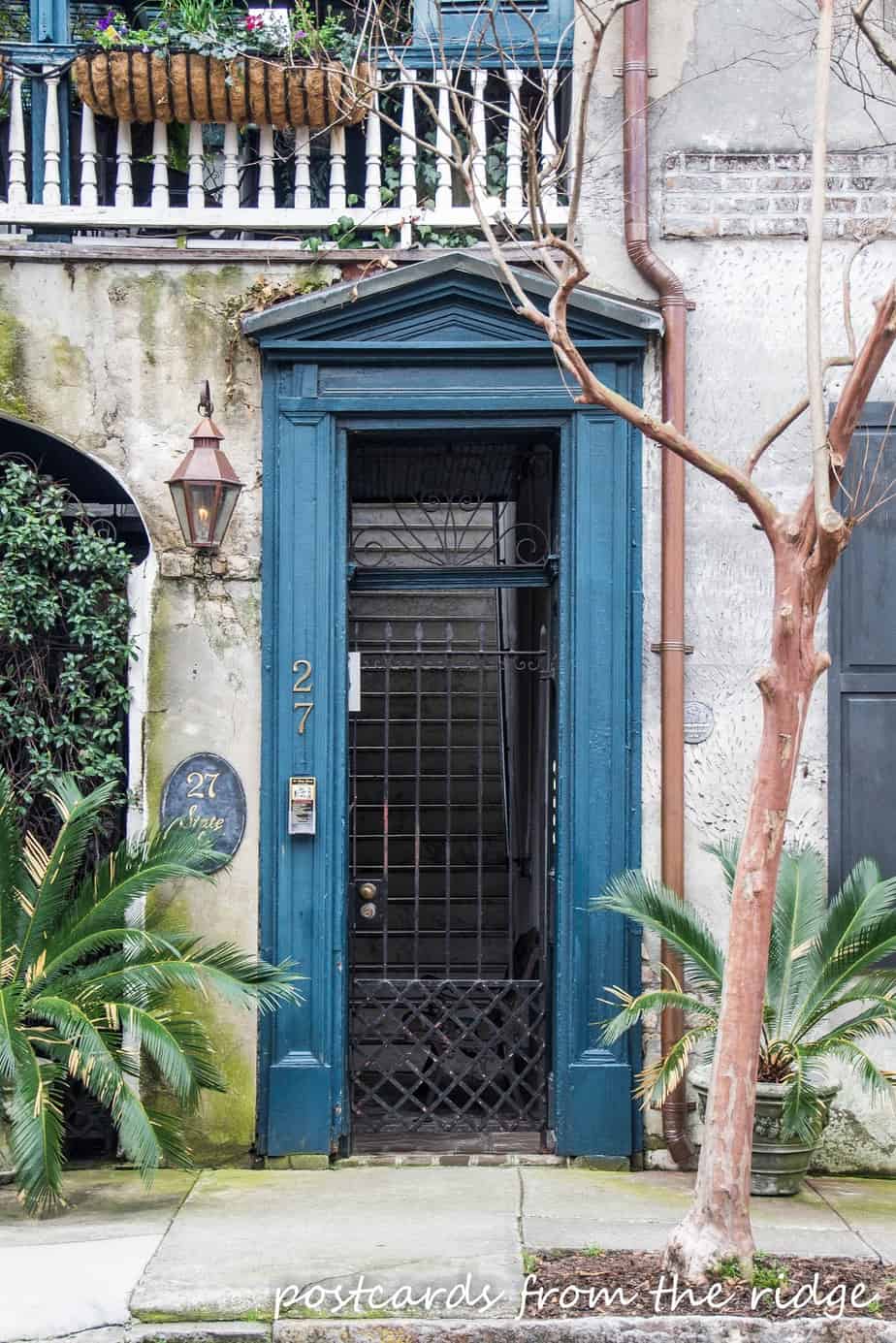 So many pretty entrances and doors. I snapped several of them including this blue gem. Don't you love this color?
Isn't this one amazing? It looks like it's straight out of Europe. Those wood doors are simply stunning. And the light fixture and chipping plaster give it such a wonderful texture.
This shot makes me think of Cruella D'Ville from the 101 Dalmatians story. Check out the way the brick arch stops at the halfway point above the door.
Something about the barn red against the bare stucco color struck me as just beautiful. The white trim really makes it pop.
Here's another French inspired home with the barn red and bare stucco colors. So pretty.
The redbud trees were in full bloom while we were there and gave the perfect contrast to this home.
I adore the color on this house. It reminds me of my studio/craft room!
Yep, same colors! Now I know why I liked it so much! Haha! (Go here to see more of this space).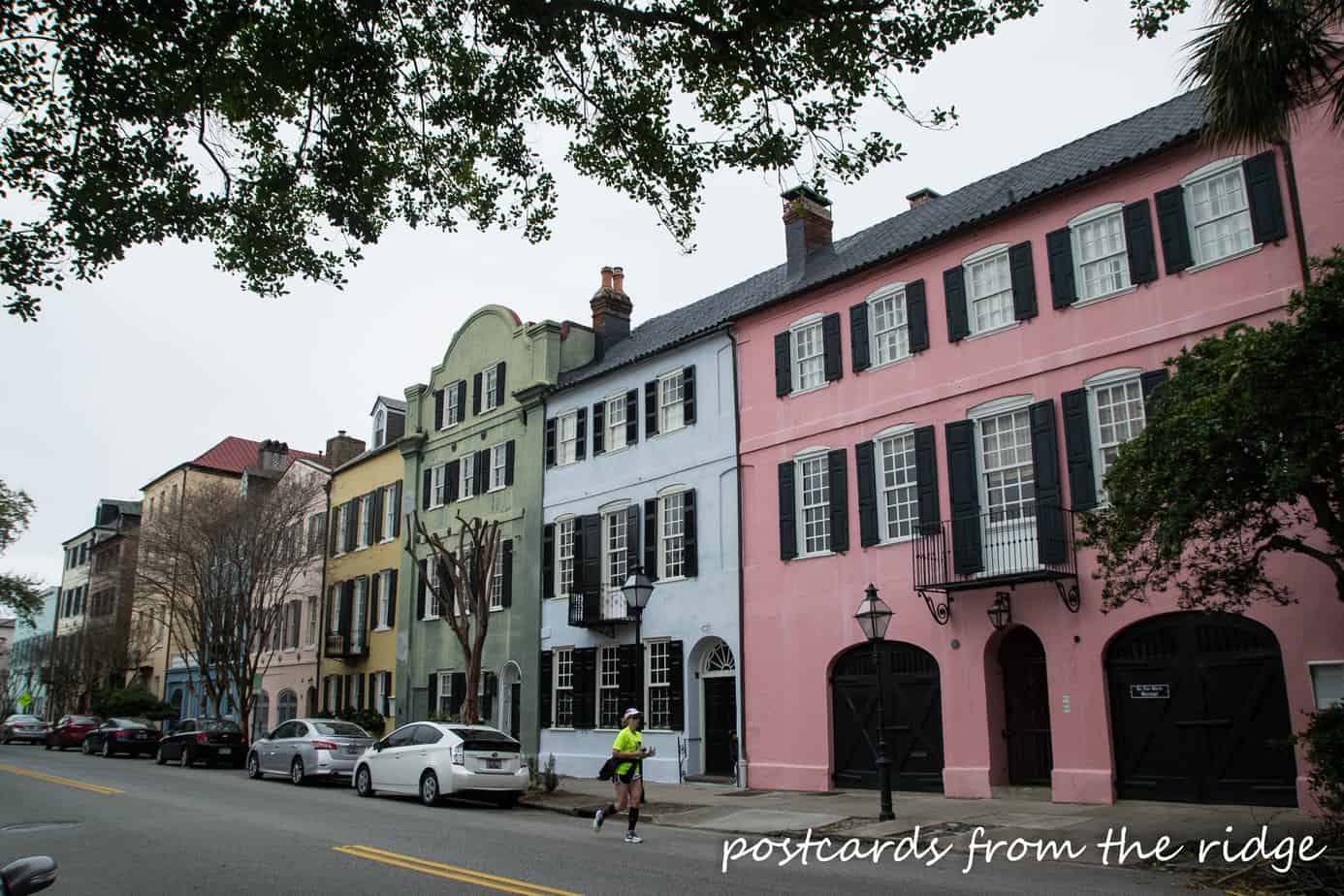 Rainbow Row. Isn't this a happy collection of buildings? It makes me smile every time I see it.
Lately I've been fascinated with ghost signs like the old furniture store ad seen on this building.
We were only in Folly Beach long enough to eat at Taco Boy and get yummy crepes at Tokyo crepes but we made the trip out to the lighthouse before we left.
Back at Kiawah Island the girls jumped for joy at the gorgeous sunset. Yes, I made them do this. But they really didn't mind.
I've been to the beach many times in my life and have never seen deer there before. These 4 were grazing in the dunes one morning at sunrise. I felt like I was back home where we see them almost daily!
A beautiful sunrise on the shores of Kiawah Island.
One of the cottages in the area we stayed has this Adirondack bench perched on a deck overlooking the marsh. It's so peaceful and serene looking. I want to have a view like that some day!
One last sunset before we had to head back home and to reality. I love the sea grass and the silhouettes they have against the warm colors of the sky.
Have you been to any pretty places lately? Have you visited Charleston or Kiawah before? I'd love to hear about it!
P.S. In case you're wondering, the current model of the camera I use is this one (affiliate link). And I used this lens on these photos (affiliate link). I use this software (affiliate link) to edit my photos to look their very best.
XOXOX,
Angie
If you're new here, sign up for email here or follow along here so you don't miss a thing:
Email * Facebook * Hometalk * Pinterest * Twitter * Instagram

For handy tips and tutorials, go here.
To see my painted projects, go here.

For tasty recipes from my kitchen, go HERE.
For some simple tips for capturing a great photo, go HERE.
Go here to learn about having an online design or color consultation.
And go here for dozens of photos, ideas and favorite paint colors.
Thanks so much for dropping by my little space on the world wide web!