The Best of DIY Projects and a Party on 27 blogs!
Sometimes it's good to do a project by yourself and possibly a helper. It saves some serious money and when you finish you can stand back and admire your work…hopefully! There are other times where you need to recognize that a project is above your level of skills or you don't have time to finish it. That's when you have to call in the pros.
Today I'm teaming up with 26 of my DIY rock star blog friends to bring you some of the best DIY projects ever in the history of DIY. No pros required. The projects are featured at the bottom of the page. You can visit any and all of them and even add your own DIY project to the list!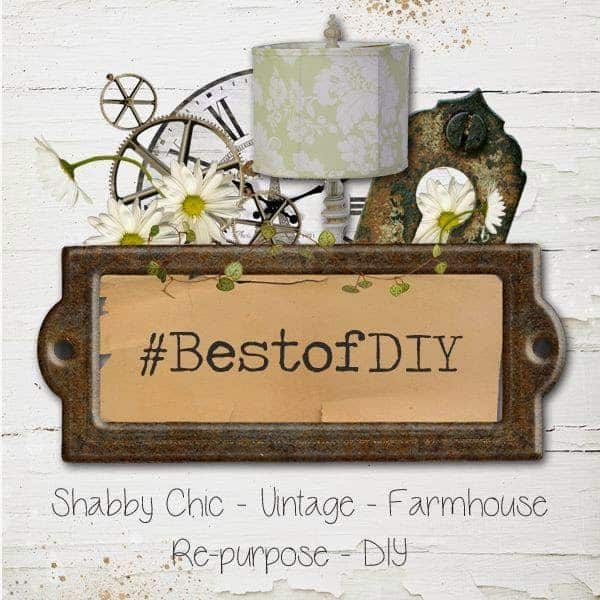 Here's the celebrity DIY bloggers, listed in order of photos left to right:
Top row: Our Southern Home Artsy Chicks Rule At Home with the Barkers
Cedar Hill Farmhouse Knick of Time Mrs. Hines Class Unskinny Boppy Shabby Art Boutique
Second Row: Concord Cottage Girl in the Garage Fresh Idea Studio Snazzy Little Things
White Lace Cottage Simply Fresh Vintage
Third Row: Confessions of a Serial Do-it-Yourselfer All things Heart and Home
House on the Way Stone Gable Blog Cupcakes and Crinoline Postcards from the Ridge
Fourth Row: Lilacs and Longhorns Sweet Pea Country Design Style Petticoat Junktion
Restoration Redoux What Meegan Makes Prodigal Pieces
Right here on Postcards from the Ridge I'm sharing some of my most popular DIY projects to date. Most of mine involved a paint brush, so almost anyone can do them. I've also got a long list of current and upcoming projects that are in the works and I'm hoping they'll turn out half as good as I'm planning. Be sure to follow along via email so you don't miss anything. For now, here's my best.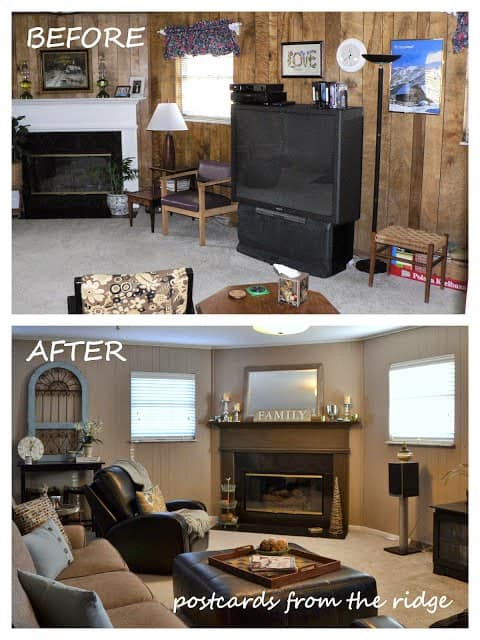 *HOW TO PAINT PANELING LIKE A PRO
Lots of people are like me and have older homes with dated paneling. You don't have to tear it out and replace it with sheetrock. Save money and a big mess by painting it! It has a nice cottagey look to it when it's painted. Our current house has 3 types of paneling and I've painted most of it. I also painted paneling in our first house. It's not too difficult with the right tools and products. I've got a full tutorial with before and after photos here.


*HOW TO PAINT YOUR FLOORS TO LOOK LIKE TILE
Some older homes are blessed with ugly floors in addition to dated paneling. Do you see a trend here? In our case, we got both. Such is the case when you want a house with lots of square feet but don't want to pay a premium price for it…buy one that needs updating!
Anyway, our basement floors fall into the hideous category. Over the past few years I've updated some areas of the ugliest color by painting them. I'm working on one now that includes a stenciled rug. You HAVE TO check back in a couple of weeks for the reveal of that space, my studio/craft room.
A couple of years ago I painted the floor in the other basement bedroom to look like large tiles, seen in the above photo. Go here for the before and after photos and the how-to for this project.
*HOW TO PAINT A LAMINATE COUNTER TOP
Guess what? We also had some seriously ugly counters in this home. Yep, we hit the jackpot with this house. Projects galore. But I also painted them (surprise!). The one above is also part of my studio/craft room redo that I'm currently working on. I've got a tutorial for painting laminate surfaces that you can find here.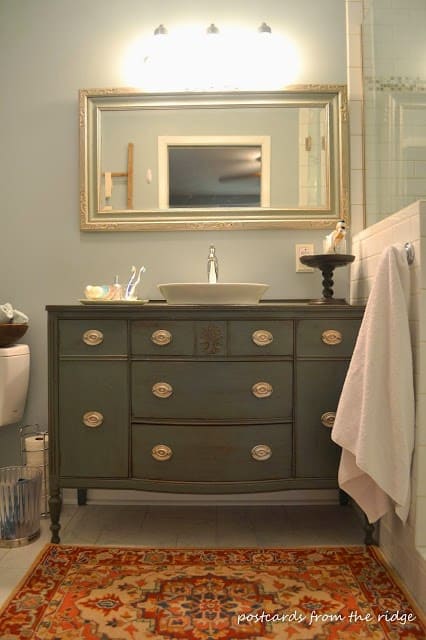 *HOW TO CONVERT FURNITURE INTO A BATHROOM VANITY
Ugly bathrooms? Yep, we had those too! And although we hired a local contractor to do most of the remodeling work for us, I did the painting part of converting our old dining room buffet into a vanity. I had them add a sink and faucet to it for us. If you have basic to moderate carpenty skills you could do the complete project, but I'm still working on conquering my fear of saws and let the contractor do that part.
To see the details of this project, including my painted and glazed makeover, go here.
And here's one a project I'm currently finishing up! It's a stenciled floor that's part of my studio/craft room project and it looks amazing! I can't wait to show you the finished project!
Now it's time for you to see tons of other DIY projects from talented people all over the web AND link up your own project! Link once and your project will be seen on 27 blogs! That's the deal of a lifetime!!
Below is the list of amazing DIY projects. Click on any image to find our more about it, and add your own to the list (please limit to 3 projects)! I can't wait to see all of the projects. I know my to-do list is about to grow exponentially!
And be sure to follow the Best of DIY pinterest board here.
While you're still here, be sure to sign up to follow Postcards from the Ridge by clicking on any of the following options. Email is your best bet for not missing anything, but you can follow along any way you choose! And I pinky promise not to send emails more than 3 times per week.
Email * Facebook * Hometalk * Pinterest * Twitter * Instagram
Thanks for dropping by! Enjoy the projects!
XOXOX,
Angie