College dorm room organizing and decorating ideas
Last week we moved our oldest daughter into her dorm room. It was an exciting day for her moving into her first place away from home. And a little sad for mom and dad knowing that baby bird #1 is flying away. Don't get me started again.
Really though, it was fun helping her set up her new things in this brand new dorm that she's now living in. Here's how it looked when her dad and I left on move-in day.
She got a brightly colored duvet from Urban Outfitters to add some personality to an all-too-boring dorm room.
There were lots of helpers who carried her boxes up to her room. She's the one who's smiling and excited because she isn't carrying anything!
Here's what she started with. Kinda looks like military barracks. She added color and pattern with her bedding, artwork, and decals.
Students aren't allowed to put any nails in the walls and everything has to be easily removable when the time comes to move out. One of the first things she did was put up this awesome peel and stick wall decal that the nice people from Wallternatives gave us. These are removable for up to 3 years.
She put it right next to the sink and mirror so that she and her roommate could be reminded each morning how awesome they are.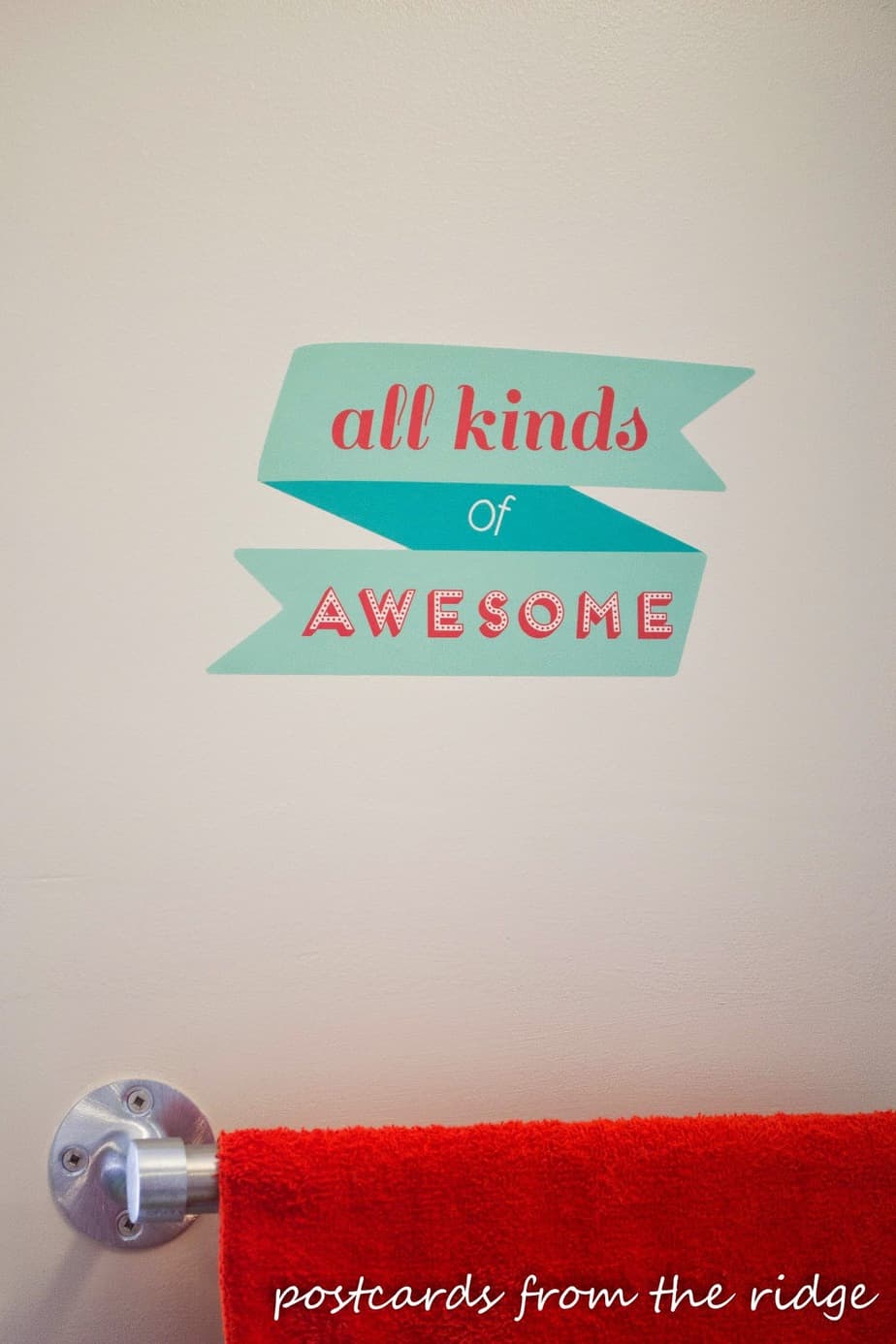 It even matches her roommate's towels! It was meant to be.
This is just one of many options available from Wallternatives. There are peel and stick removable chalkboard decals, removable fabric decals, even removable wallpaper! You really need to see this if you want a quick, easy, and non-permanent way to add some pizazz to your walls. Go HERE to learn all about it.
*Affiliate links provided for your convenience*
Another great way to add non-permanent decor is with Command hooks and strips. I spoke with the folks at Command about this dorm decorating and organizing project and they very generously sent a whole box of product to us! AND they're having a big back to school giveaway and you can enter to win that here.
She had painted some canvasses and wanted to hang them on the wall for color, so we used the picture hanging strips for that.
I love the colors and adore the messages, don't you?
She wants to study abroad in a year or so, and wants to do lots of travelling when she finishes school, so she hung a map that she made for a school project a couple of years ago.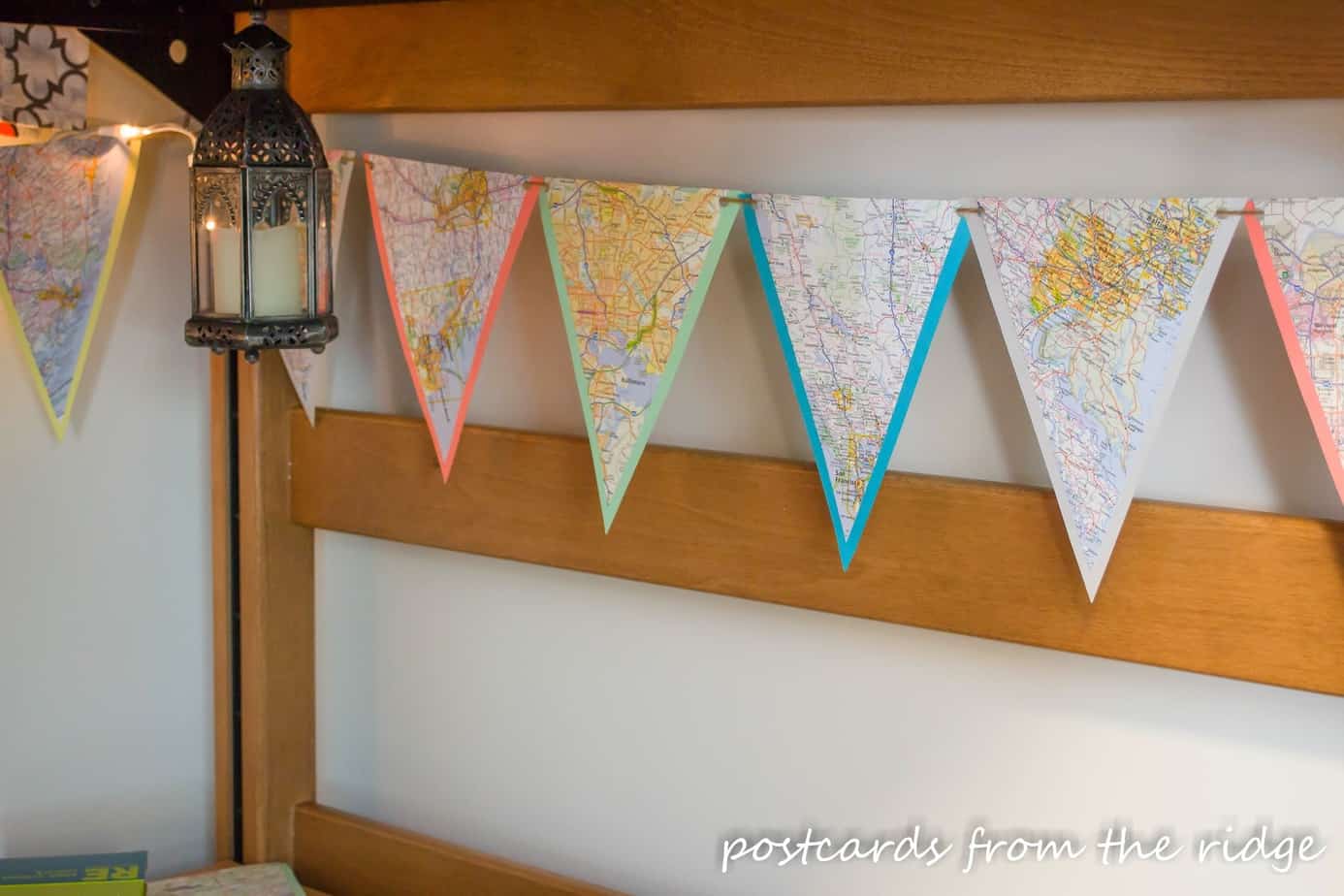 She also hung the map bunting that I made for her. It adds some more color and has places that she's travelled to on the triangles. To see the how-to for this fun project, go here.
A few colorful accessories on the desk brighten up that space. She painted a mason jar and is using it for her pens, pencils, and scissors.
Some pretty notecards look like art, and that grasshopper stapler is the cutest thing. She picked it up and Anthropologie a few weeks ago.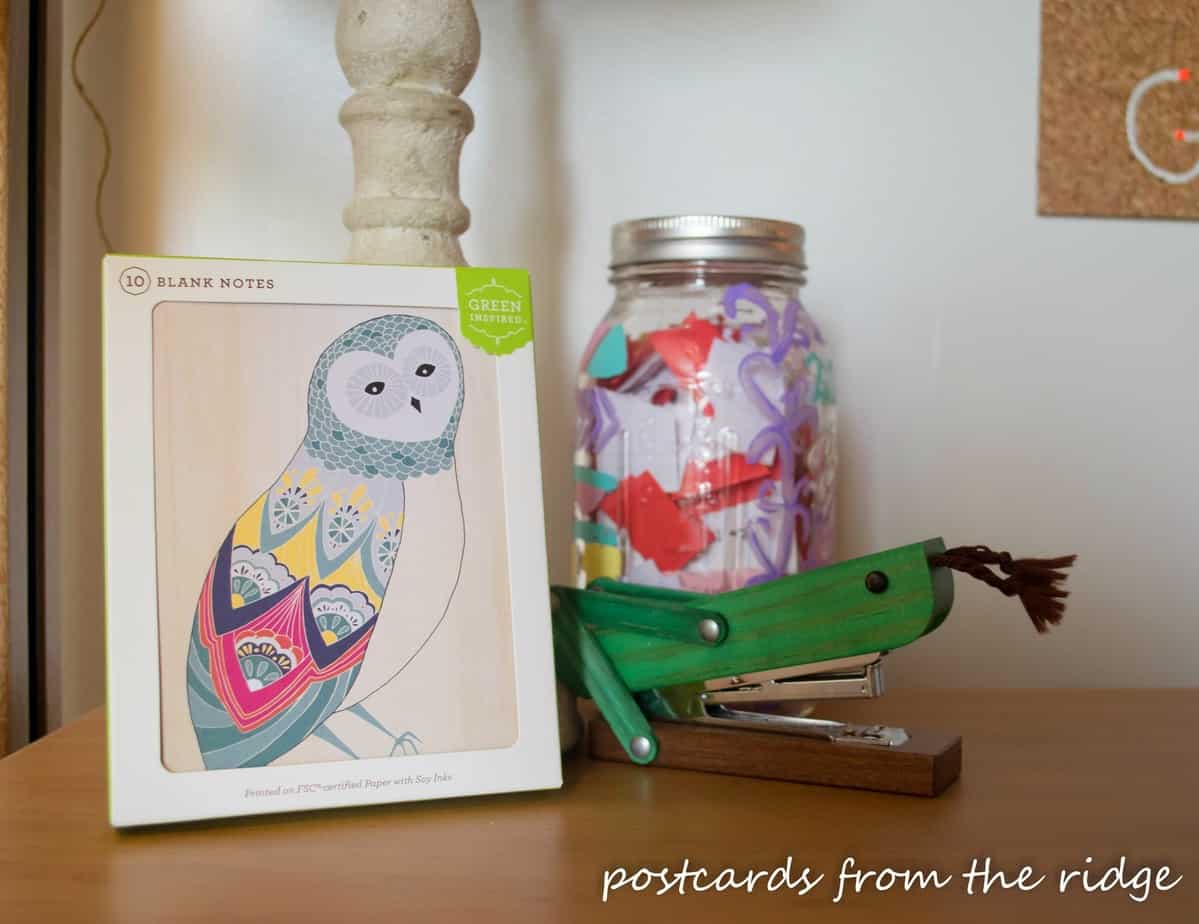 Isn't it fun?
She used Command Hooks to hang some lights and the map bunting. They remove easily, just like the Wallternatives.
I promise you this closet is nicer than the one she has at home. Heck, it's nicer than my closet! Although it didn't have a door on it, that was easy enough to fix with some store-bought draperies hung on a shower rod. No driling or holes required. They're a little short, but that's okay. We got those and the baskets and hangers at Ross.
Another Command Hook holds some belts on one side of the closet.
And on the other side, her rain jacket hangs on a hook.
Always remember to eat your veggies! She wanted this bag from Marshalls and how could I say no?
And again, our favorite reminder for every day from Wallternatives.
She added a few pictures after we left and sent me a picture of how it looks now. It almost makes me want to go back to college. On second thought, I've been there and done that and still have nightmares about final exams and not-so-nice roommates!
To see the college survival kit we made for her and her friends, go HERE.
Do you have any good tips for dorm organizing or decorating? I'd love to hear!
Thanks so much for visiting.
For handy tips and tutorials, go here.
Go here to learn about having an online design or color consultation.
And go here for dozens of photos, ideas and favorite paint colors.
XOXOX,
Angie
If you're new here, I'd love for you to follow along and see upcoming projects, tips and tutorials, favorite paint colors, and much more. You can follow here:
Email * Facebook * Hometalk * Pinterest * Twitter * Instagram
**Disclosure: I was provided with the Wallternatives decal and the Command Products, but all opinions are stricly my own. Always follow the manufacturers instructions. **