I've met some of the nicest, most talented people since I started blogging a few years ago. I'm truly amazed at the amount of creativity and talent out there. And how great is it that people want to share their knowledge with others? I, for one, and very grateful and have been inspired to take on many projects because of what I've seen in the blogosphere.
One of the nicest people I've met recently is Christy at Our Southern Home. She's a sweet Southern gal who has a gorgeous Country French home and she's always doing some type of amazing project. Today I'm sharing some of my favorites, as well as photos of her home. You'll definitely want to drop by and see her blog for yourself, and be sure to tell her I sent you!
Her home is truly beautiful and she's always doing things to freshen up the decor.
Here's her front porch from last fall. Don't you love her style? Hop over and see the rest of her fall tour from 2013 here. And be watching for her 2014 fall tour coming up soon!
One of my favorite projects that she has shared is her coffee filter wreath. I've wanted to make one of these for a while and am so glad she shares how she made hers. It's not too difficult, but does take a little time. It's definitely high on my to-do list!
Another great tutorial that Christy shares is for her No Sew Dropcloth Curtains. As in, no sewing at all. It's a great tutorial and will show you how to get casual curtains for your home without breaking the bank.
She has many more very good tutorials. Hop over to Our Southern Home to learn how to do so much more. And tell her I sent you!
As part of the tour of Blogland, I'm supposed to answer a few questions.
1. What am I working on? Currently I've got a couple of projects in the works. One of my projects involves the complete makeover of our office into an updated and useable craft space. I've broken it down into several phases and am almost finished with the most recent phase. It will be revealed later this week.
Most of the phases are paint related. There are about 2 phases left after this one and I would be lying if I said I wasn't ready to be done with the whole thing. But it's going to be so worth it when I finally finish it.
Here's a sneak peek of what I worked on yesterday. You won't believe what this looked like before I put my paintbrush to work on it. And yes, I painted a counter top. Watch for the how-to on Wednesday of this week.
I also have a piece of furniture that's getting a little facelift. No sneak peek photos of this one yet, but check back Thursday for the reveal!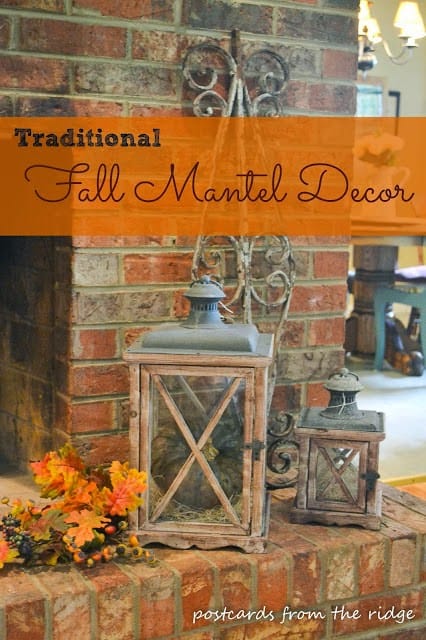 I'm also working on getting our fall decorations out soon. I know, I know, it's still August! But I'm just thinking about it and planning it out at this point. Watch for a fall home tour in the next couple of weeks! Above is a snippet of last year's fall decor. Go here to see more.
After the fall tour, I've got a stenciled faux rug I'll be working on. What's a stenciled faux rug, you ask? I guess you'll just have to check back in a few weeks to see! Trust me when I tell you it's going to be amazing. And it's part of my craft room design.
2. How does my work differ from other of its genre? I had to think about this one a while. Maybe I should ask you, my readers, how I am different.
*My work and style is eclectic. I like what I like and don't necessarily follow the trends. If I like something, then it's in style as far as I'm concerned! I tend to like pieces with personality, patina, and history.
*I like to take furniture or objects and reinvent them. Sometimes it's with paint, other times the piece is completely repurposed.
*I'm also different in that I don't like white kitchen cabinets for my own home. I had them in our last home and they were too much maintenance for me. Our kids were very young at the time and we were constantly wiping off smudges and finger prints. The cabinets in our current house were here when we moved in and I love the low maintenance of the wood. We changed the hardware from shiny brass to oil rubbed bronze and might one day paint them gray or cream, but white just isn't my style in our kitchen.
*I like to mix old and new and lots of different styles. For example, for our master bath remodel back in 2012, we used our old dining room buffet and added a new sink and faucet to make a vanity. I repainted a mirror we had and have an old ladder that we use as a towel rack. Go here to see the entire space.
3. Why do I write/create what I do? I love doing painting projects and redecorating. I've been doing it since I was a teenager and will likely do it until I die! In my job working part-time at the family paint and decorating shop I'm continuously giving customers instructions on how to complete a project. I share many of those tips on the blog.
4. How does your writing/creating process work? It all starts with an idea. I decide which project is next on the to-do list, or what do I want to create, and plan from there. I'll determine what supplies I need and how to go about the project. I take photos before, during, and after the project to show the entire process I write the post to describe the process and tell how to achieve the same look. Since we live in a 1964 house there are tons of projects awaiting me.
Here are a just few of my other favorite blogs. Drop by and see what all they share. Get ready to be inspired!
I hope you've enjoyed this small tour of blogland. Let me know what you think of Our Southern Home and all the others. And if you have a favorite blog, I'd love to know about it too. I'm always looking for inspiration!
Thanks for dropping by!
For handy tips and tutorials, go here.
Go here to learn about having an online design or color consultation.
And go here for dozens of photos, ideas and favorite paint colors.
XOXOX,
Angie
If you're new here, I'd love for you to follow along and see upcoming projects, tips and tutorials, favorite paint colors, and much more. You can follow here:
Email * Facebook * Hometalk * Pinterest * Twitter * Instagram