20 amazing ways to update furniture with paint
Hello, friends. One of the things I love to do is find well-made furniture that's a little worn out and give it a brand new lease on life with paint. (See my projects here). Painted furniture is hugely popular these days and is something most people can do or can learn to do with a little bit of effort.
This post contains affiliate links for your convenience. If a purchase is made after clicking one of the links I might make a small commission. Your price does not change. For full disclosure, go here.
I find much of the inspiration for my pieces from pinterest, magazines, and blogs. There is so much talent out there! Today I'm sharing some great ideas for giving tired pieces of furniture a fun makeover. Prepare to be inspired!
**Sources for the projects are listed below each photo. Please go visit them and pin from their site. And tell them I sent you! Thanks!**
Painted and distressed
If you haven't seen any of her work, you really should hop over and visit Mary at Ophans With Make Up. Her work is amazing, and her photography and styling are definitely magazine worthy. Her site is a real treat for the eyes. This piece of hers is a classic example of painting, distressing, and sealing a piece of furniture. Visit her post for the process used here.
Modern tri-color finish
I know this is very different than what you usually see, but I like it. For a 20 or 30-something, this would be da bomb. And the styling fits the piece perfectly. From Estuary Designs, she has several other great furniture makeovers on her site.
Two-toned and accented with wallpaper
Check out these dressy drawers! Barb over at Knack Studio is so talented that she has written a book about Furniture Makeovers! (Go here to learn more about her book.) I love her vision and the way she incorporates graphic wallpaper designs into some of her pieces. Very inspiring.
Milk painted chippy finish
I love the deep turquoise milk painted finish on this piece from Southern Revivals. It has just the right amount of wood showing through. And again, the styling on this piece is perfect! Jamie does amazing work and has tons of great ideas on her site. Be sure to drop by for inspiration and the how-to for this piece.
Dry brushed with refinished wood top and metallic accents
This is a piece that I refurbished myself and sold in my retail space. It's been my most popular piece so far, mainly because of the details of the desk plus the fact that the top was stripped and refinished and has amazing wood grain. I highlighted the beaded corners and the pulls with metallic paint. I gave the whole piece a dry brush application of a lighter color to accentuate the carved details on the drawers. And I used Benjamin Moore Eggshell finish on it. To see all of the details of this piece, you can go here.
Two-toned milk painted
This gorgeous piece is painted with black milk paint everywhere but on the drawers by Restored by Rachel. I love the brass escutcheons and the big drawer knobs. And I'm so glad she left that beautiful wood grain exposed! Rachel has a shop that she sells her pieces in.
Chalk painted with fabric applied to the drawer fronts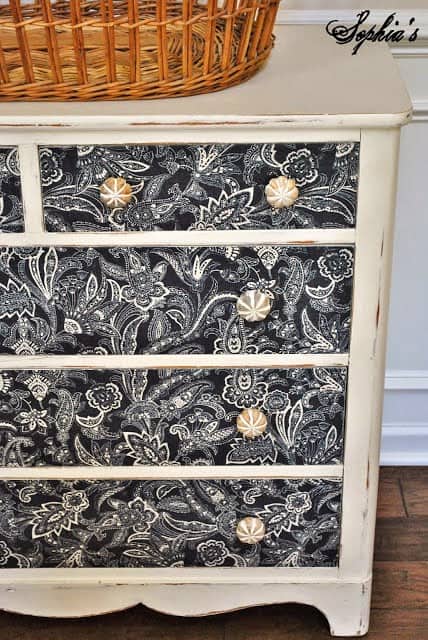 Kristen over at Sophia's is so creative and is always giving ideas for beautiful home decor or inspiring furniture makeovers. On this pretty piece she did a makeover with chalk paint and applied fabric to the drawer fronts. She shares a full tutorial on her site here.
Chalk Paint with nail head trim added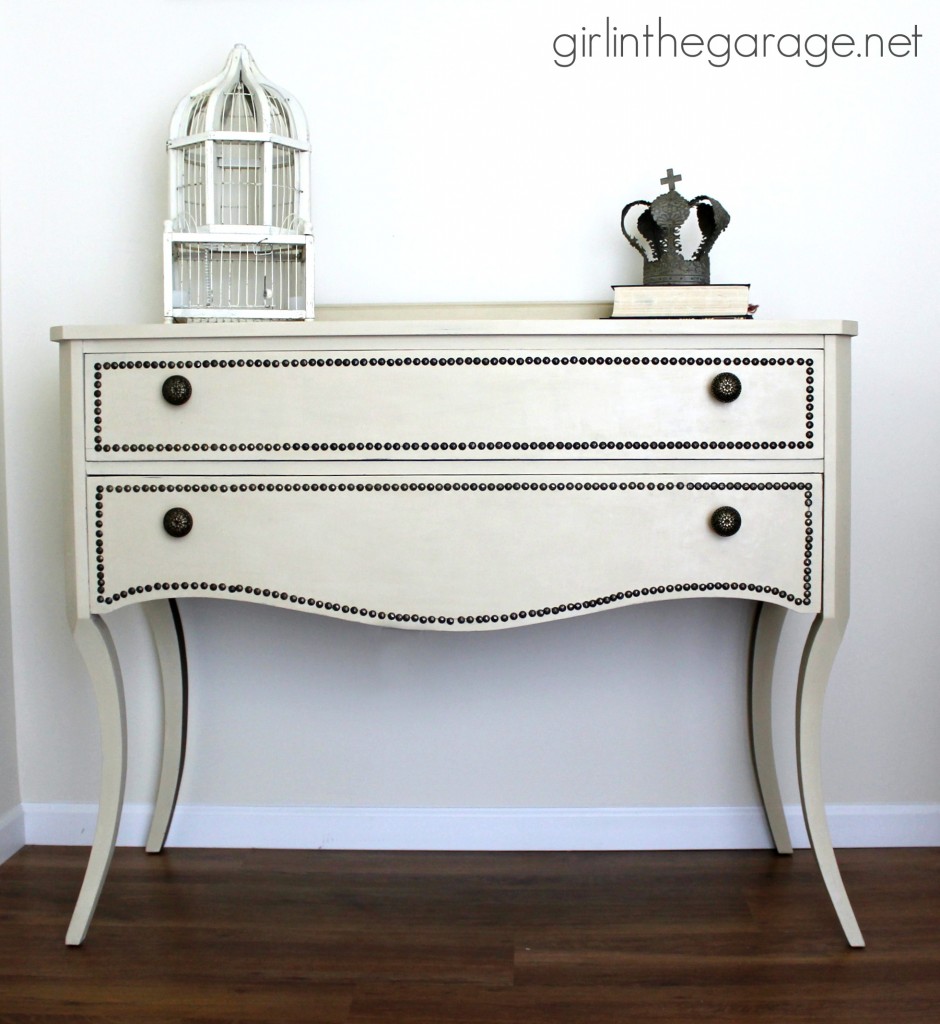 I love this makeover by Jen at Girl in the Garage. She took an old, beat up dresser and completely transformed it with chalk paint, wax, and nail head trim. Be sure to visit her blog and check out all the painted projects she has done, including a full tutorial for this one. She has so much talent and a great blog.
Ombre or gradiant colors
I can always count on Shana at Restoration Redoux for fun painted furniture. This ombre dresser is awesome, don't you think? She sells many of her pieces in her booth. Drop by her site and see the latest pieces that she has transformed with paint.
Painted with numbers
KariAnne at Thistlewood Farms always has some type of amazing project on her site. This dresser painted with numbers is certainly no exception. The whimsical design would be fun in a child's room or even a family room. The full tutorial is in her post here.
Denim faux finish with leather handles
This denim faux finish is awesome and the leather handles are the icing on the cake! It would be perfect for a boy's room or a lakehouse. From Sweet Pickins Furniture, hop over for a full tutorial for this unique finish and a peek at all of her fabulous projects. And she even has her own line of milk paint.
Hand painted, milk paint print with wood top
If you have a steady hand and lots of patience, you can recreate something similar to this pretty piece from Mustard Seed Interiors. She hand painted this one in a old fashioned design. Her site is chock full of furniture projects, decorating inspiration, and lots of different tutorials on ways to improve your home. She also has a wonderful book, found here. She has her own line of paints, waxes, and sealers as well.
Chevron or zig zag painted
Flickr photo
This chevron design could be easily painted with frog tape and a couple of fun colors. I really like the green on this one.
Chalk paint and graphics with a nautical theme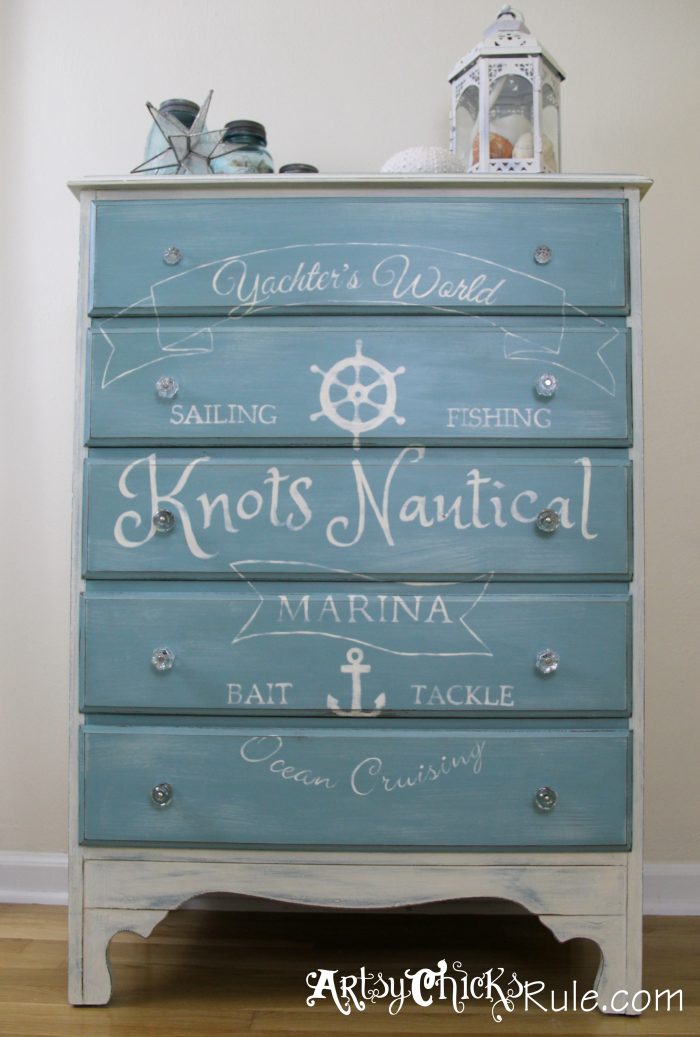 How fun is this nautical themed chest of drawers? Nancy at Artsy Chicks Rule shares a full tutorial of how to get this look for your own piece of furniture on her site. And she has tons of beatiful painted projects on her site.
Striped and distressed with contrasting pulls and legs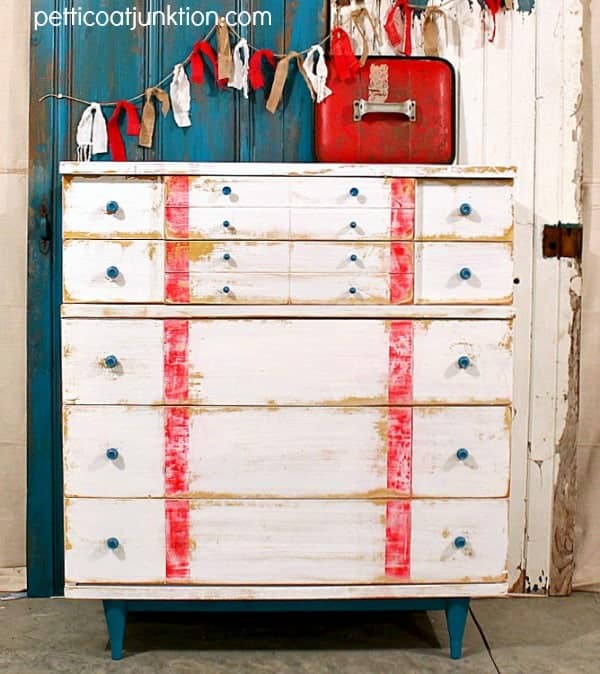 While we're talking nautical, take a look at this fun, beachy dresser from Petticoat Junktion. I love the turquoise knobs and legs on this piece. They add just the right amount of punch. Kathy is always doing fun, colorful painting projects. She sells paint, supplies, and painted pieces. Drop by and see her work, and tell her I said hi!
Union Jack with rope pulls
Another fun way to dress up a dresser is with a Union Jack design. I painted this one and decided I didn't like the shiny brass pulls that were on it, so I made some new ones from sisal rope. If you've got some extra patience, you can definitely do this yourself. To see more of this piece, go here.
Faux Bois or Wood Grain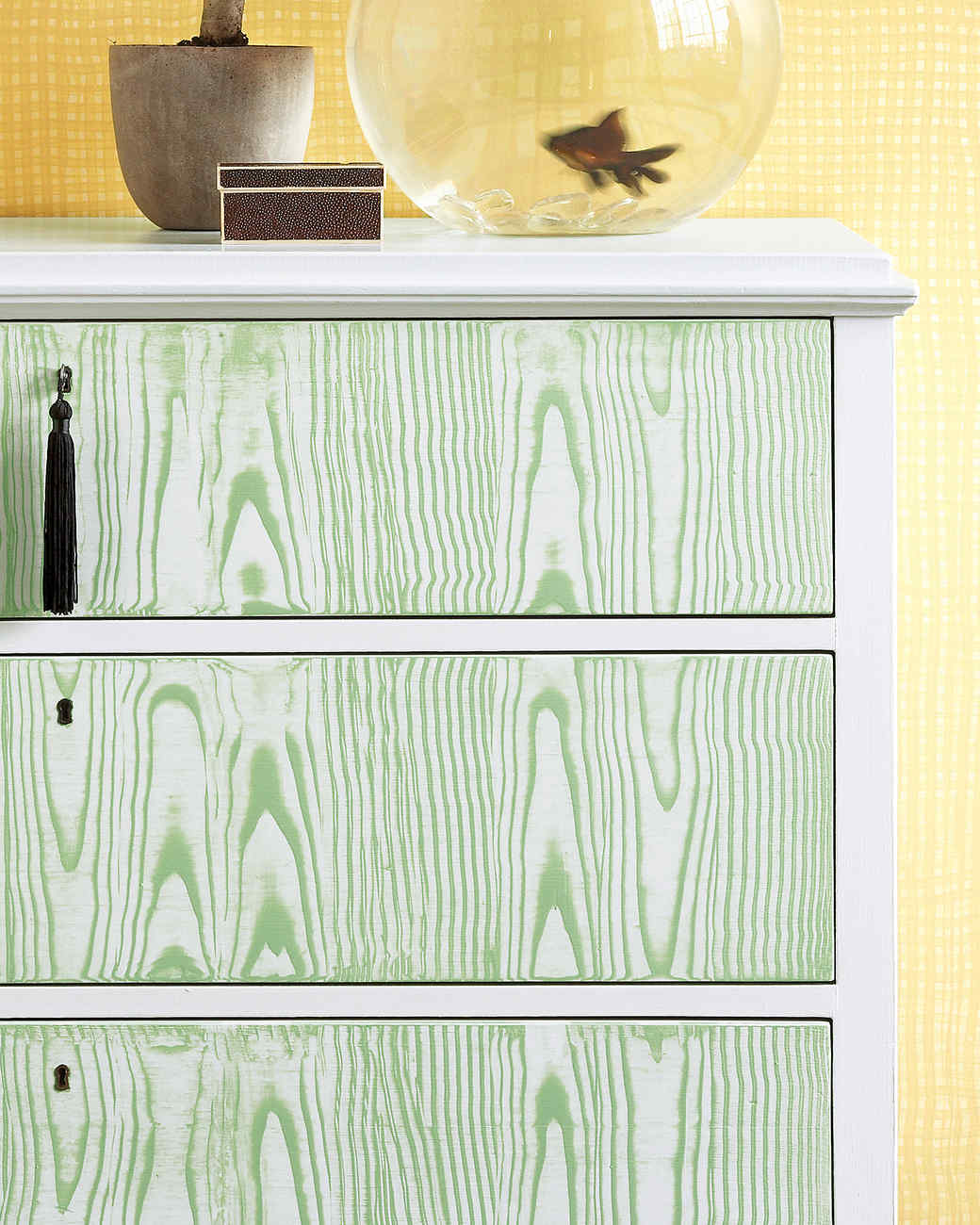 The faux bois technique is on my list of things that I want to try soon. I haven't found just the right piece to try it on yet. It takes some practice to get the look right, but all you need is a wood graining tool and two different colors, along with something to practice on.
Two-toned with stencilled drawers and mismatched knobs
This piece really does inspire me! I love everything about it…the colors, the knobs, the simple lines of it, and the styling is perfect. From createinspire. Hop over to see this project in its entirety. You'll love what she did to the inside of the drawers.
Paintable, textured wallpaper applied to the drawers
Here's a great example of how to use paintable, textured wallpaper to add some personality to an otherwise dull piece of furniture. I love how she outlined the drawers in a contrasting color. And the great thing about paintable wallpaper is that you can make it any color you choose!
Subway lettered chest of drawers
This chest of drawers with the subway style letters could easily be customized to any city or street you wish. From Amanda Carol Interiors, it would be perfect in a boy's room, entry, or family room.
Are you feeling inspired to run out to the thrift shop or raid grandma's attic now? I know I am. I can't wait to try a few of these ideas on some pieces myself. Let me know which ones are you favorites!!
Find even more inspiration in these books.
Thanks so much for dropping by!
XOXOX,
Angie
If you're new here, sign up for email here or follow along here so you don't miss a thing:
Email * Facebook * Hometalk * Pinterest * Twitter * Instagram

For handy tips and tutorials, go here.


To see my painted projects, go here.

For tasty recipes from my kitchen, go HERE.
For some simple tips for capturing a great photo, go HERE.
Go here to learn about having an online design or color consultation.
And go here for dozens of photos, ideas and favorite paint colors.