Partial reveal of our new bathroom and a giveaway!
*This is a sponsored post. We were provided with products and/or other compensation in this post by National Builder Supply. However, our opinions and recommendations are completely honest and based on our own personal experience with the company and products and were not influenced by the company.*
Hello, friends! I hope everyone is enjoying the Christmas season and is way ahead of me on your shopping and decorating. I've been busy with work and projects and haven't finished mine yet but hope to have it all done very soon.
I've took a short break from blogging last month to try to get caught up with things around here and now I want to show you what's been going on.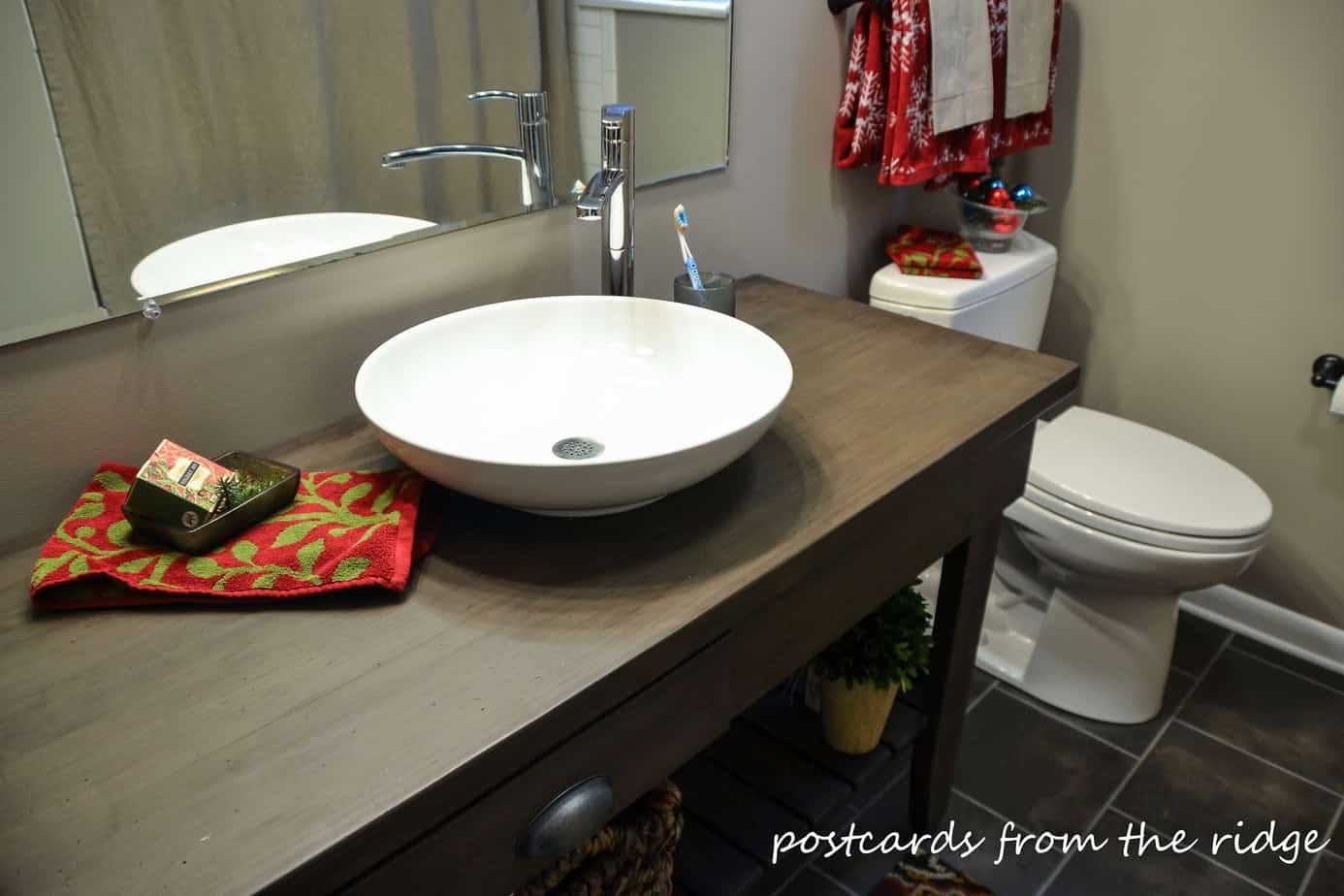 First of all, and BEST of all, we have a new bathroom!!!!
Here's the bathroom before the remodel started. We had made the best of it and it wasn't bad at all (except the green bathtub that is hidden by the shower curtain), but it was a have-to type of remodel. There was a leak behind the shower wall. And the tiles were beginning to come loose. And once you replace one thing in a 1964 bathroom…well, you get the idea. We bit the bullet and had the whole thing remodeled. Hopefully it will last another 50 years, at least.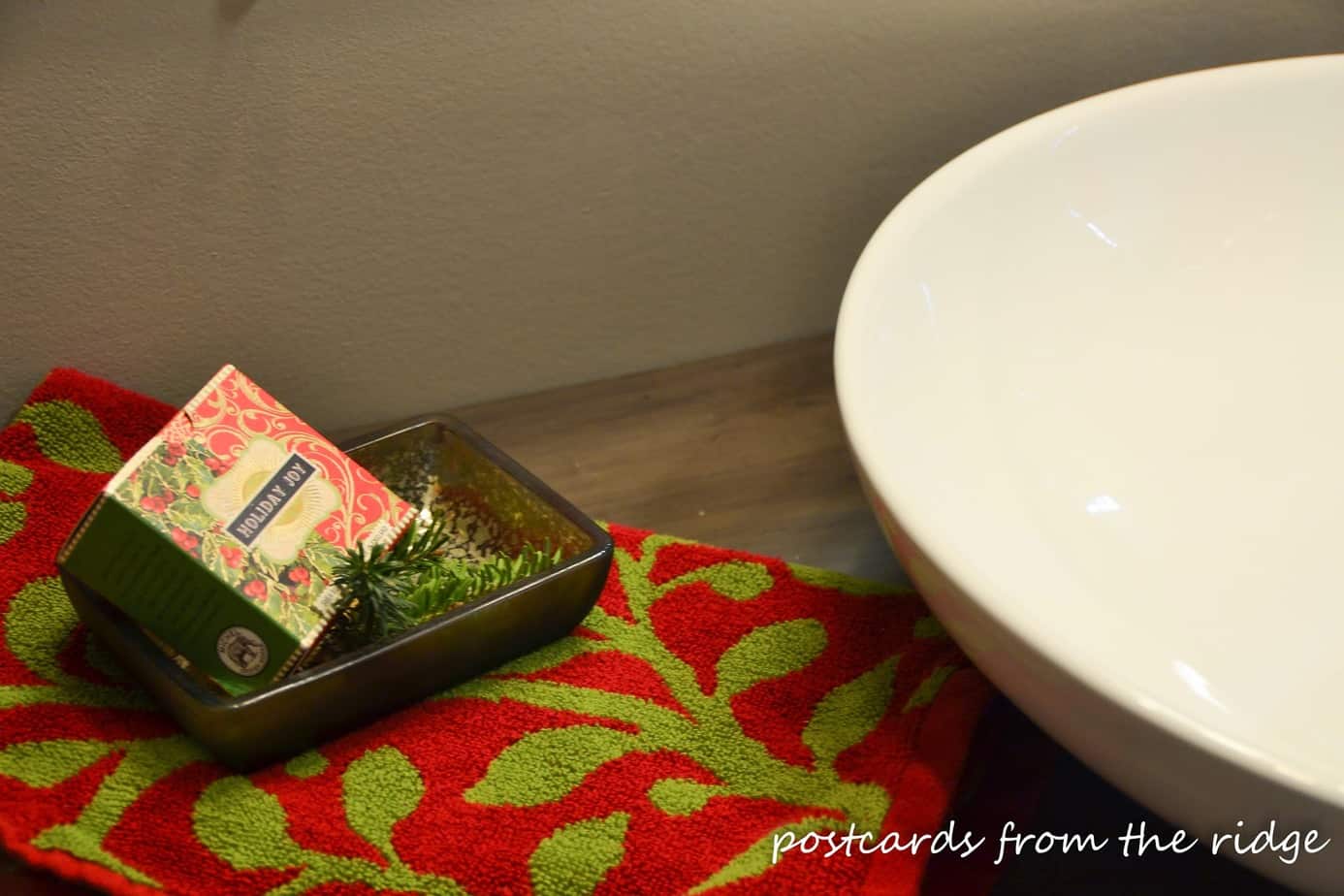 Since it's December, I've already added a few Christmas decorations to the room like towels, sprigs of pine, soaps, and a few ornaments. Not too much, just a bit of sparkle and bling.
One of my favorite parts of the bathroom is the vanity area. It's definitely the most distinctive area of the room. We got our sink and faucet from National Builders Supply. They have really been great to work with and their products are beautiful and reasonably priced. Everything was packaged well and the delivery time was very quick.
We had ordered from them for our master bath remodel last year and were thrilled when they wanted to work with us on this project. I can highly recommend them for any bath or kitchen remodel, large or small, full-blown or just one new item.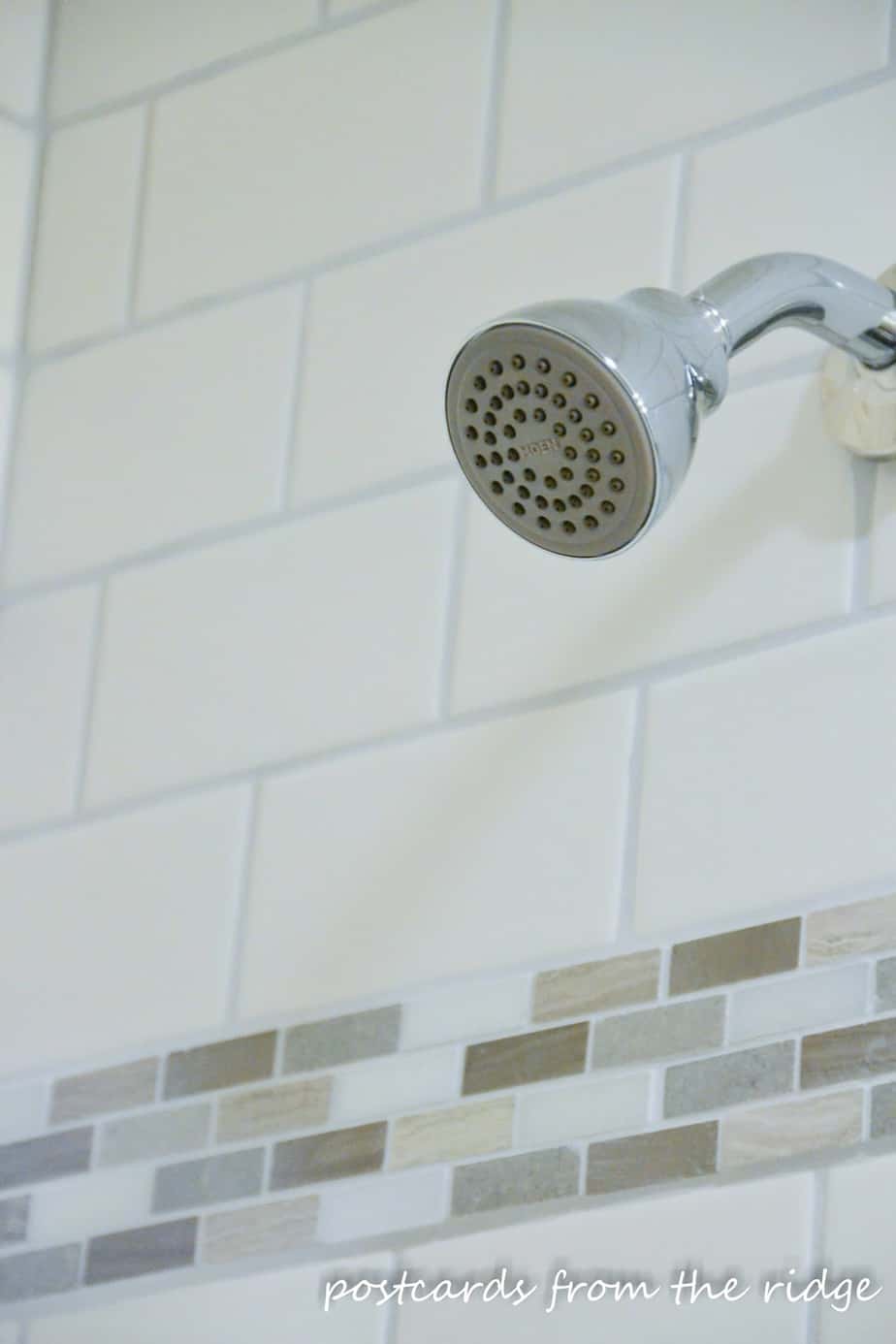 For the shower, we got a Moen tub and shower faucet, and really love it. The water flows out nicely. Not too much pressure but not too little. And the single lever makes it a breeze to turn it on to just the right temperature with ease.
Again, the bathroom is 50 years old and was way past due for an overhaul. The old faucet had developed a leak over time and it all had to be taken out, floors repaired, walls replaced, etc. This is why we don't diy. Someone might not have survived.
My husband and I owned a business together for years and usually get along well, but I really don't think it would be a good idea for us to tackle a project as big as this one with our novice diy skills. So we hired someone else to do it. If it was just changing out a faucet we would have done it. But we recognize where our strengths and weaknesses are. 🙂
Basic, but beautiful. Our younger daughter uses this bathroom and said she feels like she's in a hotel when she goes in here. I'll take that as a thumbs up!
Our Toto toilet is the best. It's so nice to not have to worry about things when you flush, if you know what I mean. 🙂
Here's a peek at the floor and the rug we have in here, as well as the vanity.
I'm not doing a total reveal with a complete list of colors, etc. today because there are a couple of items I'm still waiting on like wall hangings and a blind for the window. This is what happens when you have a bathroom remodeled and it's completed the day before Thanksgiving. Insanity? Maybe just a little.
You won't want to miss the full reveal though, which I hope to show in the next couple of weeks. Be sure to follow via one of the options at the bottom of the post so you won't miss all the details.
UPDATE: Go here for the full reveal.
Here's a peek at our light fixture.
A preview of the tile.
A glimpse of our holiday towels.
Wait, how did this get in here? I guess it's because I'm also trying to decorate for Christmas! Click here to see our holiday tour. If you follow me on Instagram or Facebook, you probably know that I have a slight obsession with vintage mercury glass ornaments. These are just a few that I have scattered around the house.
And isn't that velvet ribbon gorgeous? I snagged it at Marshall's a few weeks ago. I have two other spools in red and turquoise that I used elsewhere.
And I've got a couple of painted furniture pieces that I'm finishing up at my retail space. There just aren't enough hours in the day sometimes. Know what I mean? Here's a sneak peak of the latest piece I finished.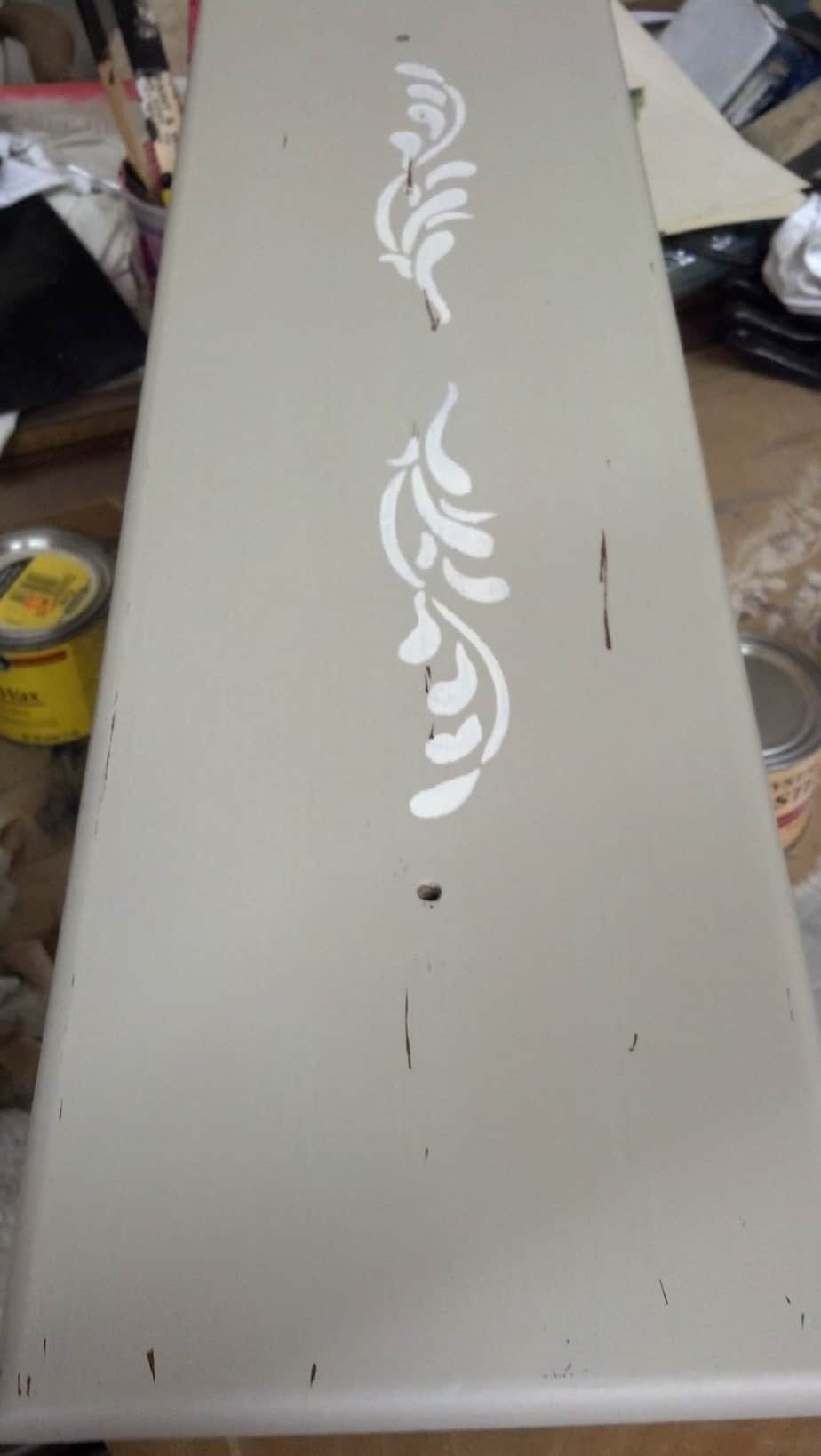 So that's what has been going on around here lately. I guess you could say I got my Christmas present early. As well as Valentine's, mother's day, birthday, and anniversary! But I'm thrilled since we all get to enjoy it every day for many years to come.
What do you think? Are you a fan of our new bathroom?
BUT WAIT, THERE'S MORE! I'm partnering with National Builders Supply to giveaway a Dunwoody Sink to 2 lucky people! Click ==> HERE to enter to win one of them for your kitchen! Hurry because the winners will be chosen on December 18th.
Good luck!
Thanks for dropping by.
XOXOX,
Angie
If you like my posts, I'd love it if you'd become a follower. You can keep up with my latest projects, tutorials, favorite paint colors, photos and tips many ways, including:
Email * Facebook * Hometalk * Pinterest * Twitter * Instagram