Open House ~ Breakfast Room Tour
Hello, friends! Welcome to our breakfast room. We eat in this space on a daily basis and it's a very lived-in and cozy area of the house.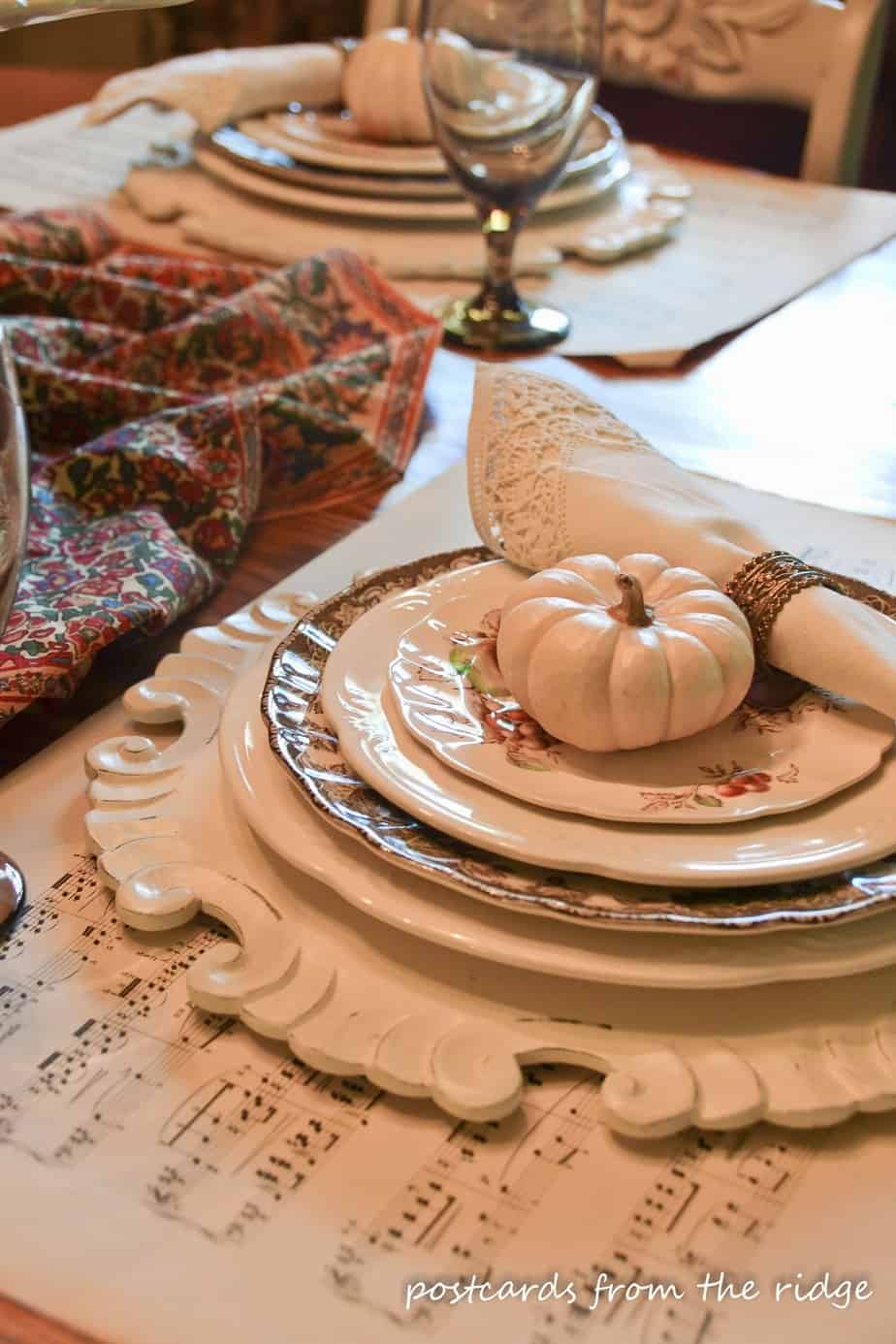 It doesn't usually look quite this nice, but since I knew "guests" were coming, I decided to spruce it up a little. I found a vintage book of sheet music at an estate sale a few months ago and used a few of the pages for placemats. I love the pattern of the music notes.
I have a mix of collected dishes that have come from thrift stores, junk stores, and places like Marshall's and TJ Maxx. I always love to combine old and new items. It just seems to add such character to a setting.
*disclosure – this post contains affiliate links to some of my favorite products in case you're interested in using them in your own home.*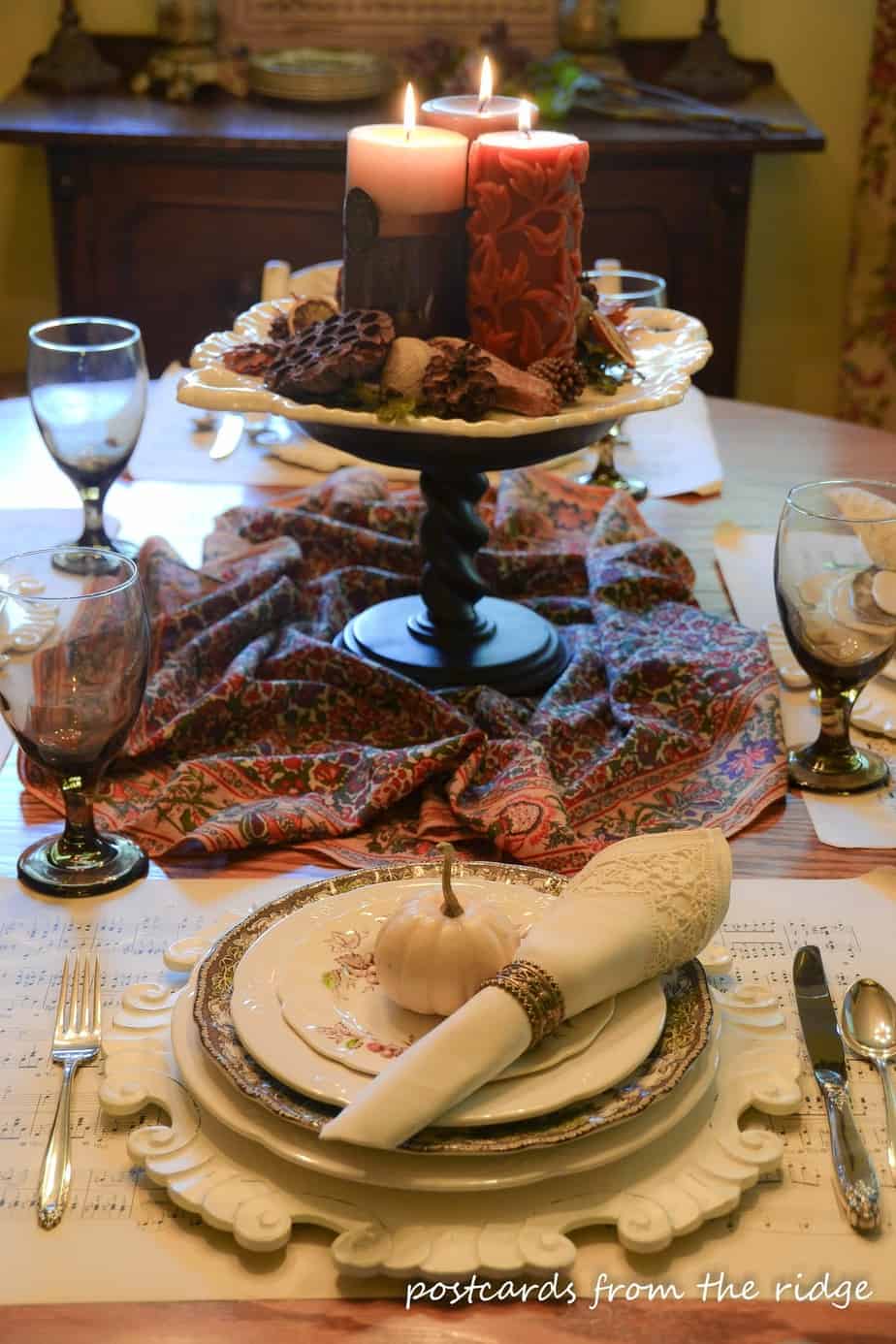 More vintage and new items mixed together here. The compote is newer, but the white platter is vintage. The scrunched up table cloth is a yard sale find. The vintage lace napkins were found at an antique shop. Again, I love mixing old and new…mostly old, whenever possible.
I prefer using natural decor in our home. There's just something special about the texture, aroma, and feel of using organic items. Maybe it's because I love nature and being out in it.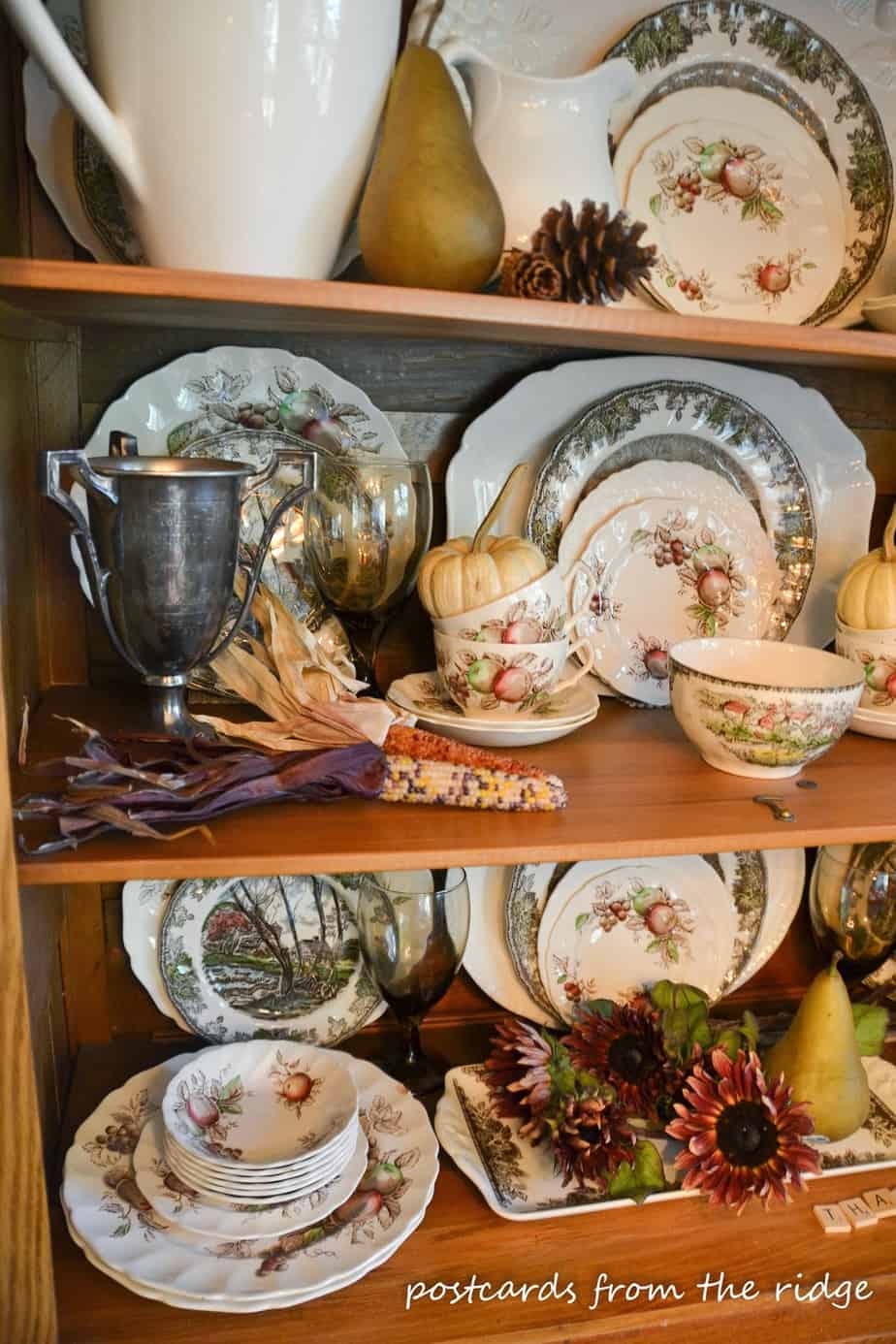 Yet more vintage dishes, mixed with some pears, baby white pumpkins and Indian corn over in the hutch. I added some sunflowers here as well. I love the color of these. I found them at the grocery store!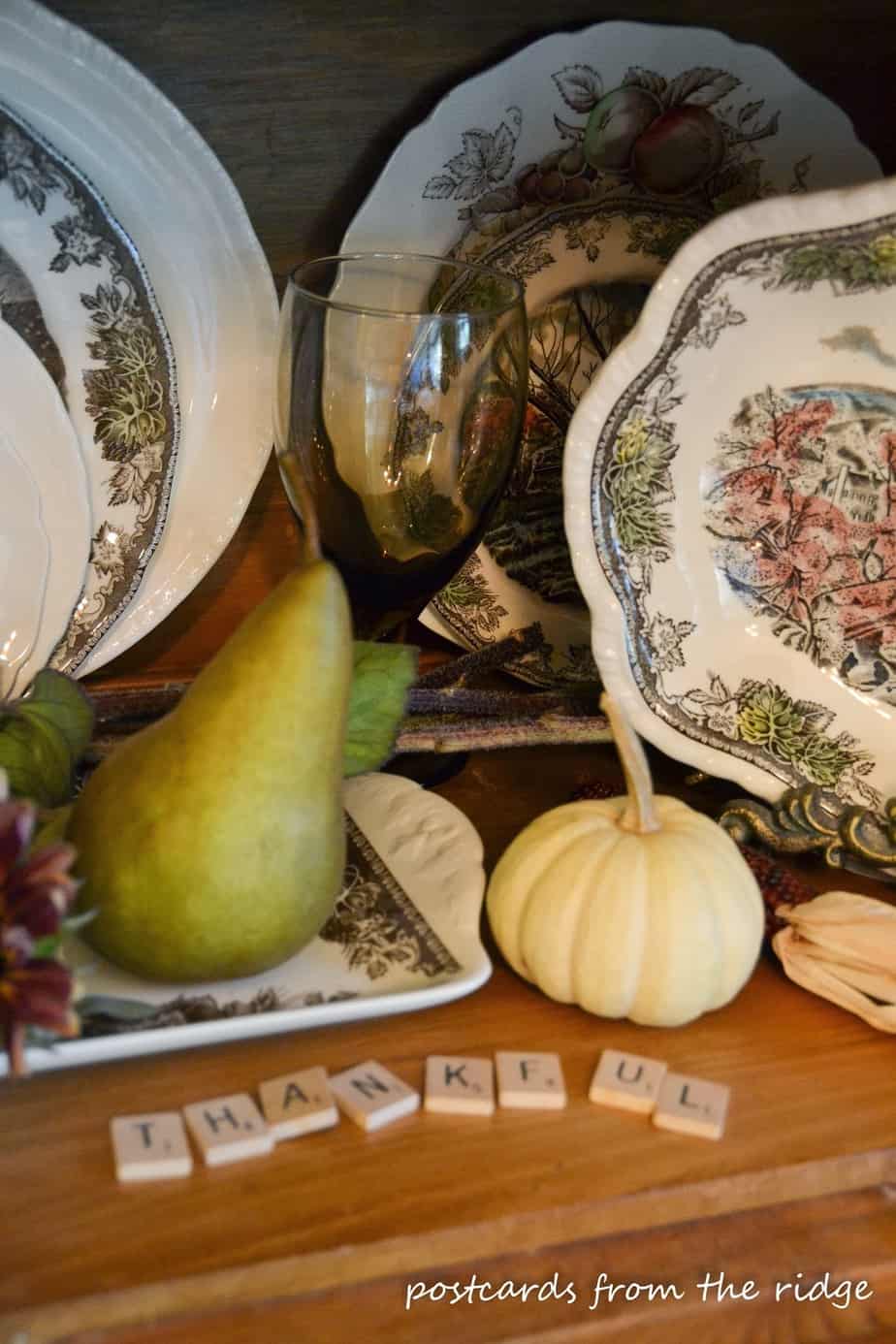 What are you thankful for today? There's always something to be thankful for.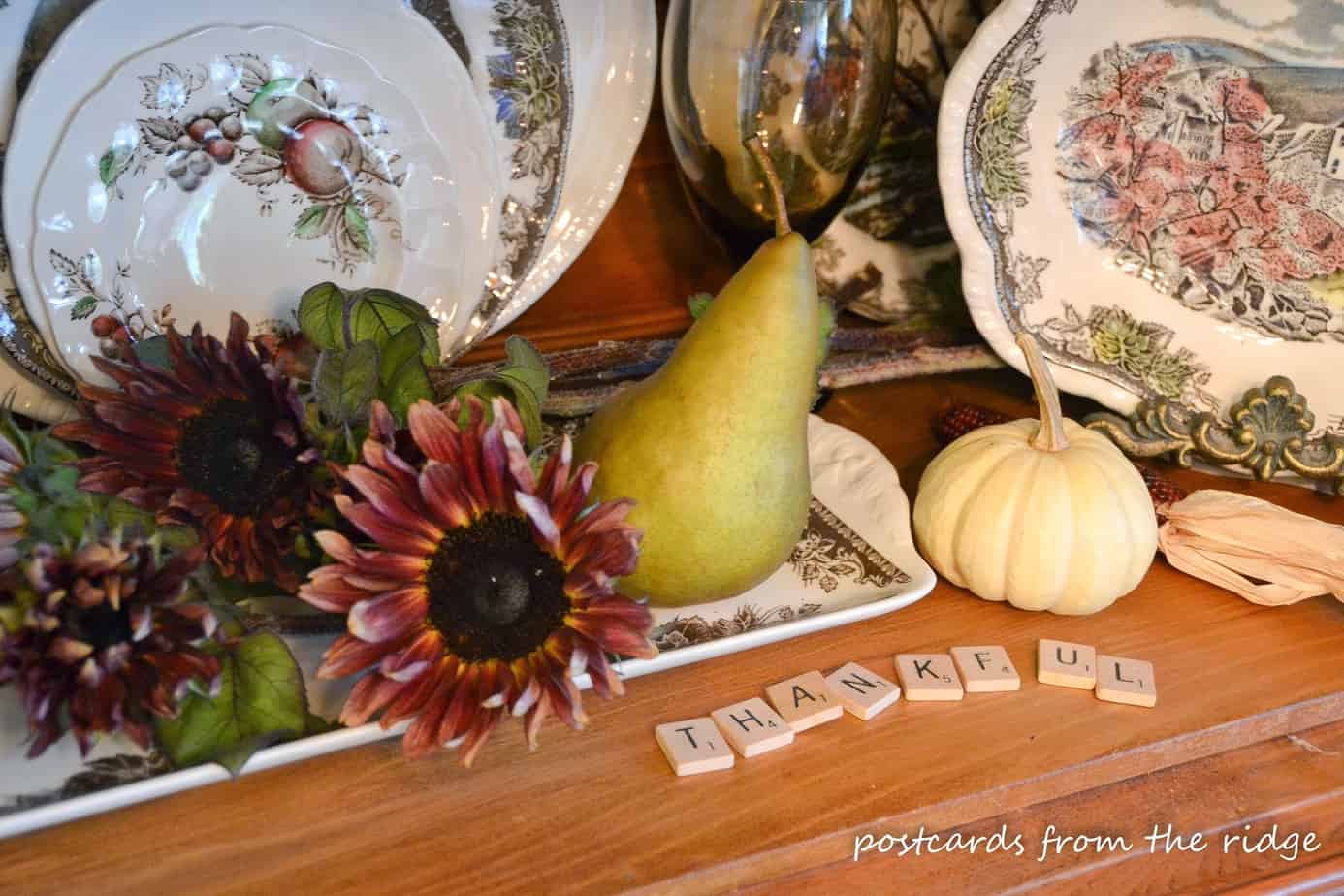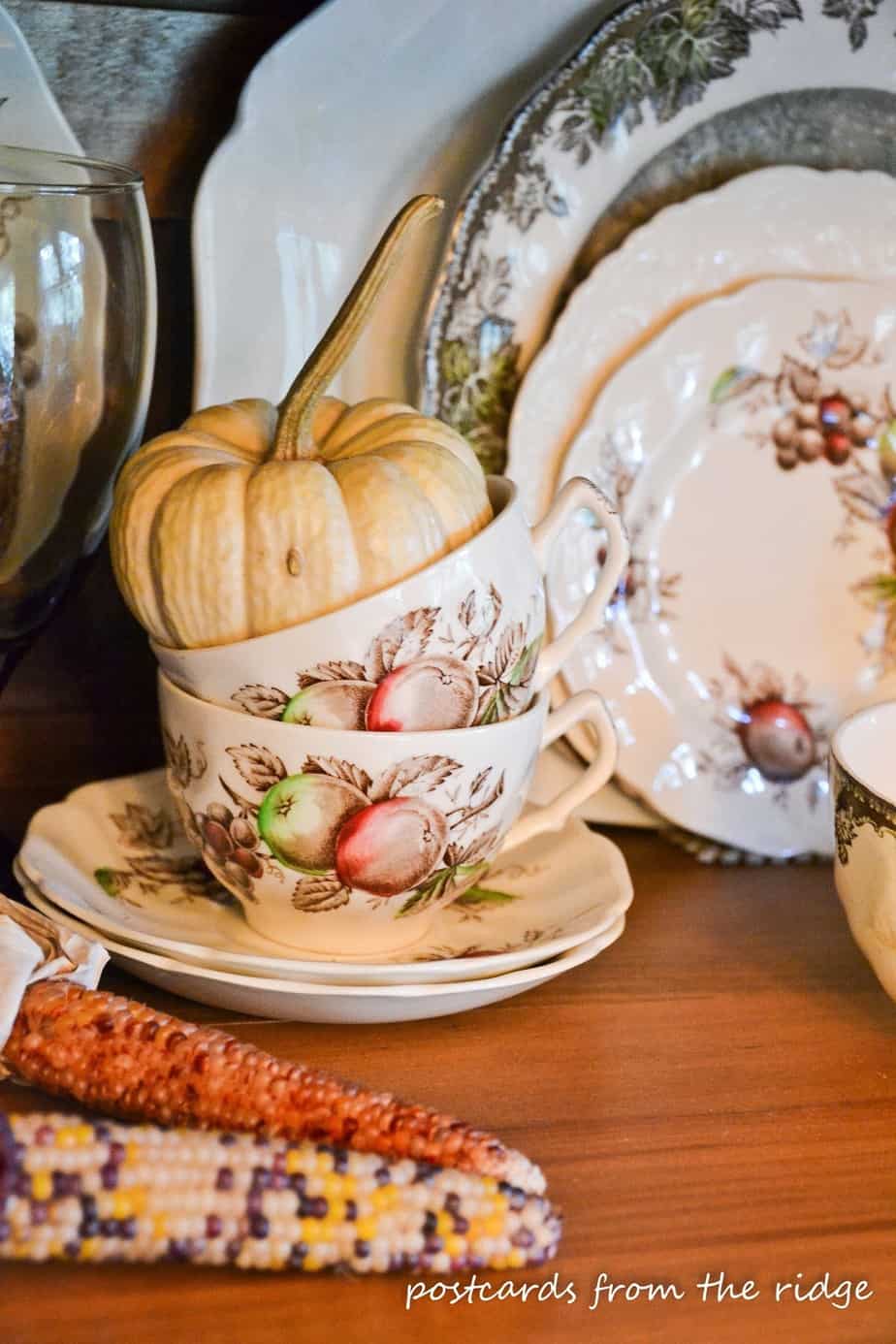 Baby pumpkin in a vintage teacup. How fun is that?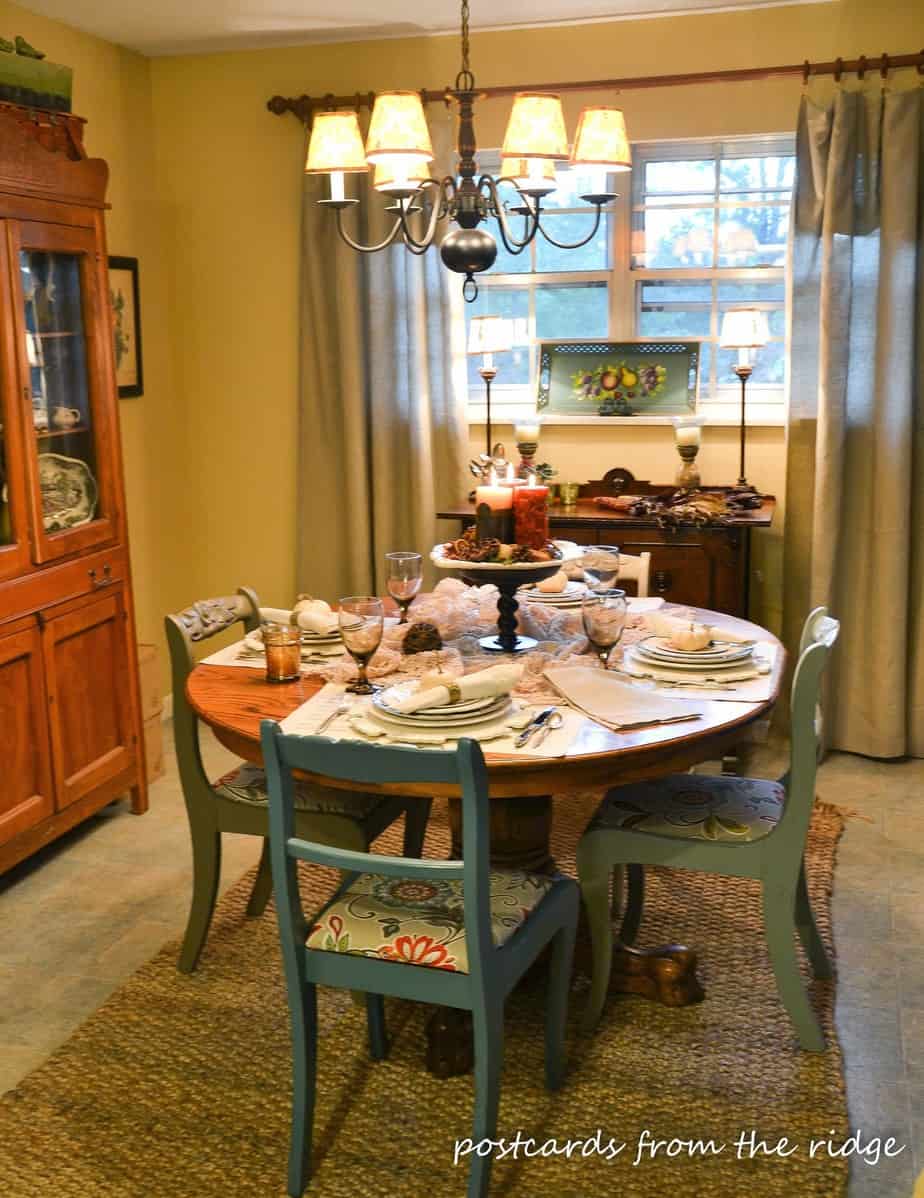 The whole space. I'm considering changing the paint color on the walls, but haven't decided on the perfect shade just yet. And yes, the chairs are each painted in a different color because someone has a hard time settling on just one shade. 🙂
We usually have four chairs at the table, but every couple of months my 17-year-old daughter has her friends over for lunch and they all crowd around here. There's usually 8 or so high school seniors, boys and girls, sitting elbow to elbow and laughing and talking and eating everything in sight. I really love those days. There's just a happy, energetic vibe in the house when they all come over.
The hutch. I love to collect ironstone platters and pitchers and have about 20 years' worth. The patterned dishes get changed out seasonally. There will be red transferware and goblets on display here in just a few weeks when it gets a Christmas makeover. One year during the 4th of July I added some blue willow dishes with the red transferware. It's a fun way to get into the spirit of the season.
So, what do you think? Will you stop by sometime and eat with us now that you've seen our breakfast room? We've always got room for more!
Just in case you missed it, last week I shared a tour of our kitchen. To view it, click here.
For a peek at our family room, go here.
To see the living room, visit here.
Our guest room can be seen here.
The master bathroom is found here.
Thanks for stopping by and touring the breakfast room!
XOXOX,
Angie
If you like my posts, I'd love it if you'd become a follower. You can keep up with my latest projects, tutorials, favorite paint colors, photos and tips many ways, including:
Email * Facebook * Hometalk * Pinterest * Twitter * Instagram