How to get your fireplace ready for fires
Hello, friends! Now that October is in full swing I can't help but look forward to the first fire of the season in our fireplace. I absolutely love a wood-burning fireplace and don't think I could live without ours. Well, I could go on living, but it wouldn't be near as cozy during the colder months.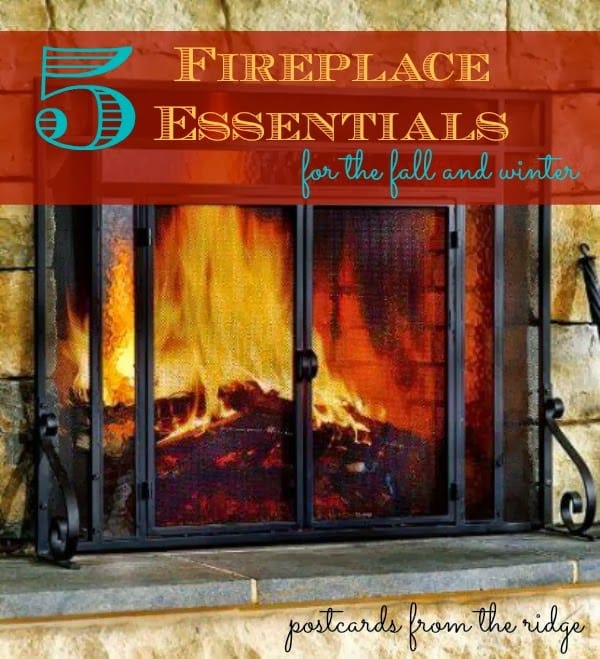 This post contains affiliate links for your convenience. If a purchase is made after clicking one of the links I might make a small commission. Your price does not change. For full disclosure, go here.
How to Prepare Your Fireplace for Fires
As nice as a fire in the wood-burning fireplace is, there are some things that must be done for safety, and some items that you need for maximum enjoyment.
Most importantly, you should have your chimney cleaned each year, either by a professional, or if you're the DIY-type and don't mind a little soot, you can clean it yourself with a chimney cleaning brush and pole and some creosote remover. You can also use a Creosote Sweeping Log. It can be a serious fire hazard if you don't have the build-up removed from the inside of the chimney.
With any wood-burning fireplace there are some items that are necessities. There are different versions of each of these, but here are five items that are necessary for a wood-burning fireplace:
Click on the name of the item for sources.
Fireplace Grate. This allows air circulation and keeps the fire from burning out. A good fireplace grate is absolutely necessary for a wood-burning fireplace.
Fireplace Screen. Another must. This prevents sparks from flying out and burning down the house. Or just burning spots on the floor. There are various types of screens that can be either attached permanently or placed temporarily in front of the fireplace. The one in the photo is one that I like and would love to have on our fireplace.
Ash Bucket. You'll need something like the one above to use when you remove the ashes and coals, which you should do after every couple of fires.
Container for firewood. You'll need something to store the firewood in so you don't have to keep going outside for more. I really love the copper tub in the photo. That's what we use for our firewood, newspapers and kindling. The copper has a nice homey feeling to it. There are many different things you could use for firewood, including baskets, wooden boxes (don't set them too close to the fire!), log stands, log bins, a metal tub etc.
Fireplace tools. You'll definitely need a poker, small broom, shovel, and if possible a log turner to best enjoy your fire. You can usually find them in a set with a stand, like the one pictured.
In addition to these 5 must-haves, there are a several other nice-to-have and just-plain-fun items for a fireplace. Here's a few we enjoy or would like to have:
Click on the name of the item for sources.
So now all we need is some cool weather! I'm anxious for it to arrive and stay for a few months.
How about you? Do you love a fire in the fireplace as much as me? Do tell!
Thanks for dropping by!
XOXOX,
Angie