Favorite Paint Color ~ Fall Edition
Hello, friends! And happy hues-day! It's been a few weeks since we had hues-day Tuesday on the blog, and I thought October would be a great time to showcase some fall benjamin moore paint colors.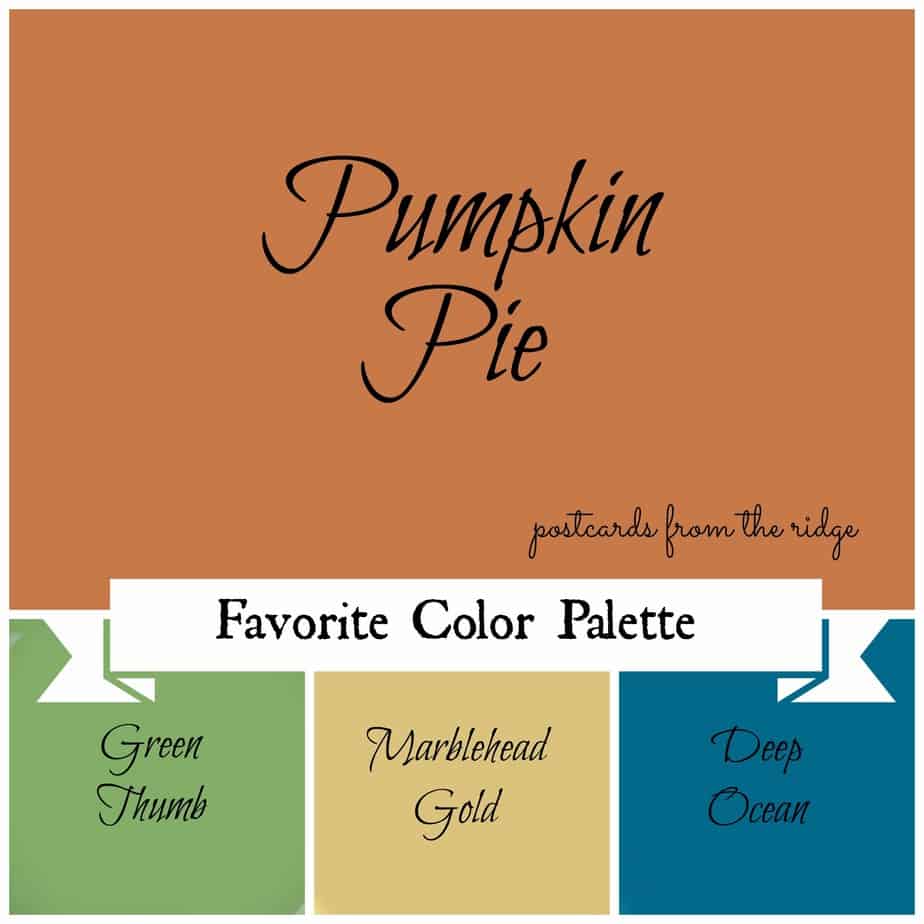 Admittedly, pumpkin pie (and anything else pumpkin) is one of my favorite things. So far this season, I've had pumpkin coffee, pumpkin cake, pumpkin spice latte, and pumpkin coffee creamer added to my coffee. Hmmm. It seems like I drink a lot of coffee, doesn't it? Busted.
While I haven't actually painted any rooms in our current or former house in orange, I've always liked the way it looked in pictures. Especially kitchens. Doesn't it look great with the white cabinets, wood floors, and dark walnut island? It's so warm and inviting.
And this office is uber chic with the orange walls and sleek furnishing. Check out that cool retro phone on that desk. Very hip, indeed.
Pops of orange, turquoise, and gold give this dining space a cozy feeling. The dark wood chairs warm the space up even more.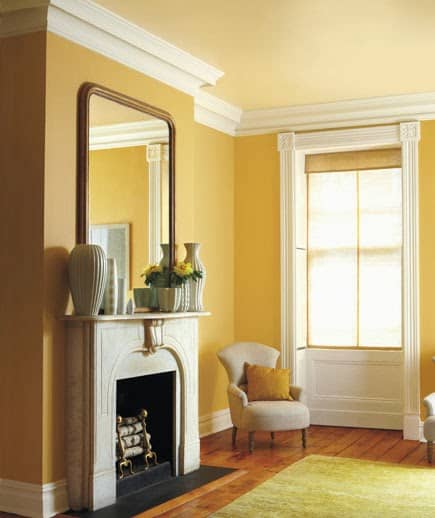 The gold walls in this space remind me of the color of leaves in the fall. And it makes me want to take a trip to the mountains!
Not ready for bold colors on the wall just yet? How about some accents in orange and gold? Throw pillows and accent furniture are great ways to add pops of color without making a major commitment. You can always change them out when you get tired of them, or when the seasons change.
Or if you're ready for a bit of more color than you can get with pillows, how about painting an accent wall for some drama? This wall really livens up the otherwise very neutral space.
What do you think? Are you ready for some fall color in your home? Whether it's a little or a lot, there are many ways to bring the colors of nature indoors. How will you go about it in your space?
XOXOX,
Angie
If you're new here, sign up for email here or follow along here so you don't miss a thing:
Email * Facebook * Hometalk * Pinterest * Twitter * Instagram

For handy tips and tutorials, go here.


To see my painted projects, go here.

For tasty recipes from my kitchen, go HERE.
For some simple tips for capturing a great photo, go HERE.
Go here to learn about having an online design or color consultation.
And go here for dozens of photos, ideas and favorite paint colors.