Sneak Peek of "Celebrating Everyday Life with Jennifer Carroll" Sept/Oct Edition
Hello, friends! Are you in the mood for Fall as much as I am? I know it's early September and the calendar and weather say it's still summer, but I'm already craving fall colors and clothing!
One of the things that's making me itch for Fall is all the beautiful magazines and catalogs that arrive almost daily. And one of the most inspiring ones is "Celebrating everyday life with Jennifer Carroll".
Today I have the privilege of sharing a sneak peek into this amazing collection of decorating tips, craft ideas, interviews, home tours and recipes from some very inspiring and talented women.
The photos and styling are simply stunning. Don't you wish you were having a dinner party as lovely as this in your back yard? Check out the magazine for some tips on entertaining in style at your own home.
If you love vintage style as much as I do, you'll really love this tutorial for making a galvanized metal bunting! How clever and original is that? Leave it to Beth at Unskinny Boppy to come up with something as unique and fun as this! Find this and other great tutorials for fun Fall crafts in the current issue.
White baby pumpkins are one of my favorite things to decorate with in the Fall. (Click here to see how I've used them in the past). Don't they look lovely in this dining room? This is just one of several gorgeous spaces featured in the current issue.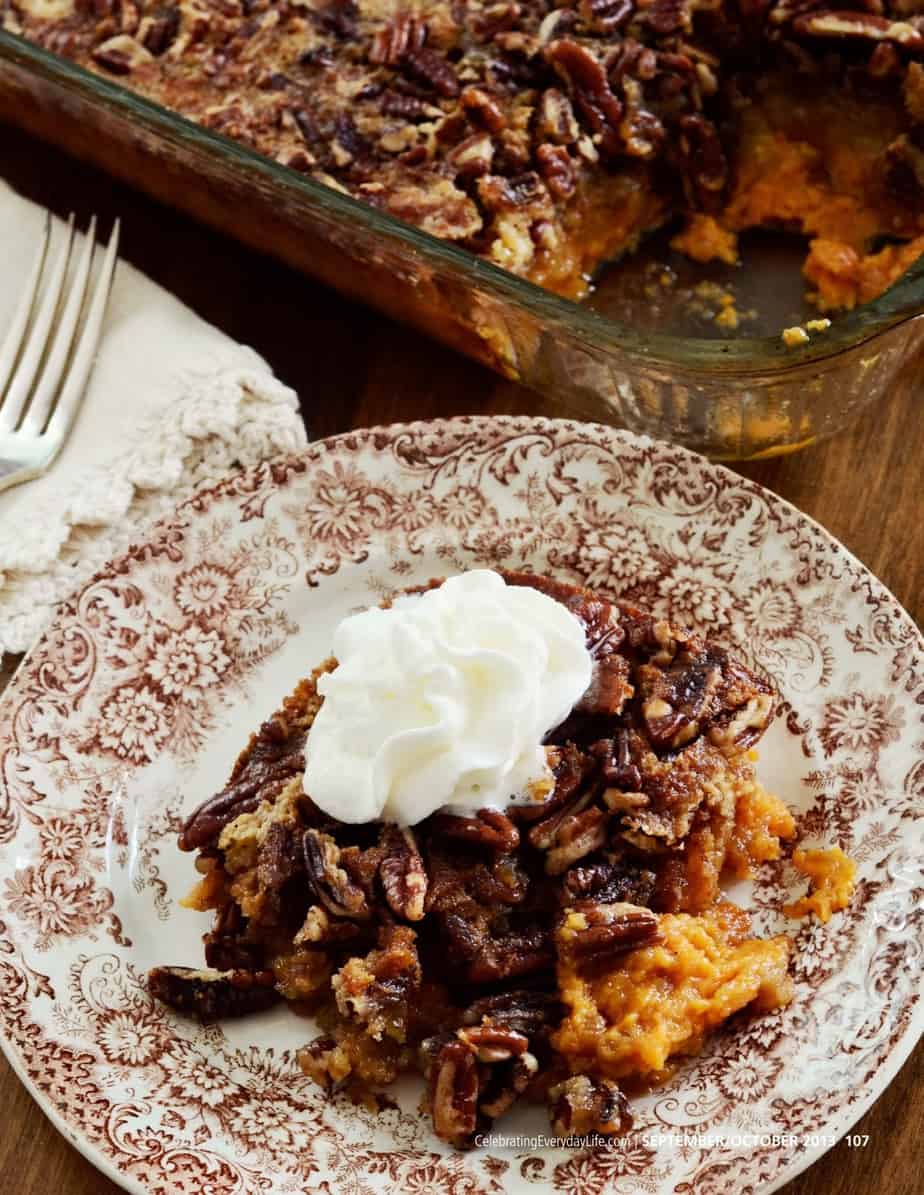 This is not your traditional sweet potato dish, but instead is "Something pumpkin", a tasty pumpkin dessert with pecans. Who's hungry now? (me!) Find this and several other mouth-watering recipes in this month's issue.
Want to get a sneak peek of the issue for yourself? Click here to go to the free preview!
Check it out, then come back and let me know what you think! I'm hooked!
Thanks for stopping by and taking a look at this wonderful new magazine.
To see my Fall decor so far, go here and here.
Note: I was provided with a free digital copy of the magazine to review and share, but the opinions and descriptions are mine, and I chose which photos to share with you. I must say, it was really hard to choose which ones to share because they're all so beautiful!
XOXOX,
Angie
If
you like my posts, I'd love it if you'd become a follower. You can keep
up with my latest projects, tutorials, photos, recipes and tips many
ways, including:
Email * Facebook * Hometalk * Pinterest * Twitter * Instagram