Fall Mantel Decor ~ Traditional Version
Hello, friends! Now that September is here, I'm itching to get out the Fall decor and start wearing my Fall clothes. Am I the only one?
Over the years, I've accumulated a large variety of decor items. That's putting it mildly. And my taste is quite eclectic, so I don't just have one style of decor to work with. I love to visit estate sales, thrift shops, yard sales, and then there's the items I sell in my shop. Lots of fun and pretty things to work with.
My theory is…if you love it, buy it (if possible). You'll find somewhere to use it. Maybe that's part of the reason that I have so much stuff.
I couldn't decide which look I wanted to go with on the living room mantel this year, so I did something a little crazy and tried 3 different versions! I used things that I already had and tried out 3 styles, eventually settling on a blend of 2 of them.
Today I'm sharing the more traditional version with you. In the next few days I'll share version 2 and version 3 and then the final mix, so be sure you're following me and you won't miss a thing!
For this more traditional version of the fall mantel, I anchored it with 2 empty frames. Then I added the wooden candlesticks, the vintage mantel clock, and filled in with the other accessories. I already had everything you see in this photograph.
Did I hear someone say "hoarder"? Um, no. I like to say "collector". 🙂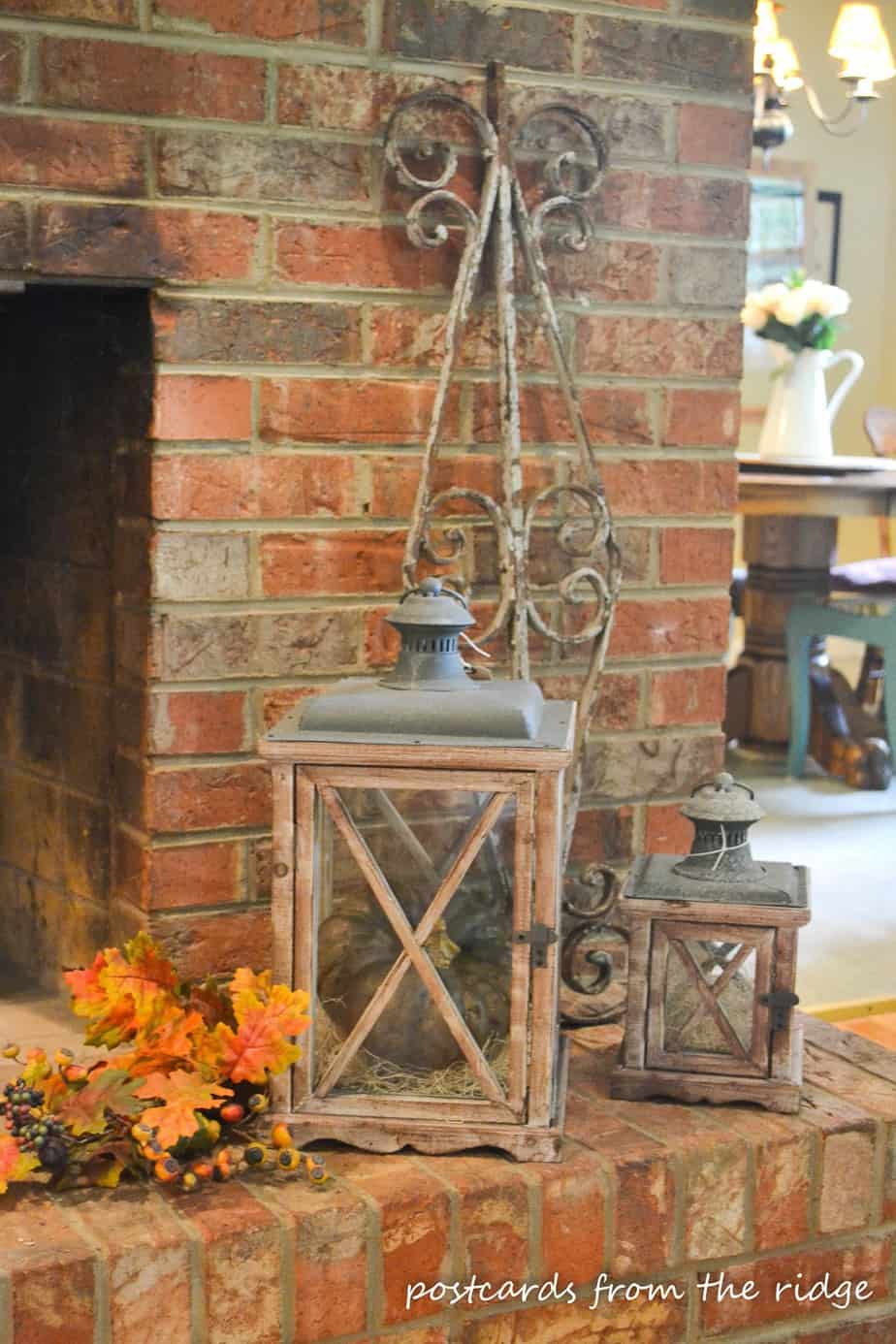 One of my most favorite possessions is this section of a very old iron gate that I found at a local antique shop a few years ago. Did I know what I was going to do with it when I bought it? Nope. I just knew that I'd never seen anything quite like it and that I loved it and had to have it. Sad, but true. It has been in several places in the house, but so far I like this spot the best.
I "borrowed" the lanterns from my retail space. I'll bring them back eventually. Maybe. 🙂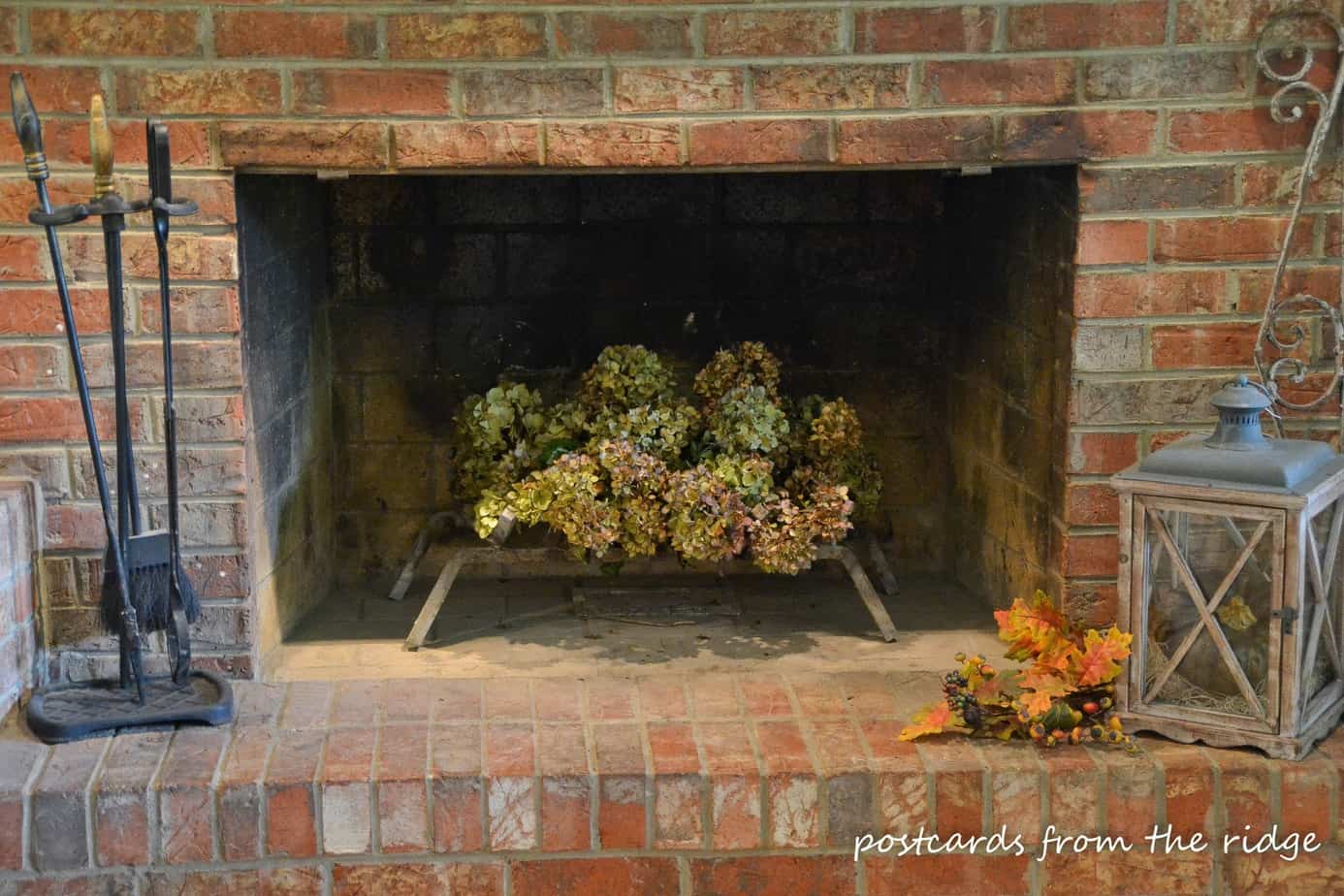 The dried hydrangea blossoms were scooped up from my parents' house a couple of weeks ago when I was visiting them. My dad had just given their giant hydrangea bush a major trimming and I gathered all the blossoms and took them home with me.
I think I caught him scratching his head when he saw me snatching them up. Again, I wasn't sure where I was going to use them, but they're perfect inside the fireplace.
Another favorite find, I got this vintage wire egg basket a year or so ago at a different antique shop. I filled it with faux Easter eggs earlier this year (click here to see), but now it contains some small pine cones, pods, and leaves for more of a fall-ish feel.
A peek into the breakfast room. You can see some of my ironstone in the vintage oak hutch. You'll see some more of it in one of my other mantel versions. So if you're a fan of vintage ironstone, stay tuned for version 2.
The mantel clock belonged to my great aunt and uncle and I'm glad to be able to use it in our decor. They were such sweet people.
The books were found at estate sales. Look closely at the titles. The top one is "Evil Under the Sun". I couldn't resist that one since Halloween is just a few weeks away!
One last view of the whole thing. The lighting in this room is really tough to photograph in, so my apologies for any glare on these.
What do you think of the traditional version of our mantel? Yes? No? Maybe? I'd love to hear your thoughts!
And stay tuned for 2 more versions, including one with ironstone, and one with…well, you'll just have to see! It's definitely different, but in a very fun kind of way! And my final version is a blend of versions 1 and 2, so stick around for that too!
Thanks for stopping by!
***All 3 mantels have been revealed! Go here to see version 2, and here to see version 3.***
To see our Fall decor from past years, go here.
For a tour of the living room, go here. It has changed somewhat since the photos in that post were taken, but you get an idea of the space.
XOXOX,
Angie
If you like my posts, I'd love it if you'd become a follower. You can keep up with my latest projects, tutorials, favorite paint colors, photos and tips many ways, including:
Email * Facebook * Hometalk * Pinterest * Twitter * Instagram