Bella Blue Painted and Crackled Hutch
Hello, friends. I've got a furniture reveal for you today.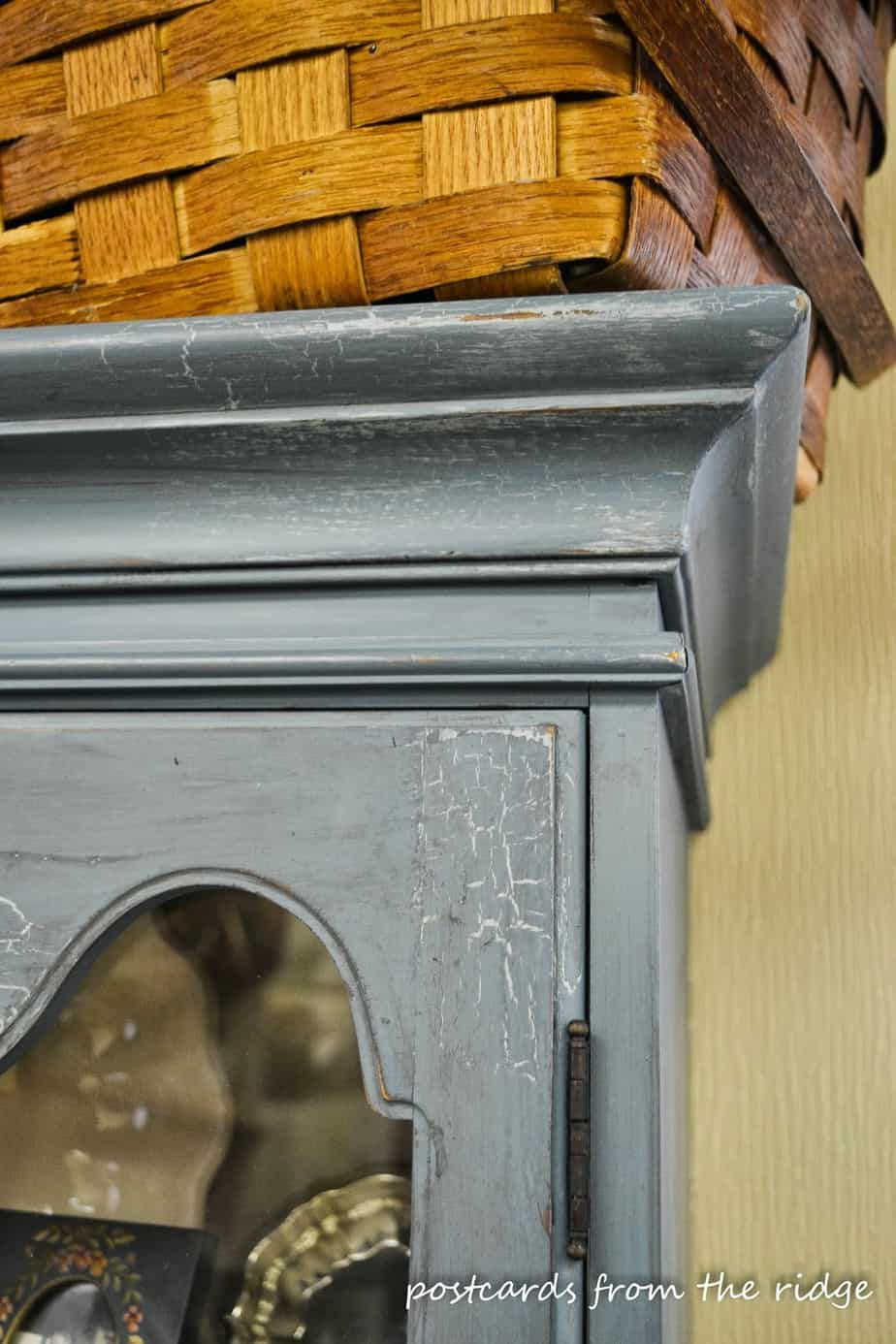 Last week I finally finished another piece of furniture. This one was fun, as I experimented with some crackle medium and other "resist" techniques.
It was a little rough when I got it, so I had no qualms about making it look old and aged. It was the perfect candidate to experiment with!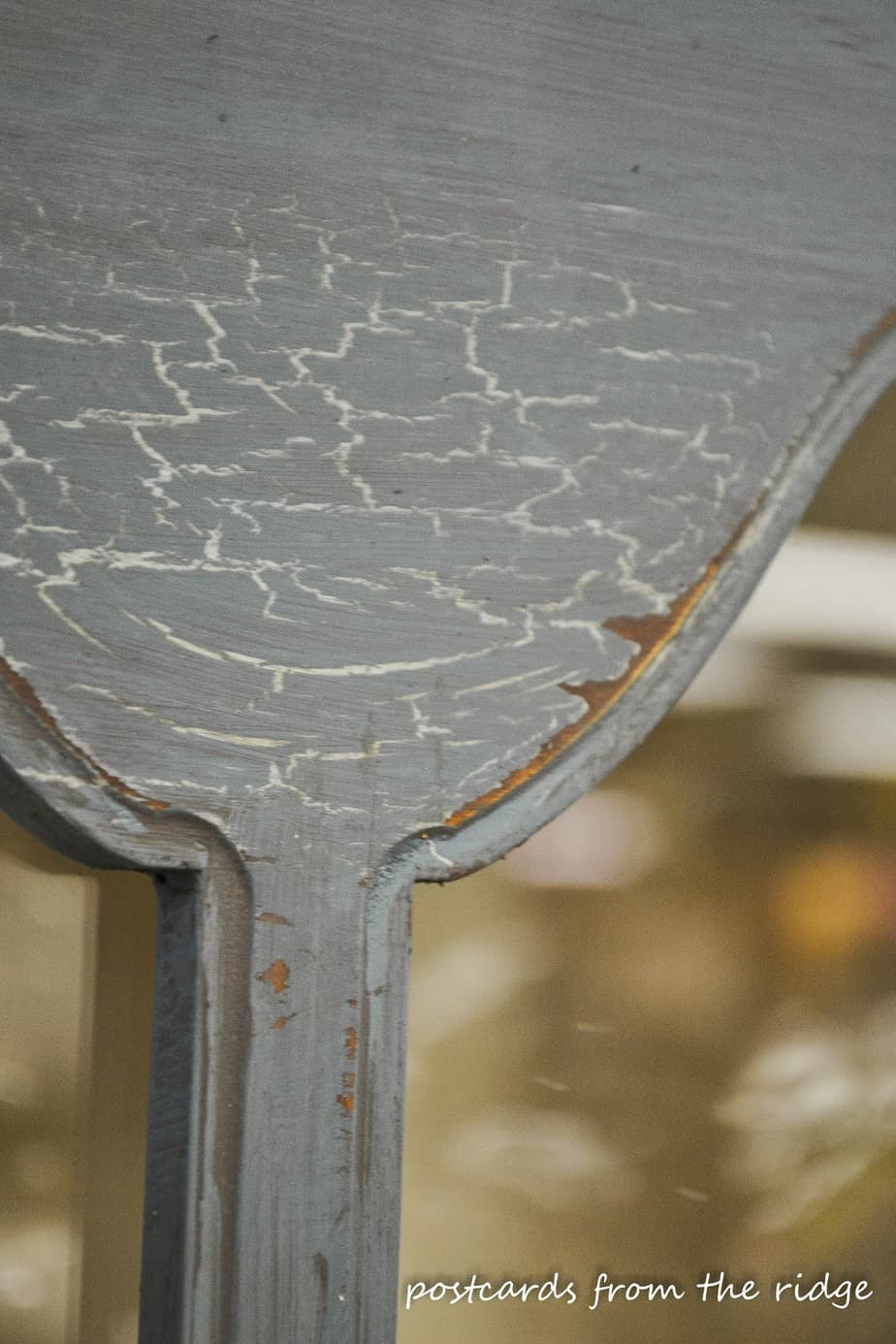 I wanted this piece to look like it had come out of an old French cottage.
For some reason, blue seemed like the color to use on it. I had a hard time deciding which shade to use, but eventually settled on Benjamin Moore Bella Blue. Come to think of it, that's a really good name for a piece that I wanted to look French.
I experimented with Modern Masters Crackle Medium, but not all over. I wanted only certain areas to be crackled. Like it had evolved over time, very unintentionally.
And I actually used petroleum jelly on some areas to resist the paint, but it didn't work as well as the crackle. It was my first time trying that technique, so maybe it just takes practice.
Another thing I experimented with was custom tinted wax. You can see in the photo above where I put 2 coats on the right door and one coat on everything else. I'm thinking that I probably need to go back and add more to the other areas.
For the custom tinted wax, I used Clear Furniture Wax and added latex paint to it. It was just an experiment, but I'll definitely doing this again. I love the freedom of making my own colors, whether it's paint, glaze, wax, or whatever.
Here's how it looked when I got it, complete with Christmas lights taped to the inside and a strong smell of dog. I let it air out for a couple of months and gave it a good cleaning before I began painting it.
I painted the inside with a lighter color. I filled it with some items that are for sale in my retail space, including my favorite reproduction ironstone pieces and some vintage silver bowls.
Do you see the small frame on the right side of the upper shelf? That is what inspired my color choice on this piece. And FYI, the little fella eating watermelon in his bare feet and overalls is my dad, about 73 years ago.
I added some fluff to the top, including a chalk board I made a couple of weeks ago and a vintage wooden picnic basket and a preserved boxwood topiary. All are for sale. 🙂
One of my favorite old books is "The Married Woman: A Practical Guide to Happy Marriage". It makes me chuckle every time I flip through the pages.
One of the funniest pieces of advice in the book is to make sure the house is quiet and the children are clean and presentable when the husband comes home from work. And bring him a drink and his newspaper and let him wind down for an hour while you finish dinner. Pfffft! That's a good one!
The reproduction trophy looks nice against the blue and cream. The old book adds even more character.
It looks pretty authentic, don't you think?
A close-up of one of the drawers and all of it's crackle-y goodness.
And one of the doors.
I really like the curves on the top of the glass doors. To me, they look a little French, and that's what led me to the piece and the colors.
Another close up.
And a final view of the piece. It's currently for sale in my space for $325.
What do you think? Does it look French? Or just country? I wasn't sure about the color, even after I painted it.
And if you're interested in learning how I achieved the crackled areas or how to make custom-colored wax, please leave a comment and I'll do a tutorial for that. It's not that hard to do, but it takes some specific products to get this look. I'm happy to share what I know if you're interested though!
Thanks for dropping by!
XOXOX,
Angie
Sharing this project here:
Furniture Feature Friday at Miss Mustard Seed
If you like my posts, I'd love it if you'd become a follower. You can keep up with my latest projects, tutorials, favorite paint colors, photos and tips many ways, including:
Email * Facebook * Hometalk * Pinterest * Twitter * Instagram
Disclosure: This post contains links to Amazon and I am an Amazon affiliate. This means that if you click one of the links and then purchase from Amazon, I might make a few cents.