Gallery Buff and Wythe Blue Painted Vintage Secretary Hutch
Hello friends! I thought it was time to reveal a finished project that's been several months in the making. Not because it was a really big project, but because I've got the speed of a turtle sometimes.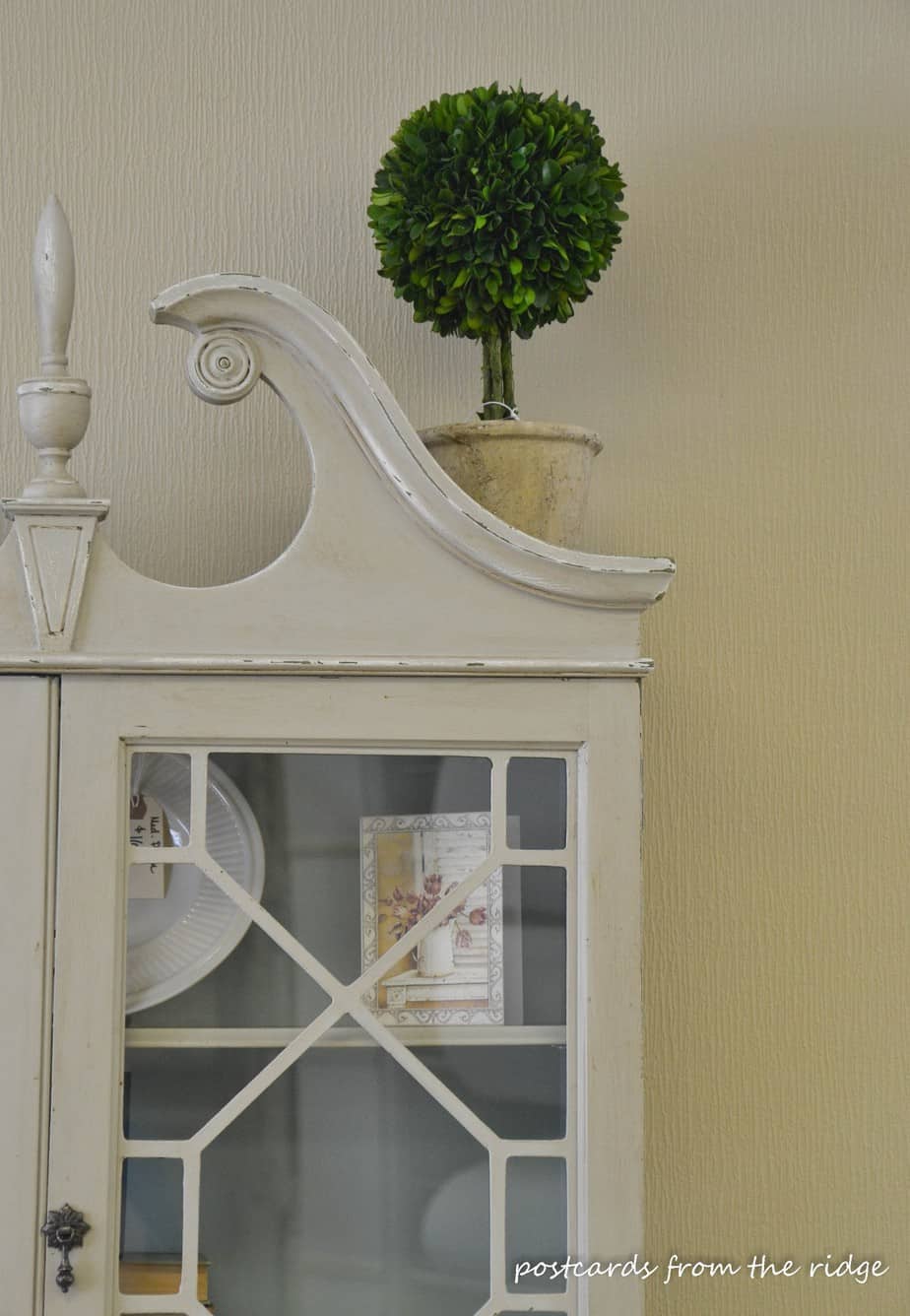 I FINALLY finished giving a makeover to the secretary desk that I bought from a local customer waaaay back in February. And I kinda like the way it turned out.
Here's the "before" shot. It's in great shape and has all the fretwork and hardware and the drawers all work great. But the 1970's antiqued green finish just wasn't going to work. And it also had a couple of spots where it had bumped into something and the paint was missing, so it was ready for a makeover.
*disclosure – this post contains affiliate links for your convenience*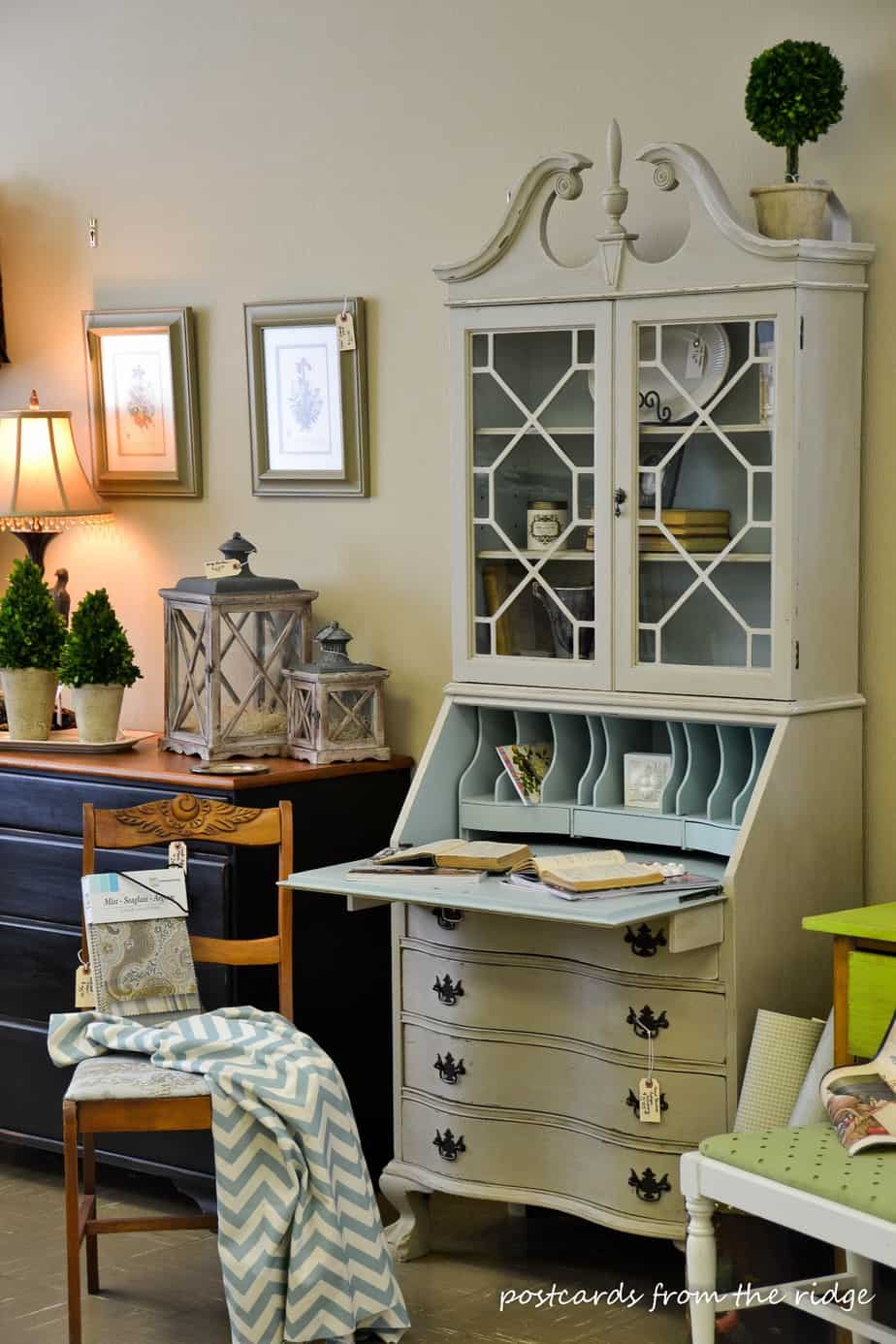 I finished it in Benjamin Moore Gallery Buff and then did some distressing and gave it a coat of Minwax Dark Wax. I also repainted the hardware with Modern Masters metallic paint.
The Minwax paste wax gave it just the right antiqued look that it needed, nestling down into the ridges and grooves of the piece.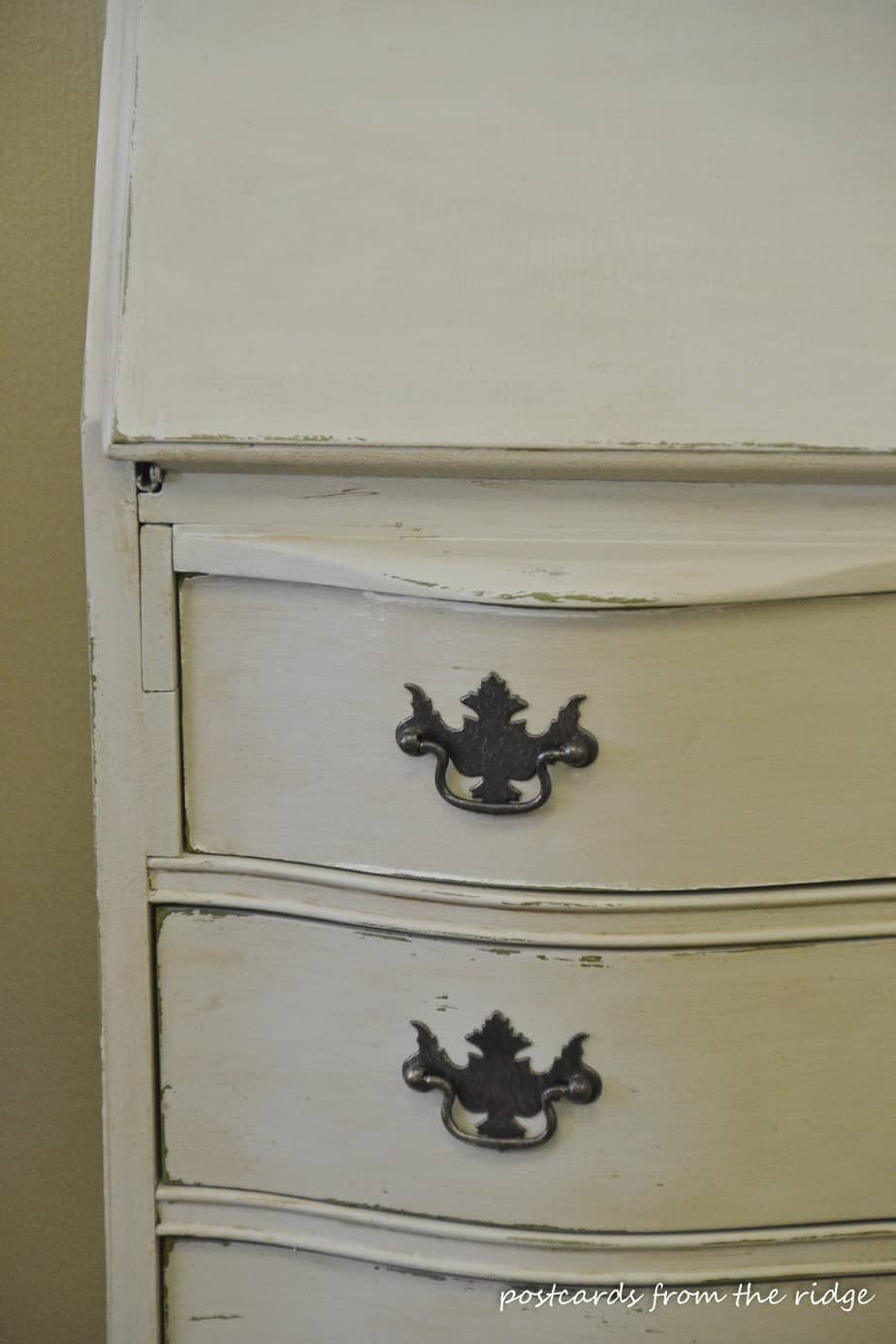 I thought about painting the drawer pulls in the same color as the drawers, but decided to do a metallic finish for some contrast. You can see the 70's antique green peeking through the Gallery Buff color.
The inside got a coat of Wythe Blue for a refreshing burst of color. It's one of my favorite colors.
I staged the piece at the shop with some small items I have for sale, and a few things from my personal collection.
Some of my favorites are some old books that I found at a yard sale. They belonged to "Bess". Apparently Bess liked Robert. I hope that worked out for her.
Bess's high school composition handbook. I love that she wrote in it and left her permanent mark on the world, well, at least on this book!
Here's the closed view of the piece. And a chair I recovered to go with it.
I put the secretary out for sale in the shop and sold it within two weeks. I would have loved to just bring it home, but since it sold already, that gives me funds for the next makeover and another 6 months of putting things off!
Thanks for stopping by, and have a great weekend!
XOXOX,
Angie


Sharing this project here:
Treasure Hunt Thursday at From My Front Porch to Yours
It's Party Time at Three Mango Seeds
Miss Mustard Seed's Furniture Feature Friday
If you like my posts, I'd love it if you'd become a follower. You can keep up with my latest recipes, projects, tutorials, photos and tips many ways, including:
Email * Facebook * Hometalk * Pinterest * Twitter * Instagram
***This post contains Amazon affiliate links.***