Hummingbird cake. If you've never heard of it before, you might think it's something from a Tim Burton movie. But it's not. And it's wonderful. And no hummingbirds were harmed in the making of this post. 🙂
I don't remember the first time I had this cake, but it was years ago. I have an aunt who makes a wonderful version (as well as a fabulous strawberry cake).
Here in the south there's always lots of good food whenever family and friends get together. Usually enough to feed an army, but that's just the way it is. We love our food here in Dixie. And I have loved to bake since I was a teenager.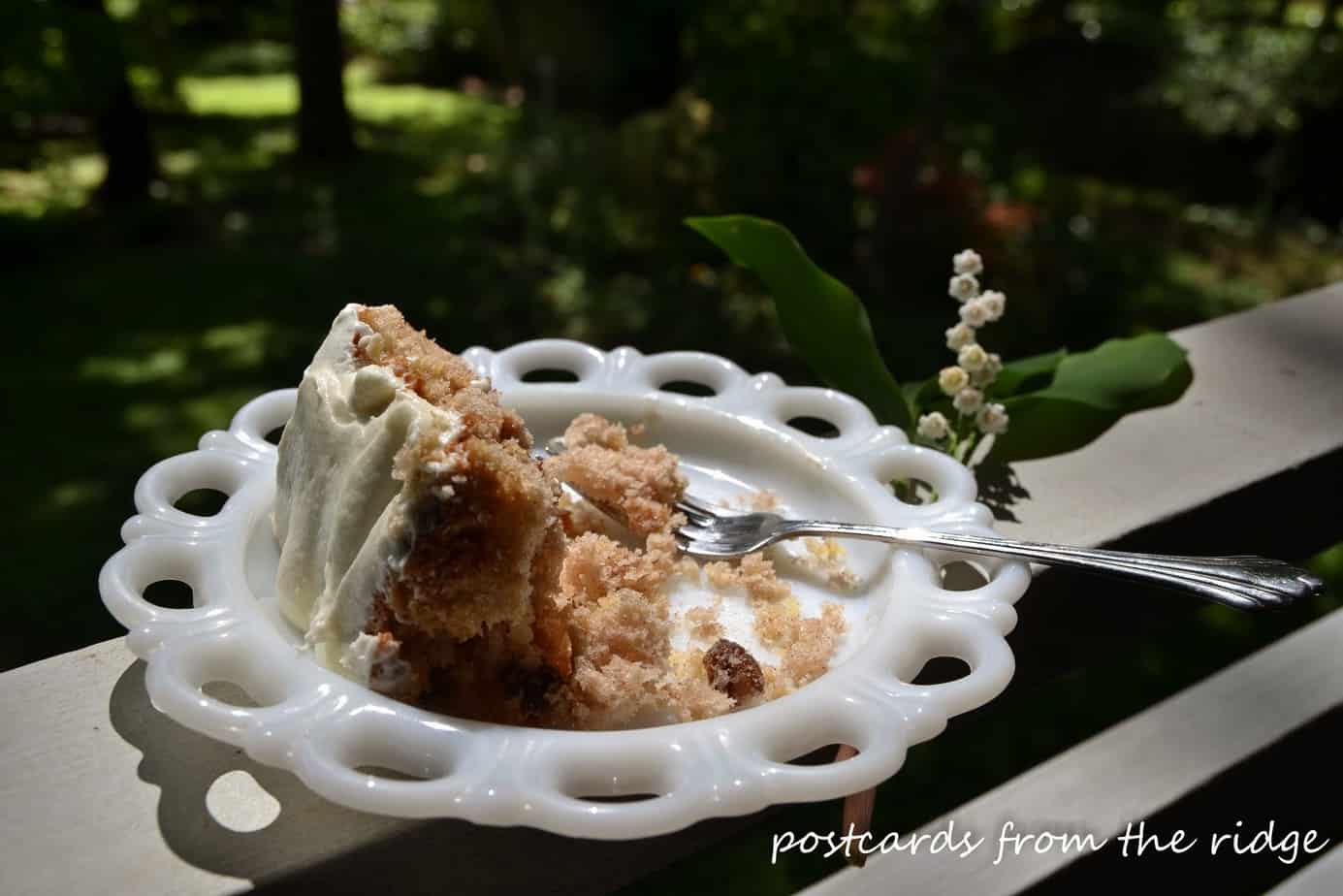 If you like banana bread, pecans, and cream cheese frosting, you'll love this. The recipe I'm sharing today is from my all-time favorite cookbook, The Southern Living Cookbook.
(You can find the cookbook on Amazon, and I just happen to have a giveaway going on until June 7 for a $180 Amazon gift card. Go here to enter!)
Hummingbird Cake is their all-time most requested recipe, so I'm not the only one who loves it!
If I was told I could only have one cookbook, this would be the one I would use. I've had it since I got married almost 22 years ago, and I can't tell you how many dozens of times I've used it.
The pages that have my favorite recipes are worn and have a smudge or two on them. But I wouldn't trade it for anything.
Here's the recipe from this cookbook that I used for the Hummingbird Cake:
————————————————————————————————————————
Hummingbird Cake
Ingredients
3 cups all-purpose flour

1 teaspoon baking soda

1 teaspoon salt

2 cups sugar

1 teaspoon ground cinnamon

3 large eggs, beaten

1 cup vegetable oil

1 1/2 teaspoons vanilla extract

1 (8-ounce) can crushed pineapple, undrained

1 cup chopped pecans

2 cups chopped bananas

Cream Cheese Frosting (below)

1/2 cup chopped pecans
Preparation
Combine the first 5 ingredients in a large bowl; add eggs and
oil, stirring until dry ingredients are moistened. (Do not beat.) Stir
in vanilla, pineapple, 1 cup pecans, and bananas.
Pour batter into three greased and floured 9-inch round cakepans.
Bake at 350° for 25 to 30 minutes or until a wooden pick inserted in
center comes out clean. Cool in pans on wire racks 10 minutes; remove
from pans, and cool completely on wire racks.
Spread Cream Cheese Frosting between layers and on the top and sides of
cake; sprinkle 1/2 cup chopped pecans on top. Store in refrigerator.
Cream Cheese Frosting (you might want to double this)
Ingredients
1 (8-ounce) package cream cheese, softened (I used the light version)

1/2 cup butter or margarine, softened
1 (16-ounce) package powdered sugar, sifted

1 teaspoon vanilla extract
Preparation
Beat cream cheese and butter at medium speed with an
electric mixer until smooth. Gradually add powdered sugar, beating at
low speed until light and fluffy. Stir in vanilla.
———————————————————————————————————————
The next time you have guests or go to any type of gathering, bring
this cake and you will be a super star. But be warned, there won't be
any leftovers!
Let me know if you make it and what you think!
Thanks for dropping by. Have a great weekend!
XOXOX,
Angie
p.s. This post contains an affiliate link to Amazon.
If you like my posts, I'd love it if you'd become a follower. You can
keep up with my latest recipes, projects, tutorials, photos and tips many ways,
including: