The simple way to paint knobs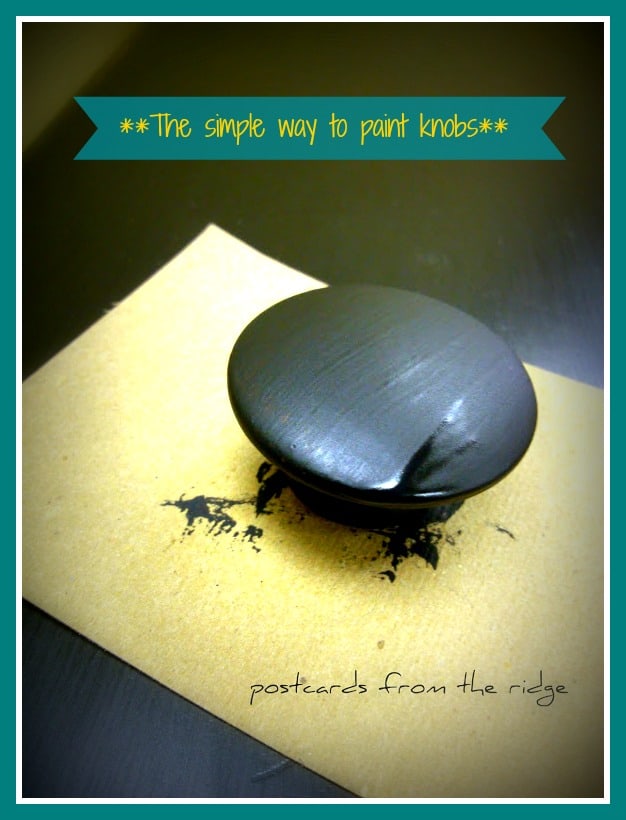 It's a woman's prerogative to change her mind, right? Well it happens
to me ALL THE TIME! Just ask my husband. Things are always changing
around here…paint colors, furniture arrangement, curtains, pillows,
you name it. If it's not nailed down, it gets changed or rearrranged in
this house.
Recently I painted a maple dresser and had planned to leave the knobs in the wood finish that they came with. I painted the drawer fronts and body of the dresser in Benjamin Moore onyx and reattached the wood knobs.
And I didn't like the way it looked. Not terrible, just not how I had envisioned it. Has that ever happened to you?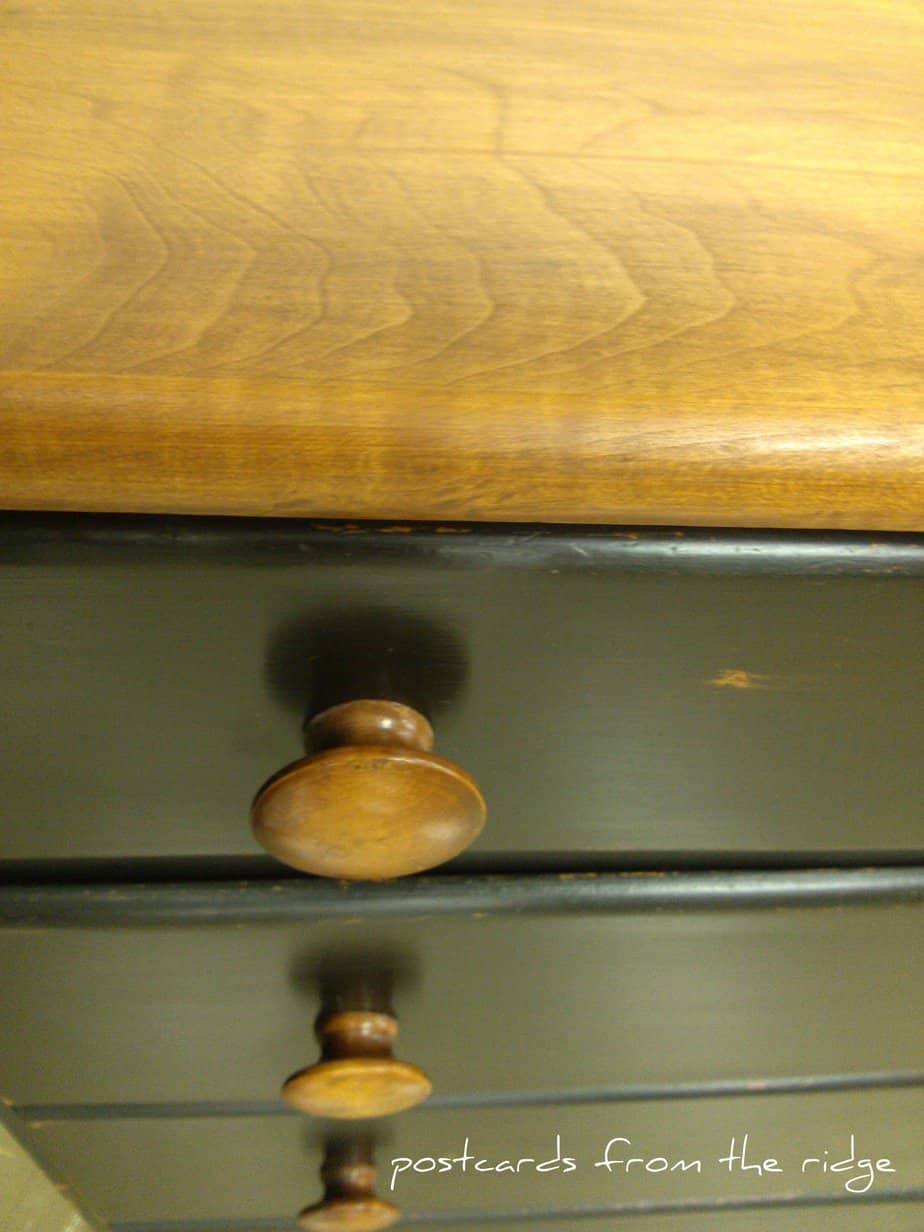 Here's the way it looked unpainted. As I said, not terrible, just not exactly to my liking. So I decided to paint them black also. BUT, and this is a big but :), I always get paint all over myself when I paint knobs. I have been known to just hold them in my hand as I paint them. Of course I get it all over myself.
In the past I have screwed them into a cardboard box and then painted them. But I didn't have time or want to do that with these knobs. I just wanted to be finished with this project. So I tried to think of a quick and simple solution.
It was the end of the day and I was at work and couldn't stay late. I didn't have any aluminum foil, but that would have worked. I didn't want to use plain paper because I thought it might soak through and mess up the wax finish on the drawer fronts. And as I said, I was ready to be done with this project.
I peeked in the recyclables box and found a thick piece of cardstock and snatched it. I cut it into squares, poked a hole in the center of each square, and VOILA! I now had a simple solution to my problem. (How do you like my painting shoes?)
I'm sure I'm not the first one to think of this, but it certainly made this part of my project easier. I just unscrewed the knobs, placed the cardstock on the drawer with the holes lined up, and screwed the knobs back in.
I left about 1/2″ gap between the back of the knob and the drawer front so I could get a nice coat of the paint on the knob, grabbed my brush, and was finished in about 10 minutes.
After the paint dried, I tore off the paper, tightened the knobs, applied a little wax to the front of them and called it a day.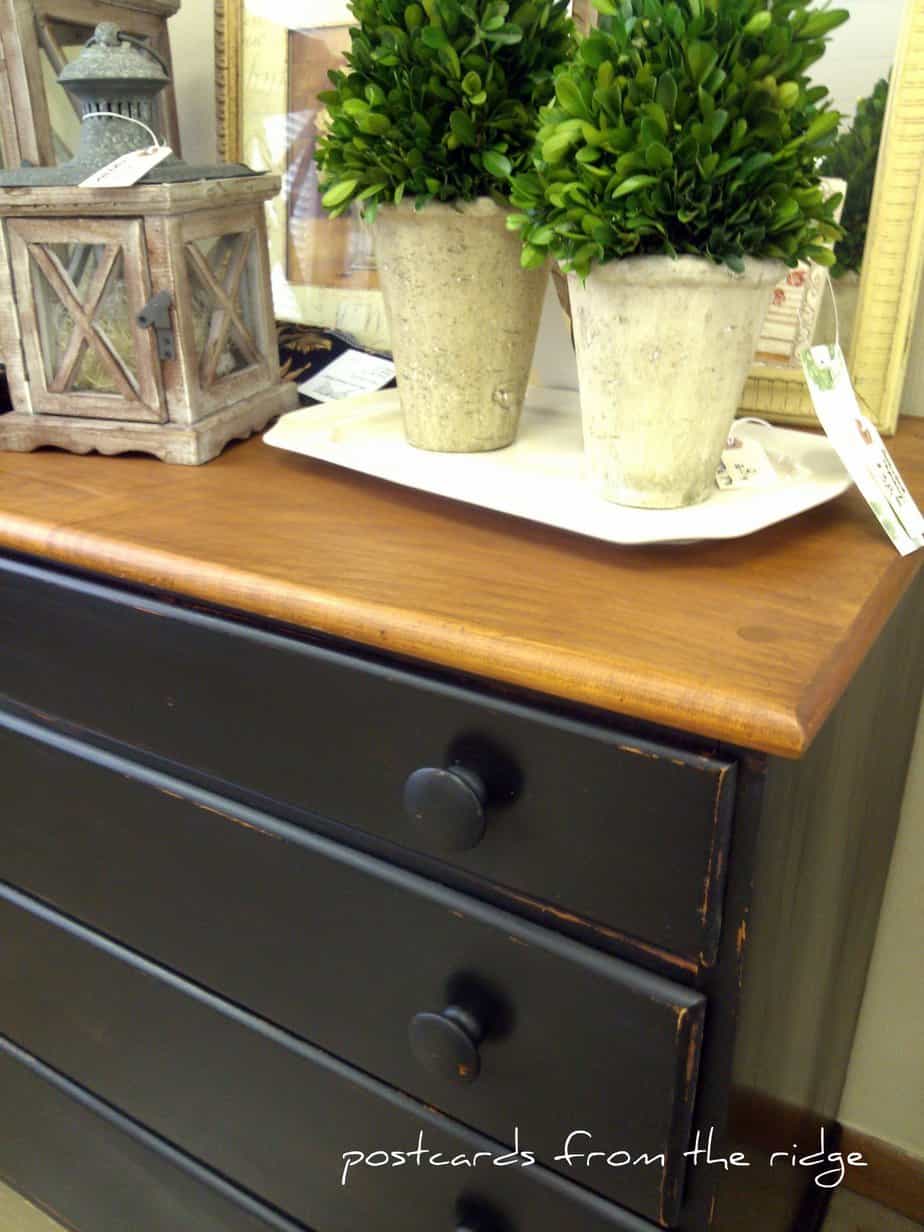 The finished product.
Done and done.
Simple as that!
Thanks for stopping by.
If you like my posts, I'd love it if you'd become a follower. You can
keep up with my latest recipes, projects, tutorials, photos and tips many ways,
including:
XOXOX,
Angie
Sharing this tip at
Tutorials & Tips Link Party at Home Stories A to Z