Spring green vintage oak dresser
Two completed paint projects in 2 weeks….a miracle, yes. But spring has finally sprung and it has me energized. Last week I finished a solid maple black dresser project.
This
little solid oak dresser has been at the shop forever, just waiting
patiently for a makeover. It's been used for displays several times,
but hasn't had anything done to it.
I must admit,
sometimes I wait a while on redoing a piece until I feel like it has
told me what it wants me to do to it. Is that crazy? I think of
furniture pieces as having personalities and stories and always strive
to bring them out and let them shine. Maybe that is crazy, but that's how I do it.
It's a simple piece and doesn't have any distinctive details other than the legs. The front ones have a little curve to the back them at the bottom. Other than that it's all straight, simple lines.
I wanted to liven it up and give it some pizazz. And it finally feels like spring so I thought a fresh, fun green would be perfect. I painted it with a custom-made chalk-type paint, hand-distressed it, and gave it a coat of dark wax.
Here's the before. Poor quality photo for sure, but it shows the piece. The top had some stains and the drawers did too. But the rest of the piece was in good condition.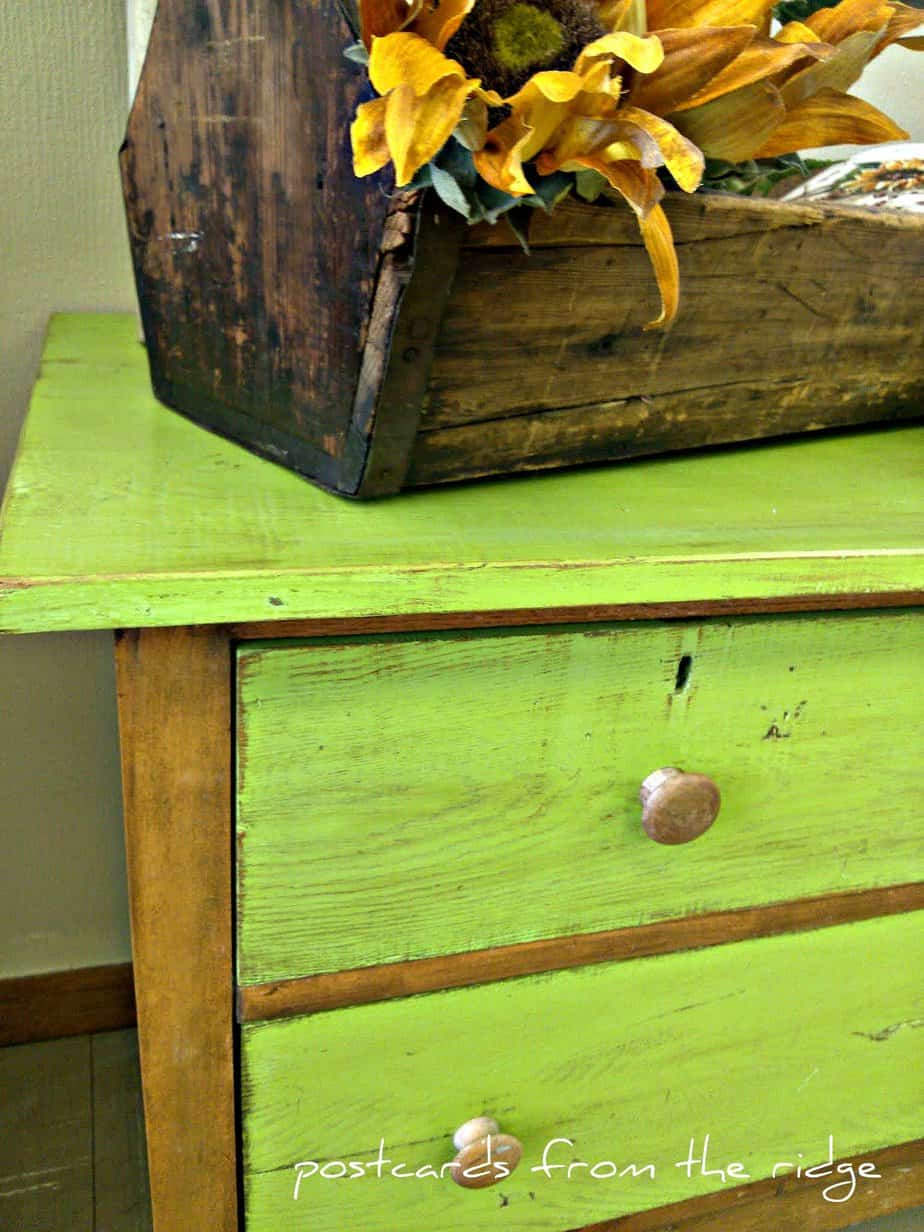 I did some distressing to reveal the oak grain and the knots and flaws in the piece.
This is the first oak piece I've painted and distressed. I really like the way the grain shows up after the distressing and waxing.
I re-attached the wooden knobs and added a vintage wooden tool box and old washboard to the top. It's such a primitive piece that I thought it needed some primitive friends to hang around with.
And that's it! This was a pretty simple transformation since I only painted the drawers and the top, but I like it.
It would be great in an entry, could be used as a small kitchen island, or even a potting bench. To me, it just says spring!
If you're interested, it's for sale in my retail space for $150. I don't think it will last long.
Thanks for stopping by.
If you like my posts, I'd love it if you'd become a follower. You can
keep up with my latest recipes, projects, tutorials, photos and tips many ways,
including:
Sharing this project here:
Treasure Hunt Thursday at From My Front Porch to Yours
Miss Mustard Seed's Furniture Feature Friday