Scenery and Adventures in Maui, Hawaii
We were extremely fortunate to be able to go to Hawaii recently and we saw so many beautiful things. Everything was heavenly, from the food to the scenery to the beaches. I took way too many pictures, but that's to be expected.
I'm sharing a few of my favorites from our adventures on the island of Maui. I'll post some from Oahu and Kaua'i in an upcoming post. The scenery on those islands is even better than what we saw in Maui, so be sure to stay tuned.
The sunrises in Maui were breathtaking.
This post contains affiliate links for your convenience. If a purchase is made after clicking one of the links I might make a small commission. Your price does not change. For full disclosure, go here.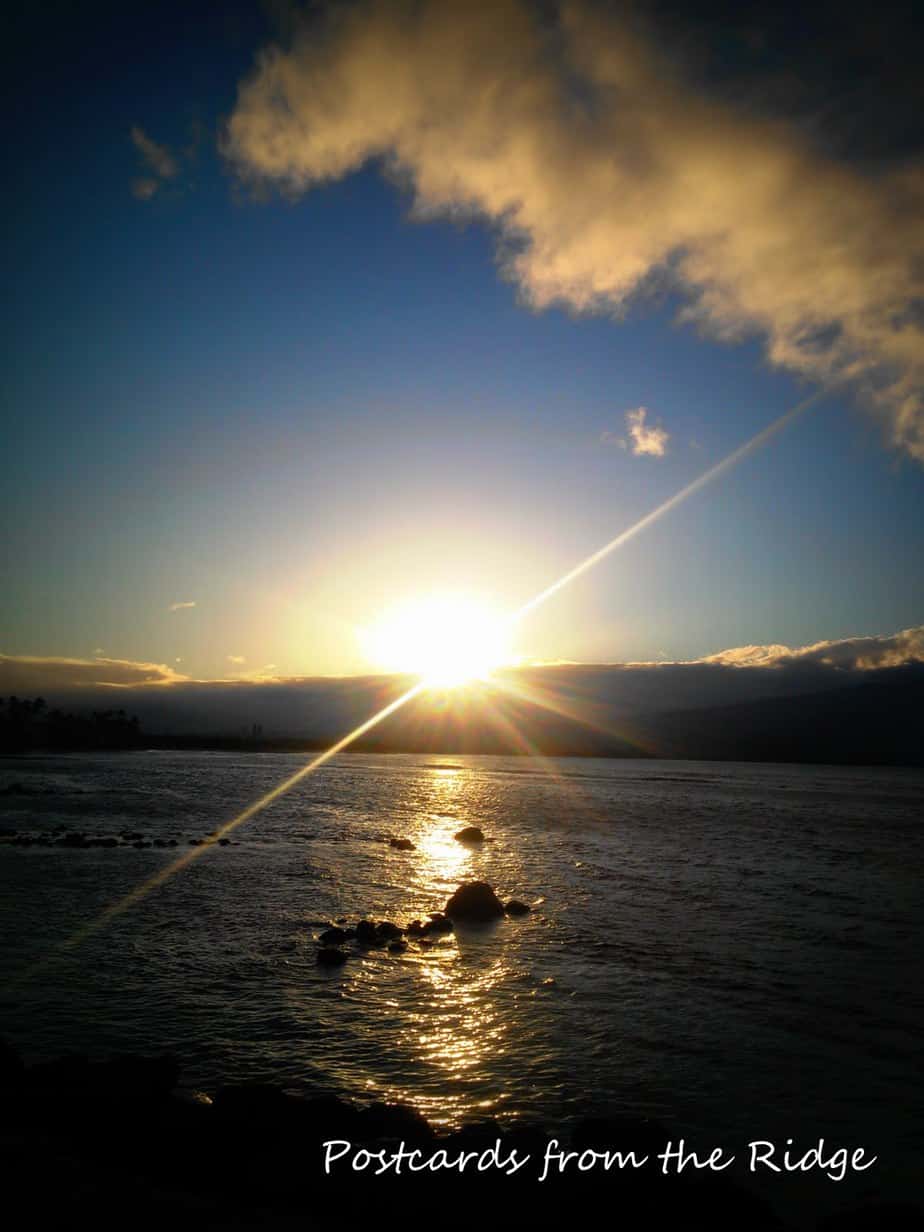 Another sunrise. I could get used to these!
The view from our bedroom. I can't believe we ever left the room.
These are much smaller than they look in this picture. I'm not sure what the name is, but they grew in clusters on trees around the islands and smelled wonderful. We would pick them up whenever the wind blew them off the trees.
Look at the color on this beauty!
Gorgeous day at a gorgeous beach.
This…..is paradise. 🙂
Haleakala National Park
We made the early morning journey to Haleakala National Park on day 3 of the trip to watch the sun rise. When I say early, I mean we left at about 4:00 local time. But since we were 6 hours behind what we're used to in the eastern time zone, it wasn't bad at all. We were up high above the clouds here.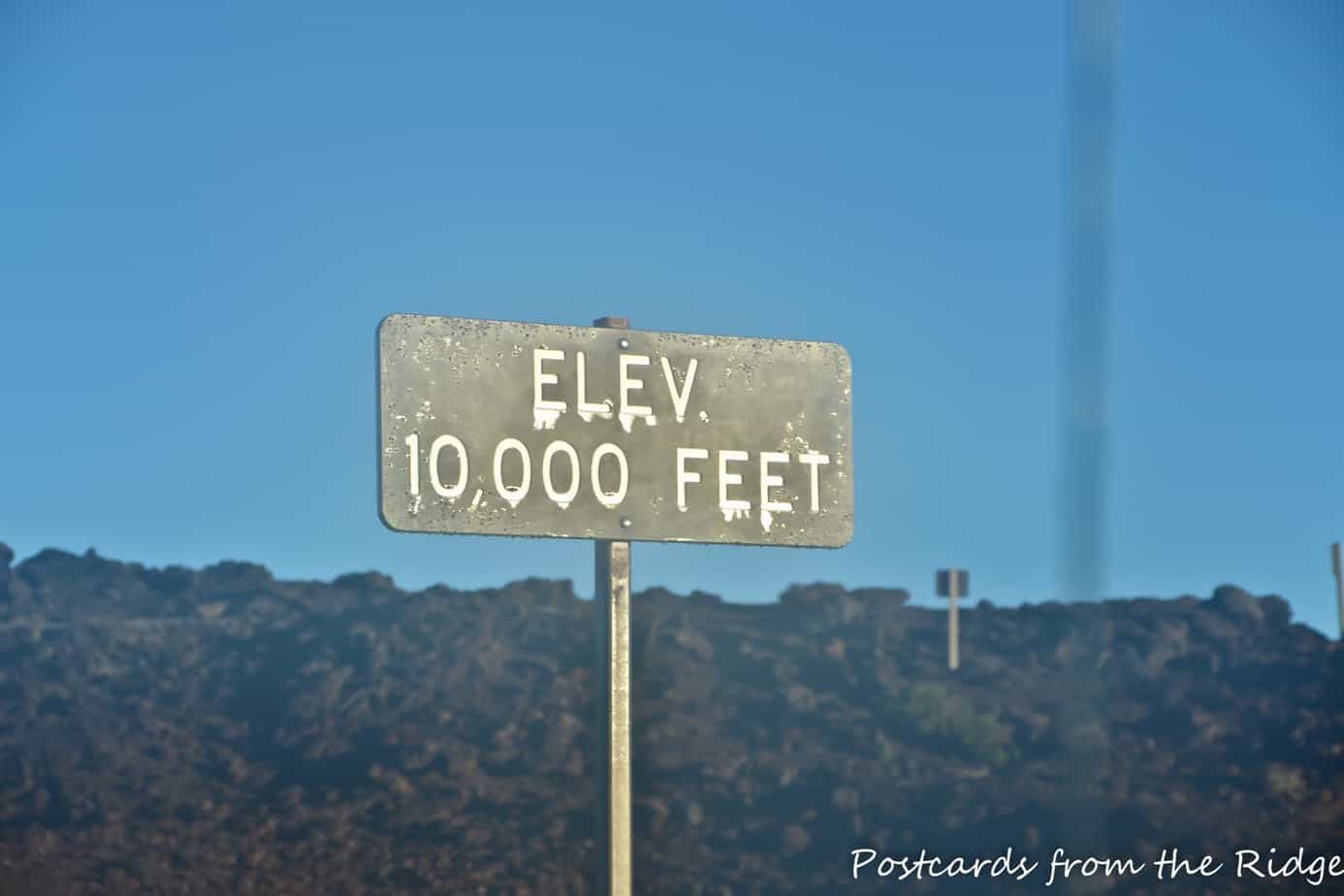 Haleakala is 10,000 feet above sea level. It was not warm and balmy up here at all. In fact it was brutally cold, damp, and very windy. But the amazing view was worth enduring the frigid conditions. If you go, wear long pants, hats, and waterproof, warm clothes. I know…who would have thought it could be like that in Hawaii??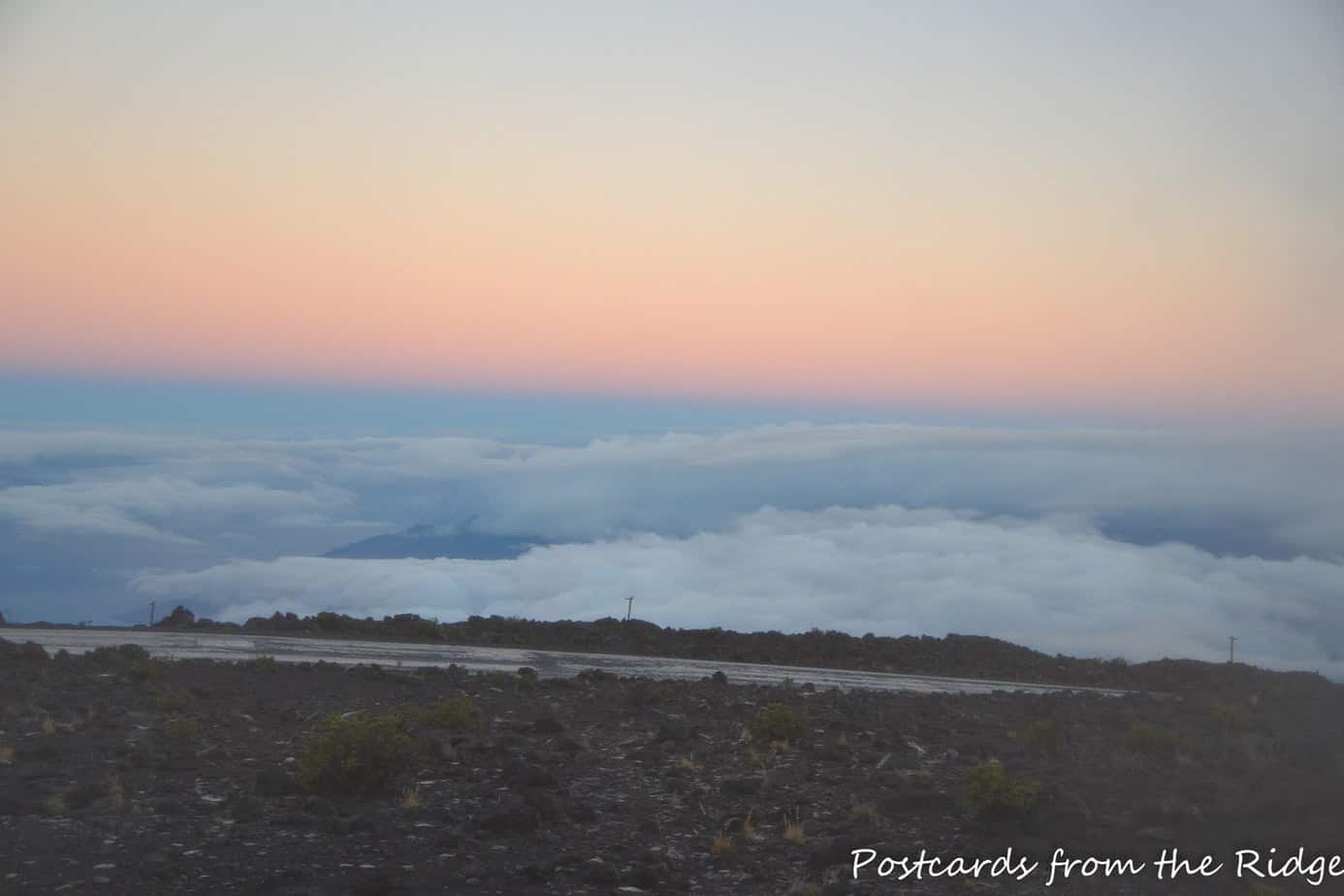 Looking down from the back side. It was actually more colorful here than the side where the sun came up. Remember, this is the view from above the clouds. There's a whole different perspective from way up here.
No, this isn't exactly scenic. But when you wake up early to see the sunrise, you get to take a funny picture of yourself with a really long shadow. I always wanted to have long, thin legs!!!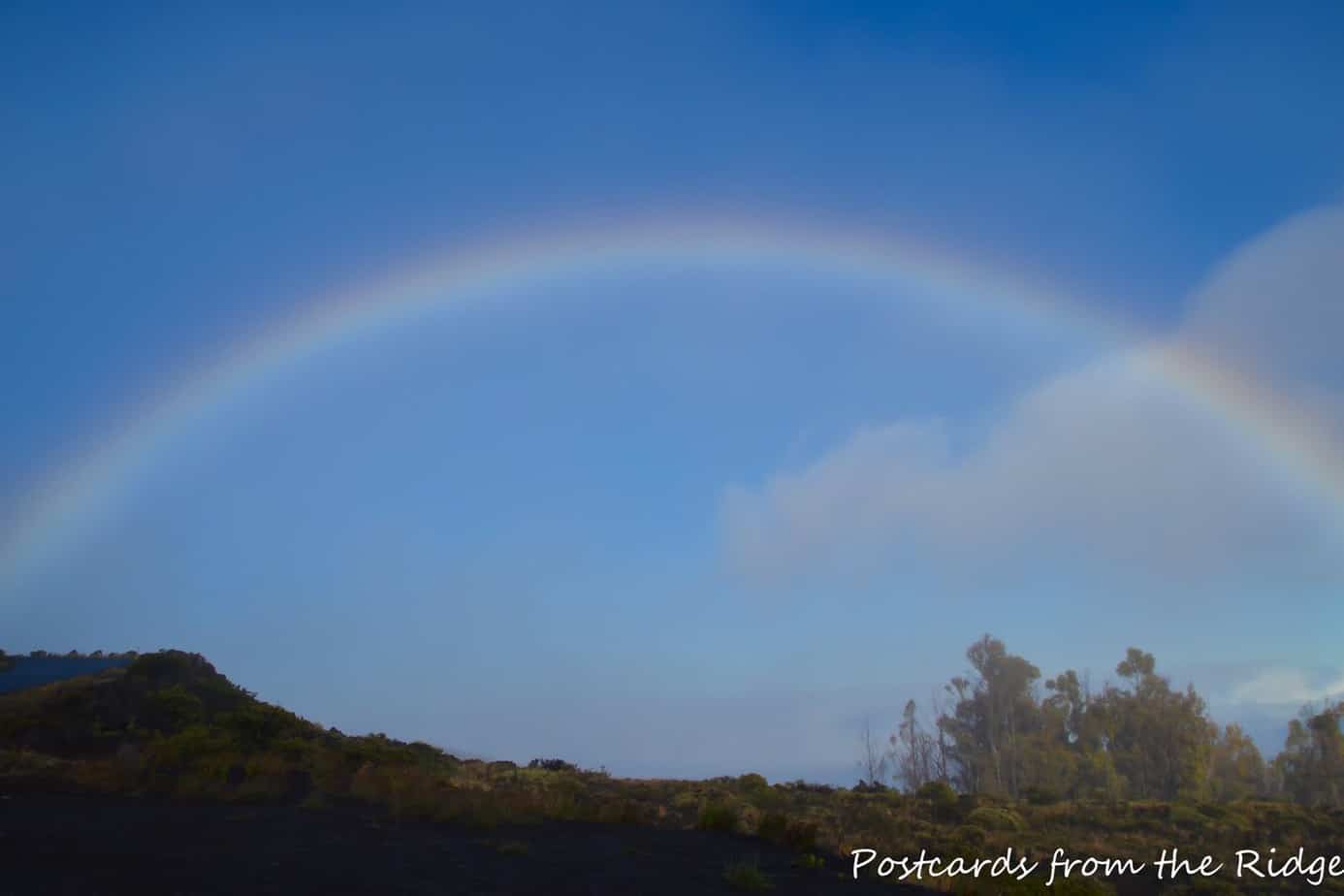 On the way back down we saw a beautiful rainbow that spanned across the morning sky.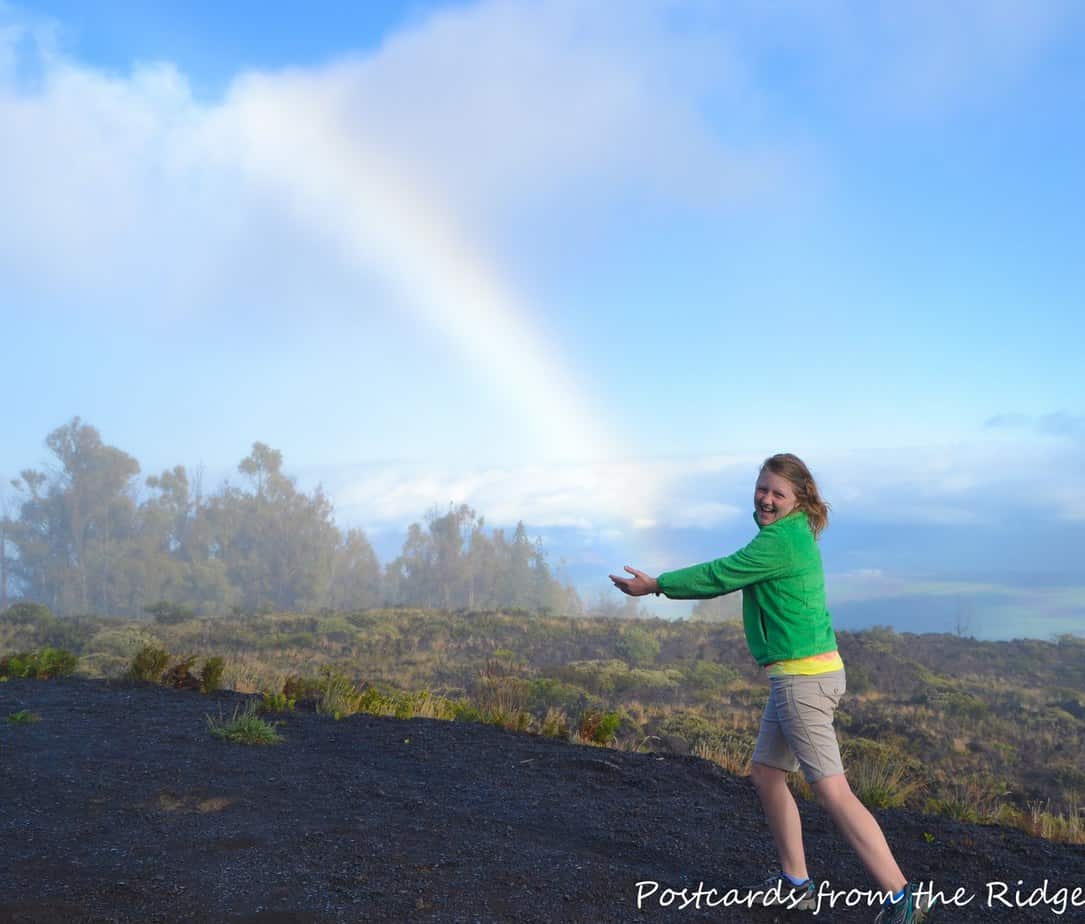 My oldest daughter, Emily held up the left side, while Natalie, my youngest, supported the right side.
We made a stop at a little garden on the way down and they had the prettiest hydrangeas, still wet with the morning dew.




The Road to Hana

We made the day-long journey to Hana and back on Day 5. If you go to Maui, you need to do this trip. It's an adventure that will be worth your time, to be sure. And yes, there is apparently a town named Haiku on Maui. We didn't go there, but had lots of fun talking about it and making up haikus.
This is how I looked for most of the trip. Camera, hat, and comfy sundress. Very tourist-y, for sure. I did get a little bit of a tan by the end of the trip, though. LOL.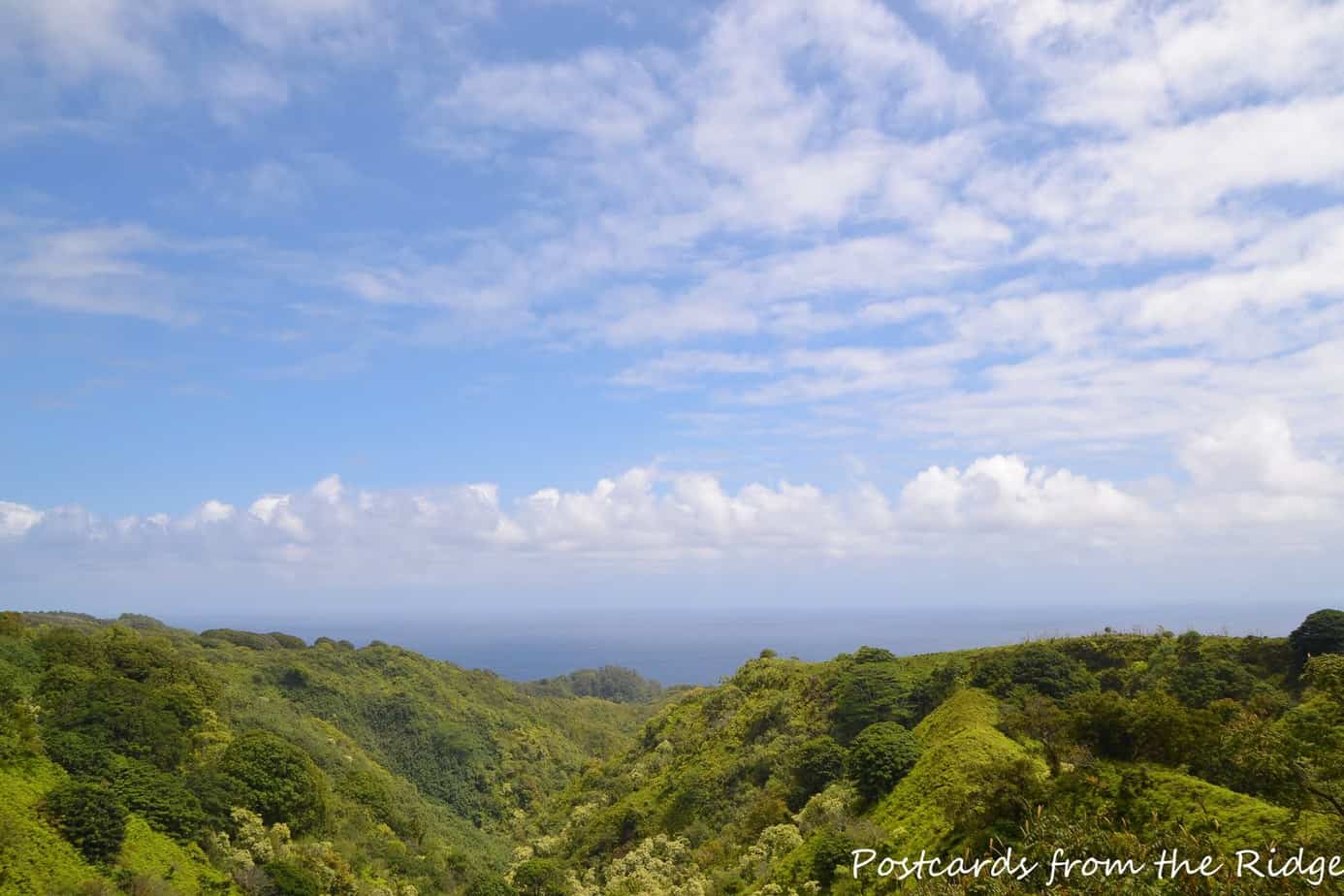 The view from one of the lookouts on the road to Hana. Breathtaking, even though this picture doesn't really show it. The Pacific ocean is faintly visible below the lower clouds.
If you like narrow, curvy, slightly dangerous roads, then you will love this drive. There is no shoulder on the road. It's barely wide enough for two cars. Sorry for the bad photography of this and the photo below, but I took these while we were driving to show it the way we saw it.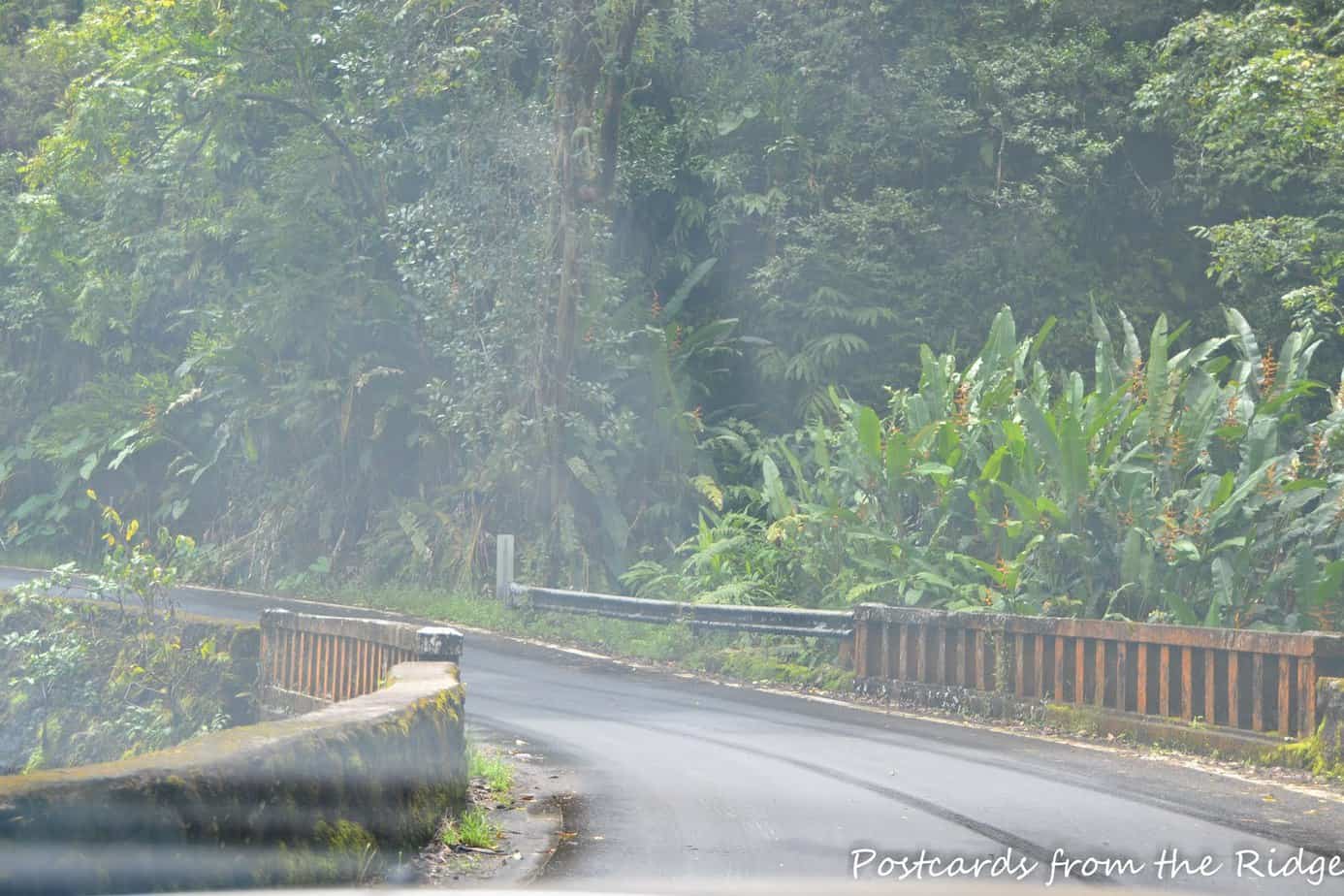 One of the MANY one-lane bridges on the road to Hana, hence the 15 mph speed limit in places.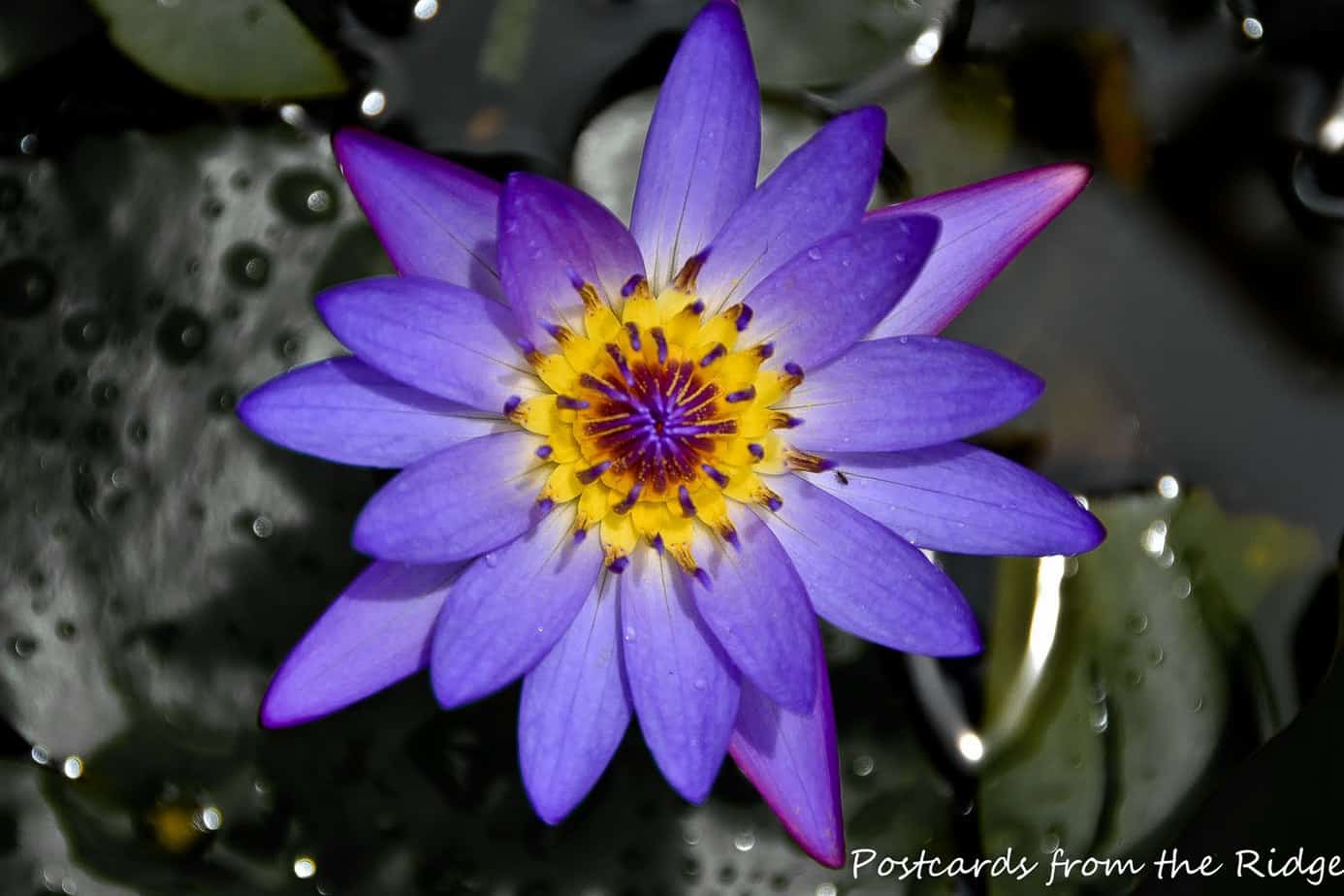 One of our stops was at The Garden of Eden. Named appropriately, there were TONS of exotic, colorful plants and flowers, including this water lily.
I think I might actually enjoy gardening if things like this grew at my house. Can you imagine??
This was called an autograph flower. As in, "You're so beautiful, can I have your autograph?"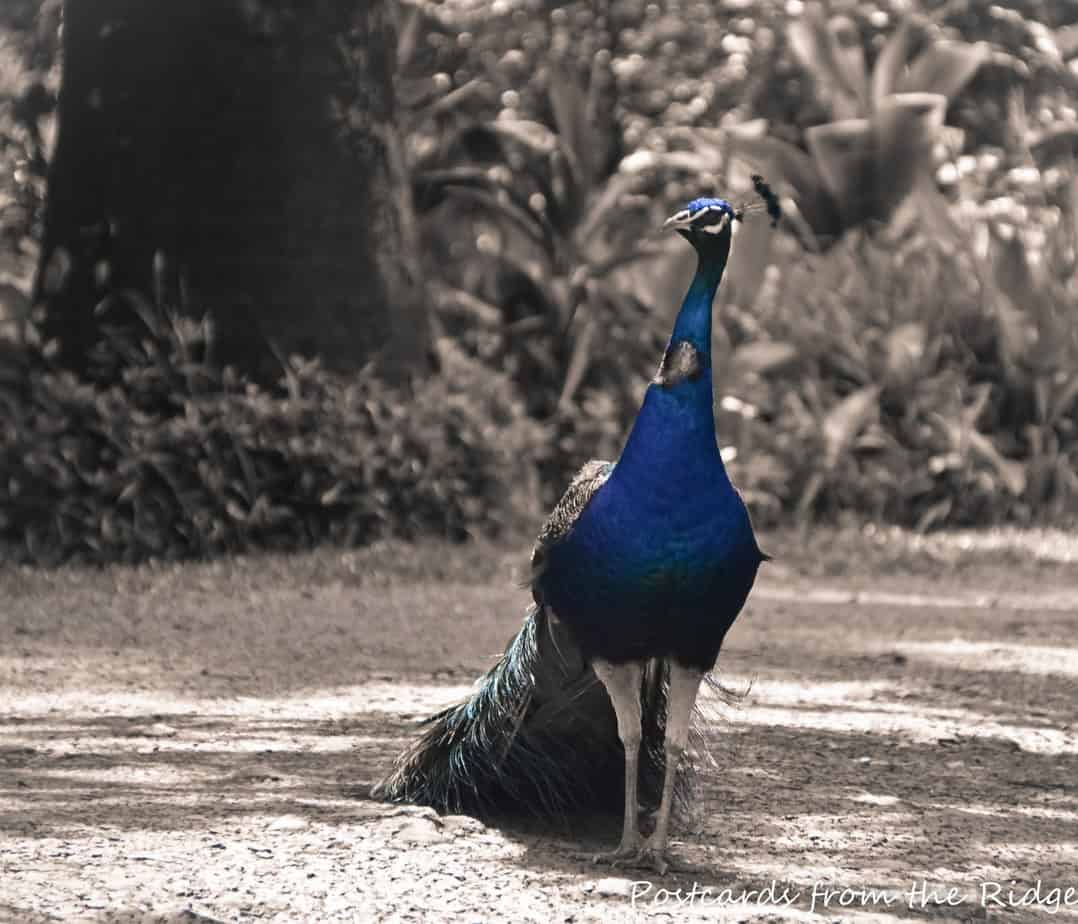 Mr. Peacock, who lives at the Garden of Eden. He was very handsome, a bit arrogant, and quite loud and obnoxious at times. I'm sure we all know people like that. Anyway, we named him Kevin, like the bird from "Up", because his call sounded exactly like that. 🙂
Kevin's feathers, up close and personal. And unbelievably beautiful. It's sad that the males get the beautiful feathers, and the females are just average. I guess they have to do everything they can to showoff and impress their ladies!
A rainbow eucalyptus tree. How fun is this??? It looks like something from Dr. Seuss and I love it!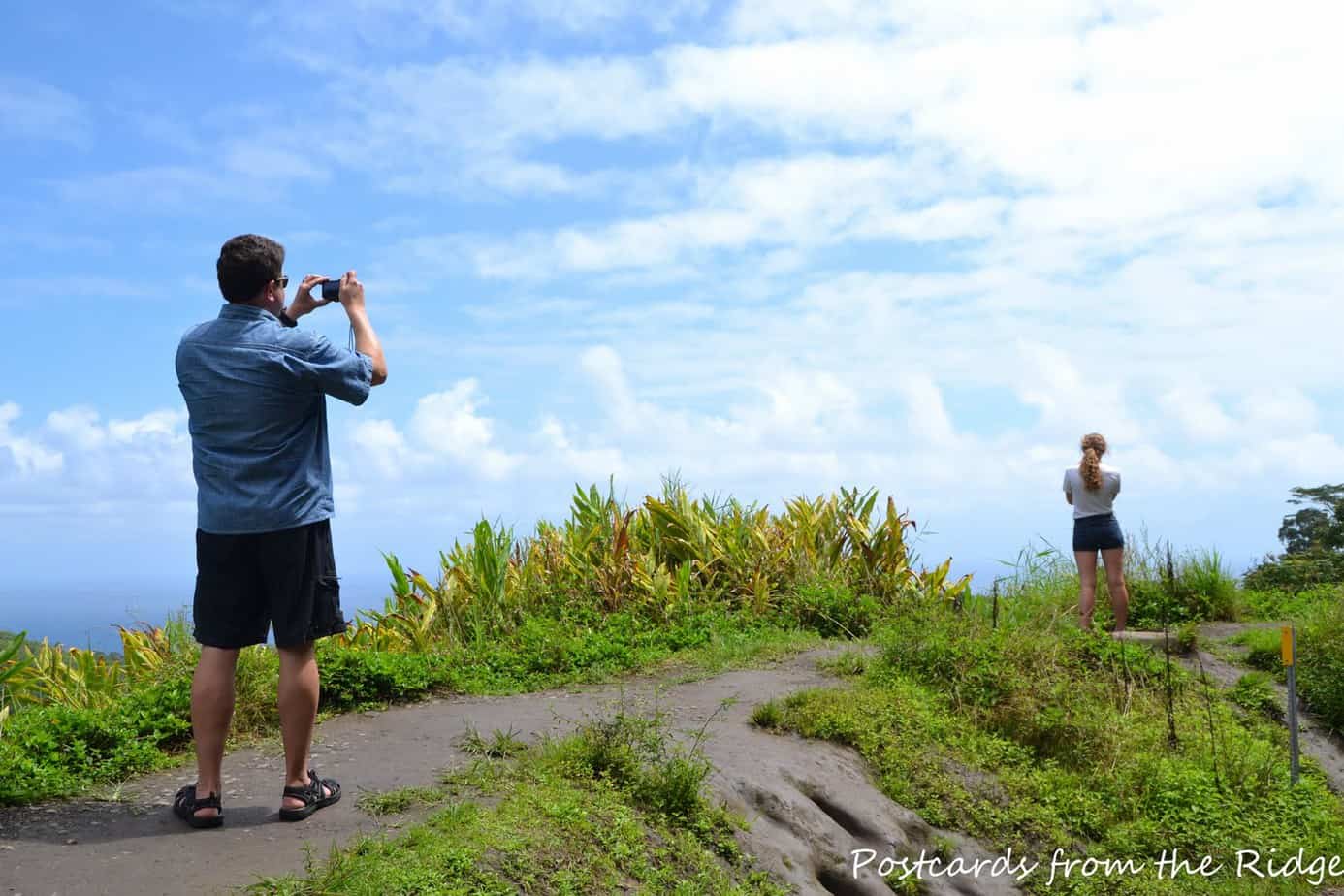 Another picture from an overlook. The Mr. and our oldest. I call this one, "Pictures of people taking pictures of people." Jack Johnson, anyone?? He lives in Hawaii, but alas, we did not run into him. The Mr. swears he passed Lance Armstrong in the Maui Walmart. He's supposedly training in Hawaii, so I guess it's not too crazy to think that he also shops at Walmart.

Wainiapanapa State Park. Please don't ask me to pronounce that.
Mine and the Mr.'s tootsies in the black sand beach at Wainiapanapa State Park. The beach was absolutely amazing. This was my favorite stop on the trip. The sand was more like tiny little smooth pebbles than regular sand. And the water was the perfect temperature. It was very choppy though, so you couldn't swim out very far.
The girls posing for mom at the black sand beach.
A close up of some of the larger stones at the black sand beach. They reminded me of the stones that are used for massages. And immediately made me want a massage!
Near the end of the road was this amazing 200 foot waterfall, Wailua. The picture doesn't even come close to showing how gorgeous it was.
Most sane people turn around at the waterfall and return back on the curvy road that they came on. But we (the Mr. especially) aren't most people and must not be sane, either. We took the road less traveled. It was lonely, unpaved in spots, and a bit creepy at times, but we did see this 150-year-old church on the route.
They had just had their 150th anniversary celebration 2 days before we were there. They only meet there 4 times per year. It's a striking structure that's a sight for tired, sore eyes out in the middle of nowhere.
So that's the best of my pictures from our days on Maui. I hope you've enjoyed them half as much as I enjoyed taking them. I'll post some from the islands of Kaua'i and Oahu in an upcoming post.
In the meantime, I'm getting our kids ready to go back to school. They start today! Can you believe the summer is already over?? It goes by way too fast…
Thanks for stopping by! Or as they say on the islands, Mahalo!
To learn more about Maui and plan your dream trip, start here.
Thanks for dropping by!
XOXOX,
Angie
Email * Facebook * Pinterest * Twitter * Instagram

For handy tips and tutorials, go here.


To see my painted projects, go here.

For tasty recipes from my kitchen, go HERE.
For some simple tips for capturing a great photo, go HERE.
Go here to learn about having an online design or color consultation.
And go here for dozens of photos, ideas and favorite paint colors.
Thanks so much for dropping by my little space on the world wide web!