Reuse. Re-purpose. Resuscitate. Repeat.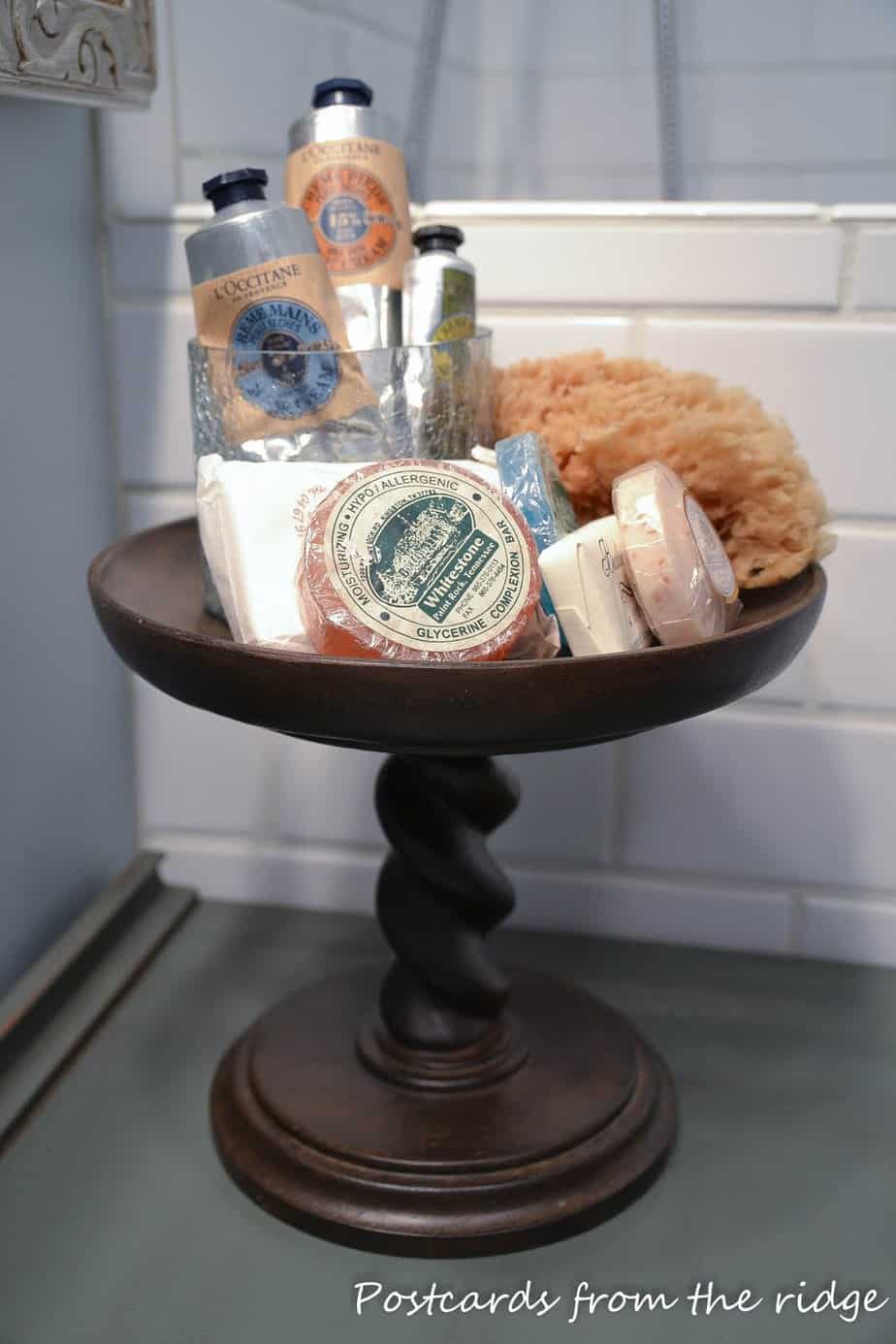 I just love a good repurpose. It makes me feel like I've discovered something new or cheated some big business out of making more profit from my purchases. Most of all, it makes my creative side smile.
Our house is full of re-purposed items. I've been known to visit an estate sale or yard sale in my time so there are lots of interesting, quirky items that have gotten a second chance at life here.
We're using an antique-looking compote in our remodeled master bath for storing some little luxury soaps and lotions. This way I can pretend I'm getting ready in a fancy hotel or a bed and breakfast. I just have to use my imagination a little and also ignore the overflowing laundry hamper that's in the corner.
How about using a wine bottle for a vase? Sometimes not having what you really need causes you to get creative with what you have an abundance of.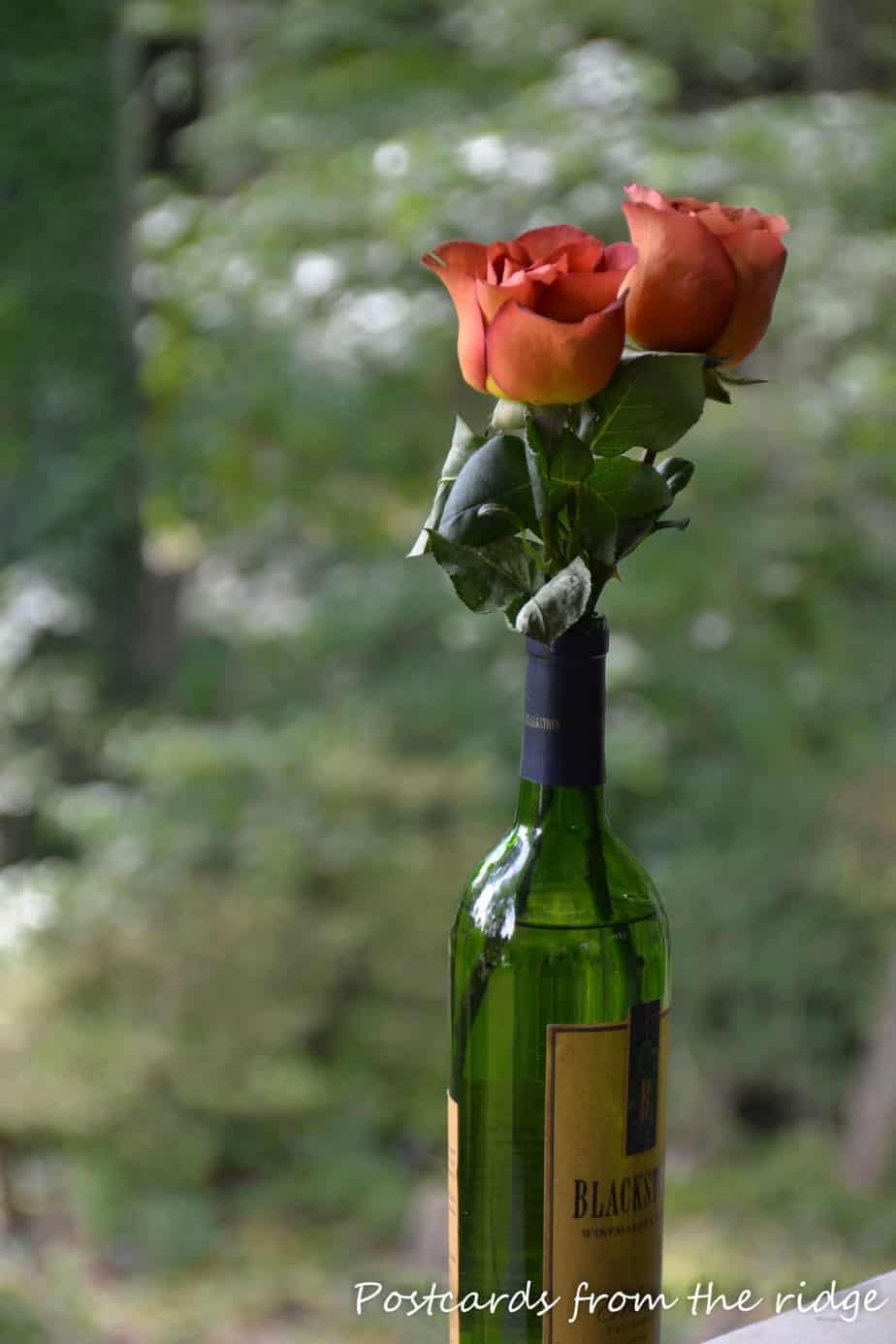 Somehow I seem to have quite a collection of these bottles.
They're nice for when the Mr. brings home roses for no reason at all. 🙂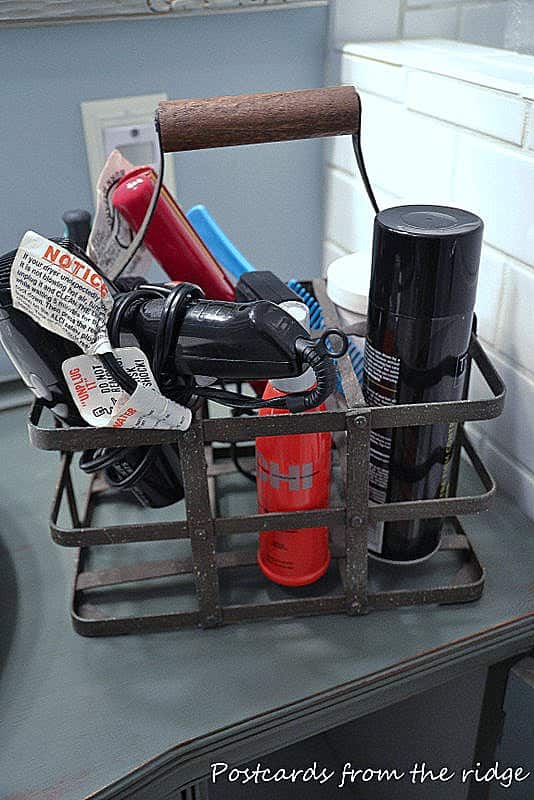 Need to get more organized in the bathroom? (who doesn't?) An old bottle carrier is a fun way to corral some of your beauty necessities. I found this at a Restoration Hardware outlet last fall and had to have it. I hadn't found a good use for it until we finished our master bath remodel and did a serious re-purpose of our old dining room buffet into a vanity.
I picked up this old ladder and its other half a couple of months ago at a sale and put it to use for towel storage. It's also in our master bath. The Mr. isn't crazy about it yet, but it's still in there at this point. I think he's getting used to it. 🙂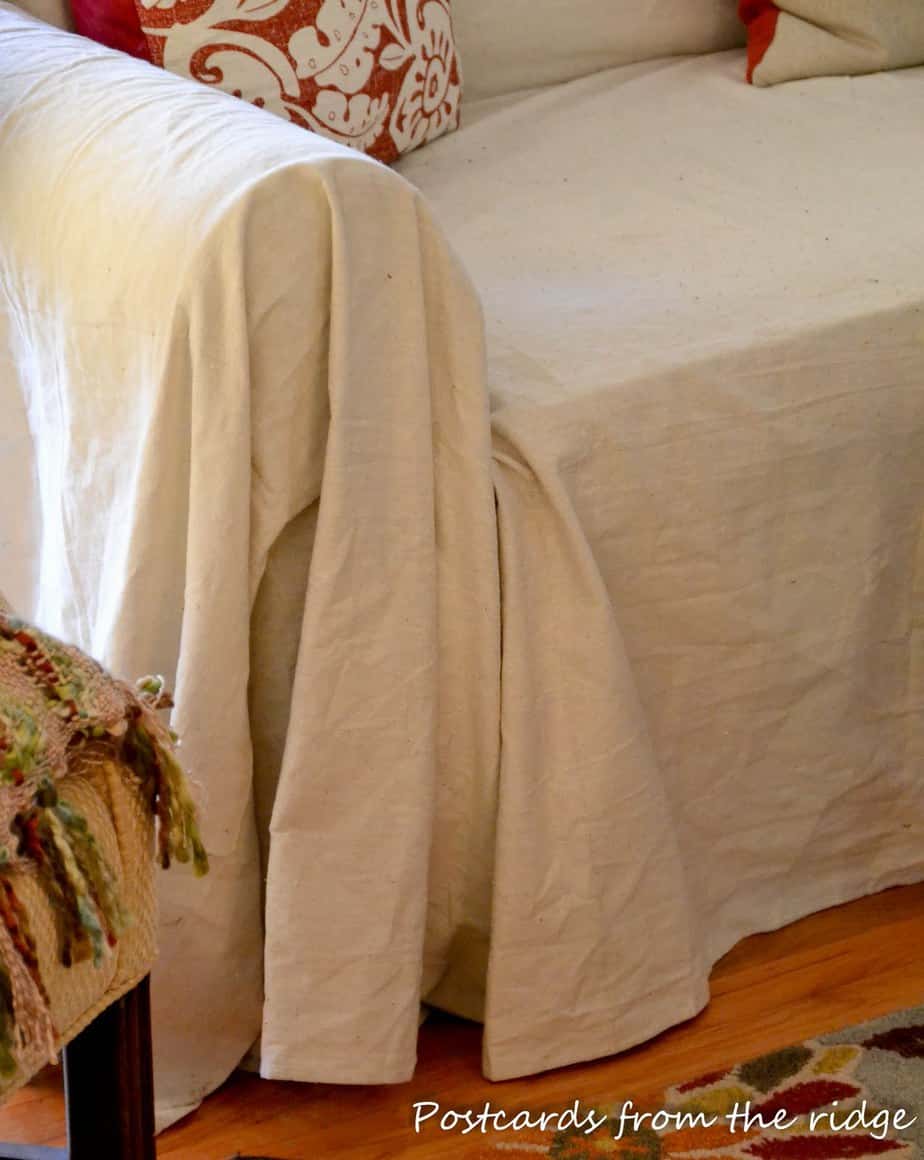 Do you have a sofa that needs a facelift? How about repurposing a dropcloth into a slipcover? No sewing required. We did this to our living room sofa and I love it. Just don't go snooping and inspecting my dropcloth. It's actually been used for its intended purpose before and has a few paint drips on the back side, out of sight! Shhhh! It's our little secret.
Need a place to hang your jewelry? You can transform an old frame into a jewelry bulletin board in an afternoon. I did this one for my daughter's room last summer with a frame I found at an estate sale for $1. I think I'm going to have to steal it from her.
Another estate sale find. Actually this was the same one that I found the frame for the jewelry bulletin board. This is an old ironstone-looking pot with a handle. It was either (a) a slop jar, or (b) a chamber pot in its previous life. I prefer to think that it wasn't a chamber pot, but even if it was, that was many decades ago. Now it's a jumbo vase for branches from around the yard like quince, forsythia, or anything like that.
Just so you know, I used it to store toilet paper in for a while. How ironic is that?
I'm gonna have to do another post on re-purposing items. I saw lots of other reuses as I was looking around the house this morning. But alas, there are no pictures of these ideas yet, and I'm short on time today. It's housecleaning and laundry day today (or we all go naked tomorrow).
Do you have lots of re-purposed items in your home? Do tell. I'd love to hear what you've done.
Thanks for stopping by.
Have a wonderful weekend.
XOXOX,
Angie
If you like my posts, I'd love it if
you'd become a follower. You can keep up with my latest projects,
tutorials, photos and tips many ways, including: