Warning: this post contains photos that may be offensive to those who love brass. Real brass objects were used in the making of this post, and some of these objects were permanently changed in the process. If this bothers you, it might be advisable to skip this post. 🙂
Ok. Now that you have been warned, I can show you what I've been up to this week. Our bathroom remodel is moving forward with just a snag or two. But it is moving forward and that's good.
The damaged floor underneath the shower has been replaced. The chosen walls have been removed or moved. Drywall is being primed today. Exhaust fan is in. Floor tile is in. Wall tiles are backordered but will be in next Friday. Shower floor tiles are going in today. It's beginning to look like it might be a bathroom again someday in the future!
Now we're getting into choosing the fun stuff. Things like accent tiles, paint colors, and fabric for the window valance. That's more my cup o' tea.
We're trying to save money where we can yet still make it interesting and attractive (at least in our opinions!). One of the things we're re-purposing is a dining room buffet that we're not using. It's going to become our vanity after some modifications are made to it.
Here's a picture of it from Christmas. We don't have a dining room in this house, so I temporarily had it in our kitchen.
It's getting a facelift that includes a distressed painted finish and a color change on the hardware.
Here's the before pic of the hardware. Not bad at all. But since we're going with chrome and silvery finishes, it just wasn't going to work in this room.
And the after. A very simple process.
Here's what I used. Modern masters metallic paints. It's great for small projects like this one. I wanted something in between silver and warm silver, so I mixed the two together right on top of the piece of cardboard that I was working on and literally finger painted the pulls. I didn't cover the entire surface because I like the look of imperfection.
Here's how it looks against the door of the buffet-turned-vanity. I'll have final pictures and details about the piece when it's completely finished, but we're not there yet.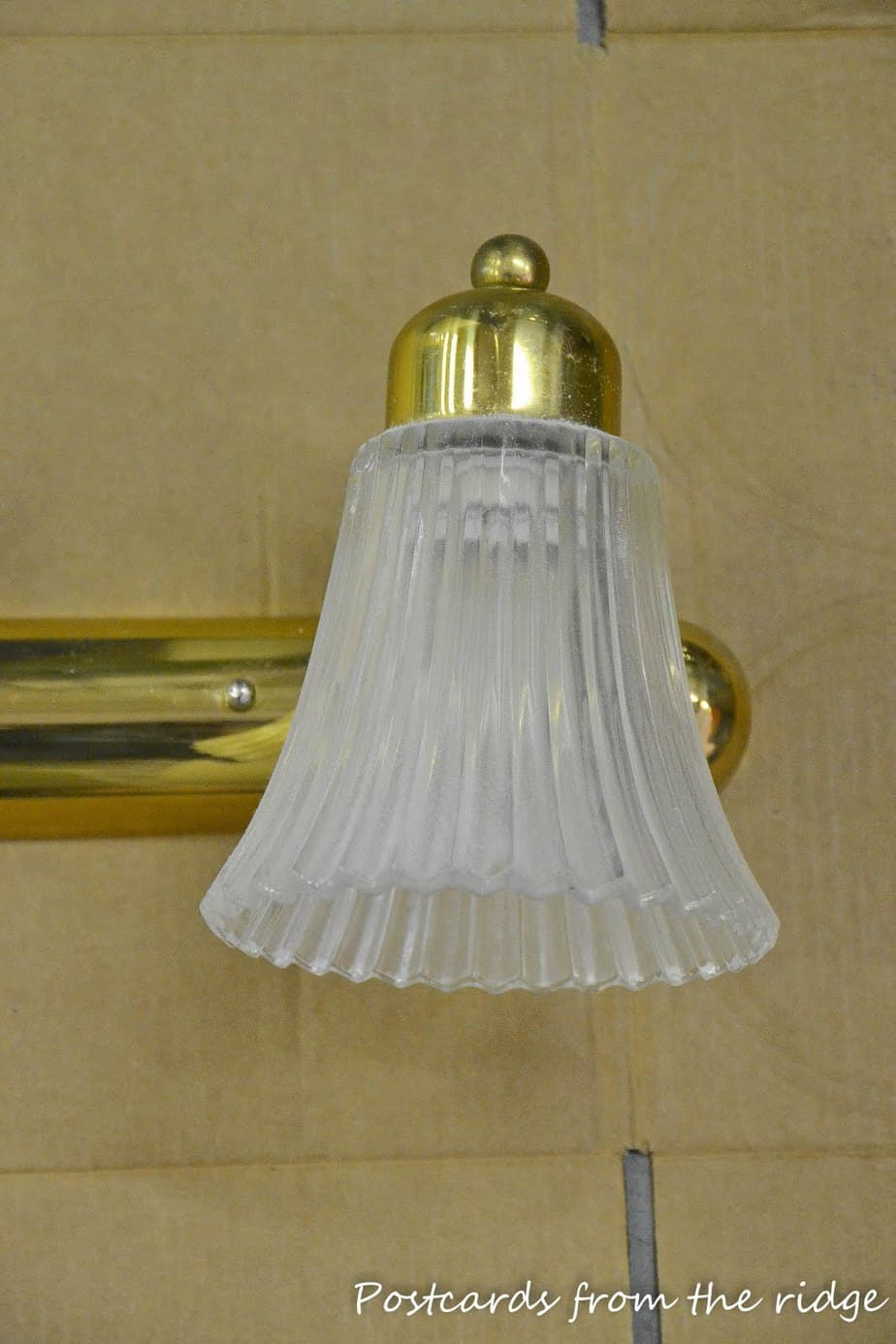 Our other brass transformation is the light fixture. We're re-using the one we had in there, knowing that we can easily change it later if we decide to do that. Here's the before. Average, low end brass fixture.
And the after. A $25 transformation. I used hammered silver spray paint that was leftover from another project. No, I wasn't sad to see that brass go.
I removed the ridged glass globes by unscrewing the white inner ring and then simply lifting them off. I replaced them with 3 globes that were about $7 each, and then screwed the ring back on to secure them. Finished. Easy. 'Nuff said.
And a sneak peek at the floor. This was how the room looked last night. It looks huge, doesn't it? It's definitely not a large bathroom, even after expanding it by 1 foot. But I think the pattern that the tile was laid in is helping to open up the room.
So this is what's been going on in our home this week. Progress. Change. Moving forward. Saying goodbye to brass.
More to come over the next couple of weeks. Stay tuned!
Thanks for stopping by. Enjoy your Good Friday and have a blessed Easter.
XOXOX,
p.s. This post contains affiliate links that will take you to Amazon, but this post is in no way sponsored by Amazon or any other brand or product. The opinions are my own, and I might make a few cents if you purchase through the link.
Angie
If you like my posts, I'd love it if you'd become a follower. You can
keep up with my latest recipes, projects, tutorials, photos and tips many ways,
including: