DIY Faux painted tile floor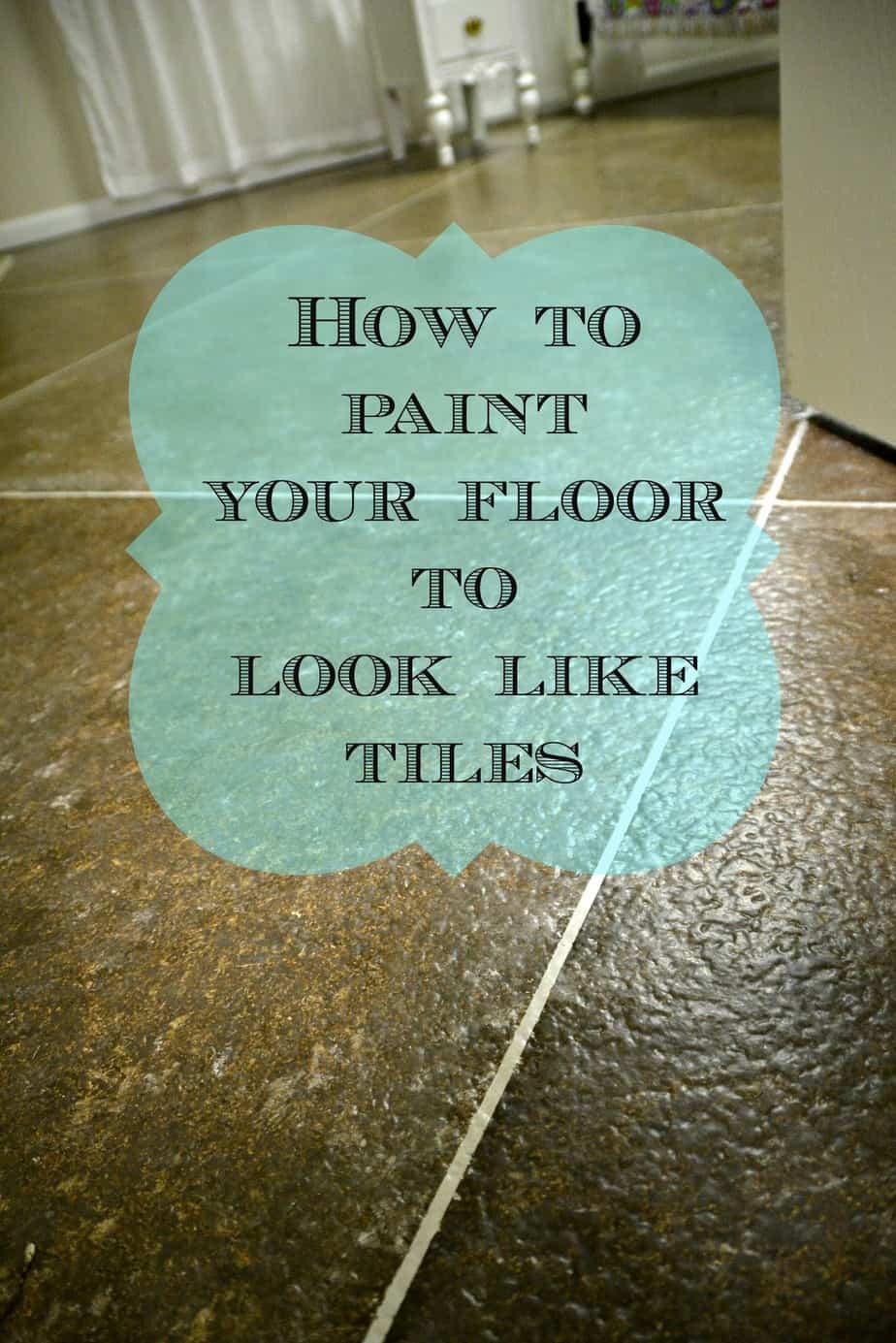 This post contains affiliate links for your convenience. If a purchase is made after clicking one of the links I might make a small commission. Your price does not change. For full disclosure, go here.
One of the latest projects I finished at our house nearly finished me. Being Miss Independent and an "I'll do it myself" kinda gal gets me into these situations sometimes. And I just don't understand how some of these projects seem to take on a life of their own.
The painted floor project wasn't really a big project, it just took a long time making it look the way I had envisioned it. But the end result turned out even better than I had hoped.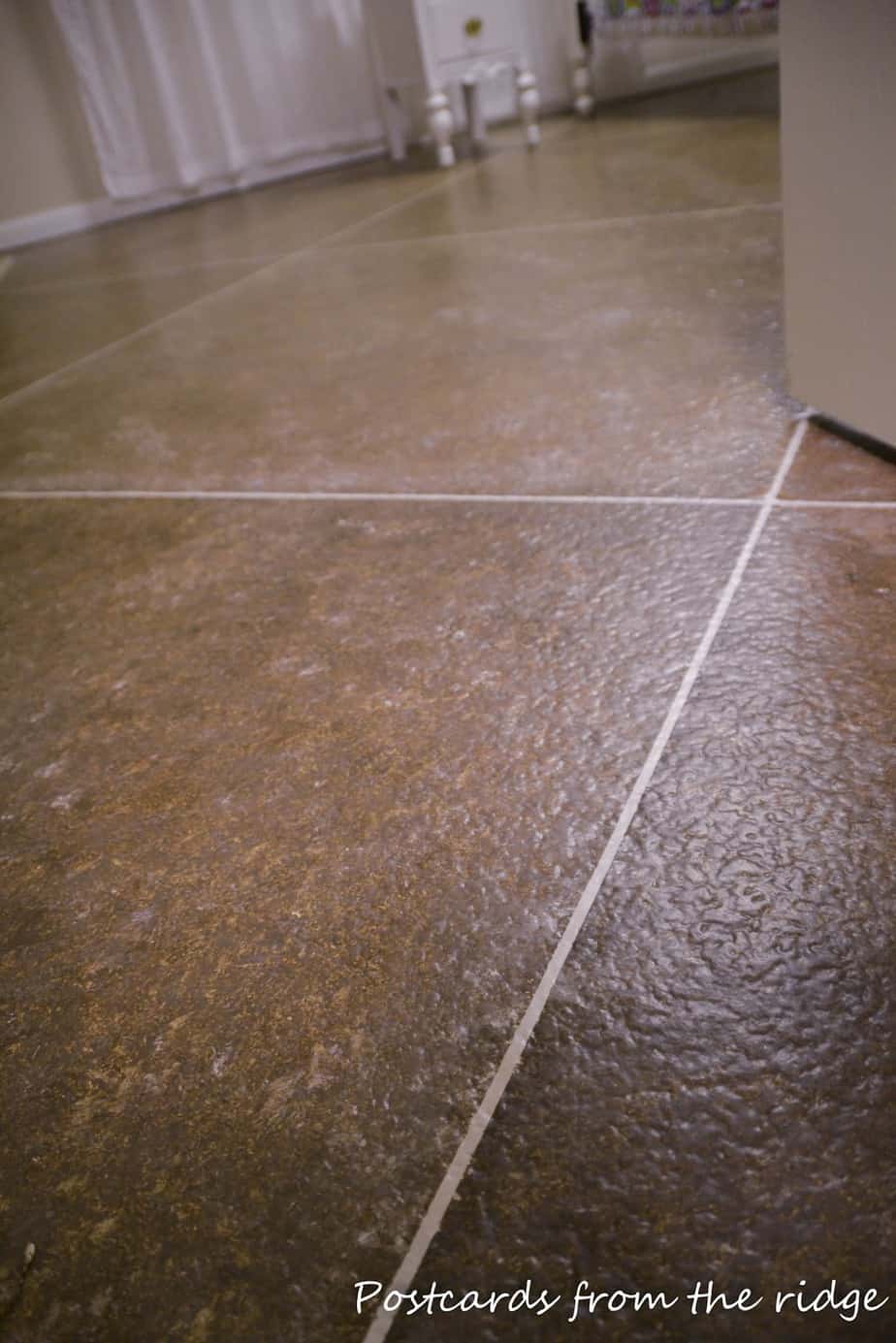 Anyway,  the basement floors in our house are hideous.  They are some type of poured epoxy and colored flake floor.  The bedroom, office, and hallway have an ugly cobalt blue and white, but luckily the living area and kitchen have a goldish color that's tolerable. 
This type of floor was popular in the 60's when the house was built.  It will NEVER wear out.  I gotta give them credit there.  But that doesn't mean I have to like it or live with it.
I decided the most economical and durable fix for the floor would be to paint it.  Having a solid color paint on the floor didn't appeal to me, so I decided to faux paint it in 4′ x 4′ diagonal tiles. 
I cleared out both closets that had all of my off season clothes, removed all of the furniture from the room, cleaned the floor, and went to work on making the room look better.  Did I say that the floor was hideous?
Here's the "before" picture. Lovely, no?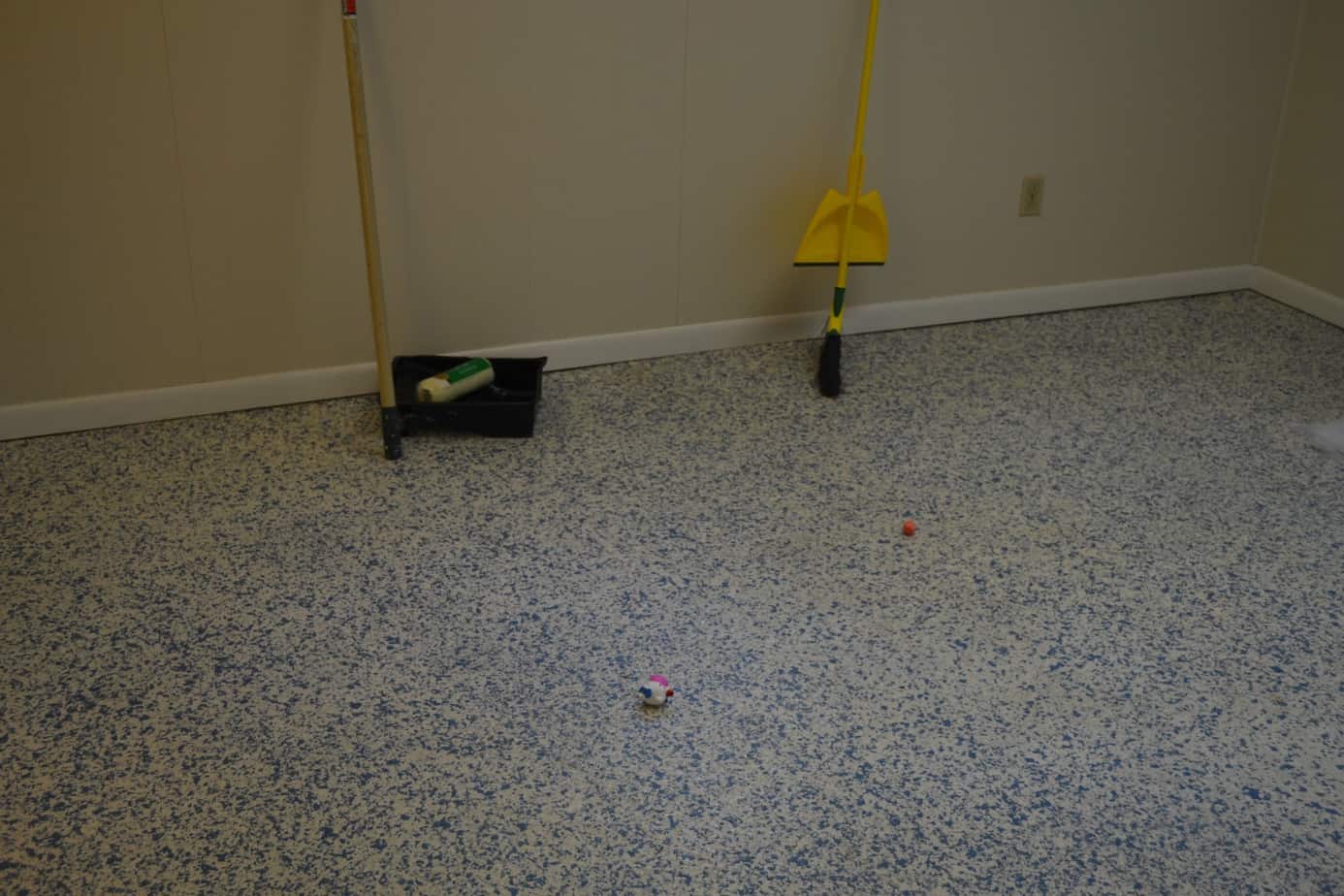 And here's how I transformed it to look like large stone tiles.
How to paint a floor to look like tile
Supplies needed:
Note – I always recommend investing in good quality tools and paints. Cheaper paints require more coats which means you have to buy more, thus you don't really save any money. Better applicators give you a nicer finish (no fuzz from roller covers or loose bristles from brushes) and if cleaned properly can last for years.
extension pole (this will save your back)
miscellaneous acrylic colors for the glaze coat
knee pads (trust me on this one)
Go HERE to for all of supplies needed.
Instructions:
1. Clean
Before you start this project, you'll need to give the floor a good cleaning. I recommend cleaning it with this product. Let it dry completely before painting it with primer.
2. Tape the edges
Tape off your baseboards with painters' tape to keep paint off of them.
3. Prime the floor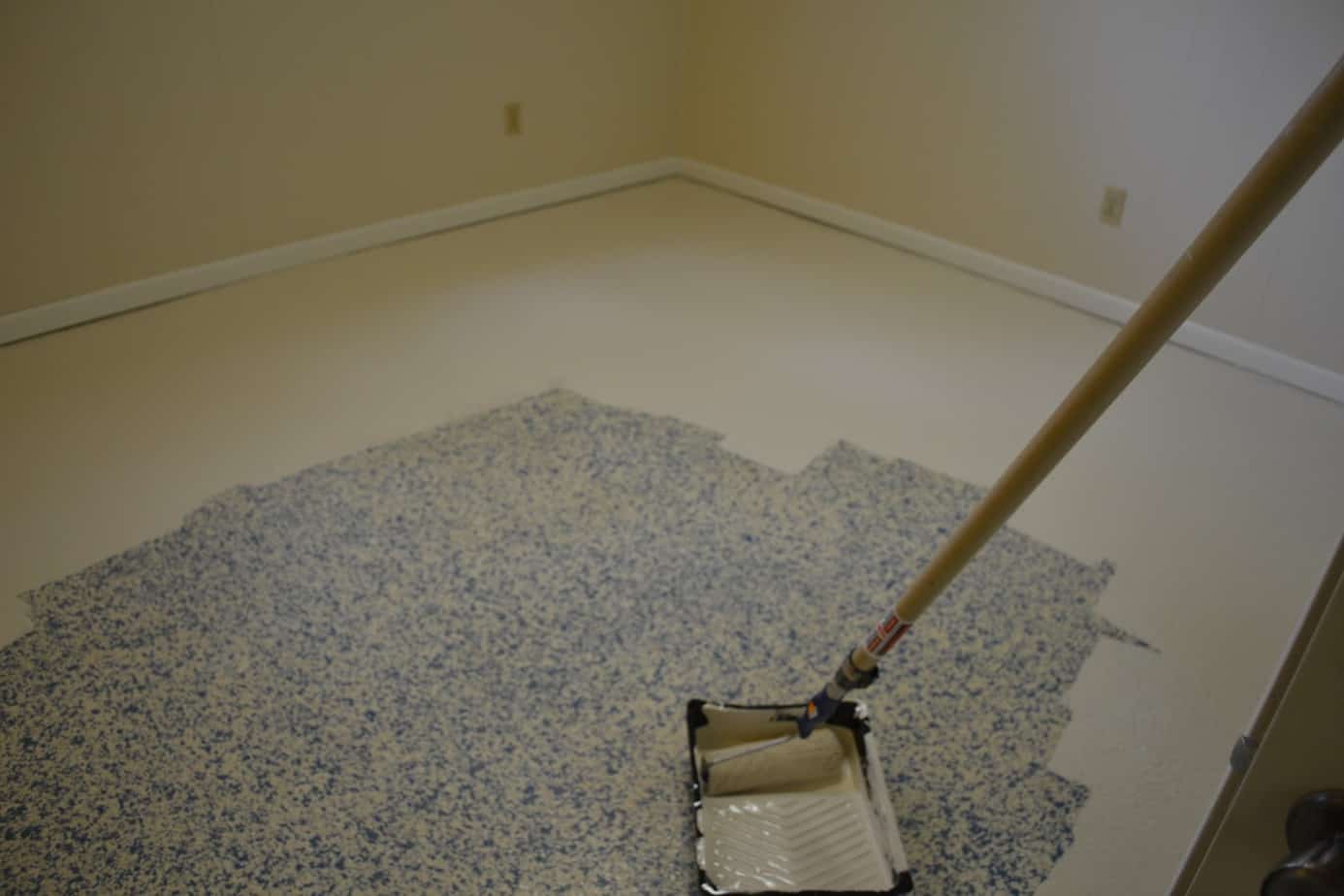 Once the floor is dry, prime it with an acrylic bonding primer. I recommend and use this one. Apply it with a roller kit, attaching the roller frame to an extension pole. Note – use a tray liner inside the roller pan for easier cleanup.
Use an angled brush to apply to paint next to the baseboards.
4. Apply a base coat of floor paint
Now apply a coat of  Floor and Patio finish. Mine was tinted to Benjamin Moore Pashmina.  This will be the color of the "grout lines" at the end of the project.  It's a light taupe color.  I let this dry for 2 days.
5. Tape off your squares
Next step, measure and tape off the squares.  (The tapes lines will be grout lines when the tape is removed at the end of the project.)  I recommend using this 1/4″ pin-striping tape for the grout lines. NOTE: I went to a local auto shop and bought 1/4″ masking tape and it didn't remove well. I've used the one linked to above on various painting projects and it comes off without pulling the paint with it.
I chose to do 48″ squares, mainly because it took less time than taping off 24″ squares. I had to re-do some of the the tape lines at least once because they weren't straight. So you want tape that is repositionable like the one I recommended above.
6. Mix your glaze coat
I mixed a dark taupe, satin acrylic finish paint with a clear acrylic polyurethane for the glaze mixture, using a ratio of about 1 part paint to 4 parts polyurethane. I recommend adding this product to the mixture to extend the time you can work with it once you apply it. You don't want it to dry too quickly.
7. Apply the glaze coat (starting next to a wall) and sponge it off
For this project, I brushed on the glaze mixture one square at a time, and then immediately began using a damp sea sponge that I had dipped lightly in an off white and black and just "pounced" the
sponge on the floor until it produced a pattern that I liked.
I used the black and white very sparingly, just to get some variation on the colors and to make it look more realistic. 
Note:  if you're doing large squares like I did, don't paint the glaze over the entire square at once or you won't be able to reach all of it.  Work your way across each square, then start the next one.
After the far edges of the room were completed, I then did the middle squares until I worked my way out of the room. Be careful and don't literally paint yourself into a corner (now you know where that phrase comes from).
8. Remove the pintstriping tape (grout lines)
I would recommend removing the tape while the glaze is still wet. I had to touch up the grout lines, but it wasn't too difficult. I just used and artist brush and the "grout" color which I had painted the entire floor with.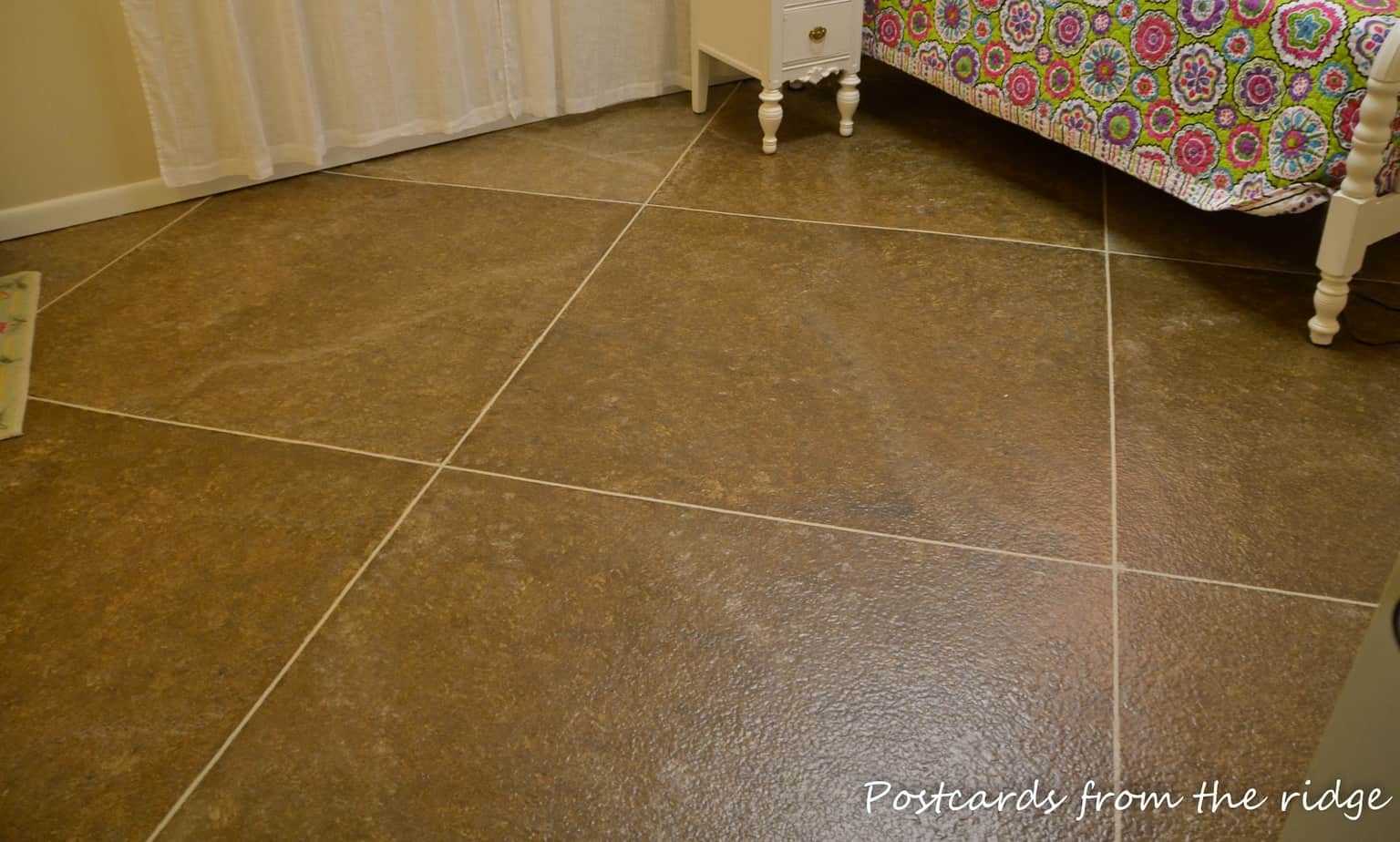 The finished floor.
My husband wanted me to paint the entire basement like this when he saw
how cool it turned out.
I like the way the texture looks on it. Everyone who sees it thinks we had giant tiles installed.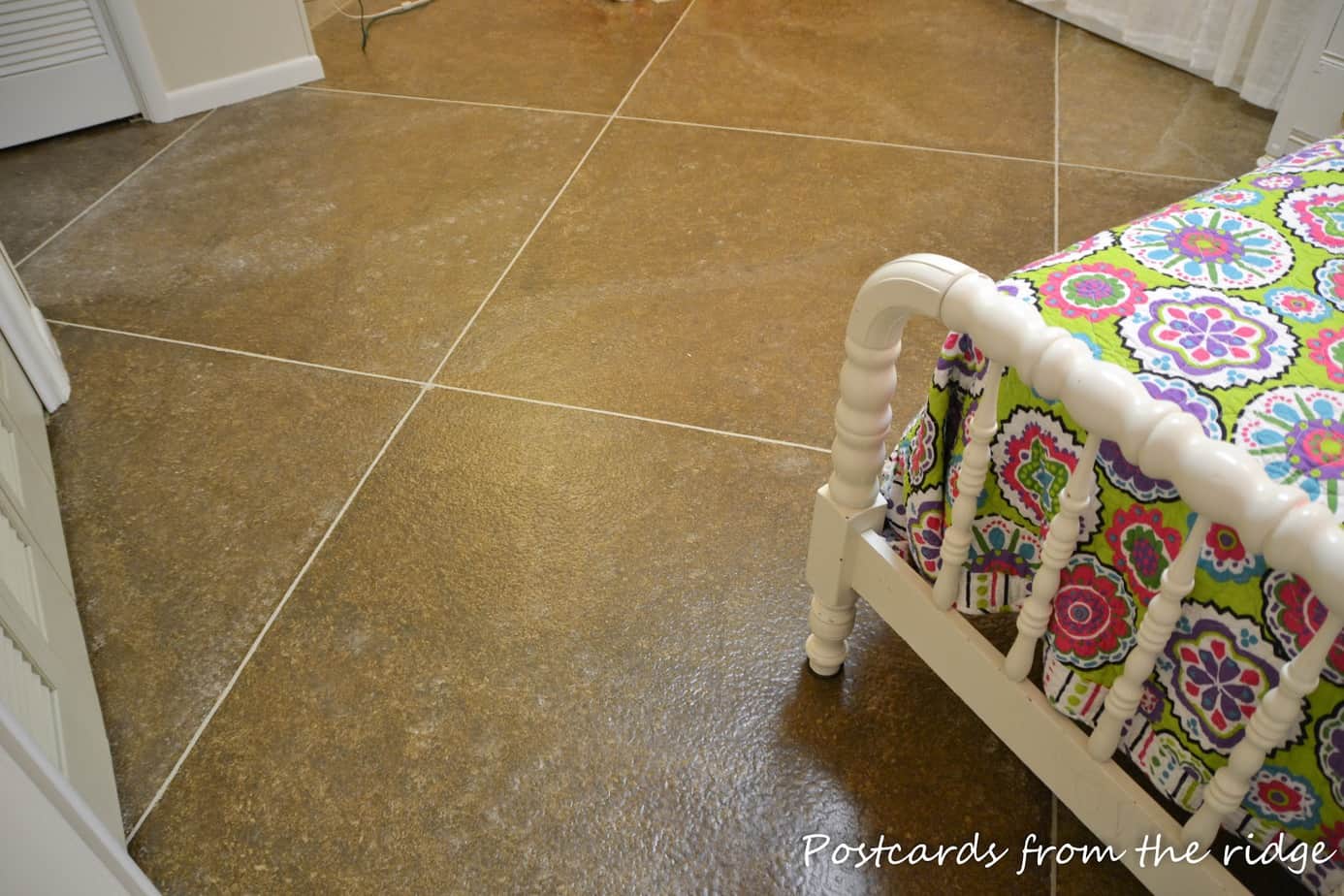 Word of advice, wear good knee pads.  I have good knees and this project was somewhat painful.  And go ahead and schedule a massage while you're at it.  Anytime you're working on floors is just going to make you sore and stiff.  And you always need a massage anyway, right?
Let me know if you do this project and how it turns out!
Update: this project was completed in January of 2012. As of August, 2018 the floor is holding up great and still looks like this.