Bringing nature indoors ~ Force-blooming quince branches
Winter is my least favorite season of the year. That doesn't mean that I don't love a cozy fire in the fireplace or a bowl of hearty soup. I'm just not a fan of cold weather and bare trees. And I need my sunshine. Fortunately we don't get too much extremely cold weather here in the south, but we get enough.
One way I love to brighten up a dreary winter day is with flowers or flowering branches. Last weekend while my daughter and I were out in our yard , I noticed that our quince bush was beginning to get some buds on it. I've always thought it was one of the most beautiful bushes and really love the color of the flowers. We clipped several of the branches and brought them inside to enjoy for the next few weeks. They're easy to force-bloom, very much like forsythia.
I used my pruning shears and made a nice clean cut on the branches, and then trimmed any stragglers at the base of the branch so they would fit nicely into my container. The branches range in size from 3′ to 4′. I then placed a glass flower frog in the bottom of the container to keep the branches in place. All that was left to do was add the branches and enough water to cover the top of the frog. And, of course, enjoy the blooms!
As an added bonus, I was glad to find a good use for this container. I picked it up at an estate sale last spring, finding it to be interesting and charming, but was unsure what to do with it. I found out that this particular type of container was probably used as one of two things: a slop jar or a chamber pot. Um, I don't think I'll be using it as an ice bucket! Anyway, I'm glad to find a good use for it.
Here's a few pictures of how they're doing.
Playing around with my new photo editing software on this one. I took out all of the color except the quince flowers. What do you think?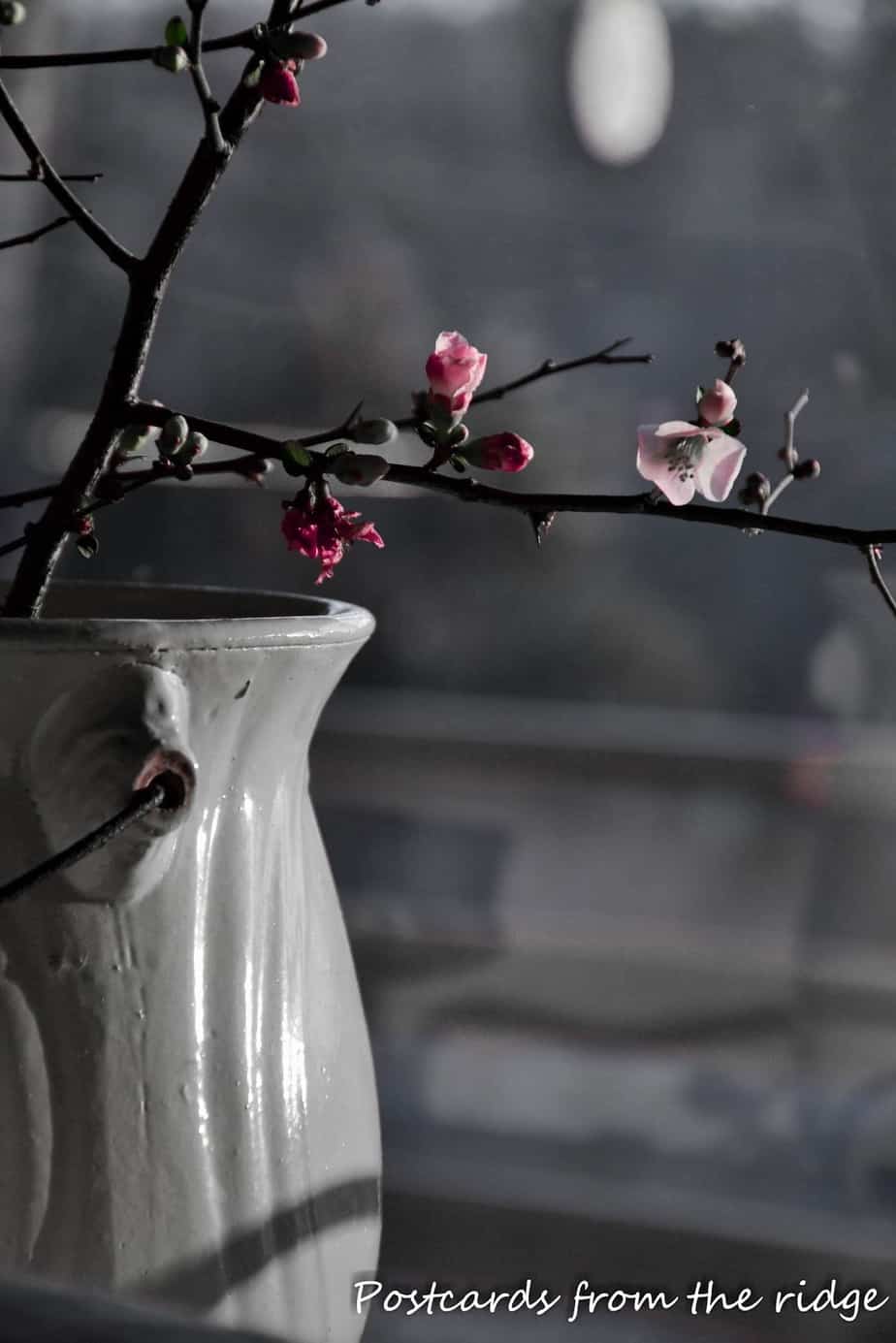 Here's a picture from my recent post about using a painter's drop cloth as a cheap slipcover. The quince branches stay perched on a table behind my living room sofa.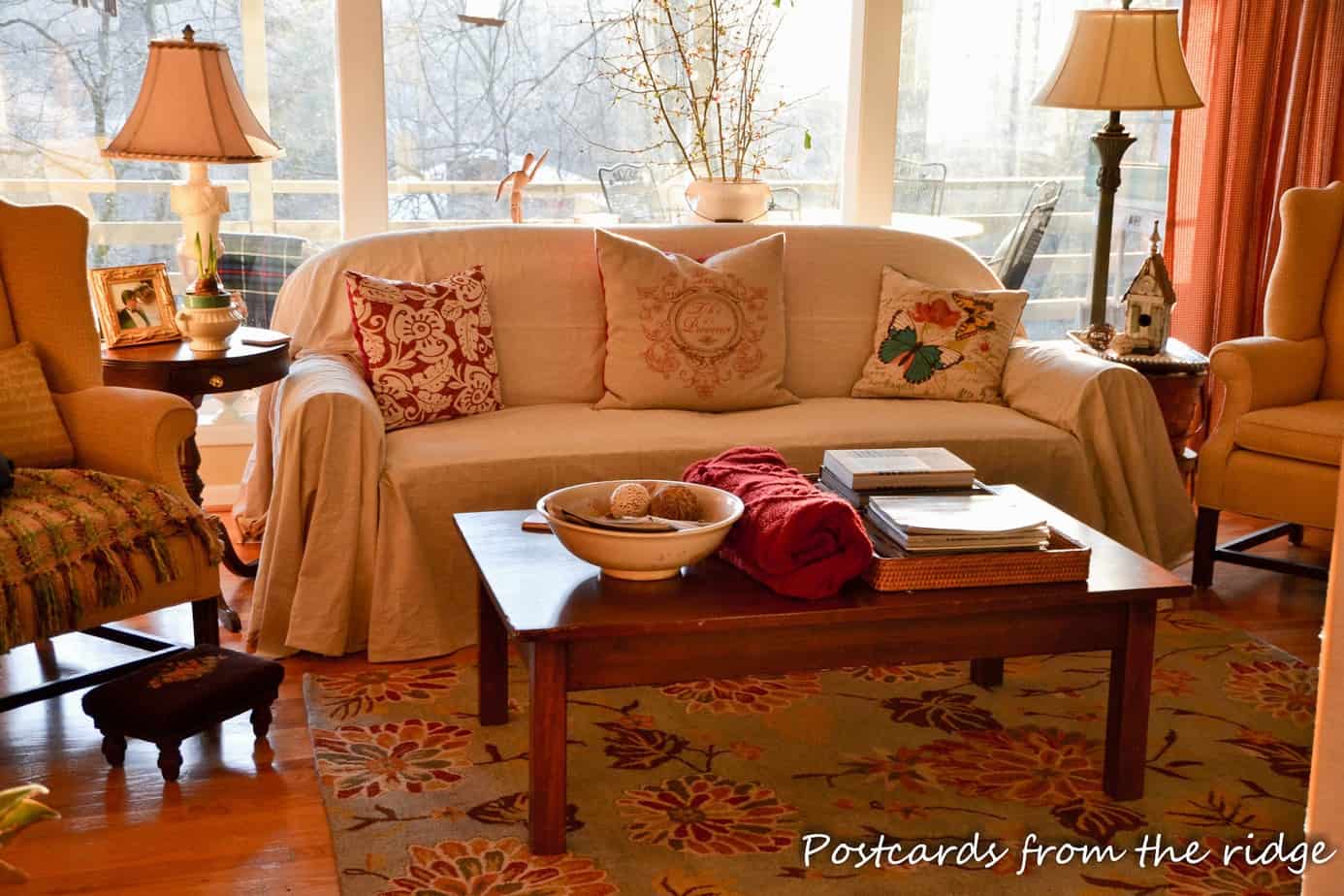 If you're wondering what a glass flower frog looks like, here ya go! Most of the time, I have mine sitting on the kitchen counter with pens and pencils in it. But I'm glad to be currently using it for it's original purpose. I'm not exactly sure why it's called a frog. I'll bet there's some really interesting story behind it, though! You can find them in antique shops and they're usually inexpensive.
Just because the calendar says it's still winter doesn't mean we can't get a little taste of spring by forcing a few blooms. It won't be long now before the crocuses are blooming and the forsythias are glowing like the sun. Enjoy the winter for what it is. Spring is just around the corner.
Got a decorating question or project you need help with? I'm in the shop 3 days a week and can give in-store advice. I schedule in-home consulting on the other days. Online consulting is also available. Contact me for more information.
Thanks for visiting. Please leave a comment to let me know you stopped by!
If you like my posts, I'd love it if you'd become a follower. You can
keep up with my latest recipes, projects, tutorials, photos and tips many ways,
including: