There are lots of ways to decorate for Christmas besides the mantel and tree. You can make almost anything look festive if you just use a little creativity. Whether is stumbling upon something in a store that you weren't expecting to find or just looking in your own yard, you would be surprised what you can come up with.
While we do have a large tree, I'm still putting a few finishing touches on it and don't have picture of it today. I'm sharing some ideas on how to decorate with a small tree along with some other quirky ideas thrown in for fun. When working with my clients, I tell them to decorate based on what works for them. There are no rules. It's all about what appeals to you and what you can do in your space.
Here are a few pictures from our house. Feel free to use any of these ideas, or you can contact me if you need help coming up with something different for your own space. Enjoy.
I actually got this miniature live tree at Walgreen's for $5 a couple of weeks ago before we had our big tree. I would've never thought to get a tree from Walgreen's, but I couldn't resist.
We're blessed with a 50 foot magnolia tree in our front yard that the city workers had to do some trimming on a couple of days ago. I told them they could cut some of the branches, but only if they left me lots of them to decorate with. This is a picture of the built-in brick planter in our entry with a few of the branches. They look so much better than the nearly dead plants that were in there before. But let's not go there.
The planter again.
Honey bunny had to get in this shot.
In the kitchen, we have a small tree with silver forks and spoons, and even a few silver baby cups. I saw this idea in a picture online somewhere. My 8-year-old niece came over the other night and told me she didn't get it. My 12-year-old daughter told me, "That's…interesting". I'm not sure she meant it as a compliment. I like it anyway.
Another shot of the Walgreen's tree. I think it's adorable.
I snagged this bar cart at an estate sale a few months ago and now have it all decked out. It's really getting into the spirit of Christmas. (bad pun, couldn't resist)
Another shot of the spirited bar cart.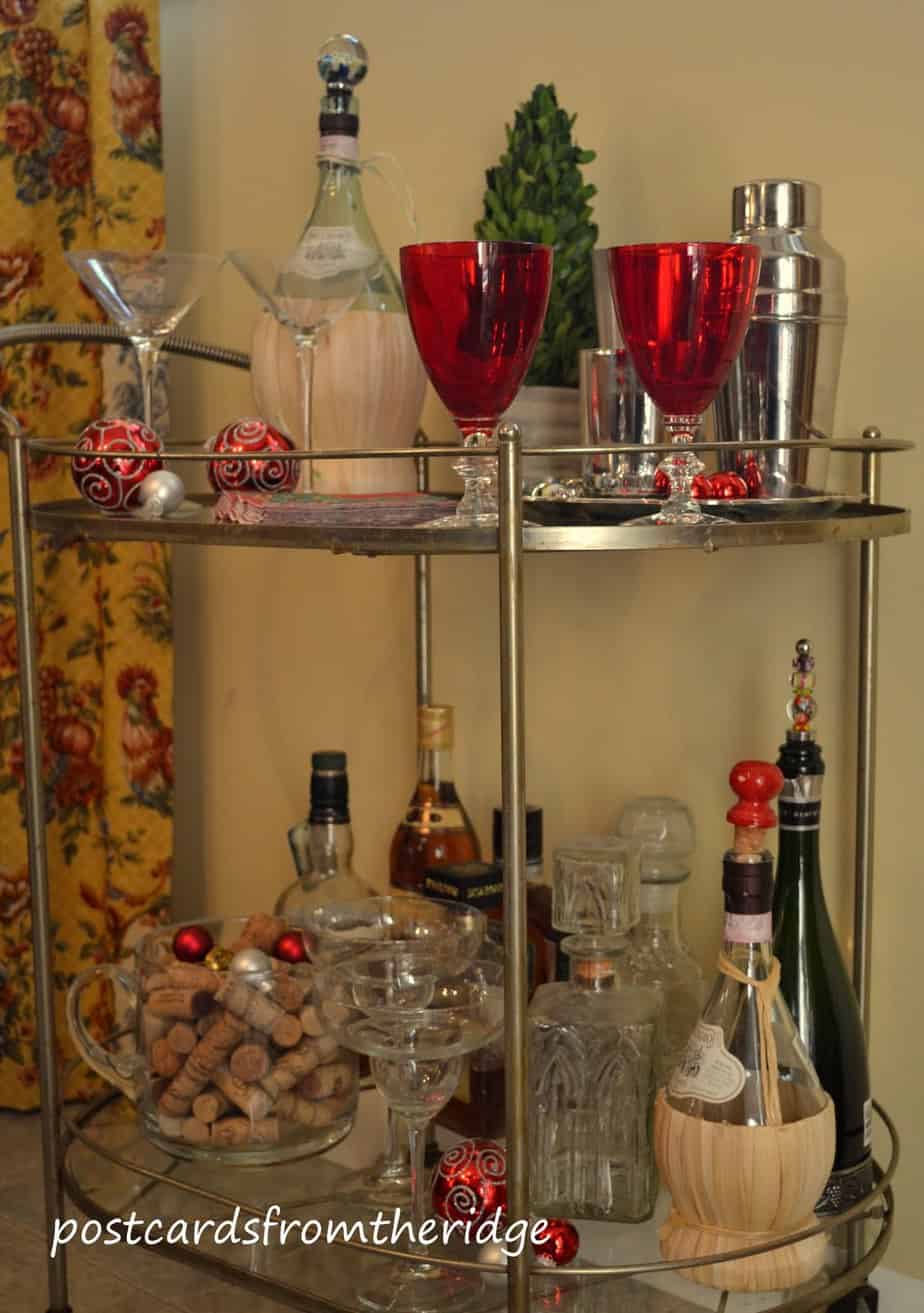 Thanks for visiting. And have a great day!
If you like my posts, I'd love it if you'd become a follower. You can
keep up with my latest recipes, projects, tutorials, photos and tips many ways,
including: